Chicago Bears:

2014 Rookie Reviews
February, 8, 2014
Feb 8
8:00
AM ET
Stats:
Marquess Wilson
, who turned 21 during the season, appeared in 10 games and caught two passes for 13 yards. He was inactive for five games. Wilson got an extended look with the first team in the preseason, when he had five receptions for 96 yards.
Wilson
2013 Role:
Wilson, the
Chicago Bears
' 2013 seventh-round draft choice out of Washington State, spent the majority of the season as the team's fourth wide receiver. The 6-foot-4, 184 pound wideout fell to the Bears in the seventh round because he quit his college team, Washington State, nine games into his junior season. Wilson finished his collegiate career with 189 catches for 3,207 and 23 touchdowns, despite playing only 33 games. Wilson's production at Washington State, coupled with his age and height, convinced the Bears to keep Wilson on the 53-man roster for all of 2013, instead of attempting to stash him on the practice squad where he would have been forced to clear waivers in order to return.
The good:
Wilson is talented. He hauled in 82 passes for 1,388 yards and 12 touchdowns during his sophomore year at Washington State. His height (6-foot-4) fits the mold of what the Bears are looking for at wide receiver alongside
Brandon Marshall
(6-foot-4) and
Alshon Jeffery
(6-foot-3). The coaching staff's willingness to sprinkle him into the offense as a rookie signals the organization likely has big plans for Wilson.
The bad:
Wilson needs to bulk up. It's difficult to envision him holding up for an entire season at under 200 pounds, much less be effective. Jeffery weighs 216 pounds. Marshall tips the scales at 230. Wilson won't reach that weight overnight, but he needs to commit to the offseason strength program. Wilson hasn't proven anything yet at the NFL level. He is still an unknown, albeit a potentially talented one.
Looking ahead:
No. 3 wide receiver
Earl Bennett
plays winning football. His issue is staying healthy, but Bennett did play in 15 games last season until he had to miss the regular-season finale to deal with a family matter. Unless Bennett's contract gets in the way (he had to take a pay cut in 2013), Wilson is going to have to light it up in the offseason/preseason to unseat Bennett in the slot, or slide past him on the depth chart. However, Bears general manager Phil Emery clearly envisions a role for Wilson in the offense moving forward. The belief is that Wilson will be given an opportunity to earn increased playing time in his second season. What he does with those opportunities is entirely up to him.
February, 7, 2014
Feb 7
8:00
AM ET
Stats:
1 tackle for lost yardage.
2013 Role:
A sixth-round draft pick out of Georgia, Washington showed promise early but never seized a full-time role. The Bears listed Washington among the team's inactives for the season opener against Cincinnati, and although he was active the next two games, the defensive end didn't receive any playing time. Washington made his regular-season debut on Sept. 29 against the
Detroit Lions
, only to be put back on the shelf for the next three weeks as an inactive. Washington received playing time again on Nov. 10 against Detroit and contributed a tackle, but didn't play the next week against Baltimore. The club made Washington inactive over its final six games. On the season, Washington played just 10 snaps.
The good:
Washington possesses the physical attributes (6-foot-4, 265 pounds) to "transcend scheme" as general manager Phil Emery so often likes to say, because of his explosive power and speed off the edge. When Washington put all that together along with sound fundamentals, he certainly looked like the player the Bears hoped he'd be when they drafted him. Washington produced 76 tackles and 63 quarterback pressures in college, and flashed some of that ability in spurts as a rookie.
The bad:
Washington played four different positions in college. So when the Bears brought him in to play defensive end in their four-man front, an adjustment period was expected. Fundamentally, Washington struggled to consistently execute proper hand placement and gain adequate leverage on opposing offensive linemen. When "he did it right," Washington looked the part, according to one staffer. The problem was Washington didn't do it right often enough, which is why in the midst of an injury-riddled 2013 for the defensive line, the Bears never called upon the rookie to play significant minutes. The team couldn't trust him to make a meaningful contribution.
Looking ahead:
Washington possesses the physical foundation of speed and explosive power. But he needs to use the offseason to sharpen fundamentals, in addition to adding some pass-rushing moves to his repertoire. At the moment, Washington remains a raw, developmental player, who needs to take a major step if he expects to gain the staff's trust heading into 2014. There's been speculation the Bears could experiment with a 3-4 front next season, and if that's truly the case, Washington could potentially make a move to linebacker because he's versatile enough to pull it off. If the Bears remain a 4-3 front, Washington probably won't become an every-down defender next season. But he could contribute in a role as a designated pass-rusher on passing downs.
February, 6, 2014
Feb 6
8:00
AM ET
Stats:
Selected by the Bears in the fifth-round of the 2013 NFL draft out of Louisiana Tech, Mills started all 16 games at right tackle before leaving the regular-season finale against the
Green Bay Packers
in the first quarter with a foot injury that required offseason surgery. Mills was part of a revamped Bears offensive line that surrendered 30 sacks (the Bears surrendered 44 sacks in 2012) and helped pave the way for
Matt Forte
to run for a career-high 1,339 yards and nine touchdowns.
2013 role:
Mills stood out on draft weekend when he enthusiastically declared that he expected to contribute as a rookie. He began training camp behind veteran J'Marcus Webb at right tackle, but in a short period of time he moved past Webb on the depth chart. Mills never looked back while the Bears eventually cut Webb at the end of the preseason. Mills fractured the fifth metatarsal in his left foot in Week 17 and underwent surgery in January. If his rehab goes as expected, Mills should return to the field during OTAs sometime in May.
The good:
Mills is friendly, outgoing and professional off the field, but he plays with a nasty streak. Mills got into it with
Minnesota Vikings
Pro Bowl defensive end
Jared Allen
after the whistle in a game the Bears eventually lost in overtime in the Metrodome. Why does that matter? Because in three full seasons, Webb never went at anybody like that, not even Allen, who certainly had it coming after he ended ex-Bears guard Lance Louis' season in 2012 with a cheap shot to the knees on a blindside block following an interception. Mills cares. He takes it personal. That's the type of attitude the Bears want from their offensive linemen. Mills never played himself out of the starting lineup. That's important to note when evaluating his rookie season. It's not as if the Bears struggled on offense. They ranked sixth in points scored per game (24.8) and eighth in total offense (381.8). If Mills had been a liability at right tackle, he would have been replaced.
The bad:
Mills certainly wasn't flawless. He made his share of mistakes. Several websites rated him as the Bears' worst offensive lineman in 2013. Some of those struggles can be attributed to the fact that Mills started all 16 games as a rookie. He also experienced a large jump in competition, going from a WAC school (Louisiana Tech) to the NFL. Mills definitely needs to work on his body and hit the weight room. Unfortunately, that kind of offseason work will have to wait until Mills recovers from the foot surgery. That is disappointing.
Looking ahead:
Mills would really benefit from being able to participate in some of the offseason program before the team breaks until the beginning of training camp. If Mills can be physically ready to go when the club reports to Bourbonnais, Ill., in late July, there is no reason he cannot start the entire upcoming season at right tackle. Mills also gives the Bears the flexibility to move him to guard in the future, if the organization ultimately decides that Kyle Long's immense talents are better suited at tackle. But at this point, Mills appears to have been a solid selection by the Bears in the fifth round, easily the club's best fifth-round choice since
Johnny Knox
in 2009.
February, 5, 2014
Feb 5
8:00
AM ET
Stats:
38.5 total tackles with 26 solo stops and 12 assists, 1 interception, 1 forced fumble, ½ tackle for lost yardage, and two stops on special teams.
Greene
2013 Role:
A fourth-round pick,
Khaseem Greene
joined the
Chicago Bears
with the expectation he'd provide depth and contribute on special teams, but was thrust into the starting lineup on Nov. 24 at St. Louis and responded with an eight-tackle performance.
"I think we saw [him] ascending," Bears coach Marc Trestman said in November." It's not a speed thing or ability thing, just in his ability to assimilate the information, get better each and every day, and we did see that. And his teammates saw that as well, and I think that's exciting."
At the same time, Trestman pointed out that at the end of the season there were times he saw "Khaseem do it right" and other times when he did "it wrong."
The good:
Upon first glance of Greene at organized team activities, minicamps and training camp, the linebacker certainly didn't look the part. But once the team initiated competitive team-on-team situations, Greene flashed, displaying the qualities the team raved about upon drafting him. Greene led the Bears in tackles during the preseason with 16 stops, including two for lost yardage, leading to optimism about his prospects for shining when called upon to take on a key role.
Greene played a total of 236 snaps as a rookie, and flashed instinctual play and the run-and-hit traits the Bears covet in their linebackers.
The bad:
Out of position on too many occasions, Greene struggled to get off blocks, which was sometimes a byproduct of the struggling defensive line's inability to keep offensive linemen off him. Because Greene plays on the weak side, theoretically, he should be freed up to run around and make plays. But Greene didn't do that often enough, and sometimes looked totally lost when bad reads -- not efficient play from opponents -- took him out of plays. Ultimately, the game looked too big for Greene. That is to be expected of a rookie, but what is somewhat concerning is that he didn't appear to gain any level of consistency as he gained experience.
Looking ahead:
Like most of the players from the 2013 draft class, Greene possesses the attitude and humility to honestly assess his play, and take the necessary steps to correct the mistakes for a better showing in 2014. The upcoming offseason conditioning program will be especially important for Greene, who needs to improve strength, explosive power, and short-area quickness. Greene figures to develop into a full-time starter at some point in his career, but 2014 might be too soon for him to take that step.
February, 4, 2014
Feb 4
8:00
AM ET
Stats:
Bostic started nine of 16 games at middle linebacker and finished fifth on the team with 75.5 tackles. The 2013 second-round pick out of the University of Florida also posted 4.5 tackles for loss, one sack, one interception and one fumble recovery. Before being inserted into the starting lineup after veteran
D.J. Williams
landed on injured reserve, Bostic contributed heavily on special teams where he made three tackles.
Bostic
2013 role:
Although the Bears used a second-round draft choice on Bostic, the original plan called for the young linebacker to sit behind Williams for at least one season and focus primarily on special teams. So even though Bostic played the entire preseason with the first team with Williams sidelined due to a serious calf strain, Bostic returned to the bench in favor of Williams when the Bears opened up the regular season versus the
Cincinnati Bengals
on Sept. 8. But Williams lasted just six games and went on injured reserve on Oct. 18 with a torn chest muscle. Bostic was a fixture at middle linebacker for the rest of the regular season, and along with fourth-round choice
Khaseem Greene
, became the first rookie linebackers to start for the Bears since
Lance Briggs
in 2003.
The good:
From a physical standpoint, Bostic proved that he belongs at the NFL level. Bostic can run. He had the second-fastest 40-yard dash time of all the linebackers at the 2013 NFL combine, and can use that speed to chase plays down from the backside. Bostic can also deliver a hard hit. Bears general manager Phil Emery labeled Bostic the club's second-best "striker" behind Briggs, a perennial Pro Bowler on the weak side. One of Bostic's top plays in 2013 occurred in the Bears' November win over the
Baltimore Ravens
when the first-year linebacker sunk back in coverage in the middle of the field and intercepted a pass. That sequence reminded many of how retired ex-Bears' middle linebacker
Brian Urlacher
used to cut off the deep middle of the field with his uncanny speed and athleticism for 13 years.
The bad:
From a mental standpoint, Bostic played like a rookie. He often found himself in the wrong place at the wrong time. The Bears had one of the worst defenses in the NFL, especially versus the run. When that happens, the linebackers usually assume a good chunk of the blame. After the Bears suffered many of their key injuries, it became commonplace for opposing ball carriers to reach the Bears' secondary without even being touched, with many of those long runs coming right up the middle of the defense. The Bears allowed 2,583 rushing yards in 2013, for an average of 5.3 yards per carry.
Looking ahead:
According to Emery, Bostic's best chance for success in the future might be at outside linebacker. If the Bears re-sign Williams in free agency, there is a chance Bostic could move to strongside linebacker in 2014, with Williams in the middle and Briggs on the weak side.
Shea McClellin
may also figure into the mix at linebacker depending on the kind of front the Bears show opponents in a given package, but Bostic is a pure linebacker and needs to be on the field in some capacity. Best-case scenario is that Bostic learns from his rookie mistakes, and because of his speed and athleticism becomes a more complete, and consistent player in 2014. Bostic always seemed to have a good attitude and appeared to be well liked by his teammates in the locker room. The future does seem promising, but the Bears will expect Bostic to cut down on the amount of mental mistakes in his second NFL season.
February, 3, 2014
Feb 3
8:00
AM ET
With the Super Bowl out of the way, we wanted to take stock of how Chicago's 2013 rookie class performed last season.
In general manager Phil Emery's third year with the
Chicago Bears
, all six players from his latest class of selections made the 2013 roster. Three became starters, four started games, and one more received playing time.
How did they do? We'll try to assess right here:
Stats:
None individually, but as a rookie starter on what had previously been a shaky offensive line,
Kyle Long
contributed to improved protection in 2013 for an offense that set multiple single-season franchise records. With Long in the starting lineup, the offense racked up a franchise-record 6,109 yards on the way to finishing second in team history in scoring (445 points).
[+] Enlarge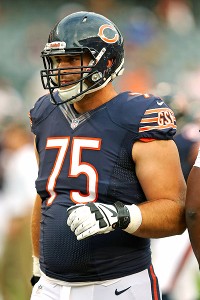 Jonathan Daniel/Getty ImagesGuard Kyle Long, a first-round pick, was was named to the Pro Bowl as an injury replacement.
2013 Role:
The team's first-round pick, Long missed valuable time in the offseason program because he was ineligible to participate in organized team activities and a minicamp because of Oregon's quarter system, which pushed the school's final exams back to the middle of June. All along the team planned to make Long a Day 1 starter. So it worked diligently to get Long up to speed in making his NFL transition, and the rookie came along quickly.
Long started all 16 games and was named to the Pro Bowl as an injury replacement for San Francisco guard
Mike Iupati
, who broke an ankle in the NFC Championship Game.
The good:
Long became the club's first offensive lineman to earn Pro Bowl recognition since 2006 (Olin Kreutz and Ruben Brown), and played a key role on the right side of the line, especially in the running game. With four new starters on the offensive line, the Bears finished 2013 as one of three teams in the NFL to start the same five offensive linemen for all 16 games, and the group allowed 30 sacks last season, which tied for fourth fewest in the NFL. The club's 30 sacks ranked as its fewest since 2008, when the Bears surrendered 29 sacks.
Long played a total of 1,079 snaps as a rookie, giving up just two sacks, according to Pro Football Focus as the Bears finished with a 4.9 sacks percentage on a total of 609 drop backs (sixth-lowest for the Bears since sacks became an official statistic in 1982).
Interestingly, Chicago experienced most of its success running behind Long (6.27 yards per attempt to his side), who was penalized just three times all season.
The bad:
It's a bad idea to ever ask a player to take it down a notch, but at times Long's pedal-to-the-floor style of play led to him being overaggressive, which in turn adversely affected technique. So while the Bears won't ask Long to dial it down totally, they'll need him to learn to consistently lean on technique regardless of the situation and atmosphere, even when things get tense. Really, there's not much bad you can say about what initially seemed like a head-scratcher of a pick in the first round. He earned his way into the Pro Bowl as a rookie. Perhaps the most memorable "bad" moment for Long was his fight near the sidelines on Nov. 24 at St. Louis, involving Rams defensive end
William Hayes
. But the scuffle appeared to be a case of Long protecting a teammate. That's a good thing.
Looking ahead:
His physical tools, attitude, and thirst to continually improve indicate Long can develop into a key cog on Chicago's offensive line, and remain there for the next 10 years or so. Once Long can consistently combine the small fundamental elements such as hand placement and weight disbursement when engaged with his tremendous strength, aggression and mobility, the Bears could have something special at the right guard position. What's scary is Long appears to possess the skill set to kick outside to tackle, should the Bears choose to try him there in the coming years. Based on offensive coordinator Aaron Kromer's reputation for developing offensive linemen and Long's willingness to learn, the Bears will coax the most from the rising second-year player. There should be several more Pro Bowls awaiting Long in the future.