Chicago Bears:

Bears draft reviews
April, 18, 2014
4/18/14
8:00
AM ET
Here is Part 5 of our series reviewing the past five drafts of the
Chicago Bears
.
With one full-season under his belt, general manager Phil Emery took on the task of rebuilding the offensive line, while inserting youth into an aging defense that would be playing under a new head coach for the first time since 2004.
First-round pick:
Kyle Long
, OG, Oregon
Number of picks:
6
How they did:
Above average. Four of the six members of the 2013 draft class cracked the starting lineup last season, with Long and fifth-round choice
Jordan Mills
starting all 16 regular-season games. Bostic was thrown into the fire after veteran middle linebacker
D.J. Williams
suffered a season-ending injury, and Greene had the unenviable task of attempting to replace perennial Pro Bowl weakside linebacker
Lance Briggs
, who missed seven games because of a shoulder issue. Seventh-rounder
Marquess Wilson
played sparingly as a rookie, but is expected to have a much larger role in the offense as the No. 3 wide receiver in 2014.
Cornelius Washington
, a sixth-round defensive end out of Georgia, spent the bulk of the season on the inactive list.
[+] Enlarge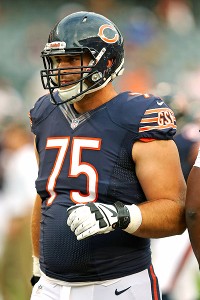 Jonathan Daniel/Getty ImagesKyle Long showed leadership qualities as a rookie.
Pivotal pick:
Long. The Bears switched out four of their five starting offensive linemen from 2012 to 2013. Though the club signed left tackle
Jermon Bushrod
and left guard
Matt Slauson
(a pair of excellent free-agent pickups) before the draft, it was critical for the organization to hit on a first-round offensive lineman after missing on
Chris Williams
(2008) and
Gabe Carimi
(2011). Another failure on the offensive line in the first round would have forced the Bears to spend more money in free agency or re-draft the position again entirely. That will not have to happen unless Long suffers some kind of injury. He should be a fixture on the Bears' offensive line for 10 years, at least. Plus, his athleticism and intelligence could allow him to change positions in the future if the Bears deem it necessary.
Best pick:
Long. When respected team captain and veteran center
Roberto Garza
calls it quits, Long will take over the leadership of the offensive line and be one of the key voices in the locker room. Although Long prefers not to talk about himself, he has a commanding presence that cannot be ignored. But what makes this such a great pick is that Long was a relative unknown coming out of Oregon, where he started just a handful of games. It takes guts to select a player at No. 20 overall who played only one year of major college football. Yet, the Bears did their homework, stood by their convictions, and were rewarded with likely the club's best first-round pick since Tommie Harris in 2004.
Worst pick:
Washington. But to be fair, he's only been in the NFL for one season. There is a chance he improves his technique in the offseason and learns how to use his 6-foot-4 frame to his advantage. Washington never really had a permanent position at Georgia, so he is considered raw. Obviously, the Bears did not feel comfortable enough to use Washington last season as a rookie even though the club badly needed help up front on the defensive line. With the additions of
Jared Allen
,
Lamarr Houston
,
Willie Young
and
Israel Idonije
, it will be tough for Washington to make an impact, or even to make the team in 2014. But it's never wise to give up on a young player after just one season. Let's see how it plays out for Washington when the team officially begins its offseason program on April 22.
April, 17, 2014
4/17/14
8:00
AM ET
Here's Part 4 of our series reviewing the past five drafts of the
Chicago Bears
.
For the first time since 2002, the Bears had a new set of eyes overseeing the draft process. The Bears fired longtime general manager Jerry Angelo at the end of the 2011 regular season and replaced him with respected scout and college talent evaluator Phil Emery.
First-round pick:
Shea McClellin
, DE, Boise State
Number of picks:
6
How they did:
Three members of the 2012 draft class had important roles for the Bears last season: McClellin, wide receiver
Alshon Jeffery
(second round) and nickel back
Isaiah Frey
(sixth round). Safety
Brandon Hardin
, selected in the third round out of Oregon State, spent his rookie year on injured reserve and suffered another injury in the final preseason game last summer that again landed him on IR. The Bears quietly released Hardin several weeks later. Fourth-round pick tight end
Evan Rodriguez
contributed to the offense in 2012 but was released the next offseason after multiple brushes with the law. Greg McCoy, a cornerback/return man out of TCU whom the Bears took in the seventh round, failed to make the club out of training camp in his first season.
Pivotal pick:
The Bears were in need of fresh legs at defensive end to complement
Julius Peppers
, who at that time still played at a Pro Bowl level, and veteran
Israel Idonije
. Emery bypassed what some considered safer pass rushing options at No. 19 overall (
Chandler Jones
and
Whitney Mercilus
) and selected McClellin, who impressed the Bears with his combination of speed and athleticism. Two years later, McClellin is projected to compete for a starting job at strong side linebacker in 2014. McClellin was certainly disruptive at times rushing the passer from the edge, but the name of the game at defensive end is sacks. McClellin had only a combined 6.5 sacks in two years, with three of the quarterback takedowns occurring in his memorable effort against the
Green Bay Packers
at Lambeau Field on Nov. 4 when McClellin knocked
Aaron Rodgers
out of the game with a fractured collarbone. McClellin went on to win NFC Defensive Player of the Week honors.
Best pick:
Jeffery, by a mile. Undeterred by the rampant questions surrounding Jeffery's weight and attitude in his final year at South Carolina, the Bears moved up in the second round to snatch the former All-American wide receiver. Jeffery rewarded the Bears' faith by being named to the Pro Bowl in just his second season after catching 89 passes for 1,421 yards and seven touchdowns. The 6-foot-3 wideout holds the top two spots in franchise history for receiving yards in a game with 218 yards against the
New Orleans Saints
on Oct. 6, and 249 yards against the
Minnesota Vikings
on Dec. 1.
Worst pick:
Hardin. A former and often injured collegiate cornerback, Hardin failed to make the transition to safety. Although Hardin had impressive size (6-foot-3, 217 pounds), he didn't seem to bend his hips much and appeared to play too high. Even if he stayed healthy, it would have been difficult to make an argument for the Bears to keep Hardin on the 53-man roster based on pure performance and football skills alone. The Bears are still searching for help at safety, in part, because the Hardin pick failed to pan out.
April, 16, 2014
4/16/14
9:00
AM ET
Here's Part 3 of our series reviewing the past five drafts of the
Chicago Bears
.
Finally, the Bears moved from under the limitations brought on by the
Jay Cutler
deal, and held a first-round pick for the first time since 2008. Too bad the club didn't choose wisely (although bad luck played somewhat of a role).
First-round pick:
Gabe Carimi
, OT, Wisconsin
Number of picks:
6
[+] Enlarge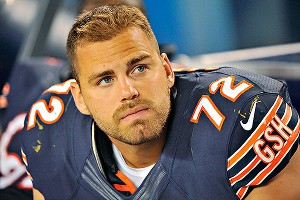 Rob Grabowski/USA TODAY SportsOffensive tackle Gabe Carimi, selected 29th overall in 2011, was a disappointment for the Bears.
How they did:
This draft yielded two major contributors in defensive tackle
Stephen Paea
and safety
Chris Conte
, but first-round pick Gabe Carimi was largely disappointing. Carimi started 16 games for the Bears in two seasons before the club traded him to the
Tampa Bay Buccaneers
, and he appeared to be worthy of his first-round pedigree early on. Carimi dislocated a kneecap in the second game of his NFL career, and was never the same during his tenure with the Bears. Though it would be easy to be critical of the Carimi pick, it appears some bad luck conspired against Chicago on this one.
Pivotal pick:
After three years without a first-round pick, the Bears needed to hit with Carimi, but they didn't. The Bears needed to shore up a leaky offensive line going into this draft, and it appeared the chances for doing so with Carimi were good. Carimi had started in 49 games for Wisconsin at left tackle, won the 2010 Outland Trophy, and began his rookie season as the starting right tackle. Up until Carimi suffered the dislocated kneecap at New Orleans, he had been playing winning football. The Bears received a sixth-round pick for Carimi last June in the trade with Tampa Bay, which released him. Carimi signed with Atlanta in February, and will be reunited with former Bears offensive line coach and offensive coordinator Mike Tice.
Best pick:
No doubt, Conte struggled through the 2013 season. But he's still the best pick of this class, and he'll likely bounce back. Going into 2013, Conte was expected to put together a breakout season after producing 68 tackles in 2012, along with two interceptions and nine pass breakups. Conte finished last season with 90 tackles and three interceptions. He is coming off shoulder surgery, which means he'll likely miss time at training camp. But if Conte's rehabilitation goes smoothly, he has a good chance to win a starting job and return to the ascending player the team thought he was entering last season.
Worst pick:
Linebacker
J.T. Thomas
was a three-year starter at West Virginia, but turned in the lowest vertical at the 2011 combine (30 ½ inches), which raised questions about his explosion. Thomas caught the coaching staff's eye early in camp after taking several first-team reps because of the rules at the time preventing veterans from practicing immediately coming out of the NFL lockout. But Thomas' practice exploits never transferred onto the field, and he appeared to lack physicality. The Bears waived Thomas after the 2013 preseason, and he signed with the
Jacksonville Jaguars
.
April, 15, 2014
4/15/14
9:00
AM ET
Here's Part 2 of our series reviewing the past five drafts of the
Chicago Bears
.
In 2010, the Bears entered the draft without a first-round pick as part of the trade to acquire
Jay Cutler
, and the club had also given up its second-round pick for that year in a trade that brought aboard defensive end
Gaines Adams
.
First-round pick:
None
[+] Enlarge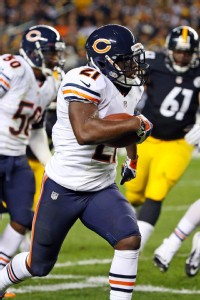 Brian Cassella/Chicago Tribune/MCTMajor Wright collected 100 tackles and two interceptions for the Bears last season.
Number of picks:
6
How they did:
Not well considering the limited amount of picks the club held. This was Jerry Angelo's second-to-last draft as Chicago's general manager, and his selections in 2010 certainly played a role in his eventual dismissal. Of the five picks from that class, three -- safety
Major Wright
, defensive end
Corey Wootton
and offensive tackle J'Marcus Webb -- did all eventually land starting roles. Two of players from the class -- cornerback Joshua Moore and quarterback Dan LeFevour -- are no longer in the NFL.
Pivotal pick:
The Bears spent the first two rounds as spectators, but going into the draft they needed help at safety. So Angelo used the team's first pick to take Wright (third round, 75th overall), and early on, he appeared to be a solid selection. Wright played in 11 games as a rookie after missing five games early on because of a hamstring injury. Wright became a starter in 2011 (78 tackles, three interceptions), and in 2012, he put together such a solid season (92 tackles, four interceptions) that it led to even higher expectations in 2013. Like the majority of players on defense, Wright struggled in 2013. He signed a one-year deal on April 8 to rejoin former Bears coach Lovie Smith in Tampa Bay.
Best pick:
That's a tough call between Wright and Wootton. Wootton probably gets the nod here because, although he's played fairly well the past two seasons, it appears the defensive end hasn't yet reached his full potential. Wootton struggled to get onto the field his first two seasons because of injuries, but finally played a complete season in 2012 and contributed seven sacks. Wootton became a starter in 2013, and produced 34 tackles and three sacks, while flashing versatility by playing defensive tackle and defensive end due to the club's injury situation along the defensive line. Wootton is recovering from arthroscopic hip surgery, but if the rehabilitation goes well, he should continue to develop.
Worst pick:
Cutler would probably say it was Webb, considering all the punishment he subjected the quarterback to as a starter. But remember, Webb was a seventh-round pick. So expectations weren't extremely high when the Bears drafted him, and it was actually somewhat of a bonus that Webb developed into a starter. LeFevour was the team's worse pick of the class (although running back Harvey Unga deserves mention, too) because it was quite apparent early on that he was in over his head as an NFL quarterback -- especially trying to play in the complex scheme of former offensive coordinator Mike Martz. The Bears waived LeFevour after the 2010 preseason, and he signed with the
Cincinnati Bengals
the next day. LeFevour has also spent time with the
Indianapolis Colts
and the
Jacksonville Jaguars
, but has never thrown a pass in a regular-season game. LeFevour is currently playing with the Hamilton Tiger-Cats of the Canadian Football League.
April, 14, 2014
4/14/14
12:00
PM ET
The NFL draft is quickly approaching, but we're still about a month out from Phil Emery's third draft as general manager of the
Chicago Bears
.
As we get closer to May, we'll start getting into Chicago's potential plans. But for right now, let's take a look at the club's past five drafts, starting with 2009 under former general manager Jerry Angelo. The Bears selected five players that started games, but interestingly not one of those players remain on the team.
Remember, this 2009 draft came after the Bears traded for quarterback
Jay Cutler
, a transaction that required the team giving up three picks (two first-round selections and a third-round choice).
First-round pick:
None
Number of picks:
9
Melton

Knox
How they did:
Fairly well, given the limitations imposed by the Cutler trade. Of the nine picks the club made, starting with the third-round selection of defensive tackle
Jarron Gilbert
, five actually started games for the Bears and one -- receiver
Johnny Knox
-- made the Pro Bowl as a rookie. In fact, the club drafted two eventual Pro Bowlers in Knox and defensive tackle
Henry Melton
. Too bad, however, that Gilbert didn't play football as well as he could jump out of a swimming pool. The team's first pick of the 2009 draft, Gilbert played in just four games for the Bears and by 2010 he had been waived. Gilbert joined the Jets in 2010 and has also spent time with the
Buffalo Bills
. But he's been out of the league since 2012.
Pivotal pick:
Gilbert certainly fits the description here because he was the team's first pick, meaning the Bears needed to acquire an impact prospect after trading away a first and a third in the Cutler deal, in addition to the second-round pick to Seattle. Gilbert gained some fame going into the draft for a YouTube video in which he was seen jumping out of a pool, but on the field with the Bears he never accomplished anything quite as impressive. Angelo definitely whiffed on this pick, as well as the next one: receiver
Juaquin Iglesias
.
Best pick:
Knox could have easily earned this designation, but his career was cut short prematurely by a horrific back injury. So Melton gets the call here. Melton was taken in the fourth round as a defensive end and ended up sitting out his entire rookie season because of a hamstring injury. Melton contributed at defensive end and defensive tackle in 2010 in a reserve role. When Melton switched over to defensive tackle full time in 2011, he started in all 15 games he played, led all NFC players at his position sacks (7) and tied for third in sacks among all defensive tackles in the NFL. Then in 2012, Melton made the Pro Bowl after generating six sacks and 33 tackles, which landed him an $8.45 million contract as the team's franchise player. Melton then missed the majority of the 2013 season due to a torn ACL, and signed with the
Dallas Cowboys
in free agency.
Worst pick:
Gilbert is in the running, but Iglesias (No. 99 overall) was perhaps the worst of the class. As a rookie, Iglesias was active for only one game, and in 2010 the
Minnesota Vikings
signed him off the Bears' practice squad. Iglesias was one of three receivers drafted by the Bears in 2009, and served as a reminder for the club's struggles at that time at that position. Chicago traded for one of the league's top quarterbacks that offseason, but never gave him any real weapons in the draft until Emery selected
Alshon Jeffery
in 2012. Iglesias, meanwhile, spent 2013 in the Canadian Football League and signed to play with the Helsinki Wolverines of the American Football Association of Finland.