Chicago Bears:

Dallas Cowboys
March, 19, 2014
Mar 19
12:15
PM ET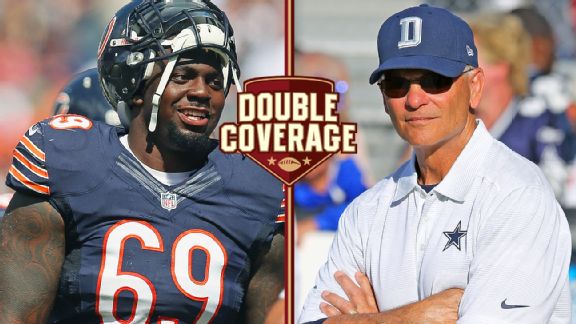 Getty Images, Icon SMIDallas signed Henry Melton, left, and believes Rod Marinelli can bring the best out of the pass-rusher.
IRVING, Texas -- The
Dallas Cowboys
needed to do something -- anything -- to help their defensive line in free agency.
After releasing
DeMarcus Ware
and losing
Jason Hatcher
, the Cowboys found their answer in
Henry Melton
, who agreed to a one-year deal with an option for three more on Tuesday night.
Melton has 15.5 sacks for his career and went to the Pro Bowl in 2012 as a member of the
Chicago Bears
, but he played in only three games in 2013 because of a torn anterior cruciate ligament.
ESPN.com Chicago Bears reporter Michael C. Wright and Cowboys reporter Todd Archer take a look at what the move means for both teams.
Todd Archer:
What are the Cowboys getting in Melton?
Michael C. Wright:
If Melton plays like he did in 2011 and 2012 (13 combined sacks), the Cowboys are getting a heck of a player who probably still hasn't reached his potential, because you have to remember the Bears drafted him to play defensive end in 2009 and he didn't become a defensive tackle full time until 2011. In Melton's first season as a full-time interior defensive lineman, he led all NFC defensive tackles with seven sacks. My only gripe with Melton is he's probably not as stout as you'd like against the run. As an under tackle, obviously Melton is more of a penetrator than a run-stuffer. But as you know, the No. 1 objective of any defense is to stop the run, and I don't think Melton does that as well as he rushes the passer. Just watch next season, you'll see several times when Melton will slash into the backfield only to have the running back run right past him. As good as Melton is at running down plays from the backside, he'll struggle somewhat when teams run right at him. Another thing you'll notice about Melton is he has a tendency to run hot and cold. I know in his first season as a full-time starter, Melton admitted that increased playing time wore on him down the stretch. But the bottom line is if Dallas gets a committed Melton, who shows up to camp in shape and playing with a passion, he'll be worth every dollar the Cowboys spent.
Did the Cowboys get desperate? I know there's an escape hatch in the deal, but it seems like the Cowboys paid quite a bit.
Archer:
I don't know if they were desperate, but they had to do something after losing Ware and Hatcher. The first-year value is a maximum of $5 million, so the Cowboys won't be hamstrung by the salary cap in the first year. The big money happens in 2015, and if he has a terrific season, the Cowboys would be more than willing to gamble on a 28-year-old going forward. Without seeing the deal in its entirety, I think the Cowboys have a deal that allows them to pay as they go. I think the desperate move would have been to give him a four-year deal with no escape clause, and a more desperate move would have been to give in on
Jared Allen
's contract demands. So far this offseason, the Cowboys have been disciplined financially. Maybe it's a new way of doing business.
Can you talk about the relationship he forged with Rod Marinelli?
[+] Enlarge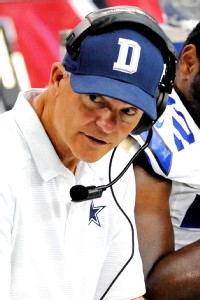 Casey Sapio/USA TODAY SportsRod Marinelli helped make Henry Melton a star in Chicago.
Wright:
Todd, I don't know what it is about Marinelli, but he has a way of getting through to people and helping them play their best. He did it with Warren Sapp,
Julius Peppers
, Melton and a host of others. I think in Melton, Marinelli saw early on a player who could develop into a star if he could put on some weight and refine his game, and I think the coach relayed those thoughts to the defensive tackle; sort of one of those "if you just listen to me," type of deals. Prior to the 2011 season when the Bears made the decision to make Melton a defensive tackle full time, Marinelli, former coach Lovie Smith and former general manager Jerry Angelo constantly told everyone Melton was about to have a breakout year. Of course, nobody believed them because the year before, Melton didn't play much, and when he did he was splitting time between defensive tackle and end. Anyway in Melton's first year as a starting defensive tackle (2011), he became a beast under Marinelli's tutelage. Then with more guidance from Marinelli, Melton turned it up a notch in 2012. Melton was certainly missing Marinelli last season with the coach having left for Dallas. Ultimately, Melton believes in Marinelli -- known as an expert motivator and stickler for strict adherence to fundamentals and accountability -- and the coach believes in the player. Marinelli has said Melton is one of the most natural pass-rushers he's ever coached.
What caused negotiations to take so long? He visited another team after leaving Dallas, and wasn't there something Tuesday night holding up the deal even though Melton was tweeting he was about to be a Cowboy?
Archer:
I think it was just the structure of the deal. You just don't see very many of these kinds of deals, and the team and his agent, Jordan Woy, wanted to make sure everything was just right so the contract would be approved by the NFL. I think by letting Melton leave to visit the
St. Louis Rams
, the Cowboys showed they were willing to move on without him and they were able to get him more at their price than at his price. To me, if a free agent is visiting a bunch of teams, he's not getting what he wants and he's looking for that great offer. That is what happened with Hatcher and the Redskins. He received $27.5 million and $10 million guaranteed without even visiting. For a lot of years the Cowboys have forked over big money to free agents and they have not received the payoff on the field. This is a risk, but it's mitigated some by the structure of the contract.
It seems like the Bears had some concerns with his maturity, what's the deal?
Wright:
Bears general manager Phil Emery mentioned Melton's "passion" for the game and commitment to rehabbing from the torn ACL as potential concerns right after the season, but I'm not sure there's quite enough evidence to suggest he'll have issues in the future. In fact, at the time, I thought Emery was sort of laying the seeds to give Melton a low-ball offer in free agency. "Henry, in particular, he has got to fully dedicate himself to rehab. He has to fully dedicate his mind and his focus to football, which is extremely important," Emery said back on Jan. 2. But maybe Emery's concerns about Melton's commitment to rehab stemmed, in part, from his arrest back in December for that incident out in Grapevine, Texas. The night Melton was arrested, the Bears were out in Philadelphia getting ready to play for a spot in the postseason. And although Melton wasn't obligated to be with the team or at its facilities rehabbing at the time, you know the perception a situation like that puts out: instead of working out and rehabilitating, Melton is back home getting into a bar fight. Sure, Melton is known to go out and have a good time, just like many of his peers around the NFL, and he's still a very young player. But the only concern I'd have regarding Melton's maturity is the fact he's now back in his hometown playing for the home team, and he's likely to be surrounded by a lot of old friends and family that might distract from his focus on the craft. At the same time, I think being back with Marinelli might alleviate some of that.
Melton is coming off a torn ACL. What are the team's realistic expectations for him in 2014?
Archer:
They expect him to be the guy in 2011-12 who had 13.5 sacks. I don't think this move takes the Cowboys out of the market for a defensive tackle in the first round of the draft, because the only guarantee is that Melton will be here in 2014. If the right player fell to them, I think they would still take the guy. But they really want this deal to work out. They're getting a player in his prime -- granted coming off an injury -- and can have him at a relatively good price through his prime. Too often the Cowboys have had to pay guys past their primes. They are also banking on Marinelli. Since he arrived last year he's become their pass-rush whisperer. What he says goes with management. They passed on
Sharrif Floyd
in the first round last year because of Marinelli. He was able to take a bunch of guys off the street and make the line competent. With a talent like Melton, whose knee should be fine for at least part of training camp, they think Marinelli can make it work.
December, 9, 2013
12/09/13
7:00
PM ET
Join our ESPN.com NFL experts for "Monday Night Football" between the Dallas Cowboys and the Chicago Bears.
Contribute your thoughts and questions beginning at 8:30 p.m. ET. See you there.
October, 1, 2012
10/01/12
5:19
PM ET
Join our ESPN.com NFL experts as they bring you the Monday Night Football match up between the Chicago Bears and the Dallas Cowboys.

Contribute your thoughts and questions beginning at 8:30 p.m. ET. See you there.


October, 1, 2012
10/01/12
4:41
PM ET
By
ESPN Stats & Information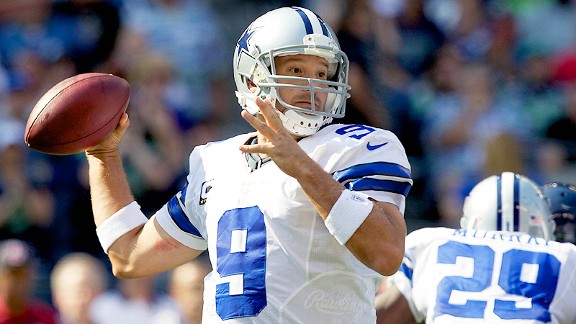 Stephen Brashear/Getty ImagesWith his next touchdown pass, Tony Romo will pass Roger Staubach for third in Cowboys history.
Tony Romo
looks to continue his climb up the
Dallas Cowboys
record book on Monday night. He'll need to contend with the
Chicago Bears'
relentless pass rush, as well as some of his usual targets that haven't yet delivered.
Romo is currently tied for third most touchdown passes (153) in Cowboys history with Roger Staubach. With two more, he'd tie Danny White for second, and Troy Aikman's franchise record is 12 away.
To get there on Monday, he may need two of his familiar targets to break out.
Despite ranking second on the Cowboys with 20 targets, don't look for
Dez Bryant
to be on the receiving end of one of those touchdown throws.
Bryant hasn't been thrown to once in the red zone this season, after leading the Cowboys with 13 red zone targets in 2011. Entering Week 4, only five receivers had more targets without a receiving touchdown this season.
With only eight receptions for 76 yards through three games,
Jason Witten
isn't putting up his traditional big numbers. At this point last season, he had 19 catches for 272 yards.
Romo has completed only 44 percent (8-for-18) of his passes to Witten this season, well down from the 74 percent he'd completed over the previous three seasons. Much of that falls on Witten. He entered Week 4 leading the NFL in drops with six.
The two have particularly had issues connecting inside the painted numbers, with Witten dropping half of his 12 targets. Romo is 3-of-12 with an interception when targeting Witten there. Last year, he caught 50-of-64 targets inside the numbers.
Romo's biggest challenge on Monday night will be a Bears defense that is rapidly racking up sacks. Chicago entered the week leading the NFL with 14 sacks and second in takeaways with nine.
The 14 sacks are their most through three games since totaling 24 in 1987. It's two more than the 1985 Bears had after three games.
Chicago's defense is getting it done despite using a standard pass rush. The Bears have used a four-man pass rush on 77.5 percent of dropbacks, sixth-highest in the league.
Last year the Bears defense sent four or fewer rushers at a similar rate (74.2 percent), but did not get their 14th sack until Week 7.
That pass rush figures to chase Romo out of the pocket on Monday. That might not be a bad thing for the Cowboys. Since 2010, Romo has 12 touchdowns and zero interceptions when throwing from outside the pocket. No quarterback has more touchdowns without an interception in that span.
October, 1, 2012
10/01/12
3:43
PM ET
As the
Dallas Cowboys
prepare to host the
Chicago Bears
tonight on "Monday Night Football" on ESPN, here's one reason for Cowboys fans to feel good and one reason for concern.


Feeling good:
The Cowboys' defensive front, even if linebacker
Anthony Spencer
is unable to play, should be able to generate pressure on Bears quarterback
Jay Cutler
. And when that happens, Cutler gets upset and starts making mistakes and poor decisions. Given the Cowboys' strength on defense at linebacker and cornerback this year, that should offer the Cowboys a chance to make plays at the second level of the defense and flip the field, and possibly even score on defense.
Cause for concern:
The Cowboys may have to win the game on defense, because it sets up very poorly for their struggling offense. The Bears excel at generating quarterback pressure with their four defensive linemen, which allows them to commit everyone else in coverage. And given the struggles the Cowboys have had so far on the offensive line, that's a recipe for big trouble in terms of
Tony Romo
's ability to give his receivers time to get open. The Cowboys' receivers also have struggled this year with the kind of press coverage they're likely to see from the Bears' defensive backs. This could be a very low-scoring game that favors the team that makes the fewest mistakes.