Chicago Bears:

Jared Allen
February, 2, 2015
Feb 2
11:00
AM ET
The potential shift to a 3-4 front hasn't tempered
Jared Allen
's enthusiasm about the
Chicago Bears
' hiring of new head coach John Fox and defensive coordinator Vic Fangio.
Making the rounds at Super Bowl XLIX,
Allen told the NFL Network
he expects the Bears to be a more disciplined team under Fox.
Allen
"You look at what coach Fox has done over the history of his career," Allen said. "I think we'll be very disciplined. We'll be very cohesive. With Fangio coming in, you've got a big 3-4 background. Fox ran a 4-3 his whole life. So I think we're very versatile in how we can use our players. I'm excited to see what the plan going forward is."
It's unknown how Allen might fit in Chicago's new defensive scheme in 2015, but the new coaching staff shouldn't have trouble finding ways to best utilize the five-time Pro Bowler's pass-rushing skills. While most signs point to the Bears shifting to a 3-4 front, there's a chance the club could show some hybrid looks in 2015, as it's uncertain how quickly the personnel department can totally turn over the roster to fit the scheme.
In the past, Allen seemed reluctant to move from defensive end in a 4-3 front to outside linebacker in a 3-4.
"I want to end my career as a defensive end. And I'm not playing a 2-gap, let me just throw that out the window now," Allen said just before the 2012 season when there was talk of the Vikings changing schemes.
Allen, who will be 33 in April, seems more amenable now to a switch and said Fox will inherit a hard-working group on defense.
"One thing we do is we work. I'll be honest, I don't think we had a bad practice all year," Allen said. "Now it didn't always equate to wins and victories. We came up short. I think he's going to inherit guys that are eager, that want to win. That's one thing that was very prevalent in our locker room: guys wanting to win. I think coach Fox is going to give us that direction and give us that attitude, that sense of focus, purpose and discipline to get to where we want need to get."
Allen accepted the Salute to Service Award on Saturday during the "4th Annual NFL Honors" awards show in Arizona, and received the award in recognition of his efforts off the field. Through his Homes for Wounded Warriors Foundation, Allen helps to provide financial assistance to aid in making homes more accessible for veterans returning from war with debilitating injuries.
Allen created the foundation in 2009.
January, 21, 2015
Jan 21
2:00
PM ET
Chicago Bears
defensive end
Jared Allen
received recognition as one of the two finalists for the fourth annual Salute to Service Award, which is presented by USAA.
Allen
Allen became a finalist for the award in part through his Homes for Wounded Warriors Foundation, which provides financial assistance to make homes accessible for veterans returning from war with debilitating injuries.
Allen builds, purchases or remodels the homes to help disabled veterans in their returns home.
Allen founded Homes for Wounded Warriors in 2009, and since the foundation was established, it has raised more than $3.5 million as it tries to donate 10 homes every year to wounded warriors.
Here's
more information about Allen's selection
as a finalist for the award on the team's official website.
November, 12, 2014
11/12/14
7:00
PM ET
LAKE FOREST, Ill. --
Jared Allen
wants to see the NFL reinstate former teammate
Adrian Peterson
soon, but he's also fine with not having to face him Sunday when the
Chicago Bears
host the
Minnesota Vikings
at Soldier Field.
Asked whether he wished Peterson was playing Sunday, a laughing Allen said, "No."
"One of the top running backs in the NFL to be playing against us? No, I don't want him playing," Allen said.
According to multiple reports, the NFL will conduct Peterson's grievance hearing for reinstatement on Monday.
The NFLPA filed the expedited grievance with the NFL on Monday to reinstate Peterson, citing "explicit language in a signed agreement" from Sept. 18, when the running back was placed on a special commissioner's exempt list after his indictment on felony child abuse in Texas.
Peterson pleaded no contest on Nov. 4 to a lesser charge of misdemeanor reckless assault, which frees him from the court system, provided he fulfills the terms of his probation.
Under the collective bargaining agreement, a hearing must be held on the expedited grievance within seven days, after which an independent arbiter will render a decision within five days from that date.
The league began a review Thursday of the case under the personal conduct policy, but it said Peterson would remain on paid leave until the process is completed.
Allen remained supportive of Peterson on Wednesday and hopes the running back learns from his current situation.
"The Adrian I know was always a kind-hearted, gentle, very generous human being," Allen said. "Obviously he made a mistake. I just pray that him, his family, his son and everybody that's going through it, I hope everybody learns from it. They can heal their wounds. He's obviously had to deal with the punishment. Do I think his football career should be ended over it? No. Do I hope he learned a valuable lesson and do I think he did? Yeah. Obviously you go through stuff, you face the consequences. If he happens to come back the week after we play him — awesome."
November, 6, 2014
11/06/14
9:00
AM ET
LAKE FOREST, Ill. -- With a clash against the Green Bay Packers on deck, Chicago Bears veteran defensive end Jared Allen finds himself offering up numerous tips in the team's meeting rooms for how to stop quarterback Aaron Rodgers.
Outside of Lance Briggs (21 games played against Green Bay), Allen's 13 starts against the Packers is the most among his teammates. In those games, Allen racked up 16 sacks, 47 tackles, an interception, a forced fumble and a recovery.
So what does it take to achieve success against Rodgers?
[+] Enlarge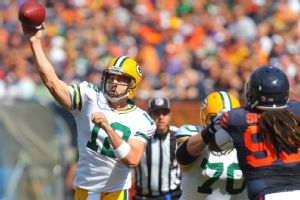 Dennis Wierzbicki/USA TODAY SportsAaron Rodgers has had a lot of success against the Bears -- including a 38-17 win this season.
"A lot of things," Allen said. "We're going to have to do a good job on the receivers. I think it starts there. But it always starts with the run game. This isn't a game you want the quarterback to necessarily beat you. But you do have to force them to be one-dimensional. You can't allow them to be in third-and-short. We've got to be able to force him into longer down and distances to where he has to throw the ball downfield, where they have to spread out. We've got to do a good job of getting him off his spot, and forcing him to run where we want.
"Then you've just got to know Aaron. You've got to study him and know what he likes to do. He will give you shots to get to him because he has the ability to go down the field at any given time, and he'll take those shots on you. So you've got to keep rushing. You can't get tired of three-step [drop], three-step, ball out, ball out, ball out, ball out, ball out, and then all of a sudden, he sits back there for five seconds and pats the ball and really torches you. So it's just a game you've got to play of continually trying to beat that guy in front of you, whether it's flashing in front of Aaron or disrupting him if we can. If you let him sit back there, pat the ball and get it out, it'll be a long day."
The Bears certainly know that. Having run up a 10-3 record against Chicago, Rodgers has thrown 25 touchdown passes to eight interceptions against the Bears with a passer rating of 105.0.
According to STATS LLC, Rodgers has completed 39 of 59 passes for 592 yards with eight touchdowns, an interception and a league-high passer rating of 131.5 this season against the blitz.
"Goodness, he's one of the best," Allen said. "I'll bet when his career is over, he'll be up there with the all-time greats. It's one of those things when he gets into that rhythm, it's a scary thing to be on the other side of the ball. You've got to continue to go, go, go, go whether it's batting balls down, whatever it is, you've got to find ways to create negative yardage plays to force them to have to go a great distance. You try to take knowledge and notes of what you've played against him. Now over the years I know he has a vicious hard count. The ball is out quick. You've got to get that feel for when he's going to get rid of the ball and try to get your hands up."
Allen describes the success he's experienced against Rodgers a "continual grind," and said the defense has to be committed to that type of approach to prevent the quarterback from catching fire.
"You have to grind, grind, grind, grind, grind, and eventually when he holds the ball ... I try to tell the guys you can't get into a habit of [thinking], 'It's going to be another quick ball,' because like I said, he'll give you those chances to get there," Allen said. "But you have to continue to pass rush. You can't get discouraged that it might be the second quarter, third quarter. When you do get an opportunity, you have to capitalize on negative plays. You have to be stout in the run game, and force them into second-and-12 or third-and-8-plus. And then now you know he's going to go down the field with the ball. Now you know you're going to have a second chance. You're going to have some one-on-ones up front and you've got to take advantage of the opportunities when you get them. Thank God I've been able to do that more times than not."
October, 22, 2014
10/22/14
7:55
PM ET
LAKE FOREST, Ill. --
Chicago Bears
defensive end
Jared Allen
participated in fewer snaps on defense than key reserve
Willie Young
in Sunday's loss to the
Miami Dolphins
, but the five-time Pro Bowler doesn't believe reduced playing time for him is in the team's plans.
Allen
"It's probably an aberration," Allen said, laughing. "They haven't told me I am on reduced playing time. We'll take it for that."
Allen played in 46 of the club's 70 snaps against the Dolphins, while Young participated in 54 snaps.
In the third quarter, Miami marched 83 yards in 13 plays with
Lamar Miller
capping the drive with on a 2-yard touchdown run. The Bears didn't utilize Allen during the drive, but defensive coordinator Mel Tucker pointed out the Dolphins weren't faced with many third-and-long situations. On that possession, Miami faced third down just twice with 2 yards to convert. The Dolphins also converted a fourth-and-1.
"Going forward, obviously we want him in the game," Tucker said. "He's been a highly-productive player for us. It was an unusual series. We had a lot of short-yardage situations. We didn't really get into third-and-long. We visited with him about it, and we're ready to move on. We'll be fine. We just tell him that we're going to make sure that we get him on the field as much as possible."
Allen wasn't concerned about a lack of playing time, but immediately after the game referred questions regarding the situation to the coaching staff.
"We haven't really talked about it," Allen said. "The rotation happened that way I guess. We'll move on to New England."
The Bears held out Allen when the team faced Green Bay on Sept. 28, but he's played in six games this season, contributing 24 tackles and 1.5 sacks.
October, 1, 2014
10/01/14
5:32
PM ET
LAKE FOREST, Ill. --
Jared Allen
's streak of 113 consecutive starts ended Sunday when he missed Chicago's loss to the
Green Bay Packers
because of pneumonia. But the five-time Pro Bowl defensive end returned to the practice field Wednesday, saying, "Hopefully, I'll be back up by this weekend" as the Bears prepare to face the
Carolina Panthers
.
Allen said he felt sick during Chicago's win over the
New York Jets
on Sept. 22, but wasn't diagnosed until two days later with pneumonia. Because of the illness, Allen lost 15 pounds, from 254 down to 239.
The
Chicago Bears
list Allen at 270 pounds.
Allen
"Just due to being sick, not really eating for a few days, sweating, fever; all that good stuff," Allen said. "I feel good now, just trying to get back. I've been having good workouts the last couple of days; just progressing, steadily going up. I went out and did individual [drills] today, then did a nice sprint workout on the treadmill [and it] felt good. I'm more concerned about recovery time. Everything feels good right now. I think it's just eating, rehydrating and getting all that weight back on."
Allen stepped onto the scale before eating Wednesday and weighed in at 241 pounds. Allen expects the weight to "come back in the next day or so," saying "it'll get back and I'll be ready to go." Allen spent a couple of days taking medications before the fever from pneumonia broke, he said.
Before the Bears' game Sunday, Allen traveled to Soldier Field to meet with team doctors and was ultimately instructed to go home. Without Allen, Chicago lost 38-17 to the Packers as
Aaron Rodgers
threw four touchdown passes and finished with a passer rating of 151.2 against a virtually nonexistent Bears rush.
"It was brutal. It was miserable, especially [with it being] the Packers," Allen said. "I've played through a lot of things, and there are just certain things that you can't do. Trust me, it was a long-fought battle whether I was going to be able to give it a go or not. It's one of those things that you don't want it to come back and then end up in the hospital. So after talking to doctors, my wife and everybody, we felt that was the best plan of attack. And it was. I wouldn't have been worth anything out there."
Allen's illness serves as just the latest in what has been what the defensive end calls an "interesting" turn of events through the first four games of the season. Allen missed time in the preseason to attend the birth of his daughter, in addition to being held out of the team's third preseason game with a bruised shoulder.
Asked if he's back to normal, Allen said, "I'm trying to. Not right now, obviously. I'm still a little light. I haven't gotten in that rhythm or that groove of what I'm used to playing in. But you know, it's not anybody's fault. Preseason is preseason. I didn't do much in preseason in Minnesota, either. I was sad I missed this game because coming out of the San Fran[cisco] game and then the New York game, I felt like I was really starting to get in the rhythm of this defense and where we were at. Even though I didn't get [Jets quarterback] Geno [Smith] on the ground, I had some really good rushes in the fourth quarter. I really felt my game was where it needed to be going into that week. I still feel that."
Right now though, Allen said the main goals are to regain weight and strength while building up stamina for his expected return Sunday against the Carolina Panthers. Through the first quarter of the season, Allen has contributed 11 tackles with no sacks.
"I'm looking forward to this next 12 weeks," Allen said. "I'm like, 'What else can happen, right?' I've got the injuries out of the way, got the sickness out of the way. Let's go have fun."
July, 25, 2014
7/25/14
6:20
PM ET
BOURBONNAIS, Ill. -- While Jared Allen's physical skill set made him an alluring offseason acquisition for Bears, it's the intangibles that stood out in Day 1 of training camp, according to Bears coach Marc Trestman.
"I thought Jared set the tone defensively with Lamarr [Houston] and the guys up front, Jeremiah [Ratliff] up front, just in the start of practice," Trestman said. "That was clear through his performance today that he not only started fast and finished strong."
Chicago's defense netted a
Kyle Fuller
interception early on in full team work Friday at Olivet Nazarene University, and the momentum from that play seemed to carry the unit through the duration of practice. Walking off the field just minutes after the workout, cornerback
Tim Jennings
felt "the defense came out with a lot of energy."
[+] Enlarge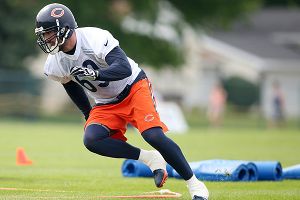 Jerry Lai/USA Today SportsDefensive end Jared Allen's infectious personality has made an impression on the Bears.
Combined with veterans such as
Charles Tillman
,
Lance Briggs
, Jennings and Houston, perhaps Allen served as the catalyst. Of course, Allen won't take credit. He knows his worth is proven by what's done on the field, not rah-rah motivational speeches.
"You're a leader by what you do. I've had success in this league, so for me, it's nothing I want to say to a guy," Allen said. "I'm going to encourage a guy. I'm going to help young guys out if they want it. But the way I'm going to lead is I'm going to show up to work and I'm going to put my best on the field, and I'm going to expect the guy next to me to be his best."
Tillman, Briggs, and Jennings have taken a similar approach, making Allen seemingly a natural fit in Chicago's revamped group chock-full of a mixture of young, ascending players combined with established veterans.
"There's so much change," Allen said. "Guys get to know each other from playing against each other and you have a mutual respect. So it's not like I was totally new. I know Lance. I know Peanut. I know these guys, and as they get to see how I work, the young guys see that, and they see how the vets who have had success in this league collaborate and work together. So there's not much that has to be said. You show up and go about your business, and you expect guys to do the same."
Allen joined the Bears with Hall of Fame credentials as a five-time Pro Bowler, and member of the 100-sacks club, but Trestman believes the defensive end's infectious personality could play into him positively affecting other players on Chicago's defense, which hit historic lows last season, ranking last in the NFL against the run.
Obviously, the addition of Allen doesn't automatically fix things. But his combination of skill and intangibles certainly helps.
"He's a very likable guy in the locker room. He's a fun guy to have a conversation with," Trestman said. "We're excited to have him with us. He's been a tremendous addition in our locker room and we're hopeful it'll translate to the field and the games as well."
The Bears worked a few packages during Friday's workout which feature Allen,
Willie Young
, Ratliff and Houston all on the field at the same time. When the team runs its base defense, Allen and Houston are the starters at defensive end. But in some packages, Houston kicks inside to defensive tackle next to Ratliff, which should allow Young and Allen to better attack the edges.
As an 11-year veteran Allen knows to temper his excitement, because once the season kicks off, anything can happen. But having been a part of successful defenses in the past in Kansas City and Minnesota, Allen believes the Bears have the ingredients to put together something special.
"We've got quality vets, we've got Pro Bowl guys," Allen said. "We've got guys who are right on that precipice of exploding. I'm excited to work with Willie and Jay Ratliff being healthy again, and Lamarr. We worked on some different packages and stuff today to get all four of us on the field. It's exciting to see the talent level we've got with Briggs behind us and Bostic. You can keep going. I'm excited to play with the DBs, honestly, to have some lockdown corners -- the young guy running there flying around and picking balls off today. So that's what's exciting about it. The fans and the media want to talk about what happened last year. I wasn't here. To me that doesn't matter. I know how things can change in one year. I honestly believe -- I've been a part of really good defenses -- we have those components. As long as guys continue to grow and develop and understand how each other work and the coaches continue to let us work within our scheme, I think we'll be fine."
June, 18, 2014
6/18/14
6:10
PM ET
LAKE FOREST, Ill. --
Chicago Bears
coach Marc Trestman and players on the offensive side of the ball recognized a degree of saltiness this offseason from the defense throughout organized team activities and mandatory minicamp.
That's a positive sign, sure. It's also meaningless.
During a workout in training camp last August, tight end
Martellus Bennett
and cornerback
Kelvin Hayden
tangled in a skirmish eventually joined by several members of the defense. The defense was salty back then, yet finished with a sour, punch-drunk taste on its tongues at the conclusion of 2013 as it tumbled to the bottom of the NFL rankings in part, due to injuries, becoming the team's weakness after so many years of being its strength.
[+] Enlarge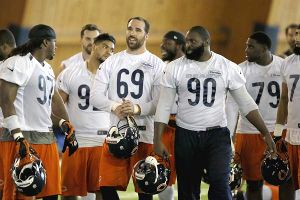 Charles Rex Arbogast/AP PhotoThe Bears, armed with Jared Allen, Willie Young and Jeremiah Ratliff, are working to prevent a repeat of 2013's poor defensive performance.
"We're practicing with an edge," Trestman said of the defense after Wednesday's workout inside the Walter Payton Center. "You can't play in the National Football League without being tough and having an edge and having a saltiness to your demeanor. We want to get to that point where we're consistently doing that. We're certainly seeing it from the offensive side. Our practices without pads are highly competitive. We're getting better. When
Jermon Bushrod
has to play against
Jared Allen
every day, and
Jordan Mills
has to play against
Lamarr Houston
every day, or
Willie Young
, that's pretty competitive. Then you've got [Jeremiah] Ratliff inside and the guys that are working inside. I think the mentality starts with how we sell it."
But no matter how that's peddled or packaged, it's for naught without results.
The Bears allowed the most points (478) last season in franchise history, the most total yards (6,313) and rushing yards as injuries cost the defense a combined 55 games last season, and that's not accounting for the unit losing defensive lineman Turk McBride to a ruptured Achilles and Sedrick Ellis, who made an impulse decision to retire before the start of training camp.
On the way to failing to prevent opponents from scoring fewer than 20 points all last season, the Bears relied on young and unheralded players such as
David Bass
,
Jonathan Bostic
,
Khaseem Greene
,
Isaiah Frey
and
Landon Cohen
to play significant roles as injuries took a toll.
At the conclusion of that disaster, Bears defensive coordinator Mel Tucker met with Trestman and general manager Phil Emery to determine how they could prevent a repeat of 2013.
"I laid out my vision for the group and what I thought needed to be done, and it was in line with what they thought as well," Tucker explained. "So it was just a matter at that point of putting the pieces together from a staff standpoint and from a player standpoint, and then going to work. They have confidence in me to get that done, so that's what we're doing."
It's also why Emery and Trestman made it a priority to provide Tucker what he needed to succeed. The Bears added Houston, Allen and Young in free agency to shore up the depleted defensive line, in addition to re-signing
Jeremiah Ratliff
and drafting
Will Sutton
and
Ego Ferguson
. On the back end, the Bears used a first-round pick on cornerback
Kyle Fuller
, re-signed
Charles Tillman
and
Tim Jennings
, drafted safety
Brock Vereen
and signed three more safeties in
Ryan Mundy
,
M.D. Jennings
and
Danny McCray
.
Understanding that the roster turnover would add several newer veterans and younger players, the Bears replaced linebackers coach Tim Tibesar and defensive line coaches Mike Phair and Michael Sinclair with Reggie Herring, Paul Pasqualoni and Clint Hurtt, all noted for their abilities as teachers.
"I've known coach Pasqualoni for a while and we've [done clinics] together and spent some time together talking football, so I really knew what he was all about. In terms of the front we want to play a certain way, we want to align a certain way, we want to use our hands a certain way, there's a certain way we want to play blocks to make sure we can control the line of scrimmage, and make the plays we need to make," Tucker explained.
"So that's important and we're on the same page there. Coach P[asqualoni], first and foremost is a great person, but he's a hard-nosed, tough guy, no-nonsense guy. Coach Herring is a guy I've seen coach over the years, and I know what he's all about. He has a tremendous amount of experience, and knows from being in a 4-3 and a 3-4, he knows how we want our backers to play, the technique and fundamentals and how we fit in the run game; how you have to play these zone schemes that we're seeing. You know the run game in the NFL right now is zone plays: inside and outside zones; hard zone, flat zone, and it's not just isos and powers. We have to understand, and we do understand that from a front seven standpoint, we've got to get our hands on guys, we've got to play blocks on the linebackers, we've got to be square, we've got to shuffle, mirror, fill and fall back, period; regardless of whether we're in Cover 2 or Cover 3 or whatever we're in. That's how we're going to play. So we understand that as a group and we coach them that way, and I think the players are responding to that."
That's apparent at recent practices, but we're also talking about workouts in shorts and helmets where contact is limited due to rules of the collective bargaining agreement. Still, Allen believes the defense will start to take shape quickly, and pointed out that offseason work such as minicamps provide an indication of what the fully-developed picture might be at the end of training camp.
"We don't have that much time. Once we get in training camp, when you get pads on within a week you're gonna understand if a guy's gonna fit into what we're trying to do. And then that's on the coach to put the right pieces together," Allen said. "I'm excited. It's just getting that energy. We have a good offense. I know what I expect from that offense because I've played against it. I expect them to put points up. So for me, it's getting the defense to match that. It's making guys understand that the time is now. We have an opportunity. When you play defense with a good offense, it makes it fun."
Saltiness, apparently, plays into that too if utilized correctly.
"These guys, they care about football. They want to be great," Trestman said. "They know to win in this league you've got to play with an edge. Salty helps as long as your fundamentals and techniques are right. Tough guys without system doesn't work very good. It all goes together. That's what makes great defenses. We think we've got the ability to do that and the right guys to do it. We'll see. We've got a lot of work to do."
June, 16, 2014
6/16/14
10:55
AM ET
The
Chicago Bears
convene one last time before taking a break as they await the start of training camp in July with Tuesday's beginning of a three-day minicamp at Halas Hall.
Here are some storylines to keep an eye on at minicamp:
Palmer
Palmer's injury situation:
Jordan Palmer
strained a pectoral muscle on his throwing side during organized team activities, calling it "a nothing injury," while saying it's "more frustrating than anything." Still, the injury resulted in the team taking a cautious approach with Palmer during OTAs. The quarterback should be out on the field Tuesday taking repetitions at minicamp, which is important considering Palmer is in the beginning stages of what should turn out to be an interesting competition for the primary backup gig behind
Jay Cutler
.
Palmer came into the offseason as the favorite to win the job because, while not impossible, it's not likely that rookie
David Fales
would unseat the veteran for the No. 2 job. Chicago's signing of veteran
Jimmy Clausen
, however, adds intrigue and increased competition to the situation. So Palmer needs to heal in order to be 100 percent ready for perhaps the most important competition of his NFL career. He's got to be cautious, however, and not rush back into action. After minicamp concludes, Palmer will have plenty of time to heal up. So if Palmer feels any discomfort in that strained pectoral muscle, he shouldn't hesitate to shut it down.

Clausen
Clausen's repetitions/performance:
If Clausen gains a level of command with Chicago's playbook, he'll be a formidable competitor to Palmer, Fales, and
Jerrod Johnson
for the primary backup job. Clausen basically took a crash course in the team's system during organized team activities. But Clausen should be well-versed enough in the offense by now to really be able to show what he can do. It's likely the staff gives Clausen plenty of reps throughout this three-day minicamp, and he needs to make the most of them.
The Bears signed Clausen because they liked his experience, football smarts, and mental toughness. During Clausen's workout for the team, he threw an accurate ball with plenty of spin on it. Now, he'll need to show those attributes consistently enough to give the staff confidence that he can be a legitimate contender for the No. 2 job.
With five quarterbacks already on the roster, it wouldn't be a surprise to see the Bears let one go after minicamp.
Cutler
Cutler's command of the offense:
Cutler is expected to speak to the media after Tuesday's session, and we should be able to get a feel for how comfortable he's become operating Marc Trestman and Aaron Kromer's offense. Cutler performed well last season, which marked his first year playing in that system. So in Year 2, Cutler should be pretty much an expert at executing the scheme. In addition to the experience gained in 2013, Cutler worked diligently throughout the offseason with his teammates on offense to sharpen execution. Cutler has also worked hand in hand with Trestman and Kromer to further develop the playbook based on what he's comfortable doing, and what the offense as a whole does well. That should translate into more efficient execution.
So how Cutler operates during minicamp will be watched closely; especially competitive the periods of practice, which pit the starters on offense and defense against one another.
Brock Vereen:
A fourth-round pick from Minnesota, Vereen made the most of his reps during OTAs as veterans
Chris Conte
and
Craig Steltz
were sidelined with injuries. Vereen took all the first-team reps at free safety opposite free-agent acquisition
Ryan Mundy
during the club's last OTA open to the media, with
M.D. Jennings
and
Danny McCray
taking the second-team reps.
"I wouldn't say [I'm] shocked [about taking reps with the starters], but I know nothing is set," he said. "I'm just coming in and working hard. If that gets me on the field, then so be it. It's really starting to slow down for me out there. Now, I'm able to react rather than to have to think about it."
That bodes well for him. Vereen played almost every position in the secondary at Minnesota, but the Bears believe he's best suited to play free safety in the NFL. The club likes Vereen's versatility, and believes he's got the acumen, desire and football intelligence to quickly become a viable contributor.
Revamped front seven:
The additions of
Lamarr Houston
,
Jared Allen
, and
Willie Young
in free agency, the selections of
Ego Ferguson
and
Will Sutton
, and
Shea McClellin
's switch from defensive end to linebacker means there's quite a few moving parts in Chicago's revamped front seven. How it all meshes will be a major factor in the success of the entire defense.
Jeremiah Ratliff
and
Stephen Paea
figure to be the team's starters at defensive tackle in minicamp with Houston and Allen manning the end spots. The starters at linebacker will likely be
D.J. Williams
in the middle with
Lance Briggs
and
Jon Bostic
playing the outside spots. More than likely, the Bears will go into the 2014 season with aforementioned as the starters in the front seven.
But players such as Ferguson, Sutton, Young and McClellin will take on key roles as rotational and situational contributors. McClellin is currently competing with Bostic for the starting job at Sam linebacker, but has also taken reps in the middle. If he's unable to win a starting job at linebacker, he'll still likely be used quite a bit as a pass-rusher in sub packages, as will Young. Ferguson and Sutton probably won't start, but they'll be counted on to take almost as many reps as Ratliff and Paea.
It will be interesting at minicamp to watch how the chemistry develops with all the new players in the front seven, as well as how the staff deploys them.
April, 1, 2014
4/01/14
1:30
PM ET
LAKE FOREST, Ill. --
Jared Allen
easily passed the first test administered by
Chicago Bears
general manager Phil Emery.
Now it's time Allen proves it on the field.
Allen
Having worked against Allen for several years in Atlanta, Kansas City and Chicago, Emery said he's seen plenty of game tape of the new Bears defensive end. But just before Emery came out on Monday to introduce Allen, he wanted to take one last look; a "buyer's remorse check," the general manager joked. After all, the club had just signed Allen to a four-year, $32 million contract, which includes $15.5 million guaranteed over the first two seasons.
"I always watch one more tape after [a new player is acquired] to make sure that I had all the ducks aligned, and that we are getting the person and the player that we thought we were," Emery explained.
So the general manager decided to pull tape of Allen from near the end of last season, when a depleted
Minnesota Vikings
team blasted Philadelphia
48-30
, which coincidentally came just a week before the Eagles routed the Bears
54-11
at Lincoln Financial Field. Emery wanted to see how Allen would perform toward the end of the year against
Jason Peters
, a six-time Pro Bowler.
"I randomly went through his games and I looked and said, 'I need something at the end of the season,' to see where his motor was at that part of the year, and I need something against a good opponent; somebody that was in the playoffs," Emery said. "So I grabbed the Eagles tape. [Allen had] two sacks, tackle for loss, two hits on the quarterback, two pressures. [I ] felt pretty good. So you passed the test Jared."
Now Allen needs to do that again for a Bears defense looking in 2014 to regain form. Emery has certainly done his part thus far in bringing in new coaches and personnel to help defensive coordinator Mel Tucker put out the best product possible next season. According to Emery, the work isn't yet done as the club would like to ramp up the competition at a few more spots on defense; a goal the club will likely accomplish with a defense-heavy draft in May.
"Talking with the coaches and the talent that they've brought here and after talking to Coach Tucker and [defensive line coach Paul Pasqualoni], the philosophy and the menality that they have, everybody thinks that defensive ends, all we want to do is rush the passer. Well, I come from a long line of thinking that you have to earn the right to rush the passer," Allen said. "So we're going to get after it in the run game. We're going to be a vaunted Bears defense again and it's going to start with us up front."
April, 1, 2014
4/01/14
9:00
AM ET
LAKE FOREST, Ill. -- Naturally,
Jared Allen
's last six seasons playing at least eight games on an artificial surface in Minnesota leads to trepidation about whether he can get it done on the natural grass at Soldier Field.
General manager Phil Emery isn't worried. In fact, Emery barely blinked Monday once the topic was broached following Allen's introductory press conference.
"I think I saw the stat that he's had 27 sacks in his last 28 games on turf (maybe he meant grass?), so I'm not concerned," Emery said. "I think the surface doesn't really matter to him because of his high-level instincts, ability to rush the passer, his use of length, leverage, his toughness. He is a physical player and a high-motor player. So I don't think surface matters."
Allen's career numbers pretty much support Emery's assertion.
According to ESPN Stats & Information, Allen racked up 66.5 of his 128.5 career sacks in 73 games on turf. Allen generated the rest of his sacks (62) on natural grass over a span of 84 games. So the difference in Allen's production between the surfaces would seem at least somewhat negligible.
Surely Allen also weighed the pros and cons of how he'd perform with the change in surfaces. After all, Allen mentioned taking on a meticulous approach throughout the process of free agency.
So will he get it done in Chicago?
"Just watch me play this year," Allen said. "I'm in good shape. I'm a full year now off of surgery on my shoulder. I want to believe in what I'm playing for and who I'm playing for, and that's why I'm here. I believe in the philosophy that the coaches are offering. I believe in the techniques that they're teaching, and I believe in the product they're putting on the field, and that's what gets me amped to go out and play. For me, football is simple. It's that mental preparation you put into it, is whether you're going to be successful or not, and when you love what you're doing and you firmly believe in the team and the people you're playing for, it makes it that much easier to just go out and you have fun."
Emery, meanwhile, addressed the same question about Allen's ability to still play at a high level shortly after the news conference. As a talent evaluator who has worked against Allen both in Chicago and in Kansas City, Emery has watched Allen's game evolve over the years to mitigate what he might be losing in terms of physical ability.
"He's a guy that really, not only through his athletic talent, but over time, has really learned to use his frame," Emery said. "He has tremendous length. He really knows how to use his hands, [has good] balance under contact as he's trying to trim the edge; incredible feel for location of the quarterback. Some guys can rush the passer, but can't finish consistently relative to their ability to get past the blocker. But he always knows where the quarterback is. He has a sixth sense for him."