Chicago Bears:

Mike Martz
August, 17, 2012
8/17/12
3:20
PM ET
By
Staff
| ESPNChicago.com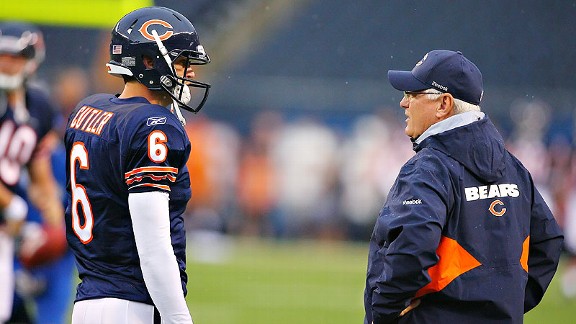 Dennis Wierzbicki/US PresswireJay Cutler and Mike Martz didn't always see eye to eye, but Martz believes Cutler will have a big year.
Former Chicago Bears offensive coordinator Mike Martz, who is now an analyst for Fox, joined "The Waddle & Silvy Show" on ESPN 1000 and discussed a variety of topics.
Why he left after two seasons with the Bears: I think it was just time for me to move on. My first year there I thought we got a lot done and were headed in the right direction. I think before (Jay Cutler and Matt Forte got hurt last season) we were 7-3 and I felt like if we weren't the best team in the NFC, one of the better teams. Things kind of unraveled there.

Feelings about Cutler: My feelings about Jay certainly have not changed. Obviously like I said, before he got injured, he was really playing at a high level. I was very pleased with him. I think he'll pick up where he left off. I think he'll have a terrific year.


Was Devin Hester miscast as a No. 1 receiver: I just think he was still learning the position to some extent, and I just believe using him inside is an excellent idea. I just think that we were just a little bit thin and used him in too many things, probably overused him. I think in some respects it confused him, trying to do too many things with him.


What does Cutler have to do to improve: He just has to continue to grow, like all good players. He's such a talent and he's got a commitment to this team and loves this team. I just think he'll continue to grow in that environment. They've done a very good job with him.


On rumors that he didn't get along with Mike Tice: No, that's incorrect. I don't know why or how that got started, who brought that to light. But I just talked to him about a week ago and wished him the best of luck.


Are Bears Super Bowl contenders? I think what they've done with the roster, I'm real excited about their chances. They have to keep everybody healthy. That's the way it is in that league. If they can keep everybody healthy, heck yeah.


What does Tice have to do in first year as OC? He's been around it for such a long time, he'll do just fine. He's very intelligent. He has a good grasp of how to change in the game. He understands when things have to change.
January, 2, 2012
1/02/12
4:41
PM ET
In some ways you almost have to admire the half-crazed, half-full philosophy of Lovie Smith.
As the
Chicago Bears
coach put it Monday, "When you're 7-8 and some disappointing things have happened during the course of the season, the only thing you can do is get to 8-8 . . . "
He also ticked off the many other good things that happened with the Bears' first victory in their last six games Sunday, like the offense getting to 2,000 rushing yards for the season; special teams reaching plus-40 net yards;
Charles Tillman
returning a team-record fifth career interception for a touchdown; and of course, the team extending its winning streak against the
Minnesota Vikings
to five games.
"All those things were important for our football team," Smith said.
How can you not admire that sort of rationale?
Read the entire column.
January, 2, 2012
1/02/12
3:37
PM ET
LAKE FOREST, Ill. -- Conclusion of the
Chicago Bears
' 2011 season provided zero clarity concerning Mike Martz's prospects for a return in 2012 as the team's offensive coordinator.
A day after his team defeated the
Minnesota Vikings
17-13 in the season finale, coach Lovie Smith remained tight lipped about Martz's future, saying he and the offensive coordinator haven't yet met to discuss matters.
"I haven't talked to the coaches, so I'm not going to talk to you about any of them right now, and I think you can understand that," Smith said. "This is the process we've gone through: we get off the plane last night, and we came here today, met the team, and eventually I'll meet with the coaches. I'll meet with our administration, and give you a better idea of what direction we're going with everyone then. Mike did a super job for us. He had a lot of injuries this year. I think you guys know how I feel about him. But this is a new year coming up, and we'll see how that goes."
Read the entire story.
December, 28, 2011
12/28/11
6:01
PM ET
LAKE FOREST, Ill. -- Chicago Bears offensive coordinator Mike Martz continued to express a desire to return to the team in 2012, while coach Lovie Smith became perturbed with more inquiries about his assistant's future.
Asked whether he planned to bring back Martz next season, Smith frustratingly asked a few questions of his own.
"What kind of a question is that, anyway, at this time?" Smith asked. "What kind of a question is that? Why would you ask a question like that any way?"
Read the entire story.
November, 30, 2011
11/30/11
4:47
PM ET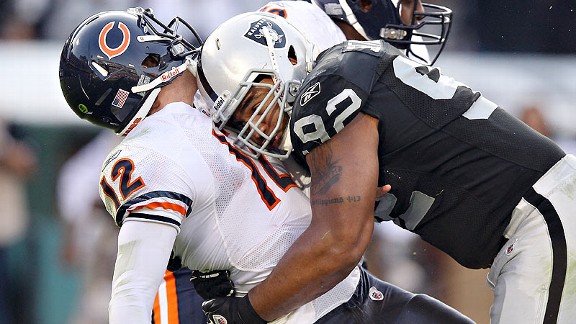 Ezra Shaw/Getty ImagesCaleb Hanie saw some baptism by fire in his first NFL start Sunday in Oakland.
Chicago Bears
quarterback
Jay Cutler
admitted Wednesday that he was a little surprised by how much of the offense Mike Martz threw at
Caleb Hanie
in his first NFL start Sunday.
Hanie, who threw three interceptions and two touchdowns in a 25-20 loss to the
Oakland Raiders
, was starting in place of the injured Cutler and attempted 36 passes, compared to 27 rushing attempts.
"A little (surprised)," Cutler said on "The Waddle & Silvy Show" on ESPN 1000. "But looking back at it now, that's how Mike operates. He felt probably deep in his heart that Caleb could handle it, that he's been in this system long enough (four years).
"But it's one of those things that until you really go out and experience a play, it's totally different than the classroom. You can sit in the classroom all day and there's a bunch of quarterbacks who can tell you the reads, 'I'll go 1, 2, 3 here. Here's different coverages, here's what I do.' Until you're out there on the field and mess up and see it on film, and repeat the process, and get that ingrained into your brain, it's a totally different ballgame out there when bullets are flying."
Cutler, who directed an obscene remark toward Martz during a recent nationally televised game, was asked if he felt like grabbing a headset Sunday and telling the offensive coordinator to scale back.
"You guys have seen me say some things to Mike," Cutler said. "Mike's going to do what Mike does. He gets in a zone up there and he's going to call the plays he wants to call.
"We'll see how it goes this week. We'll get Matt (Forte) involved and Caleb will be better. He'll get more confident. Things are going to start to slow down for him."
Not surprisingly, Hanie said he had no issues with the play-calling.
"I feel confident with whatever Mike brings in," Hanie said. "He's been around here a long time. He's got great respect around the league as a play-caller, and he knows better than I what we should run.
"I just trust what he calls and roll with it. If the game is calling for more passing, then we'll see more passing. If the game is calling to get Matt and Marion (Barber) the rock and let them work, then let's do that. So, whatever he calls, I feel good with."
Hanie said he feels more confident heading into his second start on Sunday against the
Kansas City Chiefs
, and Martz also is encouraged.
[+] Enlarge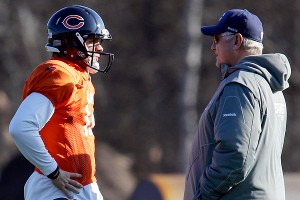 AP Photo/Nam Y. HuhMike Martz said he was actually more conservative than he needed to be with Caleb Hanie.
"The good news is he got better as the game went on," Martz said. "He had some miscues there early. Smart guy. Those things he's gonna have as he plays. But he has to memory bank that stuff and fix it. He'll do that. I was really pleased with him in the second half. He did a much better job."
Interestingly, Martz said Hanie was better with the more complicated calls.
"We were probably a little more conservative with him than we probably needed to be," Martz said. "We gave him some complicated stuff there and he just did marvelous with it. That touchdown he threw that first one was a sight adjustment involving multiple receivers. He saw it beautifully and just hit (
Johnny Knox
) in rhythm, and that was a full blitz. Everybody was coming.
"Right before that on third down we ran everybody out of there. It was only a five-man protection. He got to his third receiver on third down and made a big throw. So he sees things well. He gets through everything. He can do what we do. He just needs to play. I would expect him to start off where he left off [against Kansas City] in that game. I feel confident that he will."