CHICAGO -- "Rod Marinelli is teaching me how to play miserable," Bears defensive tackle Tommie Harris said after the Bears dispatched Detroit on Oct. 4.
[+] Enlarge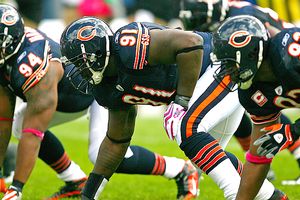 Jonathan Daniel/Getty Images
Being declared inactive on Sunday must be considered a major setback for Tommie Harris.
Please resist the urge to joke that Harris' play has been borderline miserable since inking a 4-year, $40 million extension before the 2008 season.
"Playing miserable" meant learning how to play though pain, a phenomenon Harris knows all too well. Everybody from general manager Jerry Angelo on down has conceded publicly that the former Pro Bowl defensive tackle's knees will never be 100 percent, but Harris at 85 percent could still be a dominating force.
Now it seems Harris is nowhere close to 85 percent, given that he'll be inactive Sunday in Cincinnati. This has to be considered a major setback for a player who denied lacking faith in his knee back in training camp.
"Do I have confidence? Yes, definitely," Harris said. "I have confidence in myself, in my knee. I've been playing on one leg and everything. I can play this game. It's a mentality. I'm just hanging in there, man."
A few months later, Harris looks to be back in the same old rut -- not trusting his surgically repaired left knee.
Through five games, Harris has only nine tackles and zero sacks. Despite those paltry numbers, the Chicago defense ranks sixth versus the run and 13th overall. Many of us thought the defense would never climb back to respectability without a large contribution from Harris -- who used to be the best three-technique defensive tackle in the NFL. Turns out we were wrong, which raises an interesting question.
Will we even notice Harris' absence Sunday?