Chicago Bears:

1985 Chicago Bears
January, 24, 2013
1/24/13
12:00
PM ET
Former Ravens receiver
Qadry Ismail
says the 2000 Baltimore defense was superior to the vaunted 1985 Bears' defense that carried Chicago to its first and only Super Bowl win.
"That 2000 defense it's up there with the all-time, if not the all-time best defense ever, including the '85 Bears," Ismail, now a Ravens broadcaster, said Wednesday on "Carmen, Jurko & Harry" on ESPN Chicago 1000. "It wasn't quite the domination that you would expect (from) that Bears team compared to the total and utter destruction that this 2000 Ravens team inflicted on its opponents. When you have guys like
Jerome Bettis
,
Eddie George
,
Corey Dillon
and
Fred Taylor
in his prime getting up and just flat out saying we can't play. They're not giving us a chance.
"When you have quarterbacks scared to go back in, that's what the defense brought to the table. "
The 2000 Ravens allowed just 165 points (10.6 per game) all season, an NFL-record and were almost impossible to run on, giving up just 970 yards rushing, another league record. Baltimore posted four shutouts and had 11 games in which they allowed 10 or fewer points.
The 1985 Bears defense was the backbone of a 15-1 season and punished quarterbacks with Buddy Ryan's 46 scheme. They had 64 sacks and led the league in points allowed (198), yards allowed (4,135), interceptions (34) and turnovers (54).
October, 7, 2011
10/07/11
4:30
PM ET
September, 21, 2011
9/21/11
11:32
PM ET
Twenty-six years after they dominated the NFL with a 15-1 season on the way to a victory in Super Bowl XX, the 1985
Chicago Bears
will finally get a chance to be honored at the White House.
Read the entire story
.
February, 6, 2011
2/06/11
11:08
AM ET
AIKEN, S.C. -- Every day begins with William Perry needing help out of bed. Usually, it's 10 a.m. before he even gives it a try, and to support his 400 pounds, he shuffles to the living room on two legs that barely work and his sturdy black cane.
Once he sits down, he and his chair are in a long-term relationship. He doesn't move, except to go to the bathroom, and the concerning part is that he has no desire to move. A home gym is just 20 feet away from him, but he mostly scowls at it from a safe distance. A walking path is only 40 feet away, but he mostly hisses at it from the comfort of his seat.
His day consists of watching television and eating three or four meals prepared by his heart-broken wife, Valerie. She nags him to exercise, but says she gets "cussed out'' for it. She bugs him to take his medication but says she gets ignored over it. Her new trick, just to get him on his feet, is to tell him he has to come to the kitchen to eat his lunch. That's her best way to get "The Refrigerator'' to walk near the refrigerator.
Of course, then when she least expects it, her husband will hobble out the door and into his car. She knows exactly where he's headed: to the liquor store.
Because every day ends with William Perry needing a drink.
Read the entire story
.
January, 5, 2011
1/05/11
3:17
PM ET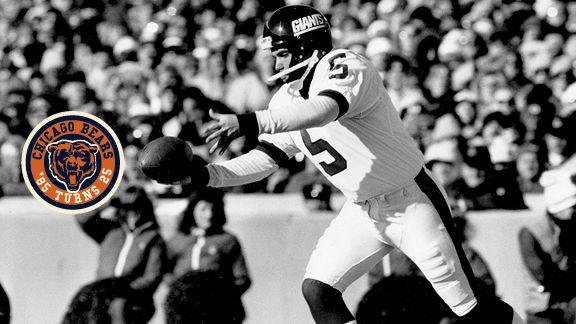 Jerald Pinkus/Getty ImagesA punt by the Giants' Sean Landeta traveled minus-7 yards and turned into the Bears' first touchdown.
Editor's note: ESPNChicago.com is celebrating the 25th anniversary of the Chicago Bears' dominant 1985 season and victory in Super Bowl XX. We'll have weekly features on each game from '85, video interviews with key figures, photo galleries and more.
In the long and storied history that is
New York Giants
football, Jan. 5, 1986 is not a date anyone in the organization cares to remember.
"It was not," says former Giants center
Bart Oates
, "my most pleasant day."
Oates, who would go on to win three Super Bowls with the Giants and the
San Francisco 49ers
, had to endure not just the 21-0 shellacking handed out by the Bears at Soldier Field in the first round of the playoffs. He also had to suffer the indignity of the Bears' six sacks on quarterback
Phil Simms
for minus-60 yards, and was forced to watch his long snap to punter
Sean Landeta
-- albeit upside-down -- wind up a whiff that landed in the arms of Bears'
Shaun Gayle
, who had to travel just 5 yards into the end zone for the first score of the game.
Read the entire column
.
December, 15, 2010
12/15/10
2:42
PM ET
There are still moments,
Kevin Butler
admits, when he thinks he could be out there again.
"I can honestly tell you, if I had a personal trainer for a year, I could do it," said the highest scoring rookie in NFL history. "But the key to that, during the year, somebody has to pay my bills. That's the harder part."
The fearless rookie kicker has a generous smattering of gray now, and he doesn't get called "Butt-Head" much anymore unless he's at a Bears reunion. Although the confidence that endeared the Georgia kid to his teammates on the '85 Super Bowl champs is still there, it has by the laws of genetics and the force of nature, now been passed down to his children.
Read the entire story
.
December, 7, 2010
12/07/10
2:12
PM ET
November, 10, 2010
11/10/10
12:59
PM ET
CHICAGO -- It was during Super Bowl Media Day in February when Jim McMahon was first approached and asked to get involved with the Sports Legacy Institute, which was formed three years ago to "solve the concussion crisis" in sports.
Read the entire story.
November, 10, 2010
11/10/10
10:38
AM ET
CHICAGO -- Matt Suhey never had a chance.
Not at first, anyway.
Oh sure, the young running back and Bears' second-round draft pick in 1980, was a fine player and part of a proud tradition of football-playing Suheys at Penn State.
He was also a humble kid, respectful, hard-working and with a little time, was clearly going to be more than capable of blocking for the great Walter Payton.
But he wasn't Roland Harper.
"I was the short white guy," Suhey recalled with a laugh.
Read the entire story
.
November, 5, 2010
11/05/10
9:36
AM ET
CHICAGO -- Away from photographers, they hugged. And in front of the cameras, they posed together, Mike Ditka's arm around Buddy Ryan, Ditka asking for copies of the pictures, Ryan smiling broadly.
Just another couple of old pals who don't get to see each other much these days.
Read the entire story
.