Chicago Bears:

2012 Week 2 coverage
September, 14, 2012
9/14/12
1:54
AM ET
GREEN BAY, Wis. --
Chicago Bears
quarterback
Jay Cutler
threw four interceptions, took seven sacks and recorded the second-worst passer rating (28.2) of his career Thursday night at Lambeau Field. He screamed frequently at teammates, especially at left tackle
J'Marcus Webb
. He kicked
Green Bay Packers
cornerback
Charles Woodson
and was as defiant as ever after a
23-10 defeat
.
"I care about this," Cutler told reporters. "This isn't just a hobby. I'm not doing this for my health. I'm trying to win football games. When we're not doing the little things or things the right way consistently, I'm going to say something. If they want a quarterback that doesn't care they can get someone else."
To me, there is a difference between caring deeply about the outcome of a game and growing so frustrated that you can't think straight. That's where Cutler appeared to be as he threw passes up for grabs and pinballed wildly inside the pocket in the latter stages of the game.
Woodson wouldn't discuss the fourth-quarter play when, on a blitz, he landed at Cutler's feet after a completion to
Earl Bennett
. Cutler appeared to kick Woodson after throwing the ball.
Woodson, however, made clear the Packers fully expected Cutler to crack at some point in the game.
"Well, Jay is a guy, he'll give you a chance," Woodson said. "You just have to be in position."
It's worth noting Cutler produced one of the worst games of his career in the second game of a season he has been given everything he could have ever hoped for. The Packers took away receiver
Brandon Marshall
, who caught two harmless passes, and their pass rush overwhelmed the one area the Bears didn't address this offseason: Their offensive line. The Packers blitzed on 13 dropbacks, according to ESPN Stats & Information. They sacked Cutler on four of them and intercepting him on two others.
The only time Cutler has finished a game with a lower passer rating,
according to pro-football-reference.com
, was a 2009 game against the
Baltimore Ravens
.
More to come in a bit.
September, 14, 2012
9/14/12
1:53
AM ET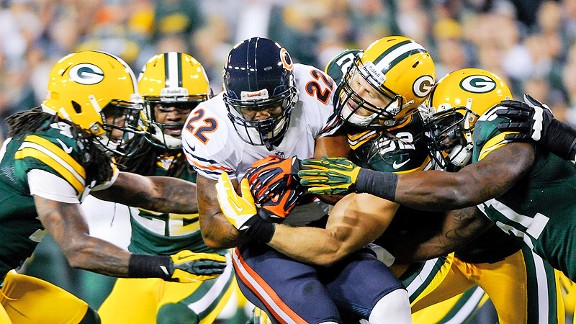 Benny Sieu/US PresswireThe Packers defense forced four turnovers, had seven sacks and limited Chicago to 168 total yards.
GREEN BAY, Wis. -- Yes, the
Green Bay Packers
were miffed in the days and hours leading up to Thursday night's divisional showdown with the
Chicago Bears
. No, it had little to do with Bears quarterback
Jay Cutler
's
challenge to their defensive backs
. The issue was much larger than that, and it goes all the way back to March 13 -- the day the Bears made their surprise trade for receiver
Brandon Marshall
.
"We thought it was kind of funny," cornerback
Charles Woodson
said, "that all of a sudden they were the team to beat because they got a couple new guys."
So it was with great delight that Woodson and his defensive teammates tore up the Bears' offense in a
23-10 victory
at Lambeau Field. It wasn't because Cutler had wished them "good luck" this week if they tried to play press coverage against Marshall and rookie
Alshon Jeffery
. It was the larger notion that Marshall's arrival had elevated the Bears to a level where they would challenge the Packers' supremacy in this division.
As a result, this game had an edge rarely seen in what is normally a friendly rivalry. The Packers got under Cutler's skin early, sacking him on the Bears' first play from scrimmage and ultimately forcing him into
one of the worst games of his career
. They sacked Cutler seven times, including 3.5 by linebacker
Clay Matthews
, and intercepted him four times. Cornerback
Tramon Williams
grabbed two of those interceptions, but even more notably, he blanketed Marshall for almost the entire game.
The Packers left the Bears' hype in ruins, limiting them to 168 total yards and 11 first downs in 57 plays. Woodson, for one, appeared quite satisfied afterward to have challenged the Bears' narrative.
"Their offense didn't look any different to me," he said. "We know those guys. We've played them a lot. They didn't look much different. They just have some new players."
The primary newcomer, Marshall, didn't see a single pass thrown his way until Williams slipped in coverage with 8 minutes, 59 seconds remaining in the third quarter. Wide open for a touchdown, Marshall dropped the ball in the end zone.
Williams said Cutler's words this week didn't get him "out of whack" but made clear that "guys wanted to come out and put on a good performance, and we did that."
[+] Enlarge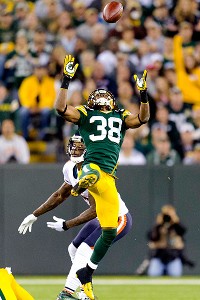 Jeff Hanisch/US PRESSWIREGreen Bay cornerback Tramon Williams grabs one of his two interceptions.
Said Woodson: "Tramon is a tremendous player, and he helped us dominate today."
Indeed, Bears coach Lovie Smith said there were plays called throughout the game for Marshall "that we couldn't get off."
This was as complete of a defensive game as I've seen the Packers play in some time, even dating back to the elite level they played during portions of their 2010 Super Bowl season. They limited tailbacks
Matt Forte
and
Michael Bush
to 85 yards on 21 carries, putting the Bears' offensive line in the unenviable position of pass-blocking against rushers highly motivated to reach Cutler. As a result, the Packers' blitz was highly effective. Defensive coordinator Dom Capers sent an extra rusher on 13 of Cutler's 35 dropbacks, according to ESPN Stats & Information. They sacked him on four of those blitzes and recorded interceptions on two others.
Most importantly, I thought, the Packers' defense got after it in a way that permeated the entire game. Cutler was hit a total of 12 times, frustrating him to the point that he was screaming at his offensive linemen and even kicked Woodson after a third-quarter blitz. Bears left tackle
Gabe Carimi
was penalized 15 yards in the second quarter after retaliating to a shove from Packers linebacker
A.J. Hawk
, and Bears players protested loudly when Packers cover man
Rob Francois
roughly shoved returner
Devin Hester
out of bounds.
You could see the tension on both sides of the ball, and even Packers quarterback
Aaron Rodgers
gestured angrily and screamed at receiver
James Jones
after a fourth-quarter interception put the Bears in position for their only touchdown. (Rodgers said afterward he and James were "not on the same page" on the play call.) The Packers' best offensive player Thursday night might have been tailback
Cedric Benson
, who helped set the physical tone by grinding out 81 tough rushing yards.
"There was definitely words out there," Packers cornerback
Sam Shields
said. "You could tell Cutler was getting frustrated. We know what Cutler does. We were just out there as a defense trying to take advantage."
Matthews, meanwhile, now has six sacks in two games this season after abusing Bears left tackle
J'Marcus Webb
all night. Matthews said he hopes the performance "becomes our theme for this defense and this team."
Yes, the Packers revealed Thursday night how amused they were by the Bears' new status as media darlings. But were you expecting their defense to be the group that realigned our thoughts on that? I'm not sure I was. So it goes. That's, as they say, why they play the games.
September, 13, 2012
9/13/12
10:49
PM ET
GREEN BAY, Wis. --
Chicago Bears
quarterback
Jay Cutler
backed up his bravado from earlier in the week by putting together one of the worst statistical performances of his career Thursday night in a 23-10 loss to the
Green Bay Packers
at Lambeau Field.
Completing less than 41 percent of his passes, Cutler threw four interceptions and a touchdown and suffered seven sacks on the way to finishing with the second-worse passer rating (28.2) of his career. Cutler didn't complete a pass to the club's top target
Brandon Marshall
until there was 7:20 left to play.


Cutler's outing against the Packers wasn't as bad as Dec. 20, 2009, when he finished with a 7.9 passer rating against the
Baltimore Ravens
after completing 20 of 27 for 94 yards and three interceptions.
Against the Packers, Cutler hit on 11 of 27 for 126 yards.
What the Bears can take from this loss is the fact the issues the club had before the start of the season such as the offensive line, and subpar play at receiver still exist.
So it's up to the Bears to continue to work to fix them.
What it means:
Although the Bears squandered an opportunity to put the defending NFC North champions in an early bind, this loss isn't particularly devastating. At this point, there's still a chance the entire division can go into Week 3 with 1-1 records. So it's still early in the division race, and coming off a four-day turnaround, the Bears likely feel lucky to come out of this outing without any major injuries.
Same o-line:
After putting together a solid performance in the season-opening win over the
Indianapolis Colts
, which played a good portion of the game without top pass rusher
Dwight Freeney
, the Bears offensive line reverted to 2011 form in allowing Cutler to suffer six sacks against a relentless rush led by
Clay Matthews
(3½ sacks).
By allowing the pressure and hits, the offensive line played a major role in Cutler never developing any type of rhythm with the receivers.
Anticipating pressure, Cutler also seemed uneasy in the pocket, which likely affected his ability to throw the ball accurately.
At the same time, Cutler might share in the blame considering he appeared to hold the ball too long on most of the sacks.
Crucial drop:
Marshall made several difficult catches with defenders draped all over him in the opener. So it came as a surprise when Marshall dropped a slightly overthrown ball from Cutler in the end zone, which would have gone down as a touchdown.
The pass from Cutler came in the third quarter, and was just the first ball thrown Marshall's way all game. Marshall didn't make his first catch of the game until there was 7:20 left to play.
Upon acquiring Marshall, there was slight concern within the organization about the receiver's penchant for dropping balls. After all, he finished second in the NFL in dropped passes in 2011 (14 according to Pro Football Focus), and entered Thursday night's game with one drop.
That deficiency in Marshall's game reared its head against the Packers, and it cost the Bears a TD.
Marshall caught 13 passes for 201 yards in two prior outings against the Packers.
Defensive line pressures Rodgers:
Coming off a three-sack performance in the opener, the Bears dropped Rodgers four times through the first three quarters.
Julius Peppers
led the team with two sacks, while
Henry Melton
chipped in one with
Shea McClellin
and
Corey Wootton
contributing a half sack apiece. All the pressure didn't do much to stop Rodgers, who threw a 26-yard TD pass in the fourth quarter to
Donald Driver
.
What's next:
The Bears take some needed time off and return to the practice field on Monday in preparation for the club's Sept. 23 meeting with the
St. Louis Rams
at Soldier Field.