Chicago Bears:

2013 Week 15 CHI at CLE
December, 15, 2013
12/15/13
7:42
PM ET
CLEVELAND -- Naturally, nobody on the
Chicago Bears
defense walked away from Sunday's
38-31 win
over the
Cleveland Browns
totally satisfied with the way they performed.
But for once, they weren't answering questions about the defense giving away games.
[+] Enlarge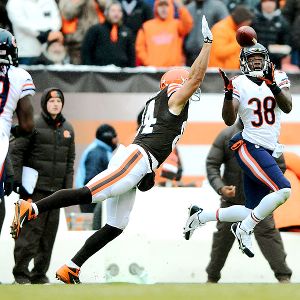 Andrew Weber/USA TODAY SportsZack Bowman had two picks and a score in Chicago's win over Cleveland.
"It feels good, actually," said cornerback
Zack Bowman
, who finished with two interceptions, including one he returned 43 yards for a touchdown. "Obviously there are things we've got to do better. But after the game, nobody was talking about it. We got the win."
The defense also accomplished some of the objectives outlined during the week at practices and meetings.
Bears defensive coordinator Mel Tucker set goals for the defense to hold the Browns to fewer than 100 yards rushing (they finished with 93), 17 points or fewer, and generate takeaways.
"I think we hit two of those," defensive tackle
Jeremiah Ratliff
said. "It's a good start. Not to try to take away from the effort, but we need to win the turnover battle."
The Bears definitely won the matchup against Browns receiver
Josh Gordon
and tight end
Jordan Cameron
. Gordon had racked up 774 yards receiving in the four games prior to Sunday's, but with
Tim Jennings
as the primary man in coverage, the receiver caught just three passes (despite being targeted 10 times) for 67 yards and a touchdown. The majority of Gordon's receiving yardage came on a 43-yard score in trash time.
Cameron, meanwhile, was coming off a game against the
New England Patriots
last week in which he produced a career-high 121 yards receiving, which marked his second 100-yard game of the season. Against the Bears, however, Cameron caught three passes for 23 yards.
For two weeks in a row, Jennings has drawn the likes of
Dez Bryant
and Gordon and has limited them to a total of 79 yards on six receptions, with each scoring only one touchdown.
"It's unbelievable. This is two weeks in a row," Bowman said. "He had Dez last week, and he had Gordon this week. I'm just speechless, man. He's one of the best corners in the NFL."
The job Jennings did on Gordon played a significant role in Chicago's success against the Browns. Gordon didn't catch a pass until the first play of the second half.
"Just to try to limit those guys from making the big plays was huge. Coach has done a good job of mixing it up, giving a Cover-2 look, Cover-3 look, man-to-man look. So anytime we can mix it up to try to take those guys out of the game, we've got a good chance to try to win," Jennings said. "Our D-line and the guys are starting to click. We're putting some pressure on the quarterback and making him get the ball out quicker. So we're able to take those big-play receivers out of the game a little bit."
The Bears failed to sack Browns quarterback
Jason Campbell
, but the forced him to throw faster than he wanted, resulting in errant passes picked off by Bowman.
Bowman's 43-yard interception return for a touchdown with 13:48 left in the third quarter marked the sixth time the Bears scored a touchdown on defense. The club has now won 12 consecutive outings in which they've scored on defense. The Bears are now 26-2 since 2005 in games they score a defensive touchdown.
Bowman's first pick of the game came on a pass intended for Cameron.
"When we score on defense, we win games," Bowman said.
Chicago also snuffed out the run, which is an accomplishment for the NFL's 32
nd
-ranked rush defense facing a Cleveland rushing attack that ranked No. 27. The Bears prevented a team from finishing with a 100-yard rusher on Sunday for the first time since Oct. 20, when they limited
Alfred Morris
to 95 yards.
The game also marked the first time since Oct. 6 the Bears kept a team to fewer than 100 total rushing yards.
Linebacker
James Anderson
was credited with a team-high 11 tackles, to go with a quarterback hit and a pass breakup.
"It was definitely good," defensive end
Corey Wootton
said. "A big point of emphasis was keeping them under 100 yards. I thought for the most part, except for a play here or there, we played pretty good run defense. It was good to have Rat[liff] in there. He made some really good plays. It was definitely a good performance stopping the run."
Can it continue? It's not likely against a red-hot
Philadelphia Eagles
rushing attack led by
LeSean McCoy
. But the Bears feel like they've at least now set a standard, according to Ratliff, who was credited with two tackles, including one for lost yardage and three quarterback hits.
"We know we can get three-and-outs and hold a team to under 100, and hold them to 17 points or less," Ratliff said. "So now, it's a standard now. That's something we're expecting out of ourselves. If we want to be the defense we really want to be, there's some things we need to get done. That's holding a team to under 100 yards rushing, holding a team to 17 points or less, and of course winning the turnover battle."
December, 15, 2013
12/15/13
6:44
PM ET
Week 15 Report Card: Bears vs. Browns

A
Rushing Offense
Matt Forte notched his fourth 100-yard rushing game of the season when he gained 127 yards on 24 carries. Michael Bush even busted loose for a 40-yard touchdown run. As a team, the Bears averaged 5.8 yards per rushing attempt. Much of the credit goes to the offensive line. The Bears have done a tremendous job up front opening up running lanes in recent weeks.

B
Passing Offense
Jay Cutler tossed a pair of first-half interceptions, one returned for a touchdown, but the quarterback settled down in the second half to finish with 265 yards passing and three touchdowns for a 102.2 quarterback rating. Brandon Marshall led the Bears with six catches for 95 yards, but Alshon Jeffery stole the show the third straight week with a 45-yard jump ball touchdown in the fourth quarter. Earl Bennett also caught a score.

C
Rushing Defense
The Bears held the Browns to just 93 yards rushing on 17 carries. Even though Cleveland averaged 5.5 yards per rushing attempt, it's the first time the Bears have held a team to under 100 rushing yards since the New Orleans Saints game on Oct. 6. Consider it a moral victory.

B+
Passing Defense
Jason Campbell did throw for 273 yards, but almost all of his completions were on check-downs. Josh Gordon was a non-factor until catching a 43-yard touchdown near the end of the game. Dangerous tight end Jordan Cameron had only three catches for 23 yards. The Bears received solid performances from cornerbacks Zack Bowman (two interceptions, one touchdown) and Tim Jennings.

A-
Special Teams
The Bears limited the Browns to just 44 return yards, while Devin Hester brought back three kickoffs for a combined 105 yards and one punt for 21 yards. Robbie Gould made his one field goal attempt, and Adam Podlesh landed one of his three punts inside the Browns' 20-yard line.

A
Coaching
Marc Trestman weathered the storm when Cutler struggled in the first half, and continued to call a smart and effective game on offense. Trestman's decision to insert Cutler back into the starting lineup did not cost his team a victory. Mel Tucker's defense has improved in recent weeks. The Bears (8-6) now appear poised to finish out the season on a high note and perhaps win the division for the first time since 2010, although the team still needs help.
December, 15, 2013
12/15/13
6:03
PM ET
CLEVELAND --
Josh McCown
didn't rebound from a horrid start Sunday to help the
Chicago Bears
rally and
defeat
the
Cleveland Browns
38-31, but the backup celebrated as if he'd done it because he was so proud of
Jay Cutler
.
Backup QB McCown had started the last four games and performed surprisingly well. Yet the Bears opted to pull the reins from his hands and give the starting job back to Cutler, who tossed two picks early Sunday, including one returned for a touchdown, before bouncing back with three scoring strikes to lead Chicago to victory.
Despite relinquishing the starting job, McCown called Sunday perhaps his proudest moment working with Cutler.
"There was a lot swirling around this thing, building up to this week," McCown said. "You try to block it out as much as possible, but you understand it's out there. At the same time, we were focused on just getting this game. Understanding everything around it, then to start the way he did, I'm just very, very proud of him, man. Proud to call him my teammate, proud to call him our quarterback, and proud to call him my friend. What he did, just the resolve and the toughness to do what he did today is probably one of the most proud moments I've had this whole year."
[+] Enlarge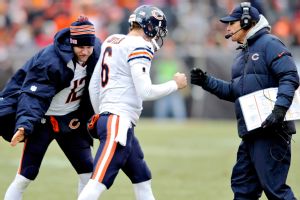 AP Photo/David Richard"I'm just very, very proud of him, man," Josh McCown said of Jay Cutler. "Proud to call him my teammate, proud to call him our quarterback, and proud to call him my friend."
With McCown winning two of his four starts filling in as the starter and throwing for 1,271 yards and nine touchdowns with only one interception for a passer rating of 109.8 (No. 3 in the NFL), there was speculation about whether the backup was actually the better option for the Bears. The debate gained intensity Thursday when Bears coach Marc Trestman named Cutler the starter for Sunday's matchup.
Cutler's first offensive series against the Browns resulted in an interception to
Tashaun Gipson
on a pass intended for
Brandon Marshall
. In the second quarter, Cutler tossed another pick to Gipson, who returned it 44 yards for a touchdown to give Cleveland a 10-3 lead.
"I told him he was gonna be alright," McCown said. "It's just silly things happen. You're off a little bit, or the receiver's off. Things happen, and it's not what happened as much as how you respond to what happened. That's why I'm so proud of him. Him and the other 10 guys in that huddle rallied around that and said, 'You know what, we're gonna be fine.' And we found a way to get it done."
By the time the first half came to a close, Cutler had completed 13-of-19 for 168 yards, a touchdown and two interceptions, to go with a passer rating of 73.9. Cutler hit Marshall for a 5-yard touchdown with 24 seconds left before intermission to tie the score 10-10 at the half.
When Cutler struggled early, McCown never wondered if Trestman would turn back to him over the starter.
"I believed in him 100 percent," McCown said. "He's the starting quarterback for us because he can do those sorts of things. He can pull himself out of that. He's that mentally tough. So I knew it was just a matter of time. It's been a while since he played. He got to settle back in and was ready to roll."
As Cutler prepped in front of his locker to face the media for a postgame press conference, McCown stood in front of the starting quarterback, helping to adjust his tie.
McCown entered Sunday leading the NFL with a Total QBR of 85.7. He'd thrown 13 TDs and only one INT in five starts and portions of two other games. He completed 36 passes on Nov. 24 to set the franchise single-game pass completion record, and he passed for 300 yards or more in each of the last three games, in addition to holding the franchise's highest single-season passer rating.
But in this moment, McCown had been relegated back to a reserve role. He was fine it.
"[Cutler is] a mentally tough dude, I just kept encouraging him. We all have his back," McCown said. "It was just a matter of him getting a couple of plays going and some positive things happening. I knew he would be fine. I'm so proud of him. I'm probably more proud today than any game this year. What he did was so cool."
December, 15, 2013
12/15/13
4:15
PM ET
CLEVELAND -- A few thoughts on the
Chicago Bears
'
38-31 win
over the
Cleveland Browns
on Sunday at FirstEnergy Stadium.
What it means:
Jay Cutler
shook off a horrid beginning with three touchdown passes to go with a passer rating of 102.2 to keep the Bears in the mix in the NFC North title race. What's more, there's a chance the
Detroit Lions
could help out the Bears on Monday night against the
Baltimore Ravens
. If the Lions defeat the Ravens, they'll remain ahead of the Bears by a half-game in the NFC North standings with just two contests left to play. But if Detroit falls, the Bears will lead the division, with a realistic shot at winning it.

Almost a statistical anomaly:
Typically the Bears win games when they score defensive touchdowns. But the club nearly bucked that trend in Cleveland.
Coming into the game, the Bears had won 11 consecutive games when they scored a defensive touchdown. So when
Zack Bowman
helped the Bears score 14 points in just 1 minute, 41 seconds to turn a 10-3 halftime deficit into 17-10 lead with his 43-yard interception return at the 13:48 mark of the third quarter, it appeared the visitors were well on the way to yet another victory by way of a defensive score. After all, since 2005, the Bears had racked up a 25-2 record in games they scored a defensive TD. The record is now 26-2, but an offense that allowed the Browns to score two defensive touchdowns almost ruined that.
Score TDs, don't give them up
: Chicago's offense is supposed to score touchdowns, not surrender them. But the Bears nearly negated a decent performance by the struggling defense when they granted Cleveland's defense a couple of freebie touchdowns. Cutler started the giveaway party in the second quarter by throwing an interception that was returned 44 yards for a touchdown by
Tashaun Gipson
that put the Browns up 10-3.
Then, in the third quarter,
Martellus Bennett
caught a 5-yard pass from Cutler, only to cough it up on a hit from
Billy Winn
.
T.J. Ward
scooped up that loose ball and returned it 51 yards for a score to help Cleveland end the third quarter with a 24-17 lead.
Blown opportunity:
Bowman intercepted
Jason Campbell
in the second quarter to give Chicago possession at its own 40, and although the Bears moved quickly into Browns territory, they blew an opportunity to score. On fourth-and-1 at the Cleveland 24, receiver
Alshon Jeffery
was flagged for false start as the Bears attempted to convert for a first down. That penalty moved back the Bears and forced
Robbie Gould
to kick a 46-yard field goal. Gould connected on the kick, but
Corey Wootton
was called for holding.
That quick sequence of plays forced the Bears to punt when they were in prime position to put points on the board.
What's next:
The Bears face Philadelphia,
which fell at Minnesota
, on the road Sunday in a game flexed to a prime-time kickoff. Given where the Bears and the Eagles sit in their respective divisions and the fact that only two games remain, this contest is shaping up as a crucial one for both clubs.