Chicago Bears:

A.J. Green
September, 8, 2013
9/08/13
6:20
PM ET
CHICAGO -- Here are five things we learned in the
Chicago Bears
'
24-21
victory against the
Cincinnati Bengals
:
Tillman
1. Charles Tillman battled despite illness:
Playing through an injury or ailment is nothing new for Tillman, but his seven-tackle, two-interception effort, despite covering the dangerous
A.J. Green
, was commendable. Green got the best of Tillman on multiple occasions and finished the day with a game-high nine catches for 162 yards and two touchdowns, but keep in mind that Tillman vomited multiple times on the sidelines before receiving an IV of fluid at halftime. Statistically speaking, Green easily won the battle, but Tillman showed moxie throughout the game. His desire to jump up and run with the football after an interception is refreshing. While most guys are content to break one tackle and fall to the ground following an interception, Tillman ran like a man possessed both times he had the football in his hands and looked at one point to have scored a touchdown on his first interception before the ruling on the field was overturned. Tillman works hard. He defends the opponent's best receiver almost every week, and has never been accused of being a glory hound. He's also the best cornerback in Bears' history, but we already knew that.
2. The offense picked up steam as the game wore on:
The Bears' offense is far from a finished product, but
Jay Cutler
led the team on two second-half scoring drives that eventually proved to be the difference in the game. Cutler tossed one bad interception, but overall, he had himself a good regular-season opener, throwing for 242 yards, two touchdowns, and posting a 93.2 quarterback rating. Cutler wasn't sacked a single time. A lot of the credit for the Bears' pass protection needs to go to Cutler, who got rid of the ball in a hurry and helped negate the Bengals' talented defensive front. Cutler also displayed accuracy on his passes and spread the ball around to several different targets. If Cutler can play at this level and make these types of decisions every week, the Bears will be a playoff team.
3. Brandon Marshall's hip was a non-issue:
All the commotion about Marshall's hip last week was overblown. Marshall doesn't like to practice, but he loves to play in regular-season games. If that isn't obvious by now, you haven't been paying attention. The Pro Bowler appeared to be in mid-season form on Sunday, catching eight passes for 104 yards and one touchdown on a team-high 10 targets. Marshall needs the football. He's great. He just doesn't need to have the ball thrown his way when he's double-and triple-covered. Cutler picked his spots to throw to Marshall, and the results were exactly what the Bears needed. It's not too often Marshall isn't the best receiver on the field (that honor went to Green on Sunday), but he did enough to help the team win, with most of his damage in the second half when the Bears were clawing their way past Cincinnati. After Cutler, Marshall was the Bears' second most important offensive player on the field in Week 1.
4. Martellus Bennett makes an impact after a quiet preseason:
Bennett's numbers don't jump off the page (three catches for 49 yards and one touchdown), but let's examine his significance on Sunday. First, the tight end made an outstanding catch in the back of the endzone on a pass that was tipped by a Bengals' defender. He came down inbounds with the football for the games' first score. His second reception came on third down and went for 30 yards, helping set up the Bears' first touchdown of the second half. Finally, Bennett hauled in a huge 11-yard pass on third down to move the chains late in the fourth quarter and keep the Bengals' offense off the field. Teams need those kinds of subtle contributions from players in order to win in the NFL. The tight end is off to a good start after catching just one pass for 16 yards in the preseason. As Bennett said two weeks ago, players don't cash bonus checks for what they do in the preseason. It's the regular season that counts, and Bennett is off to a good start.
5. Marvin Lewis, really?:
I cannot believe that a team with the second most tenured head coach in the NFL, with a defensive coordinator (Mike Zimmer) who many believe is good enough to be an NFL head coach, with a former NFL head coach on the staff (Hue Jackson) and a seasoned group of assistants would be capable of making such dumb and costly mental mistakes. The Bengals have nobody to blame but themselves for this one. From their lack of time management, to burning all three second-half timeouts with eight minutes left to play, to ridiculous personal foul penalties at critical moments of the game, the Bengals hardly resembled a team that some are predicting could advance to the Super Bowl. Championship teams are disciplined. The Bengals are not. Where is the common sense with this group?
September, 5, 2013
9/05/13
1:00
PM ET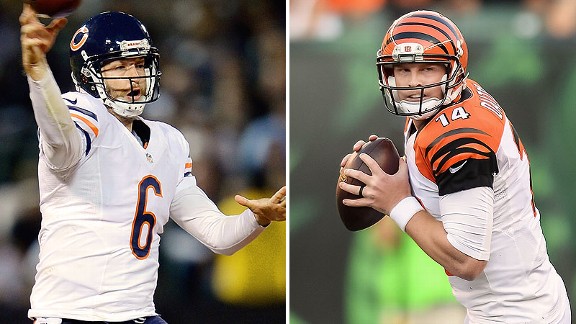 Getty ImagesChicago's Jay Cutler, left, and Cincinnati's Andy Dalton lead their respective offenses against very stingy defenses.
Two strong defensive teams led by highly scrutinized quarterbacks in
Jay Cutler
and
Andy Dalton
set the scene for what should be a hotly-contested matchup between what are expected to be ascending clubs.
Marc Trestman makes his debut as an NFL head coach at Soldier Field on Sunday, leading a Bears team with plenty of roster turnover on offense, including a totally revamped line expected to better protect Cutler as he operates the club's new scheme. That group will be tested by a Bengals defensive line, led by
Geno Atkins
, that accounted for 43 of the team's franchise-record 51 sacks in 2012, and also paved the way for the defense to finish the season ranked No. 6 for fewest yards allowed.
Chicago's defense in 2012 was even better, finishing fifth in net defense, third in scoring defense (17.3 points per game) and No. 2 in turnover differential while leading the NFL in interceptions (24) and total takeaways (44).
While home-field advantage can be key for teams, it's certainly been a factor in this series. The Bengals hold a 4-1 road record against the Bears and own a 6-3 series lead, which includes victories in their last outings (2005 and 2009).
Chicago hasn't beaten the Bengals since 2001.
ESPN.com's Matt Williamson and Bears team reporter Michael C. Wright discuss the matchup.
Wright:
The Bears hope they fixed the offensive line with a combination of scheme (shorter drops for Cutler), beefed up protection with
Jermon Bushrod
at left tackle and a pair of draft picks in
Kyle Long
(first round) and
Jordan Mills
(fifth) at right guard and right tackle, and another weapon for Cutler to find down the middle of the field when he's in trouble. But the inexperience of Long and Mills will be question marks against Cincinnati's active defensive line.
It seems Cincinnati's defense is built around Atkins, but how much of a factor are guys like
Carlos Dunlap
and
Michael Johnson
?
Williamson:
Atkins is the foundation of the defense for sure and everyone thrives off his presence, but the Bengals have a lot invested in the defensive line now in terms of finances and draft picks. This is an extremely deep and talented group that makes the entire defense go. Dunlap might be a little underrated and Johnson a little overrated, but they form an impressive pair of defensive end. These three players, along with the rest of Cincinnati's defensive front, will prove a very steep challenge for Chicago's rebuilt offensive line in Week 1.
What can the Bengals' defense expect from this new Trestman offense?
Wright:
The Bears will utilize zone blocking in the running game, which should allow
Matt Forte
to pick his own holes. That should open up the passing game, where the Bears will use West Coast philosophies such as shorter routes and drops for Cutler so he can get rid of the ball quickly. Look for the Bears to also try to use
Earl Bennett
down the seams to exploit potential matchup problems, especially on traditional running downs where the Bengals might be using base personnel.
Speaking of the Bengals, they've made the playoffs in three of the last four years, but really haven't made much noise. What are the expectations for this team now?
Williamson:
Expectations must go up. They had yet another high-quality offseason and this team has an exceptional young core of players on both sides of the ball. They clearly play in a tough division, but going one-and-done in the playoffs yet again will not be considered a successful season in Cincinnati. I fear they will only go as far as their quarterback will take them. But Bengals fans have a lot to be excited about.
Do you think this Bears defense can defend
A.J. Green
?
Wright:
They should be able to keep him from dominating the game. It's likely the Bears match
Charles Tillman
up against Green, but if the receiver winds up in front of
Tim Jennings
, the team is confident he can get the job done, too. The Bears typically don't double or shade coverage against players such as Detroit's
Calvin Johnson
, so don't count on seeing the Bears try that against Green. Cincinnati's tight ends could be an issue now that they've got two good ones in
Jermaine Gresham
and
Tyler Eifert
.
With such a talented supporting cast, do you see Dalton as just a guy surrounded by weapons, or a blossoming young quarterback?
Williamson:
He shows signs of blossoming into a solid young quarterback, and has been especially adept in the red zone, which is very noteworthy for a young quarterback. But I think he is more of the former. He is a limited passer who lacks great tools, and isn't as accurate or on time with his throws as you would like for someone with his limitations. The Bengals knew this and landed two very "Dalton-friendly" receivers for him in Eifert and
Giovani Bernard
. Eifert should develop into an exceptional target in the middle of the field as well as the red zone, while Bernard provides an easy dump-off option for Dalton. With all the Bengals' resources over the past two offseasons, it really surprises me that Cincinnati didn't do more to challenge Dalton or greatly improve its backup quarterback spot.