Chicago Bears:

Adewale Ogunleye
May, 17, 2010
5/17/10
2:52
PM ET
1. Jay Cutler's progress learning the new offense:
Should Cutler fail to rebound from throwing a league-high 26 interceptions last season, the
Chicago Bears
could be doomed to miss the postseason for a fourth consecutive season. It's safe to say nearly everything offensively hinges on Cutler's ability to properly run Mike Martz's offense -- the quarterback's third offensive system in three years. Early reports indicate promise between Cutler and Martz. The two appear to have an excellent working relationship, mainly because Cutler respects the new offensive coordinator. If the bond between them remains strong, Cutler's second year in Chicago should be dramatically different than Year 1, when the former Pro Bowler posted a career-low 76.8 quarterback rating.
Unlike offensive and defensive linemen, it's easier to evaluate quarterback play during a non-padded minicamp. This weekend marks the first time Cutler will be on display working with his receivers as they run Martz's precise patterns. We may also get a glimpse at how the Bears plan to utilize tight end
Greg Olsen
. But for all the attention this offseason paid to tight ends, receivers, and Cutler's protection up front, the Bears' offense will sink or swim based on the quarterback's fortunes.
2. Is Brian Urlacher fully recovered?
Soon to be 32, Urlacher, a six-time Pro Bowl middle linebacker, underwent neck surgery to treat an arthritic back in 2008, before undergoing a procedure in 2009 to repair a dislocated wrist suffered against the
Green Bay Packers
in Week 1. Because of injuries, Urlacher hasn't been the same dominant player he has been during the first seven years of an illustrious career. Like Cutler on offense, the fate of the defense rests largely on Urlacher's ability to stay healthy and direct teammates from the ultra-important middle linebacker spot.
Hunter Hillenmeyer
and
Nick Roach
did their best trying to fill in for Urlacher last season. But nobody can replicate the impact Urlacher -- when healthy --makes on a week-to-week basis.
True to his style, Urlacher stayed fairly quiet this offseason. But all reports regarding Urlacher's voluntary workouts have been positive. When Urlacher takes the field Friday, it will be the first time anybody outside of Halas Hall has seen the middle linebacker in action in eight months.
3. The new-look defensive line:
One of the main culprits behind the Bears' demise since 2006 has been the failure to generate a pass rush. The Bears feel they have addressed the issue by signing defensive end
Julius Peppers
, who has recorded double-digit sack numbers in six of his eight seasons with the
Carolina Panthers
. The addition of Peppers, plus the departures of
Adewale Ogunleye
and
Alex Brown
leave the Bears with two new starters at defensive end. The hope is that
Mark Anderson
, now in his second year working with Rod Marinelli, recaptures some of his magic from 2006 (12 sacks). But it's been three years since Anderson made any kind of noise, mainly because people around the league view the former fifth-round pick as purely a situational pass rusher, not an every-down defensive end.
There also appears to be some uncertainty at defensive tackle, where
Tommie Harris
is enjoying his first surgery-free offseason in recent memory. Harris remains a major wildcard in this whole equation, considering he's shown: the ability to dominate games from his under-tackle position and the ability to completely disappear from time to time. If Harris can get his mind and body right, he and Peppers could form a scary duo. The Bears would also benefit from a playmaker at nose tackle. Veteran
Anthony Adams
is a hard-working, dependable leader, but
Marcus Harrison
needs to take that next step. Up to this point, conditioning issues have prevented Harrison from living up to his full potential. It'll be interesting to see how Harrison looks and moves this weekend, because he possesses the athletic ability to dominate inside, but only if/when he remedies the bad habits.
4. The combinations at safety:
Call this situation the ultimate precursor to what should develop into an interesting battle at training camp. Bears coach Lovie Smith used five different combinations at the position in 2009 alone, so now it's time for stability. Has the club progressed any toward developing it during the early stages of the offseason? We'll surely catch the first glimpses at minicamp.
Chicago drafted
Major Wright
(third round) and brought back
Chris Harris
in a trade to add to a talent mix that includes
Danieal Manning
,
Craig Steltz
,
Al Afalava
and
Josh Bullocks
. Efficient play at safety is one of the key factors to success in a Cover-2 based scheme. Although the roster appears to contain the required individual talent to achieve strong play at the position, the club needs to find the perfect combination at safety, which isn't always easy.
Manning and Steltz worked with the first team during voluntary offseason workouts, but it's likely the Bears will roll out several combinations at the position during minicamp. It's believed that the Bears envision using Manning mostly at strong safety this season, which would mean Harris, Wright and Steltz could be fighting for the open spot at free safety. But based on the depth of the position on paper, some of the safeties could be used solely in situational roles.
5. How the receivers progress in Martz's system:
Despite all but one of the receivers (
Rashied Davis
) having accrued less than five years of NFL experience, the Bears claim to be pleased with the current personnel at the position. Perhaps we'll get to see why at minicamp. How the receivers perform at minicamp will likely factor into whether the club makes a play for a veteran receiver prior to the start of training camp.
As it stands, the Bears receivers are certainly an explosive group with speedsters such as
Devin Hester
and
Johnny Knox
in the mix along with
Devin Aromashodu
,
Earl Bennett
,
Juaquin Iglesias
and Davis. But they're young. Martz's intricate system relies on timing and route precision, traits seen mostly in veteran receivers. The club shouldn't have a problem with coaxing such attributes out of the current group. The concern would be whether the Bears can get the receivers to gel quickly enough for the club to take advantage of their immense athleticism paired with Cutler's strong arm by Week 1.
Veteran minicamp will provide at least some indication as to how far the group has progressed. Given the collective talent at the position and Martz's fast-break system, Chicago's receivers -- if they can pick up the system quickly -- could be primed for a banner year.
April, 13, 2010
4/13/10
10:42
AM ET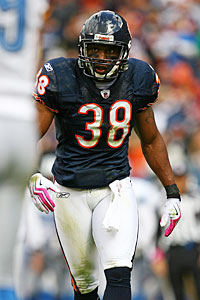 Jonathan Daniel/Getty ImagesDanieal Manning has a strong relationship with Bears coach Lovie Smith.
Q: When is Danieal Manning going to start attending the offseason workouts? I'm not the biggest Manning fan, but Lovie Smith did say Manning is going to start at strong safety. It can't be a good thing that he's staying away from the team. – Christopher, Round Lake, Ill.
A:
Manning
made it clear to ESPNChicago.com
his decision to skip the start of workouts was purely business, and he holds no ill will towards the Bears organization. But there is something to be said for a player feeling disrespected, and I get the feeling Manning thinks the Bears should offer him a new one-year contract, or tender him at a higher level. Since neither of these things are likely to happen, I expect Manning to eventually sign his injury waiver and start attending workouts -- perhaps as early as next week. Manning loves football and has a very strong relationship with Smith, so I bet this whole saga ends peacefully. However, I wouldn't anticipate Manning showing up this week because it wouldn't make much sense for him to return before April 15, the deadline for teams to sign restricted free agents to an offer sheet. Manning has incredible talent, and I really hope the Bears find a way to utilize him properly this year, but I'm not holding my breath.
Q: I saw that Santonio Holmes was traded to the Jets for a fifth-round pick. What gives? Why weren't the Bears players in this deal? Aside from his suspension, Holmes would be a true No. 1. He would instantly upgrade a young group of wide receivers not to mention fit in perfectly with [Mike] Martz's spread offenses. Thoughts? -- Zach, Chicago
A:
It's hard to blame the Bears for taking a pass on Holmes. Yes, the former Super Bowl MVP is coming off a career best 79 receptions for 1,248 yards, but look at all the off-the-field nonsense surrounding this guy. Not only is he suspended for the first four games of 2010, he's also under investigation for a glass-throwing incident in Florida, and has previously been arrested for domestic violence and possession of marijuana. Jerry Angelo once said the biggest character gamble he ever took was on
Tank Johnson
, and we all know how that turned out. Holmes may be an excellent talent, but in my opinion, he's not worth the hassle.
Q: JD, you really think Hunter Hillenmeyer would be a "solid addition" for multiple NFL teams at linebacker? Have we been watching the same Hunter Hillenmeyer? He's below average at best. -- Ryan, Crown Point, Ind.
A:
I just don't understand why people fail to appreciate Hillenmeyer. He's not the flashiest guy on the field, but is always in the right spot, and more times than not, makes the necessary plays. Not only has Hillenmeyer recorded 100-plus tackles in two of the last three seasons, he's a prime example of somebody who sacrifices his body to play through tremendous pain. Let me ask you this question, Ryan: How many below-average former fifth-round picks stay in the league long enough to start 69 regular season games in his first seven seasons? Not many. Hillenmeyer is certainly not "below average" and if any team is looking for veteran help at linebacker, he'd be a solid choice given experience, intelligence, productivity and versatility [either at middle or strong side linebacker].
Q: Jeff, this might be a shot in the dark, but how about re-signing Adewale Ogunleye? Now that Alex Brown is gone, shouldn't the Bears look to add another veteran defensive end? Thank you for your response. -- Mark B. -- Skokie, Ill.
A:
I don't think so. The Bears made it pretty clear they were moving on without Ogunleye, who remains unsigned. If I were to guess, I'd say Ogunleye ends up somewhere after the draft, when teams have a firmer idea of what they still need to fill out their rosters. I thought Ogunleye did a decent job here in Chicago, but the Bears need a little more consistency from that premiere pass-rushing spot. Also, I don't believe Ogunleye is looking to be a reserve -- he still views himself as a starter -- so the prospect of returning to Chicago probably isn't all that appealing.
Q: I was wondering if you think the Bears will try and turn Lance Louis into a fullback for certain situations? He can obviously block and has great speed, and also has great hands for his size. -- Jake, Calif.
A:
I wouldn't rule anything totally out, but tight ends usually take on that H-Back blocking role, and the Bears already have plenty of candidates for that role:
Greg Olsen
,
Brandon Manumaleuna
,
Desmond Clark
and
Kellen Davis
. Plus, the Bears signed
Eddie Williams
, a bigger fullback who may be able to handle those short-yardage situations. However, Mike Martz is known to be very creative, and using Louis in that way certainly would be thinking outside the box. Unfortunately, I can't give you a scouting report on his hands, since we never saw him catch any passes last season -- he only had a small number of receptions at San Diego State. You're right about his speed, Louis is fast and athletic, a major reason why the Bears feel he can at least compete for a job this summer. To sum it up; it's not a bad idea, but I'm not sure if it's likely given the players currently on the roster who could fill that need.
January, 28, 2010
1/28/10
3:23
PM ET
CHICAGO -- Despite
Pisa Tinoisamoa
starting just two games last year because of injuries, the
Chicago Bears
extended an offer to the veteran linebacker near the end of the regular season, according to an NFL source. That gesture clearly indicates the Bears' desire to see Tinoisamoa return, but it might be a little premature to assume Tinoisamoa will bypass the opportunity to test free agency.
NFL free agency begins March 5, but the Bears can negotiate right now with any of their unrestricted free agents such as Tinoisamoa or defensive end
Adewale Ogunleye
.
There is no question Tinoisamoa favors the Bears and wants play for Lovie Smith in 2010, but there is also a business aspect to this whole equation. Can he get more money from another team? Can he get more money from the Bears if he waits until free agency?
My prediction: Tinoisamoa ends up signing a one-year deal with the Bears. But crazier things have happened, especially during this Bears offseason. Very few things are set in stone in the NFL.
A league source confirms former Bears' tight ends coach Rob Boras has accepted the same position with the Jacksonville Jaguars. No surprise a talented coach like Boras was able to land on his feet.
The Boras news was first reported by the Chicago Tribune.
January, 4, 2010
1/04/10
12:02
PM ET
By JEFF DICKERSON


LAKE FOREST, Ill. -- While most assume Lovie Smith is safe, players still spent a good chunk of time Monday morning expressing their desire for the Bears head coach to return for a seventh season.


"We're in this need to be gratified now mentally," Bears defensive end Adewale Ogunleye said. "Three years [without making the playoffs] in the scheme of things isn't that long. Anything can change in a heartbeat. Next year can be the year.


For the way he's taken this team to the Super Bowl, and the NFC championship, I think he deserves a little more credit than what he's getting. You're not going to be on top all the time. Even if you're [New England head coach] Bill Belicheck or Lovie Smith, you're going to have your ups and your downs. Right now he's in a little bit of a down, but I'm sure he can get it [the team] up."


Ogunleye, an unrestricted free agent, calls his chances of returning to the Bears next year "fifty-fifty."
December, 23, 2009
12/23/09
4:07
PM ET
December, 17, 2009
12/17/09
2:22
PM ET
LAKE FOREST, Ill. --
Baltimore Ravens
second-year running back
Ray Rice
is trying to join some elite company. With 1,041 rushing yards and 652 receiving yards, Rice is on track to become the fourth player to put up 1,000 rushing and 800 receiving yards in a single season.
Marshall Faulk
(who did it three times),
Steven Jackson
and
Roger Craig
are the other three.
"He's pretty good," Bears defensive end
Adewale Ogunleye
said. "He's on his way...to make history being one of three running backs (Faulk and Craig) to have 1,000 yards rushing and receiving. That's pretty big. He's a great talent.
"His footwork reminds me of Steven Jackson, but he's able to catch the ball like
LaDainian [Tomlinson]
out of the backfield. To put him in that category is saying a lot for him."
Rice currently ranks second in the NFL in net yards from scrimmage, trailing only Titans running back
Chris Johnson
.
December, 17, 2009
12/17/09
2:02
PM ET
LAKE FOREST, Ill. -- On Wednesday,
Devin Hester
hinted at future changes that will sweep through Halas Hall. On Thursday, Bears linebacker
Lance Briggs
openly discussed prior changes made by the front office since the 2006 Super Bowl season.
"You miss some of those guys when you don't have them, and sometimes you realize what you have when it's not there anymore, or what you could of had when it's not there anymore," Briggs said. "There are things that I do miss about some of those players ... even guys like
Ian Scott
,
Mike Brown
,
Chris Harris
,
Thomas Jones
...
John Tait
...
Ruben Brown
... I can go down the line.
"The thing is, you know in football nothing lasts forever, and who's to say if those guys were with us today that we would be successful.
"You think about a (former defensive coordinator) Ron Rivera, you think about a lot of these guys that were here."
Briggs wasn't the only veteran to cite former teammates while discussing a third consecutive sub-par season. Bears tight end
Desmond Clark
echoed the sentiments made by Briggs, and even added a few of his own names to the growing list of ex-Bears.
"You look back at some of those players who aren't here, three of them pop out right now," Clark said. "You look at Thomas Jones,
Muhsin Muhammad
and
Bernard Berrian
. Three of our big-time playmakers that were here. You look at a guy like John Tait ... who was a big part of the offensive line. Ruben Brown, who was a big part of the offensive line.
"Those five guys right there, were a big part of this team, and leaders on this team. When you take that into account, we have a whole different make-up. We're just not playing as well as we played in 2006 as a unit."
However, defensive end
Adewale Ogunleye
shot down the theory, refusing to blame the team struggles on poor personnel decisions made the past three years.
"Me and Lance, we don't agree on everything," Ogunleye said. "Every year you've got a different opportunity, and a different chance to win. Definitely, we are missing some guys from this year. I don't even look in the past, if we had Brian [Urlacher], if Pisa [Tinoisamoa] would have stayed healthy, what would that have done for our defense. We don't know. But to look back, and to think about guys on other teams and think about what they would have done for us, I don't think that's a great way to think."
December, 10, 2009
12/10/09
2:57
PM ET
[+] Enlarge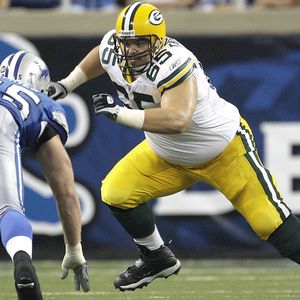 AP Photo/Paul SancyaMark Tauscher re-signed on Oct. 12 and has solidified the right tackle spot for Green Bay.
LAKE FOREST, Ill. -- Bears left defensive end
Adewale Ogunleye
destroyed Packers right tackle
Allen Barbre
in their Week 1 matchup, recording two sacks and a tackle for a loss. Fast forward exactly three months, and Barbre is listed as third string, replaced in the Green Bay starting lineup by veteran
Mark Tauscher
, who re-signed by the Packers on Oct. 12.
"Tauscher is a veteran. I don't think he's in shape yet, honestly," Ogunleye said. "I think on Sunday that'll be a match-up that we are looking to win."
Actually, it's a matchup the Bears must win. Tauscher had offseason ACL surgery on his left knee and was out of football until re-joining Green Bay in the fall. However, many observers feel the addition of Tauscher is a major reason Green Bay's offensive line has improved in recent weeks.
"Honestly, I think the biggest difference is that they're protecting the quarterback,"
Hunter Hillenmeyer
said. "They brought Tauscher back, and it looks like their old offensive line. "
Ogunleye needs to produce in back-to-back weeks, something the veteran has struggled to do this season. All six of his sacks have come in just four games. If the Bears can't pressure
Aaron Rodgers
, they don't have a very good shot at winning.
November, 23, 2009
11/23/09
12:07
AM ET
[+] Enlarge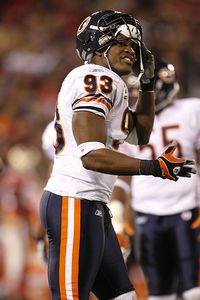 AP Photo/Marcio Jose Sanchez Defensive end Adewale Ogunleye admits the Bears' inconsistency is getting out of hand.
CHICAGO -- Inside the locker room, the Chicago Bears know exactly why they are a mediocre 4-6 team.
"The lack of consistency is becoming unsettling and disturbing," defensive end Adewale Ogunleye said. "We're finding ways to lose. Just pick every man on this roster, watch their film, and they're finding ways to help lose the game. Look at my film. I'm up some games, I'm down some games. That's the way it is with all 53 guys on this roster."
The Bears are very predictable; they show glimpses of being good, then without fail, shoot themselves in the foot. It's almost comical.
Just take a look at the final two offensive possessions. The Bears got the ball back after LeSean McCoy's touchdown run, and Orlando Pace is whistled a false start. Then the defense stops Philadelphia with roughly two minutes left to play, and Corey Graham is flagged for an illegal block in the back.
One step forward, two steps back: The story of the 2009 Chicago Bears.
"This stuff is getting old, fast," Ogunleye said.
Every Bears fan would agree with that assessment.
November, 12, 2009
11/12/09
10:16
PM ET
SAN FRANCISCO -- Most people are probably ready to put the nail in the Bears' 2009 coffin. Even the most optimistic observer will have a difficult time finding any positives in a 4-5 record -- especially since the Bears have lost four of their past five.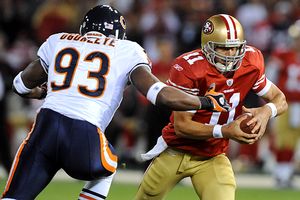 Kirby Lee/Image of Sport/US Presswire
Despite the Bears' 4-5 record, don't count the Bears out, says defensive end Adewale Ogunleye.
Regardless of the facts, players and coaches were adamant in the postgame locker room that hope still exists to salvage this season.


"Is it over? Nope," Bears defensive end Adewale Ogunleye said. "Arizona last year went to the Super Bowl at 9-7, so you got to find bits and pieces of things to draw on. Right now, it's not good, but you got to stay positive. We got to get ready for a serious, serious offense coming in with Philadelphia next Sunday."


"It's not over yet," Tommie Harris said. "The NFL is so funny, with different teams losing that put you back in position (for a playoff berth). I think we'll get another opportunity, and I think we'll seize it. Right now, it's a tough pill to swallow, but we all have to stick together and keep on believing."


Believe what? That the Bears are good enough to make the playoffs? Not likely, considering they continue to make ridiculous mistakes in bunches.


Five turnovers + 10 penalties = a team destined to miss the postseason for the third consecutive year.
October, 28, 2009
10/28/09
1:55
PM ET
October, 23, 2009
10/23/09
8:28
AM ET
LAKE FOREST, Ill. -- All week the Chicago Bears have been harping on missed defensive opportunities and third-down conversions. Here are two more glaring stats from the loss to the Falcons: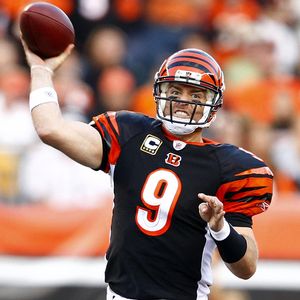 Frank Victores/US Presswire
After not sacking or hitting Atlanta quarterback Matt Ryan, the Bears know they have to get to Cincinnati's Carson Palmer.
Sacks
-- 0
QB Hits
-- 0
That's not going to cut it, especially when facing a veteran quarterback like
Cincinnati's
Carson Palmer
.
"With Carson Palmer, because he's a veteran, he's better than
Matt Ryan
," defensive end
Adewale Ogunleye
said. "He the kind of guy, if we don't get to him, he will burn us."
"We need to get to the quarterback more to help out the back end," defensive tackle
Anthony Adams
said. "The back end, they played their butts off, and it's up to us to not allow the quarterback to have a great window to throw through. We just have to do a better job at that."
Adams did not hide the fact he was slowed last week by a toe injury, which led to
Marcus Harrison
starting at nose tackle.
"Last week I could barely walk. I'm good now," Adams said.