Chicago Bears:

Andrew Luck
October, 24, 2012
10/24/12
1:09
PM ET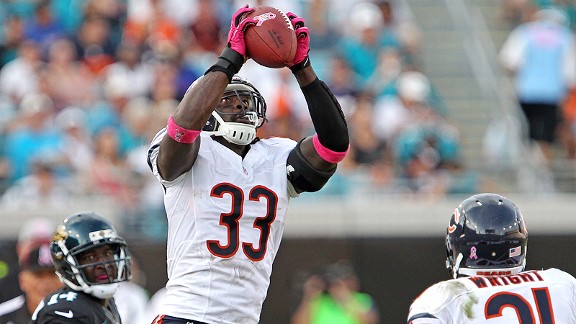 John J. Kim/Getty ImagesChicago Bears cornerback Charles Tillman makes his first appearance on our MVP Watch list.
The
Chicago Bears
have owned one of the NFL's best records, backed by a dominant defense. They haven't had an obvious MVP candidate.
How about
Charles Tillman
?
The 10th-year cornerback earned Pro Bowl honors for the first time last season. He
blanketed
the
Detroit Lions
'
Calvin Johnson
during a 13-7 victory Monday night.
With two forced fumbles against the Lions, Tillman has 32 for his career. That ranks tied for third since Tillman's rookie season (2003) and the most for a defensive back, according to the Bears. Tillman has two picks and scored on both.
Tillman is playing very well. He's playing for a dominant defense. His team is winning. He makes the MVP Watch list this week, his first appearance.
Tillman joins MVP Watch mainstay
J.J. Watt
as the only defensive players to appear on the list this season.
Lawrence Taylor
was the most recent defensive player to win the Associated Press version of the award. He won following the 1986 season.
Note: ESPN Stats & Information contributed to this item.
September, 9, 2012
9/09/12
7:22
PM ET
CHICAGO --
Indianapolis Colts
rookie quarterback
Andrew Luck
may someday think back on his NFL debut and joyfully recall his first play, his first completion, his first touchdown and all the other firsts of his career.
[+] Enlarge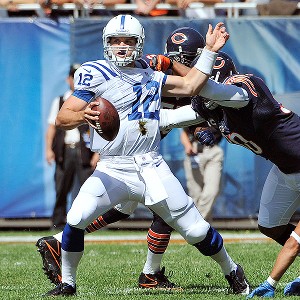 David Banks/Getty ImagesAndrew Luck passed for 309 yards yards but threw three interceptions in his NFL debut on Sunday.
But on Sunday and likely for the near future, Luck isn't going to smile when he remembers his first NFL experiences. All he can think about now is how his debut was marred by three interceptions, a fumble and a 41-21 loss to
Chicago Bears
.
"When you're responsible for four turnovers, it's hard to win, it's hard to be productive as an offense," said Luck, the No. 1 pick of the 2012 draft. "Three picks and a fumble for me, those are killers. Not too many fond memories of an opening loss."
Luck couldn't help but be narrow-minded when it came to his individual play. All he could see was the bad -- the turnovers and loss -- but his teammates, opponents and both head coaches saw the whole picture, which they believe included some good, too.
To go with his three interceptions and a fumble, Luck completed 23-of-45 passes for 309 yards and a touchdown, guided the Colts into the red zone four times against an experienced Bears' defense and was noticeably more comfortable as the game progressed.
September, 9, 2012
9/09/12
3:36
PM ET
CHICAGO -- The
Chicago Bears
unleashed the explosive offense they discussed all offseason in demolishing the
Indianapolis Colts
41-21 in Mike Tice's first official game
as the club's new playcaller.
While the unit looked shaky early on, it's not out of the question to say that with some seasoning the Bears could develop into arguably the most dangerous offense in the NFC North with all the weapons the team has acquired to put around quarterback
Jay Cutler
.
Cutler shook off a 1-for-10 start to throw for 333 yards and a pair of touchdowns, including a 42-yard bomb to rookie
Alshon Jeffery
in the fourth quarter to put the exclamation point on an explosive Bears performance that also featured running backs
Matt Forte
and
Michael Bush
combining for 122 yards and three more TDs.
Here's a closer look:


What it means:
The Bears needed to start off with a victory because they face the
Green Bay Packers
on Thursday night. Minnesota and Detroit started off their seasons with victories, so it was important for the Bears to do the same to keep pace in a division that will be one of the league's most competitive in 2012.
Shaky start:
Cutler dramatically improved as the first half progressed, but the Bears know he can't get off to such a slow start again Thursday night. Cutler completed only one of his first 10 passes, and threw an interception returned for a touchdown by
Jerrell Freeman
that gave the Colts an early advantage at the 11:23 mark of the first quarter. Cutler's passer rating after 13 attempts was 0, and he finished the first quarter with a passer rating of 4.9 after completing 3-of-10 for 21 yards. Once Cutler stopped forcing passes to Marshall and the offensive line settled in, the quarterback finished the first half completing 15-of-27 for 228 yards and a touchdown and a passer rating of 80.5.
Andrew Luck makes history:
Well, not really, but sort of. Luck starting against Chicago marked just the second time the Bears faced a starting quarterback making his NFL debut. The last time it happened, the Bears matched up against
Philadelphia Eagles
quarterback Scott Tinsley, who was playing his first NFL game during the 1987 strike season. Chicago smashed the Eagles 35-3 in that outing in front of 4,074 fans as Tinsley completed 7-of-22 passes for 65 yards. The Bears sacked Tinsley's backup, Guido Merkins, 10 times. Obviously, Luck fared a little better by hitting on 23-of-45 for 309 yards and a TD.
Cutler milestone:
Cutler's 3-yard touchdown pass to
Brandon Marshall
with 5:52 remaining in the second quarter moved the quarterback into sole possession of fourth place in franchise history in career TD passes. Cutler came into the game tied with Ed Brown and
Erik Kramer
for fourth with 63 TD tosses. Cutler finished the game with 333 yards and two touchdown passes. But Cutler still has plenty of work to do to catch franchise leader Sid Luckman (137 career TD passes).
Forte moves past Sayers:
Forte entered the matchup with the Colts needing 46 yards from scrimmage to move past Hall of Fame running back Gale Sayers for fourth most yards from scrimmage in franchise history. Forte passed Sayers in the first quarter when he gained 47 of Chicago's 61 yards on two plays during one of the club's two first-quarter scoring drives. Forte entered the game with 6,218 yards from scrimmage in 60 outings. Sayers had gained 6,263 yards from scrimmage in 68 games. Forte also became just the third player in Bears history to gain 4,000 career rushing yards and 2,000 receiving. Forte come into the game with 1,985 yards receiving and caught two passes for 32 yards in the first half to move into select company with Walter Payton and
Neal Anderson
, who rushed for 6,166 yards and gained 2,763 yards receiving during his career.
What's next:
The Bears face a short turnaround going into Thursday night's matchup on the road against the Packers. So they'll return to the practice field to work on Monday and Tuesday before using Wednesday as a travel day.
September, 8, 2012
9/08/12
5:00
PM ET
When: Noon, Sunday | TV: CBS | RADIO: 780 AM, WBBM & 105.9 FM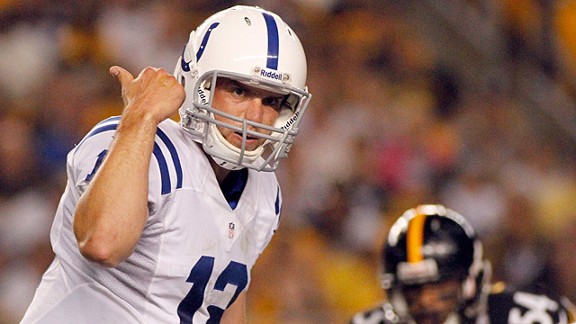 Justin K. Aller/Getty ImagesAndrew Luck makes his NFL debut against a veteran Bears defense that welcomes back Brian Urlacher.
CHICAGO BEARS (0-0)

Coach: Lovie Smith | Record including playoffs: 71-57 | Last week: No game

Career record vs. Chuck Pagano: 0-0 | Career record vs. Colts: 1-2

Key stat: Chicago's 11 projected starters have combined for 23 Pro Bowls and played in a combined 962 regular-season games with 773 regular-season starts. In addition, each of the projected starters started in at least nine games last season for the Bears.

Offense rank in 2011: 24th (314.1 ypg) | Defense rank: 17th (350.4 ypg)

[+] Enlarge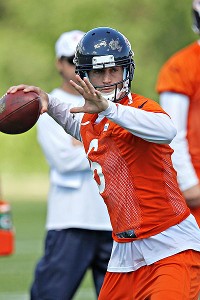 Jonathan Daniel/Getty ImagesJay Cutler is quickly climbing up the ranks of the Bears' leaders in career touchdown passes.
Offensive leader: Quarterback Jay Cutler plays his first real game in 294 days when he steps on the field against the Colts. With Cutler at the helm, the Bears have posted a 19-8 record over the last 27 games. Cutler needs five touchdown passes to surpass Jim McMahon to move into third on the club's all-time passing TDs list and six more to move to No. 2.

Defensive leader: Despite the recent problems he's experienced with an injured left knee, Bears linebacker Brian Urlacher remains confident he'll be able to contribute at a high level against the Colts. With a start against the Colts, Urlacher moves into a tie with Keith Van Horne for the fourth-most starts (169) in franchise history.

Streaks

" A win and a Green Bay Packers loss would give the Bears the most opening-day victories of all time. The Bears and Packers are currently tied with 52 opening-day wins.

" The Bears have won 15 of their last 16 games in which they led after the first quarter.

" The Bears have won 11 of the last 13 games in which they finished on the plus side of the turnover ratio and are 42-9 since 2004 in that scenario.


---
INDIANAPOLIS COLTS (0-0)

Coach: Chuck Pagano | Career record: 0-0 | Last week: No game

Career record vs. Smith: 0-0 | Career record vs. Bears: 0-0

Key stat: In the preseason, the Colts finished second in the AFC in passing yards (267.5 yard average) and total offense (343.8) while quarterback Andrew Luck completed 62.1 percent of his passes, and tied for second in the AFC in passing yards and touchdowns (3).

Offense rank in 2011: 30th (286.8 ypg) | Defense rank: 25th (370.9 ypg)

[+] Enlarge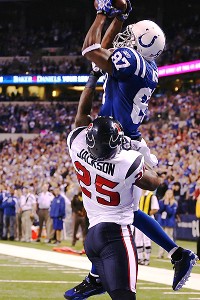 Brian Spurlock-US PRESSWIREReggie Wayne returned to Indy and gives rookie Andrew Luck a veteran target.
Offensive leader:
Receiver
Reggie Wayne
ranks second in Indianapolis franchise history in touchdowns (73), receptions (862) and yards (11,708) and leads all active receivers with 145 consecutive starts and 166 games played. Wayne has caught at least one pass in 96 consecutive games.
Defensive leader: Linebacker Dwight Freeney is a seven-time Pro Bowler and is Indianapolis' all-time leader in sacks with 102.5. In 2011, Freeney became just the 26th player to surpass 100 career sacks, and he's the only Colt to amass seven double-digit sack seasons. In addition, Freeney has put together 25 games in which he's posted multiple sacks.

Streaks

" Kicker Adam Vinatieri has scored at least one point in 130 consecutive regular-season games.

" Wayne has led the Colts in receiving for five consecutive seasons.

" Mathis has posted 41.5 sacks in his last 61 regular-season outings.

" Freeney has posted 42.5 sacks in his last 61 regular-season games.
September, 6, 2012
9/06/12
5:50
PM ET
LAKE FOREST, Ill. -- Even before the Bears began official game preparations for the Colts, free safety Chris Conte had a complete scouting report on Andrew Luck.
[+] Enlarge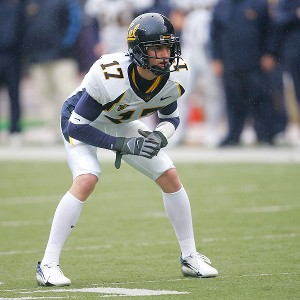 Paul Jasienski/Getty ImagesChris Conte is a former foe of Andrew Luck's from their Pac-10 days.
While at California from 2007-2010 where he appeared in 50 games with 17 starts (12 at safety, 5 at cornerback), Conte squared off against the former Stanford quarterback on multiple occasions.
"Went against Andrew in college and he's a great quarterback so I look forward to the opportunity to go against him," Conte said Thursday. "My senior year (versus Luck) it didn't go too well and they got the best of us. But we had a pretty good record against them and did some good things. We kind of went back and forth throughout college.
Luck completed 16-of-20 passes for 235 yards and two touchdowns in a 48-14 Cardinals route over the Golden Bears in Conte's final collegiate season, but a year before in 2009 the No. 1 overall selection in the 2012 NFL draft connected on just 10-of-30 throws for 157 yards and one interception as the Golden Bears pulled off a 34-28 victory.
The Bears hope to have Conte on the field for the regular-season opener on Sunday; the second-year safety missed the final two games of the preseason with a shoulder injury. Conte said he felt his right shoulder pop out of place while making a tackle in the club's second preseason game on Aug. 18. He returned to the field for the first time on Monday and has been listed as having limited participation in practice the last two days on the team's official injury report.
"It's been good," Conte said. "Just getting back in the flow and getting my legs back. I missed a good amount of time but I stayed into it mentally. Right now it's just the physical stuff; getting back on the field, getting my legs ready and being ready to go.
"You can almost do without the physical stuff (at practice) for awhile. You need to stay in shape and stuff, that's the most important thing, but it's such a mental game at this point that just having the meetings is a big part of the game. Really, I don't think I missed too much."
Conte is viewed as a vital cog in the Bears defense. The athletic safety started nine games last year as a rookie and recorded 47 tackles and one interception before going on injured reserve the last two games due to an ankle injury. During Conte's absence, veteran Craig Steltz had worked with the first team along with Major Wright, but when healthy, Conte is the unquestioned starting free safety on the roster. Expect the Bears to heavily tape up Conte's right shoulder if he plays on Sunday to try and lessen the odds of the shoulder popping out of place a second time.
September, 5, 2012
9/05/12
12:14
PM ET
April, 18, 2012
4/18/12
2:30
PM ET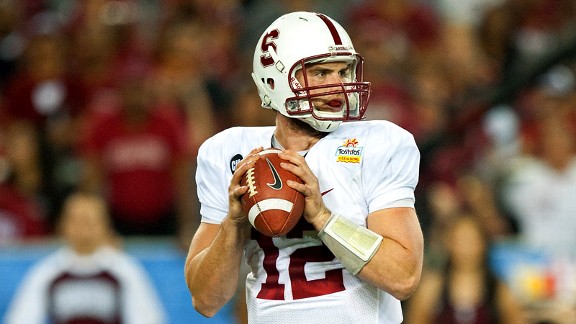 Rob Tringali/SportsChrome/Getty ImagesAndrew Luck, who is expected to be the first overall pick of the draft by the Colts, likely will make his NFL debut against the Bears in Week 1.
The
Chicago Bears
believe they have remedied roster deficiencies at backup quarterback by re-signing veteran
Josh McCown
and acquiring
Jason Campbell
through free agency to back up
Jay Cutler
.
With four signal callers on the current roster, the prospect of adding a quarterback in the NFL draft seems remote. So don't expect the Bears to go down that path. In fact, it's not even likely the team will add a proverbial camp arm.
"We feel real good about our quarterback position now," Bears coach Lovie Smith said.
That certainly wasn't the sentiment toward the end of 2011, when ineptitude behind Cutler derailed what should have been a playoff season. After starting 7-3 with Cutler at the helm, the Bears lost five of six down the stretch when the quarterback suffered a season-ending thumb injury in a Nov. 20 win over the
San Diego Chargers
.
Smartly, the Bears leaned on hard lessons from last season in opting to take experience over youth when they brought aboard Campbell and re-signed McCown.
"Each year you learn something," Smith said.
In 2012, it won't be a new or inexperienced backup quarterback.
The next 10:
11.
Kellen Moore
, Boise State, 6-0, 197; 12. B.J. Coleman, Tennessee-Chattanooga, 6-3, 234; 13.
Case Keenum
, Houston, 6-1, 208; 14.
Austin Davis
, Southern Mississippi, 6-2, 219; 15.
Darron Thomas
, Oregon, 6-3, 220; 16. G.J. Kinne, Tulsa, 6-1, 234; 17.
Aaron Corp
, Richmond, 6-4, 215; 18.
Tyler Hansen
, Colorado, 6-1, 222; 19.
Patrick Witt
, Yale, 6-4, 225; 20.
Jacory Harris
, Miami, 6-3, 203.
Position grade:
A.
Analysis:
It's anticipated that teams will take quarterbacks with the first and second picks for the first time since 1999, Cleveland and Philadelphia selected
Tim Couch
and
Donovan McNabb
at No. 1 and No. 2. Obviously everyone knows how the careers of Couch and McNabb widely differed, but Luck and Griffin III appear poised to enjoy successful careers. The new rookie salary structure makes it much more advantageous than in years past to take a gamble on a quarterback early. So there's a good chance this class of quarterbacks could produce a few starters. ESPN draft analyst Mel Kiper Jr. predicts that five or six quarterbacks could be off the board by the end of the second round.