Chicago Bears:

Antoine Winfield
July, 12, 2013
Jul 12
2:27
PM ET
»
NFC Eight in the Box:
East
|
West
|
North
|
South
»
AFC:
East
|
West
|
North
|
South
A look at the one move each team in the NFC North needed to make but didn't.

Chicago Bears:
General manager Phil Emery approached the draft with hopes of selecting a quarterback, and there were reports of the Bears privately working out North Carolina State's
Mike Glennon
. The plan made sense for a number of reasons. First, the team was bidding farewell to 2012 backup
Jason Campbell
. Second, new coach Marc Trestman is known as a quarterback guru and the Bears could benefit from having him develop a rookie. Third, starter
Jay Cutler
is entering the final year of his contract. Ultimately, however, the Bears couldn't justify using any of their six selections on a quarterback. For now, 2012 third-stringer
Josh McCown
is penciled in as Cutler's backup.

Detroit Lions:
It sounded greedy, but a need at wide receiver existed all offseason. After releasing
Titus Young
and shepherding
Ryan Broyles
through his second ACL rehabilitation in as many years, the Lions don't have many sure things behind receiver
Calvin Johnson
. Veteran
Nate Burleson
participated in offseason practice but suffered a major leg injury last season.
Mike Thomas
remains on the roster after being acquired last year from the
Jacksonville Jaguars
, and several players have talked up the potential of first-year player
Pat Edwards
. The Lions tried to supplement via free agency, pursuing
Darrius Heyward-Bey
, among others, but in the end, they added no one of experience and drafted no one with major potential.

Green Bay Packers:
Did the Packers do enough from a personnel standpoint to improve their defense against the type of run-heavy offenses that gave them trouble last season? We all know they worked hard on developing a better approach and scheme, even sending their defensive coaching staff to a college coaching clinic at Texas A&M. But they added only one notable player, first-round draft pick
Datone Jones
, to their front seven. They also hope that 2012 first-rounder
Nick Perry
can establish himself as an outside linebacker. The Packers are hoping to play a different way with largely the same players.

Minnesota Vikings:
It's true that the Vikings chose a cornerback,
Xavier Rhodes
, with one of their three first-round draft choices, but it's still fair to question whether the team did enough to make up for the departure of slot cornerback
Antoine Winfield
in the offseason. Winfield had an excellent season in 2012 and was one of the underdiscussed reasons why the Vikings finished 10-6. The Vikings have what appears on paper to be a promising young core of cornerbacks, with Rhodes,
Chris Cook
and
Josh Robinson
. But none of them has played the nickel role that Winfield excelled at last season, and Cook has never been able to stay on the field.
June, 6, 2013
Jun 6
9:45
AM ET
Matt Williamson scouts the NFL for ESPN.com, and this week he revealed his
offseason grades for all 32 teams.

You'll need an Insider subscription to view the full file, but I've been authorized by high-level executives to leak a few NFC North snippets:
Chicago Bears

Williamson grade:
B+
Williamson snippet:
"Upgrading the offensive line, getting younger and better at linebacker and adding another weapon in the passing game were the Bears' top priorities this offseason -- and they accomplished all three."
Seifert comment:
The Bears' offseason performance is particularly notable when you remember they entered the draft with only five selections. (They acquired a sixth via trade). The offensive line remains fluid, but has been addressed more aggressively than in years. Getting younger at linebacker was the first step in what will be a multi-part process of filling in behind 30-something starters
Charles Tillman
,
Tim Jennings
and
Julius Peppers
. (Jennings turns 30 in December).
Detroit Lions

Williamson grade:
B
Williamson snippet:
"Expect the Lions' pass defense to be significantly improved. … But another area of weakness was created this offseason for the Lions. Their offensive line played quite well overall last year but lost three starters to retirement and free agency."
Seifert comment:
The signing of safety
Glover Quin
and the decision to (finally) draft a cornerback at a high position (second-rounder
Darius Slay
) bodes well for the pass defense. Even without a new receiver opposite
Calvin Johnson
, the Lions have plenty of skill position players on offense. The significance of an offensive-line overhaul is not to be underestimated, however. The Lions will be counting on as many as three untested linemen to come through.
Green Bay Packers

Williamson grade:
B
Williamson snippet:
"The Packers are the only team for which I didn't list a veteran 'key addition,' and their 'key losses' are rather extensive. Still, they remain one of the very best teams in football."
Seifert comment:
It's not unusual for the Packers to avoid key veteran additions. But they certainly added some important pieces in running backs
Eddie Lacy
and
Johnathan Franklin
, along with defensive lineman
Datone Jones
. In minicamp this week, Jones was working both as a defensive end in base defenses, and inside at tackle in the nickel. Once he learns the scheme, Jones is going to be a difference-maker.
Minnesota Vikings

Williamson grade:
B-
Williamson snippet:
"Minnesota brought in some big-time prospects in the draft, but the losses of two great players' contributions on game day will be hard to replace this season."
Seifert comment:
Williamson was referring to the trade of receiver
Percy Harvin
and the release for cornerback
Antoine Winfield
. Both players wound up with the
Seattle Seahawks
. They also failed to find a replacement at middle linebacker, requiring the shift of
Erin Henderson
from the outside. The team's biggest personnel question mark, other than the continued development of quarterback
Christian Ponder
, is whether they can replace Winfield's presence in the slot.
June, 1, 2013
Jun 1
9:00
AM ET
Freeney
Dwight Freeney
's claim that NFL owners colluded during free agency, made
during an interview with CBSSports.com
, brings to mind last month's post about the tough market for some high-profile and veteran NFL players. As you might recall:
(Defensive end
Kyle Vanden Bosch
doesn't appear to have received any offers after the
Detroit Lions
released him -- and his $7 million salary -- in February. But the presumption for months has been that Vanden Bosch, 34, will retire.)
So were Woodson, Urlacher and Winfield victimized by collusion? Or were they just valued harshly in a league that prefers younger players?
ESPN business analyst Andrew Brandt, whose column now appears on SportsIllustrated.com,
addressed the topic this week
. Brandt noted that "far more money has been shed from veteran contracts than spent on them" but attributed it to factors other than collusion.
Brandt explained the spread of "draft and develop" franchises who prefer to use younger, less-injury prone and cheaper players rather than veterans who are past their prime. The "Moneyball" approach, placing numerical values on players, is also gaining traction, Brandt notes. Teams have also grown to appreciate the flexibility of a roster populated by young players on their first contracts.
In the end, there is a fine line: Are owners conspiring to keep costs down as a matter of course or because they think spending less on free agents is a better way to build a team? Could it be both?
March, 22, 2013
Mar 22
10:42
PM ET
»
NFC Eight in the Box
:
East
|
West
|
North
|
South
»
AFC
:
East
|
West
|
North
|
South
A look at whether each NFC North team has been a winner or a loser in free agency.

Chicago Bears:
A hot start in free agency netted left tackle
Jermon Bushrod
and tight end
Martellus Bennett
. The Bears had been trying for five years to find a genuine left tackle, and Bushrod's arrival should boost the faith of quarterback
Jay Cutler
. Bennett, meanwhile, gives the Bears the kind of pass-catching tight end they once had in
Greg Olsen
. But Bushrod and Bennett accounted for most of the salary-cap space the Bears had budgeted to use, and now they are nibbling the edges. Overall, however, the Bears improved two important positions, making them winners in free agency.

Detroit Lions:
The NFC North's most active offseason team has added three new starters in running back
Reggie Bush
, defensive end
Jason Jones
and safety
Glover Quin
. Bush will have a big impact on balancing the explosiveness in the Lions' offense, and Quin will pair with the returning
Louis Delmas
to give the Lions their best safety duo in recent memory. The Lions have improved as many positions as they could have given their tight salary-cap situation.

Green Bay Packers:
It's difficult to win when you don't play, and general manager Ted Thompson is notoriously reluctant to compete financially in the market. He allowed receiver
Greg Jennings
to sign with the
Minnesota Vikings
and didn't make a good enough offer on running back
Steven Jackson
. But the Packers have made the playoffs in four consecutive seasons by following a similar approach. These days, their focus is on saving enough salary-cap space to re-sign quarterback
Aaron Rodgers
and linebacker
Clay Matthews
. The Packers won't find two players better than that on the free-agent market.

Minnesota Vikings:
In essence, the Vikings traded receiver
Percy Harvin
for Jennings, along with a first-, third- and seventh-round draft pick. They won't replace Harvin's unique skill set, but that's not a bad recovery. The Vikings are also in a better spot at backup quarterback with
Matt Cassel
rather than
Joe Webb
. But they don't have a middle linebacker after bidding farewell to
Jasper Brinkley
, and they remain thin at cornerback after releasing
Antoine Winfield
. The Vikings remain a work in progress this offseason. They haven't won or lost yet.
August, 28, 2012
8/28/12
1:15
PM ET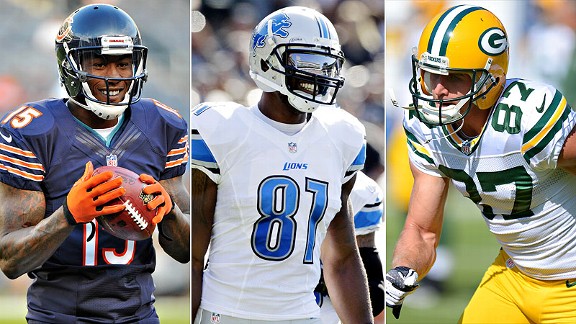 US PresswireBigger receivers like Chicago's Brandon Marshall, Detroit's Calvin Johnson and Green Bay's Jordy Nelson present unique challenges for the division's defensive backs.
You've already read half of this story. Surely you're aware of the increasing size disparity between NFL pass-catchers and cornerbacks. That train has left the station, and there's no going back.
So here's what I'm interested in: Assuming they don't plan to forfeit the season, how will NFC North cornerbacks and coaches deal with what looks like an increasingly one-sided matchup?
I spent part of
CampTour'12
asking cornerbacks, receivers and coaches a version of that question. After all, the
Chicago Bears
' acquisition of receiver
Brandon Marshall
means that each of our teams has at least one receiver taller than 6-foot-2 and one or more tight ends who stand at least 6-4. In total, the division boasts six "big" receivers and seven "big" tight ends based on those qualifications, as the first chart shows.
On the other hand, there are only three NFC North cornerbacks taller than 6-feet among the 12 expected to make up each team's primary rotation. (See second chart.) Cornerbacks don't always match up in single coverage against big receivers, and bigger safeties often take on tight ends. But at some point there is no choice. Eventually, NFC North teams will have a 5-foot-9 cornerback assigned to a 6-foot-4 receiver, a height differential of more than half a foot.
Most everyone engaged thoughtfully on the issue, and below I've categorized their thoughts in three ways. Let's take a closer look.
Muscle up or play off?
The game is football, of course, so the instinct of many cornerbacks is to get physical with big receivers -- especially at the line of scrimmage and even as the ball approaches. That approach is almost always a mistake, NFC North cornerbacks agreed.
"A guy that big, you don't want to be too aggressive with him,"
Green Bay Packers
cornerback
Tramon Williams
said. "You want to feel him, but you don't want him to feel you. As a big receiver, he wants you to be aggressive. That's his thing. He can push you off and do things like that. He can get separation and get you off your stride. So you don't want to be too aggressive with guys like that."
Instead, cornerbacks often are best served to "stalk" bigger receivers as they run downfield.
"They love for a little guy to get physical so they can body you," said
Detroit Lions
cornerback
Chris Houston
, who spends most practices matched up on 6-foot-5 receiver
Calvin Johnson
. "You've got to be smart, use your technique throughout the game. You can body them sometimes, but the majority of the time, they like for you to try to get in there. Their arms are much longer, so they can get you before you get them. You've got to be smart on your technique and stay disciplined."
The NFC North's shortest cornerback is
Antoine Winfield
of the
Minnesota Vikings
, whose reputation as a physical tackler overshadows the fact that he rarely tussles with receivers until after the ball arrives.
"I like to play off," Winfield said. "It's hard for me to be fighting with a guy who is 6-4, 6-5 at the line. He has the advantage. The first thing he is probably going to do is run at me, grab me, throw me to the side and take off."
Thinking back over his career during training camp, Marshall said "every guy plays a little differently." But Marshall could identify only one cornerback who deliberately got physical with him at the line of scrimmage: the
Denver Broncos
'
Champ Bailey
, who is just shy of 6-foot.
"A guy like that, he loves to go against big guys," Marshall said. "He trusts himself."
Everybody jump, jump
What Bailey and many other cornerbacks lack in height, however, they try to make up with timing and leaping ability. Bears coach Lovie Smith, in fact, said that vertical jumps are one of the most important attributes he seeks in defensive backs.
"Once the receiver gets off the ball," Smith said, "and he gets in position and the ball is thrown up in the air, just throwing it up high and it's a jump situation, that height and that vertical is going to come into play. And for us, most of our DBs have good verticals. They're 36-[inches] plus, 37-plus for a reason.
"If you have a good vertical, eventually if the ball is in the air, you can go out there and get it. I just don't think it's a gimmee just because you have a tall receiver and the cornerbacks are shorter. Most of the guys in the league are playing under six feet at the corner position and they're making a lot of big plays."
Indeed, the Bears employ two cornerbacks shorter than 5-10 --
Tim Jennings
and
D.J. Moore
-- among their top three. Jennings recorded a 37 1/2-inch vertical jump at his scouting combine, Moore hit 39 1/2.
Charles Tillman
, who at 6-1 1/8 is the second-tallest cornerback in the division, had a 40-inch vertical leap.
"You never concede a jump ball," said the Packers' Williams, whose vertical has been recorded at 41 inches. "I've always been confident in my jumping ability. Me, personally, I haven't had many jump balls caught on me."
Of course, big receivers watch film and usually know who the good jumpers are. Packers receiver
Jordy Nelson
said there are ways to maintain the height advantage against a cornerback who can jump.
"When we watch them, we see how they can play a deep ball," Nelson said. "If we know that so-and-so is out there, we know that you really have to attack the ball in the air. He is going to go up and get it. You've got to go compete for it. You can't let it come down and try to catch it over your shoulder. There's things like that that we watch."
In the absence of jumping ability, Vikings coach Leslie Frazier said, shorter cornerbacks must rely on extraordinary quickness and speed. The Vikings, for example, this year drafted the player who ran the fastest 40-yard dash at the 2012 scouting combine, Central Florida cornerback
Josh Robinson
(4.33 seconds). Robinson is 5-foot-9 1/2.
"What we try to find is a guy who is extremely quick," Frazier said. "Sometimes you can out-quick guys who are long striders, and they're usually better a little bit down the field. If you can offset some of that with the quickness and you are a gnat, just harassing them, that helps."
Scheme
Coaches can play an important role in equalizing the physical mismatch as well. Although it is bound to happen at some point, the least appealing way of defending a big receiver is putting him in a pure man-to-man matchup with a cornerback.
"There are things you can do where you don't get isolated in coverage," said Lions coach Jim Schwartz, whose top four cornerbacks are all shorter than 5-10. "You're playing man but you get a double team from somewhere, and so you're not playing the 'whole' man. You're not playing that whole 6-foot-3 receiver. You're only playing a portion of him. Those ways can be significant."
If you're not in position to double-team, the Bears' Smith said, zone concepts usually work better in physical mismatches. Players in man coverage usually turn their backs to chase the receiver they're assigned to, while players in zone are taught to keep receivers in front of them so they can watch the quarterback.
"It helps to play a little bit more zone," Smith said, "where you have your defensive backs with their eyes on the ball. When you're short and you're playing man-to-man and you have your back to the quarterback, there's a lot of things going against you in that situation."
So where does this leave us? When I spoke with Marshall about this topic, he smiled and said he didn't want to give up any secrets for exposing height mismatches. In truth, however, there aren't many.
Cornerbacks must play smart, both in technique and within the scheme. They need a physical attribute, especially jumping ability, that helps compensate for their height disadvantage. And they need to realize that, no matter what approach they take, NFC North teams are going to utilize their big receivers to complete plenty of passes. The defense that can best minimize the impact of those completions will put its team in position for the NFC North title.
August, 17, 2012
8/17/12
11:30
AM ET
In which we look ahead to two more nights of exciting Week 2 preseason action in the NFC North:
Detroit Lions

Opponent:
Baltimore Ravens
Location:
M&T Bank Stadium
Day/Time:
Friday/8 p.m. ET
Personnel notes:
The Lions continue to experiment with their arrangement in the defensive secondary, and
Jacob Lacey
is expected to start at cornerback with rookie
Bill Bentley
playing in nickel packages. … The first-team offense is looking to sustain some success after a scoreless preseason opener. ... Two prominent players who missed that game, receiver
Titus Young
(birth of child) and defensive end
Cliff Avril
(late camp report) are scheduled to play. … Coach Jim Schwartz grew up in Baltimore and was
tweeting cityscapes from his hotel room
Thursday evening. … The game will be televised nationally on FOX.
Focal point:
Tailback
Jahvid Best
appears likely to open the season on the physically unable to perform (PUP) list, once again placing an emphasis on depth behind
Mikel Leshoure
(hamstring) and current starter
Kevin Smith
. You would figure that
Keiland Williams
and
Joique Bell
will once again get a heavy workload.
Minnesota Vikings

Opponent:
Buffalo Bills
Location:
Metrodome
Day/Time:
Friday/8 p.m. ET
Personnel notes:
The Vikings held a number of veterans out of their preseason opener, but most of them are expected to play Friday night. The list includes defensive end
Jared Allen
, defensive tackle
Kevin Williams
, cornerback
Antoine Winfield
and receiver
Percy Harvin
. … You should also get your first look at rookie cornerback
Josh Robinson
. … Tailback
Adrian Peterson
(knee) returned to practice this week but won't play. … The Vikings are looking forward to seeing rookie place-kicker
Blair Walsh
's big leg in the still conditions of the Metrodome.
Focal point:
The most important task for the franchise is continuing to push the development of quarterback
Christian Ponder
, who made an encouraging 2012 debut last week. But almost as important is getting at least an even performance from backup
Joe Webb
, who hasn't had a good summer. The Vikings made Webb a full-time quarterback in the offseason, but if he falls short, he's too good of an athlete to cast aside.
Chicago Bears

Opponent:
Washington Redskins
Location:
Soldier Field
Day/Time:
Saturday/8 p.m. ET
Personnel notes:
Quarterback
Jay Cutler
will make his preseason debut, and the same is assumed for tailback
Matt Forte
and defensive end
Julius Peppers
. … The next installment of the Bears' left tackle drama is expected to include some first-team time for
Chris Williams
. The Bears want
J'Marcus Webb
to win the job, but at this point Cutler's safety is the primary goal.
Focal point:
Middle linebacker
Brian Urlacher
's knee surgery brings new scrutiny on the Bears' emergency plan at the position, which for the moment includes moving
Nick Roach
inside from the strong side and inserting veteran newcomer
Geno Hayes
on the strong side. Is that an arrangement the Bears could use if Urlacher is forced to miss regular-season time? Or do they need to find help from the outside?
October, 14, 2011
10/14/11
2:47
PM ET
July, 6, 2010
7/06/10
8:45
AM ET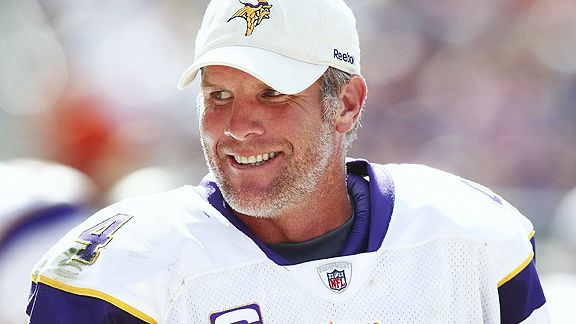 Joe Robbins/Getty ImagesAs usual, Brett Favre's decision on his future controls the Vikings' offseason headlines.
Intel on the
Chicago Bears
opponents creeps its way onto the blog today, which marks the beginning of a four-day look at the NFC North.
Talking to reporters who regularly cover Chicago's divisional opponents, we asked each of them to thoroughly break down the teams they cover, providing both strengths and weaknesses.
We kick off the series with the
Minnesota Vikings
by asking
Judd Zulgad of the Minneapolis Star-Tribune
for five concerns his team faces this season, in addition to five issues the team shouldn't have to worry about:
Five things the Vikings need to worry about
1. Brett Favre:
We all think it's 99 percent certain he's coming back. But until he is officially back, that's got to be No. 1 on the list. As it is, he's not gonna be there at the start of camp.
[+] Enlarge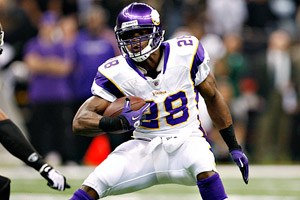 Matt Stamey/US PresswireAdrian Peterson's fumbling problems are a concern for the Vikings.
2. Adrian Peterson:
It's been well documented that he's had problems holding on to the football, and that's a killer. He skipped mandatory minicamp to be at "Adrian Peterson Day", and didn't take part in offseason activities with the team. That's not a huge deal, but somewhere along the line he needs to address this issue and the fumbling. Teams are targeting the football when he carries it.
3. Finding Chester Taylor's replacement:
Taylor wasn't a starter, but he is a huge loss. The fact they lost him in the division hurts even more. He played a ton on third down, and took a load off Peterson. Peterson still isn't great at pass protection. So on third downs in two-minute situations Chester [Taylor] was used a lot. That security blanket is now gone, and it's definitely a concern.
4. Safeties Madieu Williams and Tyrell Johnson:
Williams, who they paid a lot in free agency, and Johnson, who was in his first year as a starter last season, didn't exactly perform up to par. They need to take a step up, or the Vikings need to give serious consideration to a guy like
Jamarca Sanford
. The safeties lacked aggressiveness at times. The game in Chicago, when the Vikings played the Bears,
Jay Cutler
bowled over Williams, which was definitely embarrassing. The safeties need to take a step forward.
5. Cornerbacks Cedric Griffin and Antoine Winfield:
Griffin tore an ACL in overtime of the NFC Championship game, and Winfield missed six games, and was severely hampered by a broken foot last season. The Vikings signed
Lito Sheppard
, and my assessment is Griffin might not be ready to start the season. So health of the cornerbacks is a concern. They need at least one of those guys to be ready this season.
Five things not to worry about
[+] Enlarge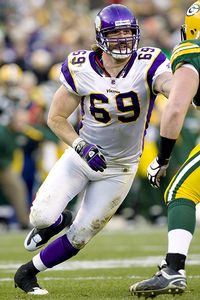 Jeff Hanisch/US PresswireJared Allen has 29 sacks in two seasons with the Vikings.
1. Jared Allen:
He had 14½ sacks last season, which was his second season with the Vikings. He's had 29 sacks over the past two seasons. Statistically, he's an elite pass-rushing right end. That's been huge because the Vikings haven't had that for so many years. He plays so many snaps and rarely comes out, it's really a luxury to have him because they don't really have to worry about that position.
2. The availability of DTs Kevin Williams and Pat Williams:
That [Star Caps] case has been tied up for so long, it looks like there's no way this thing gets to court again until after the season. There shouldn't be a lot of concern about them missing time. The Vikings don't have a lot of concern about those two guys being suspended.
3. Sidney Rice:
It's a little bit of a wildcard, but physically, he looked like he made huge strides last season. He had 83 receptions and eight touchdowns. Even if Favre doesn't return, Rice has pretty much established himself as potentially an elite receiver. Sure, the Vikings have
Bernard Berrian
. But Rice looks like the team's top receiver now.
4. Ryan Longwell:
This isn't a sexy one, but Longwell has more than proven himself as far as placekicking goes. He's just incredibly consistent. He made 26 of 28 field goals and 54 of 55 extra points. The Vikings have the luxury of not having to worry about a field-goal kicker, and that's a nice thing to have. It's worth mentioning that Longwell is entering the final season of his contract. It's unclear whether he will be back after this season.
5. Linebackers Chad Greenway and Ben Leber:
They are about as steady as it gets. Both have been consistent at their positions, and both are entering what looks to be the last year of their contracts. Greenway has gotten nothing but better as he has progressed. There's some question about when middle linebacker
E.J. Henderson
will return from his broken left femur. So the stability of at least having so much consistency on the outside is important.