Chicago Bears:

Bears pre-camp check
July, 5, 2014
7/05/14
9:00
AM ET
With veteran minicamp coming to a close on June 19, the
Chicago Bears
receive a much-needed break to recharge before the start of training camp in July at Olivet Nazarene University in Bourbonnais, Illinois.
During the team's time of inactivity, we'll take a position-by-position look at some of the expected training camp battles and dark horses to make the team:
[+] Enlarge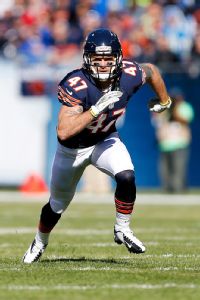 AP Photo/Scott BoehmSafety Chris Conte, who has missed all of the Bears' 2014 offseason work so far, hopes to return healthy and in time for training camp in late July.
Overview:
Inconsistency brought on by injuries along the front seven played a role in shoddy play in 2013 by safeties
Major Wright
and
Chris Conte
.
Wright bolted for Tampa Bay in free agency, but Conte remains on the roster; sidelined by an offseason shoulder surgery that could land him on the physically unable to perform list for the start of training camp. Either way, the brass deemed it necessary to upgrade the talent at the position.
Did they do it? That's unclear right now because offseason workouts don't provide enough evidence about how the new additions might perform in game situations.
In addition to drafting
Brock Vereen
, the Bears signed
M.D. Jennings
,
Danny McCray
,
Ryan Mundy
and 14-year veteran
Adrian Wilson
. So between all the new faces combined with players such as Conte and
Craig Steltz
, the Bears should be able to find a couple of safeties in 2014 capable of getting the job done.
Battle to watch:
Every spot on the safety depth chart registers as a battle to watch because right now every position -- including the starting jobs -- is up for grabs. Provided Conte regains his confidence in 2014, he certainly possesses the skill set to finish training camp as one of the starters. But how long will he be on the shelf? Conte was unable to practice throughout organized team activities and minicamps, which puts him somewhat behind in the competition for one of the starting spots.
"We'll see," Bears defensive coordinator Mel Tucker said. "I'll wait until camp rolls around and I'll get a report, and they'll let us know who's available and how much they can do. Whenever he's available, we'll start working him in and get him up to speed, get him the reps. He's been in the meetings. So he knows what we're doing. We're going to start over pretty much in training camp with our installation. So a lot of it will be review, and then we'll add some things as we go that we didn't cover in OTAs and the coaches' sessions. He's gotten the mental work in, in the class room. So it'll just be getting the physical reps. When he's ready, he's ready. We'll work him in."
Mundy has taken reps with the starters, as have Vereen and Jennings. The Bears added a wrinkle to the competition at safety in late June with the signing of Wilson, a five-time Pro Bowler, who missed all of 2013 due to a torn Achilles.
Dark horse:
Despite his decorated past and Pro Bowl pedigree, Wilson comes into the derby for one of the safety spots without the benefit of learning the system by participating in the team's offseason program. Wilson is one of 13 players in NFL history to pick off at least 20 passes in addition to posting 20 sacks. But the truth is the coaching staff really doesn't know what Wilson, who will be 35 this season, has left in the tank. Wilson is also still trying to work back from undergoing surgery last fall on his Achilles.
If Wilson manages to stick, he could be a valuable asset for the team's young safeties in teaching them the intricacies of the game.
Who makes the cut:
The Bears will have some tough decisions to make here because it appears the current group is talented, but the roster spots are limited. Conte (if he regains health), Mundy, Vereen and Steltz will likely make the roster, and if the Bears decide to go with five safeties, Jennings would likely make the cut over McCray. If Wilson shows he's back to form during camp, Steltz could become a victim of the numbers game at the position.
July, 4, 2014
7/04/14
9:00
AM ET
With veteran minicamp coming to a close on June 19, the
Chicago Bears
receive a much-needed break to recharge before the start of training camp in July at Olivet Nazarene University in Bourbonnais, Illinois.
During the team's time of inactivity, we'll take a position-by-position look at some of the expected training camp battles and dark horses to make the team:
[+] Enlarge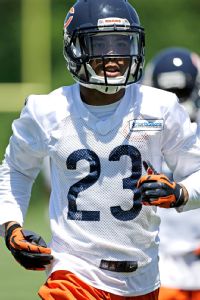 AP Photo/Nam Y. HuhThe Chicago Bears will lean on cornerback Kyle Fuller, their 2014 first-round pick, to contribute during his rookie season.
Overview:
From top to bottom cornerback remains one of the team's strongest positions groups, and that was bolstered by the re-signings of
Charles Tillman
and
Tim Jennings
, in addition to the club acquiring
Kyle Fuller
out of Virginia Tech with a first-round draft pick.
All three of those players should see time on the field together, but the Bears still feel they need capable reinforcements.
"You need to have multiple corners," Bears defensive coordinator Mel Tucker said. "A lot of the defenses we have to play, that we're required to play nowadays in the National Football League, are sub packages with three corners or corner types in the game. Typically, at least half of the snaps you'll play in the season will be with five defensive backs in the game. And sometimes, you'll go into game weeks or games and almost every single snap will be in sub personnel. So there are ample opportunities for guys to show what they can do and become a contributor to a productive rotation. A third corner is like a starter. A third corner plays as much if not more than your third linebacker in a 4-3."
That means Fuller and Jennings will spend plenty of time shuffling on and off the field, depending on the situation. During organized team activities and minicamps, Jennings played opposite Tillman in the starting lineup. But when the team went into sub packages on passing downs, Fuller moved out opposite Tillman and Jennings kicked inside to the nickel spot. More than likely, that look isn't yet set in stone as OTAs and minicamps are the time to experiment. What is clear, though, is the Bears expect Fuller to contribute immediately as a rookie.
Battle to watch:
The Bears finished last season with five corners, and it appears right now the top four spots could be locked up with Tillman, Jennings, Fuller, and
Kelvin Hayden
with the fifth spot up for grabs.
Isaiah Frey
would seem to be the most likely candidate to win that fifth spot considering he spent the entire 2013 season as the nickel, with six starts, and played out the year with a broken hand. Frey contributed 47 tackles and broke up a pair of passes. But the Bears wanted turnovers from the nickel spot, and Frey was unable to deliver.
Frey will have to hold off players such as
Demontre Hurst
,
Al Louis-Jean
,
Derricus Purdy
,
C.J. Wilson
and
Sherrick McManis
, a star on special teams, who shows plenty of potential at corner. Although Hayden appears to be a frontrunner for that fourth corner spot, it's worth nothing he missed all of last season due to a severe hamstring injury. Hayden's health is a concern.
Dark horse:
An undrafted rookie, Louis-Jean declared for the NFL draft after his sophomore season at Boston College. Louis-Jean played 10 games as a freshman in 2011 and started two of them, contributing 15 tackles, three pass breakups a forced fumble and an interception. But Louis-Jean lost the entire 2012 season due to a fractured bone in his left foot. He came back last season to post 21 tackles, break up a pass and force a fumble in 11 games, but was suspended for the season opener against Villanova and the AdvoCare V100 Bowl for violating team rules.
Louis-Jean attended Chicago's rookie minicamp on a tryout basis and caught the staff's eye enough for the team to take him to training camp.
If the former four-star recruit pans out, the Bears will have come away with somewhat of a steal. At the same time, Louis-Jean could find difficulty flashing his ability in such a crowded race at a well-stocked position.
Who makes the cut:
If the Bears stick with five corners, they'll likely wind up with Tillman, Jennings, Fuller, Hayden and Frey at the conclusion of camp. But they'll probably wind up keeping McManis as a contributor on special teams.
July, 3, 2014
7/03/14
9:00
AM ET
With veteran minicamp coming to a close on Jun. 19, the
Chicago Bears
receive a much-needed break to recharge before the start of training camp in July at Olivet Nazarene University in Bourbonnais.
During the team's time of inactivity, we'll take a position-by-position look at some of the expected training camp battles and dark horses to make the team:
[+] Enlarge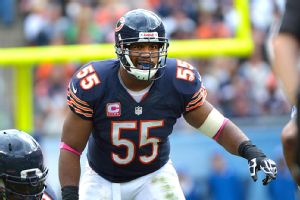 AP Photo/David DrapkinLance Briggs may be the only Bears linebacker who is guaranteed starting job.
Linebacker overview:
The coaching staff says two of the three starting spots are up for grabs with Will linebacker
Lance Briggs
as the only player assured of a gig with the No. 1 defense in 2014. Despite those openings, it appears that
D.J. Williams
will win the starting job at middle linebacker with
Jon Bostic
and
Shea McClellin
competing for the start at Sam; a battle that is expected to be won by Bostic.
Bears coach Marc Trestman considers Williams the frontrunner to win the starting middle linebacker position. But McClellin and Bostic have also taken reps there.
"I'm just hoping he can be 100 percent. He's had an offseason to work, he's been out there competing hard, and when he's playing well, it's visibly noticeable in terms of what we can do with the middle linebacker position," Trestman said. "But we have competition there. He's certainly the lead dog there. But we do have competition."
Battle to watch:
The most compelling of the competitions at this position is certainly the one between Bostic and McClellin at Sam linebacker. Bostic probably projects more as a Will linebacker, but with Briggs already at that spot, the team could benefit greatly by having both players on the field at the same time. McClellin appears to have transitioned well from defensive end to linebacker, but it's unknown whether he possesses that run-and-hit skillset that is coveted by this team at the position. During organized team activities and minicamps, contact wasn't allowed. So it was difficult to get an idea of where McClellin might ultimately fit in the team's plans.
"He's going to be a typical 4-3 linebacker for us," Bears defensive coordinator Mel Tucker said. "I see him as probably more of a blitzer than maybe a four-down rusher. But he will have some edge rush opportunities."
So while it's likely Bostic will earn the start (he's clearly the most athletic linebacker on the roster), McClellin could find himself in some of the team's sub packages as an extra pass-rusher.
Dark horse:
Christian Jones
receives this designation only because he went undrafted out of Florida State. During minicamps and organized team activities, Jones was impressive and could actually fight for time on the field if given a legitimate opportunity by the staff.
A three-year starter at FSU, Jones started games at all three linebacker positions and defensive end, posting 151 tackles as a sophomore and junior. Jones moved to defensive end as a senior.
"Where we're at is this: We've got a long of players that are committed to this franchise that are really working hard," Bears linebackers coach Reggie Herring said. "It's become competitive at every position. Every day they come and it's a fight, a battle. We've got a young Jones player from Florida State, who is doing an incredible job and flashes and shows he has a chance to be a good player. We are building depth here through competition and it's a process. How we end up here, we're developing a picture in our mind, but we're not ready to say because it is still a competitive situation when we get back to training camp. If you want me to prematurely tell you who I am dating and who I am marrying, I don't have the answer. We're still dating."
Who makes the cut:
If the Bears decide to keep six, count on Briggs, Bostic, Williams and McClellin to make the roster along with Jones and
Khaseem Greene
, who has shown improvement since last season. If the Bears go with seven linebackers, it's likely
Jordan Senn
makes the team because of his ability to contribute heavily on special teams.
July, 2, 2014
7/02/14
9:00
AM ET
With veteran minicamp coming to a close on Jun. 19, the
Chicago Bears
receive a much-needed break to recharge before the start of training camp in July at Olivet Nazarene University in Bourbonnais.
During the team's time of inactivity, we'll take a position-by-position look at some of the expected training camp battles and dark horses to make the team.
Defensive end overview:
Similar to the face-lift conducted along the offensive line in 2013, the Chicago Bears go into 2014 with plenty of new parts on the defensive line, most notably new defensive ends
Lamarr Houston
and
Jared Allen
.
[+] Enlarge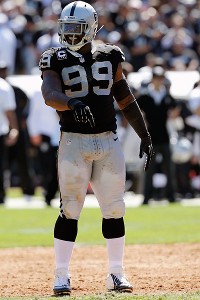 AP Photo/ Bill NicholsLamarr Houston had 16 sacks and never missed a game in four seasons with the Oakland Raiders.
In Houston, the Bears acquired a physical, hard-nosed run defender. In Allen, the Bears brought aboard a proven contributor with plenty of experience.
"We all know that in order to have a great defense, it starts with the defensive line," said defensive coordinator Mel Tucker. "[Allen] has done a fantastic job so far. He's a real pro. You add
Willie Young
, [
Stephen
]
Paea
, Lamarr to that mix and the other young guys that we have… it's a salty group. The focus with the D-line this season has been hand use, pad level, setting a vertical edge in the run game and being able to play your gap and a half of another gap. That's a violent-shed situation. I like the group so far. It's a lot of competition. There's a lot of guys in there we think can make this team."
It's likely that Allen, Houston and Young have pretty much sewn up their respective spots in the defensive end rotation. So most of the competition at the position will be for backup roles, and it appears veterans such as
Austen Lane
, who has experience with Tucker, and
Trevor Scott
, a six-year veteran, could have the inside track on jobs. But don't count out talented youngsters such as
David Bass
.
Battle to watch:
With the top three spots seemingly locked up, look for players such as Scott, Lane, Bass and Washington to fight it out for that fourth defensive end spot. Lane could have an advantage having worked with Tucker the first three years of his NFL career in Jacksonville. But Scott is an experienced player, too, having started 18 career NFL games in which he's posted 94 tackles and 16.5 sacks. Scott was a sixth-round selection of the
Oakland Raiders
in 2008.
Washington figures into the mix in part because of his immense physical skill set. Washington played in two games last season as a rookie, and contributed a tackle.
Bass, meanwhile, played in 12 games with one start last season after injuries along the defensive line took a toll. Bass contributed 23 tackles and a sack and also returned an interception for a touchdown.
Dark horse:
The Bears obviously committed the bulk of their money at the position to Allen, Houston and Young. So they'll stick. If the Bears decide to keep six defensive ends, there will be essentially six players fighting for three roster positions.
Undrafted rookie
Jamil Merrell
could make some noise in training camp. A starter at Rutgers as a junior, Merell missed time during his senior season with a foot injury that kept him out of action the first three games. He racked up 23 tackles, three tackles for lost yardage and a pair of sacks. During his junior season, Merrell posted 40 tackles.
Tracy Robertson
is another dark horse. Robertson signed to Chicago's practice squad last October, but was promoted to the active roster the next month. The club released Robertson on Nov. 29, but brought him back the following month to the practice squad.
Who makes the cut:
Chicago's roster going into the final game of 2013 featured six defensive ends. So if that's the number the Bears decide to go with this season, count on the obvious three in Allen, Houston and Young, along with Lane, Scott and 2013 sixth-round pick
Cornelius Washington
making the roster.
July, 1, 2014
7/01/14
8:00
AM ET
Overview:
Season-ending ACL tears to
Henry Melton
and
Nate Collins
left the Bears exceedingly thin at defensive tackle last season. Determined to avoid a repeat scenario, the Bears spent two early draft picks to inject some youth and increase depth at the position, LSU's
Ego Ferguson
(2nd round) and Arizona State's
Will Sutton
(3rd round).
Both rookies, along with re-signed veteran
Nate Collins
, are expected to fight for spots in the Bears' defensive tackle rotation behind projected starters
Jeremiah Ratliff
and
Stephen Paea
, after the club allowed Melton and DT/DE
Corey Wootton
to depart via free agency.
The Bears were pleased enough with Ratliff, a former Pro Bowl player for the
Dallas Cowboys
, to offer the tackle a new two-year deal in the offseason. Paea, whom the Bears moved up in the second round of the 2011 draft to grab out of Oregon State, is entering the final year of his original rookie contract. For Paea, it's now or never. He's shown promise throughout his four-year NFL career, but has struggled to stay healthy and has never truly dominated over an extended period of time in the regular season.
Battle to watch:
Will one of the rookies step up? Ferguson and Sutton are different players. Despite Ferguson's limited body of work at LSU (12 starts), the Bears believe the 6-foot, 309 pound rookie has the traits to be an effective run-stopper at the NFL level. Sutton was an elite pass-rusher with 13 sacks and 23.5 tackles-for-loss in 2012, but his production dropped his senior year with the Sun Devils due to weight gain. Both rookies have upside, but neither is a sure-fire lock to make an impact in 2014.
Dark horse:
Many believed Collins was on the verge of a breakout year before the knee injury in Week 5. The affable Collins, who played in nine games for the Bears in 2012, has shown the ability to rush the passer. Collins participated in organized team activities and the veteran minicamp, proving that he is fully recovered from the ACL surgery.
Who makes the cut:
It just depends on how many defensive linemen the Bears decide to keep on the 53-man roster. Ratliff and Paea (barring injuries) appear to be locks, along with defensive ends
Jared Allen
,
Lamarr Houston
and
Willie Young
. Ferguson and Sutton are likely in good shape because of their draft status, and Collins is an experienced reserve. On paper, the Bears seem equipped to carry five tackles, but preseason injuries at other positions can always change the composition of the roster in August and September.
June, 30, 2014
6/30/14
9:00
AM ET
Overview:
It's unclear how many tight ends the Bears plan to keep in 2014, but if the club's roster headed into the 2013 regular-season finale against Green Bay is any indication, it won't be many.
Bennett
The Bears entered the final game of last season with two tight ends on the active roster in
Martellus Bennett
and
Dante Rosario
. Interestingly, the club seems to have more competition at the position than ever under general manager Phil Emery with the additions of
Matthew Mulligan
and Jeron Mastrud.
Bennett and Miller are proven as receiving tight ends, but neither is considered a dominating blocker. Rosario is a solid all-around tight end, but doesn't excel in any one area, while Mulligan is considered a classic in-line blocker.
Battle to watch:
Rosario will end up having to hold off the other tight ends, and all of his competitors are stronger than him in certain elements of the game. But Rosario is a consistent all-around performer. Obviously, Bennett is the only lock at tight end to make this roster.
Dark horse:
Miller showed promise earlier in his career, catching 41 passes for 428 yards over his first two years with the
Jacksonville Jaguars
. But Miller has been more of a move tight end throughout his career because his 236-pound frame isn't conducive to being a consistent in-line blocker.
Who makes the cut:
More than likely the Bears will keep three tight ends, which means Bennett automatically makes the roster. It's likely the club keeps Mulligan because even though his specialty is blocking, he's sufficient enough as a receiving threat. Rosario seems the most likely to take that third spot because he'd be the safe pick, although Mastrud does have starting experience from his days in Oakland and Miami.
June, 27, 2014
6/27/14
9:00
AM ET
Overview:
Rising second-year right tackle
Jordan Mills
believes the Bears are "very close" to fielding a Super Bowl offense, and that is not merely overconfidence. Because in the next breath, Mills is quick to say there is "not one thing I do great or good enough that I don't need to work on." He constantly asks, "What can I do to become a great player, a great teammate and help this team?"
Bushrod
Mills
That attitude, it seems, has become contagious for the entire offense, not just the offensive line and could serve the team well in its quest to improve upon last season. Obviously, one major component in the offense's improvement came as the result of better protection provided by Mills and left tackle
Jermon Bushrod
.
In 2013, quarterback
Jay Cutler
suffered the fewest sacks of his tenure with the
Chicago Bears
.
With Busrod and Mills penciled in once again as the starters at tackle for 2014, the hopes is the sack numbers will drop even more.
"We're gonna be tested," Mills said.
Battle to watch:
Credit general manager Phil Emery for stocking the roster with so much depth at offensive tackle from the top of the depth chart to the bottom. It is expected that
Eben Britton
will seize the top backup role on the right side, but the left side is up for grabs now that
Jonathan Scott
is no longer with the team. Seventh-round pick
Charles Leno Jr.
could find himself battling with
Joe Long
,
Michael Ola
and perhaps
James Brown
for that spot. The runner-up in that battle could wind up still making the roster as a backup.
Dark horse:
Britton finally feels completely healthy after an injury-plagued start to his career in Jacksonville, and it showed last season when he was given opportunities to play. Britton served as the second tight end in some formations, but also received time on the line in various situations. The club likes Mills, and believes he has a bright future as the starting right tackle. But if Mills is slowed in his recovery from a broken foot during training camp, there is a chance Britton could seriously contend for a starting spot.
Who makes the cut:
Bushrod, Britton and Mills, would appear to be locks to make the team. Long and Leno could wind up with the final two spots, but remember that Ola has experience with Trestman as the two worked together with the Montreal Alouettes.
June, 26, 2014
6/26/14
9:00
AM ET
Overview:
Keeping the interior of the pocket clean allows the quarterback to step up and follow through on throws, and in 2013 the trio of starters
Roberto Garza
,
Kyle Long
and
Matt Slauson
certainly allowed the
Chicago Bears
' signal callers to do that with relative ease.
"We want the protection system to start from the inside out," offensive coordinator Aaron Kromer said.
It's probably safe to say the interior of Chicago's offensive line is its strength, and should only improve with the team bringing back all the starters while ramping up the competition at some of the backup spots.
"It's exciting," Slauson said. "This is the first time in my career where all five guys have stayed the same. Hopefully we can build off all the progress we made last year."
Battle to watch:
This isn't expected to materialize into a full-blown battle, but surely all eyes will be on the play of Garza and
Brian De La Puente
at the center position. Garza has started every game the last three seasons at center, and in 2013 put together arguably his best campaign since taking over for Olin Kreutz at the position. Although Garza hasn't shown any signs of a drop off, his age (35), and the fact the Bears brought on De La Puente -- who also has familiarity with Kromer -- as the potential heir apparent at the position will lead to speculation the team might be looking to replace the team captain. The potential speculation should lead to intense competition at training camp between Garza and De La Puente, who has also spent time during the offseason at guard. Garza's spot likely isn't in jeopardy, and the truth is some of the battles for the backup roles might wind up being more compelling.
Dark horse:
The Bears put together such strong depth at the interior positions there probably won't be a dark horse to make the team at center or guard, and certainly no player on the roster will push either Slauson or Long for their starting jobs.
Who makes the cut:
The Bears entered the 2013 regular-season finale with 10 total offensive linemen on the active roster and six of those players including
Taylor Boggs
,
Eben Britton
,
James Brown
, Garza, Long and Slauson can play interior positions. Well, every one of those players is back for 2014, in addition to De La Puente. De La Puente will make the team, which means one of the other players won't make the cut. There's a good chance that player winds up being Brown.
June, 25, 2014
6/25/14
9:00
AM ET
Overview:
Brandon Marshall
and
Alshon Jeffery
combined for 189 catches, 2,716 yards and 19 touchdowns. The yardage ranked as No. 2 in the NFL of all duos behind only Denver's
Demaryius Thomas
and
Eric Decker
(2,718).
So it's not like Marshall and Jeffery will be sneaking up on any opponents in 2014, and there's now the added pressure of raising the high bar already set.
Marshall
Jeffery
"I think we have a special group," Marshall said of the offense. "Their approach to practice to their approach to the film room, it's amazing, and I think if we continue to do that, we'll continue to grow. We have a tremendous upside. But again, we have to prove it. If we continue to work, we'll be OK. What we did last year was really tough. You bring in a new coach with a really sophisticated offense, you've got [quarterback] Jay [Cutler], he's been in different offenses almost every other year. So for us to make that leap last year says a lot about our coaching staff and our players. This year, that's something to build off and we can possibly be better."
Battle to watch:
The Bears want
Marquess Wilson
to win the No. 3 spot, and that will be an important position for the team moving forward as defenses start to devote more attention to Marshall and Jeffery on the outside. A dynamic player that can threaten the seam -- similar to the way
Martellus Bennett
does from the tight end spot -- could open up things for everybody else on offense. So unless Wilson falters significantly in camp and in the preseason, the job appears to be his to lose.
That means most of the competition will be for those final spots on the roster at receiver, and will involve veterans such as
Josh Morgan
,
Eric Weems
,
Micheal Spurlock
,
Armanti Edwards
,
Chris Williams
and
Josh Bellamy
. So we're talking about six players competing for two, possibly three roster spots, and the ability to contribute on special teams will likely wind up being a major determining factor.
Of the group, Morgan is probably the most polished as a receiver while Weems and Spurlock possess a combination of skills as receivers and return men.
Dark horse:
Terrence Toliver
, believe it or not, is actually in his second stint with the Bears. The club first signed him in January 2013, before cutting him at the end of camp. The Bears then brought back Toliver last October. Toliver hasn't caught a single pass in an NFL regular-season game, yet he's spent time with five different teams. Toliver possesses some upside, and is similar to Marshall and Jeffery in terms of size (6-foot-5, 204 pounds). He's shown gradual improvement throughout his tenure with the Bears, but the question is whether he'll receive enough of an opportunity to show the club what he can do in training camp and the preseason.
Who makes the cut:
If the Bears keep five receivers, they'll likely go into the season with Marshall, Jeffery, Wilson, Morgan and Weems. If they keep six, Williams would likely make the cut over the other competitors.
June, 24, 2014
6/24/14
9:00
AM ET
Overview:
Matt Forte
racked up a career-high 1,933 yards from scrimmage last season, which ranked as the fifth most in franchise history, and he did it in a new offense. In Year 2 in Marc Trestman's offense, Forte figures to put up similar numbers as the staff refines the scheme to focus on the club's strengths.
Forte
"Last year, we had to figure out what we were gonna be good at," Forte said, "and I think that's just being balanced between the run and the pass. We kind of started out heavy pass early last season, and kind of sprinkling in runs. Then we found out what kinds of runs the O-line likes to block and were good at with the tight ends. Then we started doing different types [of runs]. [Offensive coordinator Aaron] Kromer is good at mixing them up between runs. Being balanced this year and already knowing with the offensive line likes to block is gonna give us a little head start."
Battle to watch:
Forte's got the top spot locked up, obviously. So the most intriguing competition at this position at training camp will involve rising second-year man
Michael Ford
and rookie fourth-round pick Ka'Deem Carey. Team officials and coaches typically mention that money doesn't play into personnel decisions, but that's not always the case. The Bears paid Carey $443,380 in a signing bonus, while Ford, last season received $3,500. So it's likely Carey will be given more opportunities than Ford to win the backup job behind Forte. But Carey's got to win the position as the team simply won't just hand it to him.
"I don't feel any pressure. I like to have fun, and when I have fun, I play my best," Carey said. "If I get worked up about trying to compete and trying to show what I've got, then I will just show out bad. I want to perform how I know how to perform. I walk around with a smile, and I have fun, and I perform."
Ford, listed at 5-foot-10, 216 pounds is bigger than Carey. But the latter is considered more a grinder between the tackles as Ford seems to be more of a scat back type with impressive quickness. Carey was a contributor on special teams last season, which should help his cause.
Dark horse:
Undrafted rookie
Jordan Lynch
probably won't receive a real opportunity to see any playing time next season, and it's going to be difficult for him to make the team. But the coaching staff likes Lynch, a former quarterback at Northern Illinois, and he could impress in the preseason if given the opportunity. Trestman has mentioned on multiple occasions that the former quarterback doesn't look out of place playing running back, and he doesn't. At NIU, Lynch rushed for 1,815 and 1,920 yards in back-to-back seasons. So there's no question he can tote the pill. Lynch's background as a quarterback likely means he'll absorb Chicago's playbook quickly enough to really open eyes in the preseason, provided he's given a legit shot to play.
"I spent a lot of time in the film room in past years [as a quarterback], and I feel that work ethic is going to carry over to running back, and always watching film and trying to pick up on little things," Lynch said. "I'm a football player. I love football, and I'll do whatever it takes to stay in the NFL."
Who makes the cut:
The Bears finished the season with three running backs (
Michael Bush
, Ford and Forte) and a fullback in
Tony Fiammetta
. It's likely the Bears head into 2014 with Forte, Carey and Ford along with Fiammetta. The best-case scenario for Lynch appears to be a spot on the practice squad.
June, 23, 2014
6/23/14
9:00
AM ET
With veteran minicamp coming to a close on Jun. 19, the
Chicago Bears
receive a much-needed break to recharge before the start of training camp in July at Olivet Nazarene University in Bourbonnais.
During the team's time of inactivity, we will take a position-by-position look at some of the expected training camp battles and dark horses to make the team, starting with the offense:
Overview:
In an attempt to play through an entire regular season for the first time since 2009,
Jay Cutler
bulked up and added strength in the offseason, according to Bears coach Marc Trestman. That probably needed to happen considering the murky situation behind Cutler on the depth chart.
[+] Enlarge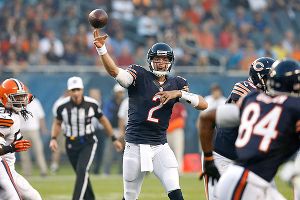 AP Photo/Charles Rex ArbogastJordan Palmer will battle Jimmy Clausen to be the No. 2 quarterback behind Jay Cutler.
The Bears took four potential backups to Cutler into minicamp --
Jordan Palmer
,
Jimmy Clausen
,
Jerrod Johnson
(who has been released) and rookie
David Fales
. The group, collectively, has completed a total of 167 passes in the regular season, with the bulk of that coming from Clausen (157).
Makes you miss
Josh McCown
, right?
Battle to watch:
Palmer will go into camp as the front-runner to win the backup job, but Clausen should push him if he picks up Chicago's offense quickly enough. Prior to the team's Jun. 7 acquisition of Clausen, it appeared Fales -- a sixth-round pick -- posed the most significant threat to Palmer in the competition for the No. 2 job. Now, the Bears will likely try to bring along Fales slowly, and give his repetitions to Clausen, who has more experience than Palmer as a starter in the NFL. So look for Clausen and Palmer to slug it out for the No. 2 job, while Johnson and Fales compete for the No. 3 spot.
"If you're a free agent, you're going to be thrown into a situation where you have to learn faster to get up to speed so you can compete. That's a big challenge for me," Clausen said. "The quarterbacks are helping me out a lot. The coaching staff is doing a great job helping me, just trying to get me up to speed as soon as possible."
Dark horse:
The Bears invested $114,224 in Fales in the form of a signing bonus, so they might feel inclined to keep him over Johnson. But don' count out Johnson, who in 2011, was the No. 1 overall pick of the defunct UFL.
Before
Johnny Manziel
tore it up at Texas A&M, Johnson was the school's career leader in total offense (8,888 yards) and passing yards (8,011). But Johnson entered the NFL as an undrafted free agent with the
Philadelphia Eagles
, and hasn't been able to stick with a team. Johnson has spent time with the Eagles, Steelers and Seahawks, but many don't realize that a pretty significant shoulder injury at A&M has sort of derailed his career.
"He struggled as a senior at A&M," Bears general manager Phil Emery said last September. "There were a lot of rumors that he was injured. Talking to him, he was. He's undergone surgery. He basically relearned to throw the ball. He was impressive out there in terms of his accuracy and the velocity that he had. He has foot movement, and he's 6-foot-5, 240 pounds. He's a very engaging young man with a lot of intelligence."
Who makes the cut:
The Bears will likely keep only three quarterbacks on the active roster, which means Cutler, Clausen -- provided he performs in the preseason -- and Palmer would likely make the cut with the club keeping Fales on the practice squad. Johnson is an intriguing talent, but he will likely fall victim to the numbers game.