Chicago Bears:

Black Monday 2012
January, 16, 2013
1/16/13
8:24
AM ET
In the middle of a cold January night, the
Chicago Bears
hit a brilliant home run. Either that, or they struck out wildly. I just don't see much gray area in their
decision to hire Marc Trestman
as their next head coach, a man who was once a hot coaching candidate but was so thoroughly rejected by NFL teams that he fled to the CFL five years ago.
The Bears were so excited about hiring Trestman as their next head coach that they announced it in a press release issued at 4:07 a.m. local time. His arrival is either a stroke of genius for general manager Phil Emery, who clearly sought an offensive guru for this role, or a classic case of overthinking a process in hopes of finding the perfect candidate in an imperfect world.
There was a time when Trestman was the Mike McCoy of the NFL -- the league's top young offensive assistant with an impressive résumé of success who seemed destined for a head coach's job. That time, quite frankly, was more than two decades ago and predates the teen years of most players on the Bears' roster.
[+] Enlarge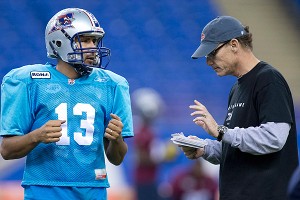 AP Photo/The Canadian Press, Paul ChiassonMarc Trestman led the Montreal Alouettes to three appearances in the Grey Cup, including consecutive championships in 2009 and 2010.
Trestman's offenses were explosive and innovative and loved by the quarterbacks who ran them. In recent days,
some of those quarterbacks have advanced the cause
of a coach they feel was unfairly passed over. We've heard from Rich Gannon and Steve Young, among others. They've spoken of Trestman's work with them, along with his success in developing a long list of other quarterbacks that include Bernie Kosar, Jake Plummer and Scott Mitchell. And Trestman's biggest benefactor might be former Hall of Fame coach Bud Grant, who hired him with the
Minnesota Vikings
in the mid-1980s.
You would be excused for a double-take after reading those names. Grant retired for good in 1985. Kosar has been out of the NFL for 17 years. Young's last season with Trestman was 1996. Mitchell last played in 2001. Today's NFL players probably view Gannon, the league's MVP in 2002, as a television analyst more than a contemporary.
In an industry in which teams are always looking for the next great head coach, Trestman was passed over repeatedly and without fail. His NFL success dates back to a long-gone era in a fast-moving league.
So in my view, Emery has either plucked a savant with exceptional ability to adapt over time or he has hired a relic based on a profile -- smart, innovative with head-coaching success -- whose window closed a long time ago.
As we noted earlier this week
, men of Trestman's age (57) almost never get a chance to be a first-time NFL head coach. Fair or not, general managers and owners value recent success and surely connect it to understanding the latest trends in the league.
Trestman's run as an NFL assistant began in 1985 -- when Bears quarterback
Jay Cutler
was 2 years old -- and ended around 2002. His last NFL job, before he returned to the college ranks and later moved to the CFL's Montreal Alouettes, was in 2004. Eight years is a long time to be away from the day-to-day workings of an industry.
To be clear, that alone doesn't make Trestman a bad hire or even over the hill. It means he is unique relative to the way NFL teams have typically done business in recent years, and it's why I think his chances to be a brutal strikeout are just as high as the possibility that he is a monster home run.
Living in Minnesota for the past 13 years, I can't tell you how many people I've heard speak reverentially about Trestman, a native of the Minneapolis suburb of St. Louis Park who played at the University of Minnesota. Those people range from Grant to Gannon to people Trestman went to high school with. They all believe he is a brilliant offensive strategist and quarterback guru, one whose professorial and quiet demeanor perhaps clouded the view of NFL teams who questioned his ability to command a room and lead an entire team. His name has been championed for every head-coach opening the Vikings and the University of Minnesota have had since I've lived here, and yet he has never received serious interest.
In terms of profile, Trestman fits everything you would imagine a general manager such as Emery would want. He has previous success in developing quarterbacks and has the capacity to elevate Cutler's game if the quarterback buys in. His ego is small enough, by all accounts, to trust the front office with all personnel moves. He was humble enough to take a CFL job and good enough to win two Grey Cups in the process.
But any skepticism is completely understandable. That previous NFL success is in many cases decades old, with schemes whose popularity have waned and with quarterbacks who haven't played in a long time. His success in Canada is better than the alternative, but the CFL is undeniably a different game at a lower level of competition with players of dissimilar mindsets than those in the NFL.
Without question, hiring Marc Trestman was a courageous decision. There are plenty of people who consider it brilliant and decades in the making. The bottom line, however, is that most of the NFL rendered its judgment on him -- right or wrong, fair or otherwise -- a long time ago. Are the Bears smarter than everyone else? We'll soon find out.
January, 15, 2013
1/15/13
9:45
AM ET
As word
filtered out Monday night
on the finalists for the
Chicago Bears
' coaching job, some of you immediately expressed support for
Seattle Seahawks
offensive coordinator Darrell Bevell. Why? Everyone has their reasons, but without a doubt, age is one of them.
Via Twitter,
@cubbieBearHawk
wrote: "We need a young Innovative mind not senior citizens." Meanwhile,
@MikeDBears
recognized how unusual his hopes were: "cant believe im rooting for the 2 old guys."
Fans tend to gravitate toward the "young, innovative mind" narrative -- especially for first-time head coaches. And quite frankly, NFL teams do as well. That undeniable fact makes the Bears' other two known finalists -- Marc Trestman and Bruce Arians -- unique.
Bevell is 43, which puts him neatly in the profile of recent NFL hires. Arians, meanwhile, is 60 and Trestman is 57. As silly as it might sound, their ages make them outliers in the candidate pool teams have recently dipped into among candidates who have not been NFL head coaches before. (In the video, ESPN's Adam Schefter implies Trestman could be a finalist for the job.)
I did a quick look Tuesday morning at the ages of the 21 current coaches who -- like Bevell, Trestman and Arians -- had never been NFL head coaches when hired into their jobs. The average age of those men was 45.3 years old, with a range of 34 (Mike Tomlin of the
Pittsburgh Steelers
) to 51 (Mike Munchak of the
Tennessee Titans
, Leslie Frazier of the
Minnesota Vikings
and Chuck Pagano of the
Indianapolis Colts
.)
There are seven men who are in their second jobs as NFL head coaches, meanwhile, and Arians is older than all of them were when they were hired. Trestman is older than all but Seattle Seahawks coach Pete Carroll, who was 58 when he accepted the job.
In a vacuum, I hope we would all argue that age shouldn't be so relevant in a job that should require leadership and experience. But in recent history, at least, it's clear that NFL teams are just as drawn as fans are to young coaches with potential for growth, favoring them over those who -- like Arians and Trestman -- have spent decades working their way through the coaching ranks.
It would take weeks to fully report out the reasons for that trend. I'm sure that identifying with players, energizing fan bases and bringing "new" schemes are all part of the allure.
What we can say is this: The Bears would certainly buck recent NFL thought by hiring Arians -- whose role as the Colts' interim coach this season was temporary and came only after Pagano's bout with leukemia -- or Trestman. I don't think it is the least bit fair to see that kind of ageism taking place, but as I'm sure every NFL coach in recent history has said at some point, it is what it is.
January, 13, 2013
1/13/13
11:53
AM ET
By the end of Sunday, it's possible the
Chicago Bears
will have concluded their first round of interviews in what has already been an epic coaching search.
Indianapolis Colts
offensive coordinator Bruce Arians was scheduled to be the 13th known candidate to speak with general manager Phil Emery. If there are more first-round interviews scheduled, they haven't been reported.
My educated guess is that some interviews have been completed in secrecy, so I wouldn't be surprised if Emery has spoken with 15 or more candidates.
We've discussed the possibility
that Emery is using this opportunity to pick the brains of as many smart assistant coaches as he can, but I think we have also seen an undeniable quality emerge as well.
Here's how
Tennessee Titans
general manger Ruston Webster put it last week during an interview with my AFC South colleague Paul Kuharsky on 104.5-FM in Nashville: "I know Phil Emery, and Phil Emery is about as thorough of a human being as I've ever known."
Meanwhile,
according to ESPN's Adam Schefter
, two of the coaches Emery has spoken with said "they never have interviewed with anyone as prepared and detailed" as him.
So before we try to ascribe some kind of ulterior motive to Emery's approach, and rather than conclude he is flailing blindly in the night, perhaps this search is best viewed as a physical extension of Emery's meticulous personality. Where and when it ends remains anyone's guess. Former NFL coach Jimmy Johnson tweeted that Emery favored his former assistant, current Montreal Alouettes coach Marc Trestman, but
nothing more has come
of what appears to be Johnson's personal view.
For the record, here are the Bears' Lucky 13 to this point:
Arians
Atlanta Falcons special teams coordinator Keith Armstrong
Seattle Seahawks offensive coordinator Darrell Bevell
New Orleans Saints offensive coordinator Pete Carmichael Jr.
Green Bay Packers offensive coordinator Tom Clements
Dallas Cowboys special teams coordinator Joe DeCamillis
Houston Texans offensive coordinator Rick Dennison
Denver Broncos offensive coordinator Mike McCoy
Minnesota Vikings special teams coordinator Mike Priefer
Vikings special assistant to the head coach Mike Singletary.
Tampa Bay Buccaneers offensive coordinator Mike Sullivan
Trestman
Bears special teams coordinator Dave Toub
December, 31, 2012
12/31/12
10:28
AM ET
A second consecutive late-season collapse, along with the presence of a new boss who didn't hire him, was enough to end Lovie Smith's nine-year tenure with the
Chicago Bears
.
The decision came quickly after the Bears missed the playoffs for the fifth time in six seasons. ESPN's Adam Schefter reported at about 10:40 a.m. ET that general manager Phil Emery was requesting interviews with head-coaching candidates from other NFL teams. As of 11 a.m. ET, the Bears had made no announcement about his status, but
NFL.com was among the outlets reporting Smith had been fired
.

Smith
My initial thought is that Smith got a fair run in Chicago. In an age of frenzied expectations and short hooks, he was the NFL's second-longest-tenured coach. The Bears gave him six seasons to win a championship after he brought the Bears to Super Bowl XLI in 2006, but instead his teams missed the playoffs in all but one of those years. The Bears finished last season 1-5 after a 7-3 start, and in 2012 they became the second team in 23 seasons to miss the playoffs after starting 7-1.
While his defenses usually were among the NFL's best, Smith plowed through three offensive coordinators in the past four seasons and failed to give quarterback
Jay Cutler
a consistent environment in which to thrive. Smith's defense is in need of a personnel influx, considering its four best players -- linebackers
Brian Urlacher
and
Lance Briggs
, defensive end
Julius Peppers
and cornerback
Charles Tillman
-- are all on the wrong side of 30 years old. It's fair for the Bears to hire a new coach to preside over that overhaul.
Urlacher, Briggs and receiver
Brandon Marshall
have all expressed deep support for Smith in recent days, and that's no surprise. He is a hands-off disciplinarian who gathered self-motivated players and gave them space. That makes for a pleasant working environment, but as the Bears' recent history has shown, it didn't translate consistently on the field. Smith got a fair time period to take a championship step with the Bears, but in the end he could never replicate the magic of 2006. It was time to shake up the too-cozy environment a long-tenured coach tends to create.
More in a bit.