Chicago Bears:

Carlos Dunlap
September, 8, 2013
9/08/13
6:00
AM ET
LAKE FOREST, Ill. -- Finally, it's time for the Bears to kick off the regular season Sunday, when they host the
Cincinnati Bengals
at Soldier Field.
Let's take a look at five things to keep an eye on in this matchup:
Rookies on right side of OL:
The debuts of rookies
Kyle Long
and
Jordan Mills
at right guard and right tackle, respectively, seems to have been one of the most widely debated topics all offseason. Well, now it becomes real.
Long is set to be the first rookie to start at right guard for the Bears in the Super Bowl era. In fact, the Bears haven't started multiple rookies on opening day since 1998.
"That's a cool trivia question," Long joked. "I try not to focus on that type of stuff. It's a good tidbit to know. But right now, I'm so focused on who to block on inside zone right and that kind of stuff. That stuff is far more important to me at this point."
[+] Enlarge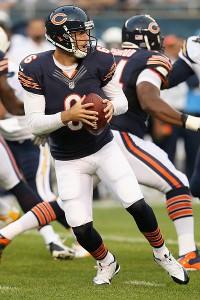 Jonathan Daniel/Getty ImagesProtecting Jay Cutler remains a top priority for Chicago's offensive line.
It definitely should be. Long and Mills face a Bengals defensive line that accounted for 43 of the team's record 51 sacks in 2012, and led by defensive tackle
Geno Atkins
, who led all NFL interior linemen last season with 12 sacks.
"Just having another rookie [in Long] to go through it with you is priceless," Mills said. "They have a great front seven with Geno Atkins,
Carlos Dunlap
,
Michael Johnson
,
Rey Maualuga
and the rest of the guys. But we're trying to be a great offense. We're going to come in there with a great game plan and we're going to be fine."
The new offense:
In terms of diversity with formations and play calling, this will be the most extensive look at the Bears' offense we've seen since the Aug. 23 preseason game at Oakland. Look for tons of shifts, formations and plays that get the ball out of
Jay Cutler
's hands quickly, not to mention some plays designed to move the pocket.
"The game plan is put together relative to how much we get practiced, how we want to spread the ball around," Bears coach Marc Trestman said. "Certainly it all starts with how we want to attack running and throwing the football. It's just a process you go through every Monday and Tuesday so to speak, during the course of a normal week; who you want to feature, how you want to use personnel groupings, how you want to use formations to be able to create advantages and working toward the strengths and weaknesses of the teams you'll be playing."
Trestman sounds as if Chicago's playbook is much deeper than what the team will select to execute against the Bengals. That's definitely a positive the Bears haven't had in the years before Trestman.
D.J. Williams at middle linebacker:
Trestman said Williams will play, but wouldn't give an indication of what degree, whether he'll be starting or how much he'll contribute. It's expected that Williams will start in the middle alongside
Lance Briggs
and
James Anderson
. But when you consider how much time Williams missed (virtually the entire training camp and preseason), it's reasonable to question whether the linebacker's conditioning level will be up to par to where he can play an entire four quarters.
It's also worth noting that Williams has missed the preseason the past two years, which means Sunday might not be as difficult for him as we think.
"I don't what to say I'm used to it, but I've been through this before," Williams said. "Being a veteran guy, you kind of know what you need to do to get yourself prepared for the game. I know coming into the first game there's going to be a little gas, a little winded. But the first game of the season, everybody is going to be kind of like that."
If Williams can't play the entire game, the Bears are confident they can go to
Jonathan Bostic
, who put together a strong enough preseason to inspire confidence in his ability to be a starter.
"I'm preparing like I'm a starter," Bostic said. "You never know what's going to happen."
Julius Peppers vs. Anthony Collins:
The Bengals might be thinking "uh-oh" when looking at this matchup on paper. Cincinnati Pro Bowl left tackle
Andrew Whitworth
is listed as doubtful heading into the game, which means the Bengals will line up Collins at the position, where he'll take on Peppers.
Look for the Bears to try to exploit the loss of Whitworth with Peppers, who is coming off a 2012 campaign in which he posted 11.5 sacks.
Former Bengals offensive lineman Dave Lapham, who is not a radio analyst told ESPN 1000's "Chicago Gamenight" on Thursday how he expected Cincinnati to handle Peppers without Whitworth in the fold.
ESPNChicago.com's Jeff Dickerson
takes you deeper
.
"I don't think he'll have movement issues with respect to Julius Peppers, but Peppers can bull rush you now, too," Lapham said. "He's a strong dude. So I'll be interested to see if Collins can hang in there against that bull rush that Peppers can employ to complement that quickness that he's got."
Devin Hester exclusively as a return man:
Hester worked all offseason exclusively as a return man, with the team stripping away his duties as a receiver. Now it's time to see if the extra focus on returns will pay off for Hester, who didn't receive much action in the preseason. Hester took part in just five returns (three kickoffs and two punts) and gained a combined 94 yards, with his longest runback being a 45-yard kickoff return.
Given that Hester is in a contract year, expect him to put together one of the best return seasons of his career. Hester needs only one more return touchdown to tie Hall of Famer Deion Sanders for the most career return touchdowns. My guess is Hester winds up breaking the record by Week 9.
September, 5, 2013
9/05/13
1:00
PM ET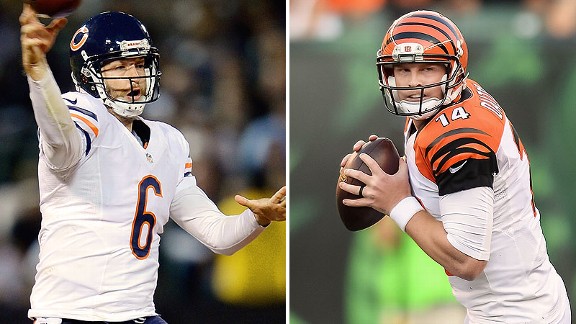 Getty ImagesChicago's Jay Cutler, left, and Cincinnati's Andy Dalton lead their respective offenses against very stingy defenses.
Two strong defensive teams led by highly scrutinized quarterbacks in
Jay Cutler
and
Andy Dalton
set the scene for what should be a hotly-contested matchup between what are expected to be ascending clubs.
Marc Trestman makes his debut as an NFL head coach at Soldier Field on Sunday, leading a Bears team with plenty of roster turnover on offense, including a totally revamped line expected to better protect Cutler as he operates the club's new scheme. That group will be tested by a Bengals defensive line, led by
Geno Atkins
, that accounted for 43 of the team's franchise-record 51 sacks in 2012, and also paved the way for the defense to finish the season ranked No. 6 for fewest yards allowed.
Chicago's defense in 2012 was even better, finishing fifth in net defense, third in scoring defense (17.3 points per game) and No. 2 in turnover differential while leading the NFL in interceptions (24) and total takeaways (44).
While home-field advantage can be key for teams, it's certainly been a factor in this series. The Bengals hold a 4-1 road record against the Bears and own a 6-3 series lead, which includes victories in their last outings (2005 and 2009).
Chicago hasn't beaten the Bengals since 2001.
ESPN.com's Matt Williamson and Bears team reporter Michael C. Wright discuss the matchup.
Wright:
The Bears hope they fixed the offensive line with a combination of scheme (shorter drops for Cutler), beefed up protection with
Jermon Bushrod
at left tackle and a pair of draft picks in
Kyle Long
(first round) and
Jordan Mills
(fifth) at right guard and right tackle, and another weapon for Cutler to find down the middle of the field when he's in trouble. But the inexperience of Long and Mills will be question marks against Cincinnati's active defensive line.
It seems Cincinnati's defense is built around Atkins, but how much of a factor are guys like
Carlos Dunlap
and
Michael Johnson
?
Williamson:
Atkins is the foundation of the defense for sure and everyone thrives off his presence, but the Bengals have a lot invested in the defensive line now in terms of finances and draft picks. This is an extremely deep and talented group that makes the entire defense go. Dunlap might be a little underrated and Johnson a little overrated, but they form an impressive pair of defensive end. These three players, along with the rest of Cincinnati's defensive front, will prove a very steep challenge for Chicago's rebuilt offensive line in Week 1.
What can the Bengals' defense expect from this new Trestman offense?
Wright:
The Bears will utilize zone blocking in the running game, which should allow
Matt Forte
to pick his own holes. That should open up the passing game, where the Bears will use West Coast philosophies such as shorter routes and drops for Cutler so he can get rid of the ball quickly. Look for the Bears to also try to use
Earl Bennett
down the seams to exploit potential matchup problems, especially on traditional running downs where the Bengals might be using base personnel.
Speaking of the Bengals, they've made the playoffs in three of the last four years, but really haven't made much noise. What are the expectations for this team now?
Williamson:
Expectations must go up. They had yet another high-quality offseason and this team has an exceptional young core of players on both sides of the ball. They clearly play in a tough division, but going one-and-done in the playoffs yet again will not be considered a successful season in Cincinnati. I fear they will only go as far as their quarterback will take them. But Bengals fans have a lot to be excited about.
Do you think this Bears defense can defend
A.J. Green
?
Wright:
They should be able to keep him from dominating the game. It's likely the Bears match
Charles Tillman
up against Green, but if the receiver winds up in front of
Tim Jennings
, the team is confident he can get the job done, too. The Bears typically don't double or shade coverage against players such as Detroit's
Calvin Johnson
, so don't count on seeing the Bears try that against Green. Cincinnati's tight ends could be an issue now that they've got two good ones in
Jermaine Gresham
and
Tyler Eifert
.
With such a talented supporting cast, do you see Dalton as just a guy surrounded by weapons, or a blossoming young quarterback?
Williamson:
He shows signs of blossoming into a solid young quarterback, and has been especially adept in the red zone, which is very noteworthy for a young quarterback. But I think he is more of the former. He is a limited passer who lacks great tools, and isn't as accurate or on time with his throws as you would like for someone with his limitations. The Bengals knew this and landed two very "Dalton-friendly" receivers for him in Eifert and
Giovani Bernard
. Eifert should develop into an exceptional target in the middle of the field as well as the red zone, while Bernard provides an easy dump-off option for Dalton. With all the Bengals' resources over the past two offseasons, it really surprises me that Cincinnati didn't do more to challenge Dalton or greatly improve its backup quarterback spot.