Chicago Bears:

Cedric Benson
November, 7, 2012
11/07/12
11:00
AM ET
As we noted last month, we've done away with the weekly Stock Watch post and instead will hit it after every quarter of the season. Here's what we posted
after every NFC North team had played four games
, and below is our assessment now that everyone has played at least half of the games on their 2012 schedule. I'm such a happy guy that I went crazy and shifted a slot from our "Falling" category to "Rising" to reflect the fact that all four of our teams are at least .500 at the moment. The glass is half-full up in here.
FALLING
[+] Enlarge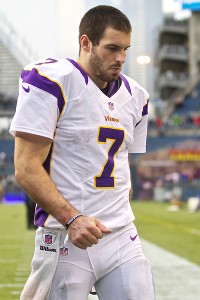 Stephen Brashear/Getty ImagesChristian Ponder has thrown six interceptions in the past four games, three of them losses.
1. Minnesota Vikings' vision:
The most important task facing the Vikings this season was not challenging for a postseason spot, something a 5-3 record through eight games put them in position to do. Instead, it was developing and cementing quarterback
Christian Ponder
as their long-term answer at the position. Ponder made clear progress during training camp and
played efficiently in the Vikings' conservative structure
early this season. But a slump has now extended to five games, lowlighted by a pair of sub-70 yard efforts, and raised an uncomfortable specter. If Ponder can't straighten himself out, his second NFL season will be a failure. The Vikings' long-term plan centers around his successful development. Would they give him an unchallenged third season to prove himself? Or would they need to start considering contingency plans? NFL franchises are lost without a quarterback, putting the Vikings at a critical point under their current leadership.
2. Health in Green Bay:
Nearly half of the
Green Bay Packers
' Week 1 lineup has missed at least one game because of injuries. All told, the Packers have lost 40 starts from players who were either listed as the starters on the team's opening depth chart or moved into that role as a result of other injuries. They face a post-bye landscape without receiver
Greg Jennings
, right tackle
Bryan Bulaga
, running back
Cedric Benson
, linebackers
Nick Perry
and
Clay Matthews
, and cornerback
Charles Woodson
, for various periods of time. Receiver
Jordy Nelson
's status is uncertain. Optimists recall the Packers won the Super Bowl two years ago with 15 players on injured reserve. A realist would wonder how likely it is to repeat that feat under such circumstances.
RISING
1. Cornerbacks in Chicago:
Even in a passing league, NFL teams have devalued the cornerback position in favor of pass rushers in recent years. Conventional wisdom has suggested that rules inhibiting aggressive coverage made pressure a better defensive weapon. But the
Chicago Bears
have proved otherwise this season, getting dominant performances from cornerbacks
Charles Tillman
and
Tim Jennings
both in coverage and playmaking. Their coverage has helped the Bears' pass rush compile an NFL-high 21 sacks from a standard four-man alignment, and as playmakers they've contributed a combined eight interceptions, three touchdowns, 21 defensed passes and seven forced fumbles. Oh, and they're combining to earn $6.55 million this season. That might have to change between now and the start of the 2013 season.
2. Scott Linehan, Detroit Lions offensive coordinator:
The Lions have faced considerable criticism for not forcing more downfield passes against defenses who are blatantly aligned to stop those plays. That strength-on-strength argument sounds good around the water cooler, but it's a suicidal long-term approach. Linehan and coach Jim Schwartz understood that and, from the beginning, have insisted on a traditional antidote: The running game. Personnel shortages
made that difficult earlier this season,
but the emergence of
Mikel Leshoure
and
Joique Bell
provide hope for the second half of the season. The two combined for 149 yards on 29 carries last Sunday against the
Jacksonville Jaguars
, and Leshoure scored three touchdowns. Linehan deserves credit for maintaining a sane thought process amid early season panic around the team. A successful running game might not force radical defensive changes, but it will give the Lions a reliable way to move the ball and score if they don't.
3. Adrian Peterson, Vikings running back:
Exactly 315 days ago, Peterson's left knee was a mangled mess. We've already noted
his stunning comeback,
but it's worth updating after his 182-yard performance last Sunday against the
Seattle Seahawks
. In his past three games alone, Peterson has amassed 458 yards and four touchdowns, including breakaway runs of 74 and 64 yards. He leads the NFL in rushing yards (his total of 957 this season is 163 more than the NFL's next-most productive running back), yards from scrimmage (1,107), yards per carry (5.7), yards after contact (515) and runs of at least 20 yards (11). His comeback has been no less impressive than that of
Denver Broncos
quarterback
Peyton Manning
, and his recovery came in less than half the time.
4. Jay Cutler, Bears quarterback:
From this vantage point, Cutler made substantial progress on multiple fronts over the past month. We got to the point where Cutler's quirks and sideline exchanges became
a matter of course rather than cause for personality debates.
We acknowledged how good
he has been in clutch situations
. And now we should note that the Bears are 12-1 in Cutler's past 13 starts dating to last season. Since the start of the 2010 season, in fact, the Bears have a .750 winning percentage in his starts (24-9). For reference, the Packers have a .769 winning percentage under quarterback
Aaron Rodgers
in that same span.
October, 18, 2012
10/18/12
10:02
AM ET
We're Black and Blue All Over:
After a tough and physical game last Sunday at Lincoln Financial Field, the Detroit Lions have begun preparations for Monday night's game against the Chicago Bears with only two healthy cornerbacks.

The Lions aren't required to issue an injury report until Thursday at 4 p.m. ET, but as
Dave Birkett of the Detroit Free Press
notes, rookie Bill Bentley (shoulder) and veteran Jacob Lacey (concussion) appeared to sit out Wednesday's practice. Both players didn't return after suffering their injuries against the Eagles. That left veteran Chris Houston and rookie Jonte Green as the only healthy cornerbacks on the 53-man roster.
Fellow rookie Chris Greenwood was activated from the physically unable to perform (PUP) list this week but hasn't yet been added to the 53-man roster. It would be asking a lot for him to be ready to play Monday night.
The Bears aren't expected to have their full arsenal of receivers Monday night because of Alshon Jeffery's fractured hand, as
ESPNChicago.com's Michael C. Wright
notes, but the Lions appear shorthanded for the moment regardless.
Continuing around the NFC North:
September, 28, 2012
9/28/12
9:30
PM ET
September, 14, 2012
9/14/12
1:00
PM ET
After the Green Bay Packers' 23-10 win over the Chicago Bears, here are three issues that merit further examination:
ESPN.com

The Packers' first touchdown came on a fake field goal that got lost in the postgame shuffle Thursday night, at least on this blog. So let's first note how gutsy the call was considering it came on fourth-and-26 from the Bears' 27-yard line. The play essentially had to score to work; the Bears would have taken over if reserve tight end Tom Crabtree had been stopped outside of the 1-yard line. "That's like the call of the year," cornerback Tramon Williams said. "Fourth-and-26? You would never think anyone would go for that. You've got Tom Crabtree and you give the ball to him to get 26 yards? You never think that would happen again." Coach Mike McCarthy said the Packers have been waiting "two or three years" for the Bears to give them an alignment that would make the play work. To me, the first key was that Bears cornerback Charles Tillman -- aligned over Crabtree on the left side of the Packers' formation -- chased place-kicker Mason Crosby away from the play for several steps. That gave Crabtree some separation to catch holder Tim Masthay's pitch and get a head of steam.

There are many ways to determine the motivation for a fake field goal. Did the Bears simply provide a once-in-a-lifetime look the Packers knew they could capitalize on? Was McCarthy pulling out all the proverbial stops to avoid going 0-2? Or was it, at least in part, an acknowledgment that the Packers' offense left them needing to find alternative ways to score touchdowns? I think an argument could be made for the latter motivation. We noted last week the sharp decrease in the Packers' explosiveness and wondered what adjustment they would make. We got at least a one-game answer Thursday night: With Greg Jennings (groin) sidelined and the Bears aligned to take away the deep pass, the Packers powered down and emphasized their running game along with their short(er) passing game. They ran 25 running plays, nearly tripling their Week 1 attempts, and were rewarded when tailback Cedric Benson (81 yards on 20 carries) got warmed up and began churning up yardage. The longest pass quarterback Aaron Rodgers completed was a 26-yard touchdown to receiver Donald Driver, and their longest play overall was Randall Cobb's 28-yard run off a pitch play. Overall, the Packers averaged 4.9 yards on 66 plays, holding the ball for 32 minutes, 11 seconds. It was a very Black and Blue approach in what we once thought was the Air and Space division.

As we discussed Thursday afternoon, the Packers weren't dumb enough to take up quarterback Jay Cutler on his offer to press receivers Brandon Marshall and Alshon Jeffery. Instead, they played man-to-man coverage with Williams, Sam Shields, Charles Woodson and rookie Casey Hayward with two safeties -- Morgan Burnett and another rookie, Jerron McMillian -- stationed deep. Williams turned in an awesome performance on Marshall, and afterwards reiterated his approach to playing big receivers. "With a guy that size," Williams said, "you can't be too physical on him. That's what he wants. He'll beat you most of the time. I didn't give him that."
And here is one issue I still don't get:
Did the Packers settle their defensive rotation Thursday night or add a level of intrigue? Shields (60 snaps, according to Pro Football Focus) and Hayward (24) appeared to leapfrog Jarrett Bush on the cornerback depth chart. And McMillian (44 snaps) has jumped ahead of M.D. Jennings at safety. On the other hand, the Packers rotated veteran linebacker Erik Walden (36 snaps) with rookie Nick Perry (20), and Walden's active (half sack, two quarterback hits) probably played a role in Clay Matthews' 3.5-sack outburst. Rookie Dezman Moses also got 19 snaps. My guess is the Packers would like to establish some consistency at defensive back but could use their linebackers more to match with specific aspects of opponents. In all, it should be noted that the Packers got substantive contributions from five defensive rookies Thursday night: Perry (three hurries, via PFF), Hayward, McMillian, Moses (two hurries) and defensive lineman Jerel Worthy (sack, two quarterback hits). "We've got a good group of young talent," Matthews said.
September, 14, 2012
9/14/12
1:53
AM ET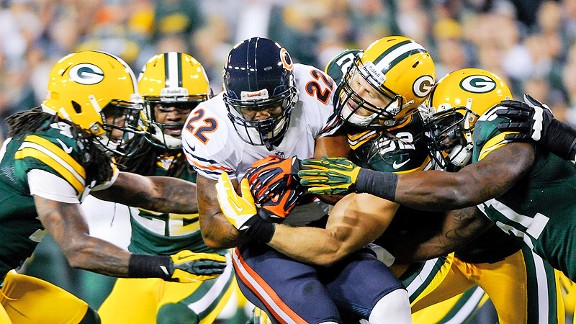 Benny Sieu/US PresswireThe Packers defense forced four turnovers, had seven sacks and limited Chicago to 168 total yards.
GREEN BAY, Wis. -- Yes, the
Green Bay Packers
were miffed in the days and hours leading up to Thursday night's divisional showdown with the
Chicago Bears
. No, it had little to do with Bears quarterback
Jay Cutler
's
challenge to their defensive backs
. The issue was much larger than that, and it goes all the way back to March 13 -- the day the Bears made their surprise trade for receiver
Brandon Marshall
.
"We thought it was kind of funny," cornerback
Charles Woodson
said, "that all of a sudden they were the team to beat because they got a couple new guys."
So it was with great delight that Woodson and his defensive teammates tore up the Bears' offense in a
23-10 victory
at Lambeau Field. It wasn't because Cutler had wished them "good luck" this week if they tried to play press coverage against Marshall and rookie
Alshon Jeffery
. It was the larger notion that Marshall's arrival had elevated the Bears to a level where they would challenge the Packers' supremacy in this division.
As a result, this game had an edge rarely seen in what is normally a friendly rivalry. The Packers got under Cutler's skin early, sacking him on the Bears' first play from scrimmage and ultimately forcing him into
one of the worst games of his career
. They sacked Cutler seven times, including 3.5 by linebacker
Clay Matthews
, and intercepted him four times. Cornerback
Tramon Williams
grabbed two of those interceptions, but even more notably, he blanketed Marshall for almost the entire game.
The Packers left the Bears' hype in ruins, limiting them to 168 total yards and 11 first downs in 57 plays. Woodson, for one, appeared quite satisfied afterward to have challenged the Bears' narrative.
"Their offense didn't look any different to me," he said. "We know those guys. We've played them a lot. They didn't look much different. They just have some new players."
The primary newcomer, Marshall, didn't see a single pass thrown his way until Williams slipped in coverage with 8 minutes, 59 seconds remaining in the third quarter. Wide open for a touchdown, Marshall dropped the ball in the end zone.
Williams said Cutler's words this week didn't get him "out of whack" but made clear that "guys wanted to come out and put on a good performance, and we did that."
[+] Enlarge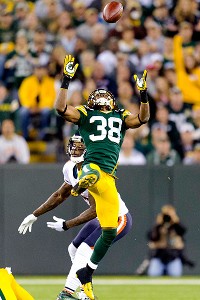 Jeff Hanisch/US PRESSWIREGreen Bay cornerback Tramon Williams grabs one of his two interceptions.
Said Woodson: "Tramon is a tremendous player, and he helped us dominate today."
Indeed, Bears coach Lovie Smith said there were plays called throughout the game for Marshall "that we couldn't get off."
This was as complete of a defensive game as I've seen the Packers play in some time, even dating back to the elite level they played during portions of their 2010 Super Bowl season. They limited tailbacks
Matt Forte
and
Michael Bush
to 85 yards on 21 carries, putting the Bears' offensive line in the unenviable position of pass-blocking against rushers highly motivated to reach Cutler. As a result, the Packers' blitz was highly effective. Defensive coordinator Dom Capers sent an extra rusher on 13 of Cutler's 35 dropbacks, according to ESPN Stats & Information. They sacked him on four of those blitzes and recorded interceptions on two others.
Most importantly, I thought, the Packers' defense got after it in a way that permeated the entire game. Cutler was hit a total of 12 times, frustrating him to the point that he was screaming at his offensive linemen and even kicked Woodson after a third-quarter blitz. Bears left tackle
Gabe Carimi
was penalized 15 yards in the second quarter after retaliating to a shove from Packers linebacker
A.J. Hawk
, and Bears players protested loudly when Packers cover man
Rob Francois
roughly shoved returner
Devin Hester
out of bounds.
You could see the tension on both sides of the ball, and even Packers quarterback
Aaron Rodgers
gestured angrily and screamed at receiver
James Jones
after a fourth-quarter interception put the Bears in position for their only touchdown. (Rodgers said afterward he and James were "not on the same page" on the play call.) The Packers' best offensive player Thursday night might have been tailback
Cedric Benson
, who helped set the physical tone by grinding out 81 tough rushing yards.
"There was definitely words out there," Packers cornerback
Sam Shields
said. "You could tell Cutler was getting frustrated. We know what Cutler does. We were just out there as a defense trying to take advantage."
Matthews, meanwhile, now has six sacks in two games this season after abusing Bears left tackle
J'Marcus Webb
all night. Matthews said he hopes the performance "becomes our theme for this defense and this team."
Yes, the Packers revealed Thursday night how amused they were by the Bears' new status as media darlings. But were you expecting their defense to be the group that realigned our thoughts on that? I'm not sure I was. So it goes. That's, as they say, why they play the games.
September, 11, 2012
9/11/12
1:57
PM ET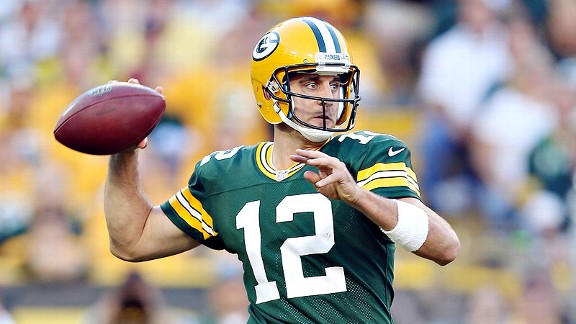 Andy Lyons/Getty ImagesAaron Rodgers' downfield passing attack has been held in check over the Packers' last four games.
You might not believe this even if I tell you and back it up with facts and remind you that I have nothing to gain by pulling your chain.
OK, here goes.
As you probably know, the Packers are 1-3 in quarterback
Aaron Rodgers
' past four starts, including January's playoff loss to the
New York Giants
. Here is what you might not realize: Over that stretch, the Packers' downfield passing offense has plummeted to the absolute bottom of the NFL's rankings.
That's right. At this moment, no team is having a harder time being explosive than the Packers. The Packers!
Anecdotally, I think we would all agree their offensive production has slowed since the
Kansas City Chiefs
ended a 19-game winning streak last December. But the drop in efficiency and production of their best attribute has been acute, and it continued into
Sunday's season-opening loss
to the
San Francisco 49ers
.
ESPN Stats & Information defines downfield throws as those that travel at least 15 yards in the air past the line of scrimmage. As the first chart shows, Rodgers' completion percentage has fallen by more than half in those situations to 25.8, and his Total Quarterback Rating (QBR) has dropped to 17.4 (on a scale of 0-100). Both figures are league lows for starters with at least 25 plays/attempts over that stretch.
In short, Rodgers and the Packers hit a wall at full speed and haven't recovered. They were
setting NFL records for downfield efficiency
during their winning streak, but most recently they were reduced to dumping off 20 of their 30 completions to receiver
Randall Cobb
and tight end
Jermichael Finley
(for a total of 124 yards) against the 49ers.
To be clear, a reduced ability to hit big plays shouldn't be a death knell for any team, even in a passing league. For the Packers, however, it has been their team-wide identity during one of the most successful periods in team history, and it has helped cover for deficiencies in other areas of the team. In response, the Packers must find an antidote or make substantive adjustments to their approach.
I don't expect that to be an easy job during a short week of preparation for an opponent, the
Chicago Bears
, that has stood up well against the Packers' downfield passing throughout Rodgers' career. As the second chart shows, Rodgers has a 65.7 passer rating on throws of 15-plus air yards against the Bears and a 102.7 passer rating against everyone else.
(Thanks to ESPN's Keith Hawkins, Jason Starrett and John McTigue for their research.)
Those are the facts. Naturally, the far more difficult task is understanding what has happened and how it can be fixed. There isn't likely to be one "magic bullet" answer other than to say defenses are prioritizing the deep pass and taking their chances with other aspects of the Packers' offense.
The 49ers, for one, used a secondary with exceptional man-to-man coverage skills, combined with deep safeties, to limit the Packers' downfield chances. They displayed little regard for the Packers' running game, and the Packers complied by calling only nine running plays (all to tailback
Cedric Benson
) and going
without a running back on the field
for more than half (31 of 61) of their plays.
"Their key thing was to keep us up front," said receiver
Jordy Nelson
, who caught five passes for 64 yards. "They don't want to give up any big plays. They did a good job of making us go the long way. That's tough against a defense like that. Going 10 yards at a time, three downs to get a first down. It makes it real tough on us. But it's going to be no different on Thursday. Chicago is going to do the same thing. They'll keep us in front."
Said Rodgers: "We didn't have the opportunity to take a lot of shots downfield, but when we did, they made some plays on it."
Indeed, Rodgers directed three deep sideline passes in the first half of Sunday's game. None of them were ideal matchups. All were to receiver
James Jones
, who is talented but must be considered the Packers' third-best downfield threat after Nelson and
Greg Jennings
. Two of the passes fell incomplete, largely because Rodgers couldn't drop the ball into the tiniest of windows available because of coverage from cornerbacks
Tarell Brown
and
Chris Culliver
. On the third, Jones committed offensive pass interference to create space to make the catch.
(Jones did haul in a 49-yard pass in the fourth quarter to set up the Packers' final score.)
For the most part, the 49ers played their safeties deep and kept Nelson and Jennings in front of them. Case in point: Safety
Dashon Goldson
stymied one of the Packers' most successful downfield routes by diagnosing a play-action post to Nelson early in the third quarter.
To be clear, the 49ers might have the NFL's best defense. But even a moderate defense can take steps to take away a single weapon. If you were the Bears or anyone else, why wouldn't you play as deep as possible and challenge the Packers to beat you with short passes and a running game they sometimes ignore?
These are some of the questions the Packers must face in this short week. Do they still want to be a downfield team? Or did their extensive game plan for Cobb on Sunday indicate their planned response to defenses that sit back to take away the big play? And would that mean for a defense? Its margin for error is lower when not protected by an explosive offense.
Four games isn't a huge sample size. When it carries over from one season to the next, however, it's fair to call it a trend. But like all trends, it can be stopped, redirected or reversed. Let's see what the Packers come up with.
January, 3, 2012
1/03/12
12:51
PM ET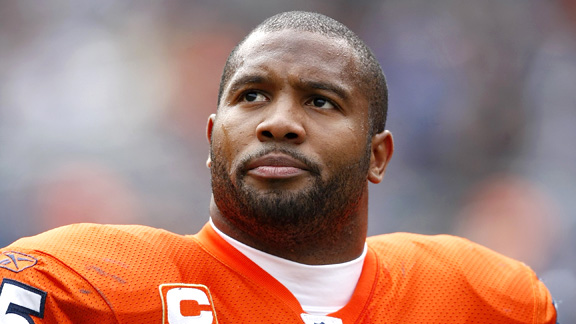 Joe Robbins/Getty ImagesSeven straight Pro Bowl selections for Lance Briggs proved the wisdom of this draft pick.
Recently fired
Chicago Bears
general manager Jerry Angelo won 95 regular-season games and four division titles during his 11-year tenure in Chicago. But most critics will point to Angelo's draft record as a primary reason the veteran talent evaluator was let go on Tuesday. Here is a list of the top five hits and misses since Angelo took full control of the Bears draft in the spring of 2002.
Hits
1. Lance Briggs
-- third round (2003) -- This season marked the seventh straight Pro Bowl selection for Briggs, the perfect fit at weakside linebacker in the Bears Cover 2 defensive scheme. Briggs and veteran
Brian Urlacher
are widely considered one the best, or the best, linebacker tandem in the entire NFL.
2. Matt Forte
-- second round (2008) -- Selected to his first Pro Bowl in 2011, Forte has established himself as one of the top all-around tailbacks in the league. However, his unresolved contract situation, plus the negative attention it received in the press, might have been one of the factors in Angelo losing his job.
3. Charles Tillman
-- second round (2003) -- A model of consistency at the cornerback position. Tillman finally earned a Pro Bowl nod after years of solid play. Tillman's uncanny ability to strip the football and force turnovers has made him one of the core members of three division winning defenses.
4. Devin Hester
-- second round (2006) -- Hester never developed into a upper echelon receiver, but he is the best return man in the history of the NFL. Enough said.
5. Johnny Knox
-- fifth round (2009) -- Once again, Knox has flaws as a wideout, but in the fifth round, he is considered a steal. Knox made the Pro Bowl his rookie year as a return man, and has made enough big plays in the passing game the last three years to be considered a viable weapon.
Honorable mention
:
Alex Brown
(fourth round, 2002),
Tommie Harris
(first round, 2004),
Bernard Berrian
(third round, 2004), Nate Vasher (fourth round, 2004),
Chris Harris
(sixth round, 2005),
Kyle Orton
(fourth round, 2005),
Greg Olsen
(first round, 2007),
Corey Graham
(fifth round, 2007),
Earl Bennett
(third round, 2008) and
Henry Melton
(fourth round, 2009).
Misses
[+] Enlarge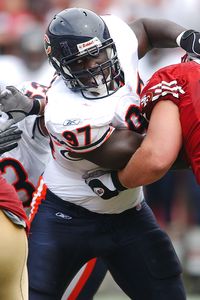 John Cordes/Sporting News/Icon SMIMichael Haynes finished a disastrous Bears career with 5.5 sacks.
1. Michael Haynes
-- first round (2003) -- The defensive end last only three seasons in Chicago and never came close to making an impact. He finished his Bears career with 5.5 sacks.
2. Dan Bazuin
-- second round (2007) -- Bazuin suffered a pair of injuries right out of the gate, went on injured reserve as a rookie, then was cut the following summer. He doesn't even appear on the Bears official all-time roster.
3. Michael Okwo
-- third round (2007) -- Lovie Smith deserves much of the blame for the Bears selection of Okwo, who they touted as the heir-apparent to Briggs. The only problem: Okwo couldn't play and some wondered if he even liked football.
4. Mark Bradley
- second round (2005) -- Bradley showed promise early his first year before tearing his knee up at Ford Field. He never recovered. To make matters worse, Bradley acted like he was entitled. That lasted until 2008 when the wide receiver was finally released.
5. Cedric Benson
-- first round (2005) -- Benson went on to have a nice career with Cincinnati, but he was a disaster in Chicago. Another member of the entitlement club, Benson was handed the starting job in 2007 and flopped. A few legal issues later and he was gone. And to think; the Bears traded
Thomas Jones
to make room for this guy.
Honorable mention:
Roosevelt Williams (third round, 2002),
Dusty Dvoracek
(third round, 2006),
Marcus Harrison
(third round, 2008),
Jarron Gilbert
(third round, 2009) and
Juaquin Iglesias
(third round, 2009).
April, 7, 2011
4/07/11
6:52
AM ET
In the final installment of our ESPNChicago.com series counting down Bears steals and busts uncovered during the tenure of general manager Jerry Angelo, we bring you No. 1:
Steal: LB Lance Briggs, Arizona, third round (68th overall in 2003)
When analysts revisit the 2003 draft, Briggs' name almost always surfaces as one of the most significant steals of that year's class.

Projected as a fourth-rounder by some scouts, Briggs went to the Bears with the fourth pick of the third round, becoming a starter and one of the team's most impactful defenders in just the fourth game of his rookie season.
Briggs is one of just four linebackers in franchise history to be named to six consecutive Pro Bowls, and he's posted 100 tackles or more in seven straight years, giving him the fourth-most consecutive 100-plus tackle seasons in Chicago history since 1971 (when tackles became a statistic).
According to STATS LLC, Briggs ranks second in the league from 2004-2010 behind Baltimore's
Terrell Suggs
in stuffs (tackles of ball carriers for negative yards) with 51 for 114.5 yards in losses. In 2010 alone, Briggs contributed two sacks, and two interceptions in addition to forcing two fumbles and recovering another to go with 121 stops. Since his rookie season, Briggs is one of five linebackers to pick off 10 or more passes, in addition to forcing 10 or more fumbles.
What's worse for offensive personnel and coordinators is that Briggs -- despite being 30 -- shows no signs of diminishing play. He's started 121 of 124 career games, missing only one in 2010 because of an injury.
[+] Enlarge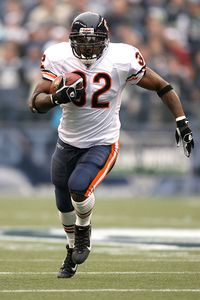 Otto Greule Jr/Getty ImagesCedric Benson averaged 3.4 yards a carry in his lone season as the Bears' featured back.
Bust: RB Cedric Benson, Texas, first round (fourth overall in 2005)
Angelo summed it up succinctly in 2008 when addressing Benson's second arrest in five weeks, which ultimately led to the running back's demise in Chicago.
"Disappointment is too much an often-used word when we're talking about Cedric," Angelo said.
Based on Benson's college credentials, surely the Bears didn't expect that to be the case in 2005 when it made him -- despite two arrests in college -- the team's highest draft pick since 1979 (Dan Hampton). A four-year starter at Texas, Benson rushed for 5,540 yards (sixth-best in NCAA Division I history at the time) and won the Doak Walker Award, given annually to the best running back in the nation.
Benson got off to an inauspicious start by holding out for 36 days, which caused him to miss time and an opportunity to earn the starting job as a rookie. Eventually, the Bears traded featured back
Thomas Jones
, who started during Benson's first two seasons, in favor of the Texas product.
In three disappointing years full of interesting side stories, Benson rushed for 1,593 yards before the club released him because of the arrests (despite him having two more years remaining on his contract), and drafted
Matt Forte
. Benson experienced somewhat of a resurgence in Cincinnati (back-to-back 1,000-yard seasons in 2009 and 2010), but he's averaged just 3.7 yards per carry over his career.
February, 4, 2010
2/04/10
1:01
PM ET
FT. LAUDERDALE, Fla. -- A different challenge faces the
Indianapolis Colts
' defense in this South Florida Super Bowl.
"The Bears, they had
Thomas Jones
and
Cedric Benson
that were running the ball," Colts safety
Antoine Bethea
said. "This week, this time, we have to prepare for
Drew Brees
and that passing sector that they have. Not to disregard the running back that they have [
Matt Forte
], they do have a great running game. They've got real good balance. It's going to be a good chance for our defense and no better showcase to see it rather than in the Super Bowl."
The Colts benefited from five Bears turnovers back in Super Bowl XLI, as
Rex Grossman
threw for just 165 yards and a pair of interceptions. Something tells me Brees will be a little more efficient than Grossman was three years ago.
October, 25, 2009
10/25/09
7:50
PM ET
CINCINNATI -- Was Cedric Benson that good while rushing for a career-high 189 yards and a touchdown? Or was the Bears defense that bad?
Maybe the truth lies somewhere in the middle, or at least that was the impression given off by a few veteran defenders in the postgame locker room.
"My hat's off to Cedric. I'm sure he's feeling great right now to have a game like that against guys who supposedly discarded you,"
Hunter Hillenmeyer
said. "But that's life in the NFL. I don't think anybody on our side has any bitterness about the situation. I wish him the best and hope he has a good, healthy year. But we didn't play well, we didn't make tackles, we didn't line up right. If he's not getting hit until he's ten yards down the field, that's bad defense, not great offense."
"Ced played well, we probably missed some tackles after watching the film, and we didn't make any plays"
Adewale Ogunleye
said. "Not watching the film [yet], I can probably tell you that's what happened."
Benson routinely went untouched before reaching the second or third level of the Bears defense. Give Benson his due, but the Bears missed an astounding amount of tackles. It should be a rough film session back at Halas Hall on Monday.