Chicago Bears:

Chilo Rachal
March, 26, 2014
Mar 26
9:00
AM ET
Here's the third part of our look at some of Chicago's best and worst free-agent acquisitions over the past five years. Feel free to add some of your own in the comments section:
Good
:
Martellus Bennett
Position:
Tight end
Contract:
Four years, $20.4 million, $9.215 million guaranteed
Years of service with Bears:
2013-present
Bennett
Recap:
The Bears set out last year in free agency to find a dynamic middle-of-the-field threat and landed the affable Bennett, who quickly fit in with quarterback
Jay Cutler
, receiver
Brandon Marshall
and the other offensive players. Bennett also established a relationship with head coach Marc Trestman, who played catch with the tight end almost every day after practice. Bennett set career highs last season in receptions (65) and receiving yardage (759). Bennett also tied a career high in receiving touchdowns (five). Bennett ranked eighth among tight ends in receptions, tied for ninth in yards and tied for 12
th
in TDs. He is now one of eight tight ends in the league to gain more than 1,000 receiving yards (1,385) and catch 10 TD passes over the last two years. Bennett's 65 catches ranked second in franchise history for a tight end, behind Hall of Famer Mike Ditka (75 catches in 1964).
"I feel like I'm the most attractive person on anybody's offense, no matter what team I'm on," Bennett said. "When you look this good, how could you not want to be around? I'm the GQ of football. I just want to have a better season. I just want to be the best possible Martellus. I'm excited about the future and the things that I'm doing here."
Bad
:
Chilo Rachal
Position:
Left guard
Contract:
One year, $700,000
Years of service with Bears:
2012
Recap:
Rachal supplanted
Chris Spencer
as the starter after the second game of the 2012 season and started in eight consecutive contests before a horrid outing at San Francisco cost him his job. With Jay Cutler out due to a concussion, backup
Jason Campbell
started at quarterback and took a beating during a 32-7 loss. Campbell absorbed six sacks. Soon after, former offensive coordinator Mike Tice announced he was benching Rachal and fellow offensive lineman
Gabe Carimi
during a team meeting. Rachal didn't take the demotion well and ended up leaving Halas Hall after meeting with former coach Lovie Smith. Rachal was expected to attend a team meeting the next day but missed it. The club felt that Rachal handled the demotion unprofessionally but expressed concerned about his mental state. Eventually, the Bears put Rachal on the reserve/left team list, making him ineligible to play for the rest of the season, which was interesting considering
Lance Louis
was lost for the year in the team's next game against the
Minnesota Vikings
. Rachal never played another down for the
Chicago Bears
. The
Arizona Cardinals
signed Rachal last April to a one-year deal worth $715,000, but the team released him at the end of training camp. Rachal hasn't played a regular-season snap since the fiasco at San Francisco on Nov. 19, 2012.
November, 29, 2012
11/29/12
11:45
AM ET
The
Chicago Bears
' emergency shift of
Gabe Carimi
begs a question, but perhaps not the one you're thinking. At some point, the Bears might have to address whether he can be a long-term answer at guard despite an atypical body type. More pressing, however, is whether Carimi has already demonstrated that he can't play tackle.
[+] Enlarge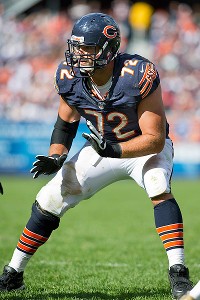 AP Photo/David StlukaGabe Carimi will start at right guard for the Bears on Sunday.
Carimi's embarrassing performance Nov. 19 against the
San Francisco 49ers
was the most visible evidence of what has been a season-long problem. In 10 starts this season, Carimi was by some measures one of the NFL's worst pass-blocking tackles. His reputation as a strong run blocker is well-earned, but a tackle who can't protect the edge at least most of the time will have a hard time staying on the field.
Pro Football Focus (PFF), which
charts the result of each block for every game,
has Carimi with 44 quarterback disruptions on 347 snaps as a pass-blocker this season. That figure includes seven sacks, 28 pressures and nine quarterback hits, and it qualifies him for the third-worst pass-blocking efficiency among NFL tackles this season.
"He is simply awful in protection," said Matt Williamson of Scouts Inc. "He gets beat with power, speed, you name it."
Sometimes a below-average pass-blocker can be protected if he moves to guard, but Williamson suggested that Carimi's 6-foot-7 frame could be a hindrance there.
"Being so tall on the interior is really tough when trying to get leverage against
B.J. Raji
/
Vince Wilfork
types," Williamson said. "If/when he plays high, NFL defensive tackles are going to totally walk him deep into the pocket. And now that liability is even closer to the quarterback than when he was at right tackle."
Carimi is expected to start at right guard Sunday against the
Seattle Seahawks
, mostly because the Bears' options are limited. Two guards who have started games this season,
Lance Louis
and
Chilo Rachal
, won't play again in 2012. A third,
Chris Spencer
, has a knee injury that could sideline him for a week or two.
In the long-term, however, the Bears must decide whether a poor 10-game stretch is enough to render final judgment on a former first-round draft pick who has made a total of 12 NFL starts. My guess is Carimi will get another chance, especially considering how well he has blocked for the run.
Williamson said Carimi has been "an excellent run-blocker" and thus should still be considered a prospect with "starting right tackle abilities." PFF rates him third among all NFL tackles in run-blocking. As a right tackle in a run-based offense, Carimi doesn't have to be an elite pass-blocker. But he does need to be much better than he was this season.
November, 26, 2012
11/26/12
3:10
PM ET
It looks like we're in for an intense week of discussion about illegal and/or dirty hits here in the NFC North. As we await news from the NFL about a possible discipline for
Detroit Lions
defensive tackle
Ndamukong Suh
, we learned Monday afternoon that the
Chicago Bears
have lost
right guard
Lance Louis
for the season because of a torn ACL suffered on a blindside hit by
Minnesota Vikings
defensive end
Jared Allen
.
[+] Enlarge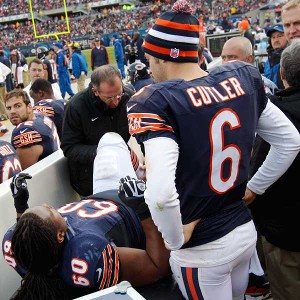 Nam Y. Huh/AP PhotoBears quarterback Jay Cutler looks on as a trainer looks at the left leg of injured guard Lance Louis on Sunday against Minnesota.
The play occurred with 12 minutes, 57 seconds remaining in the third quarter of the Bears' 28-10 victory over the Vikings. Allen was blocking for Vikings cornerback
Antoine Winfield
, who was returning an interception, and spotted Louis giving chase. Louis didn't see Allen, however, and his left leg twisted awkwardly when Allen launched his right shoulder into his right shoulder. Allen might also have hit Louis' helmet as well.
Allen told reporters that he thought it was a legal hit, but Bears coach Lovie Smith was among those who fell short of agreeing with him.
"Jared Allen plays the game a certain way," Smith said Monday. "[He is] a good player in our league. I think there are some plays when you look at them again, you say, 'Hey, we could have done without that.' I think our game could do without that play. We have an injured player right now based on it. I think he could have gotten blocked a little bit differently."
The NFL will review Allen's hit and determine whether it deserves a fine or other discipline. We probably won't hear anything until Wednesday at the earliest on that. Officials did not call a penalty on the play, but for those interested, here is how Rule 12, Section 7 (b3) reads in the 2012 NFL rule book:
Prohibited contact against a player who is in a defenseless posture is: Illegally launching into a defenseless opponent. It is an illegal launch if a player (1) leaves both feet prior to contact to spring forward and upward into his opponent, and (2) uses any part of his helmet (including the top/crown and forehead/"hairline" parts) to initiate forcible contact against any part of his opponent's body. Note: The provisions of (2) do not prohibit incidental contact by the mask or helmet in the course of a conventional tackle or block on an opponent.
One of the definitions of "defenseless opponent" is: "
A player who receives a 'blindside' block when the blocker is moving toward or parallel to his own end line and approaches the opponent from behind or from the side."
Meanwhile, the Bears will have to decide how to replace Louis, who has been their most consistent lineman this season and was in line for a contract extension in the coming months.
Backup
Edwin Williams
could take his place if left guard
Chris Spencer
is healthy enough to play Sunday against the
Seattle Seahawks
. Another option is
Gabe Carimi
, the Bears' onetime starter at right tackle who did a decent job in an emergency situation at guard Sunday.
Regardless, the Bears have now lost two starting guards -- Louis and
Chilo Rachal
, who left the team -- in a matter of a week. Stay tuned.
November, 22, 2012
11/22/12
5:36
PM ET
LAKE FOREST, Ill. -- One day after elevating offensive tackle/guard
James Brown
to the active roster, the
Chicago Bears
signed offensive guard Chris Riley to the practice squad Thursday.
Riley, a native of Wadsworth, Ill., entered the NFL in 2011 as an undrafted rookie free agent out of Illinois State. He spent last preseason with the
Cincinnati Bengals
before eventually landing on the
Tampa Bay Buccaneers
practice squad for the majority of the 2011 campaign.
Brown was promoted off the practice squad Wednesday after former starting left guard
Chilo Rachal
left the team for personal reasons.
November, 21, 2012
11/21/12
3:21
PM ET
LAKE FOREST, Ill. -- Chicago Bears starting left guard Chilo Rachal has left the team for personal reasons and has been placed on the reserve/left squad list, the team announced.
A source familiar with the situation told ESPN Chicago's Michael C. Wright that Rachal became upset after he was told he was being replaced in the starting lineup by Chris Spencer for Sunday's game against the Minnesota Vikings.
Read the entire story.
November, 16, 2012
11/16/12
5:02
PM ET
[+] Enlarge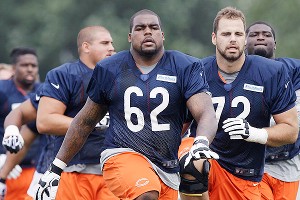 AP Photo/Nam Y. HuhBears guard Chilo Rachal started 38 games in four seasons with the 49ers.
LAKE FOREST, Ill. --
Jason Campbell
isn't the only
Bears
player with professional ties to the Bay Area.
Starting left guard
Chilo Rachal
got taken by the
49ers
in the second round of the 2008 NFL Draft after an All-American college career at
USC
. Rachal, a native of Compton, Calif, went on to start 38 games at right guard for San Francisco before he fell out of favor last season.
Rachal started just three games in 2011 as he spent the majority of the season on the Niners' bench. So when his original rookie contract expired in the offseason, the Niners allowed Rachal to reach free agency where the Bears picked him up on a one-year deal.
September, 17, 2012
9/17/12
3:43
PM ET
LAKE FOREST, Ill. -- The
Chicago Bears
have made at least one lineup change heading into Week 3, benching starting left guard
Chris Spencer
for veteran
Chilo Rachal
.
[+] Enlarge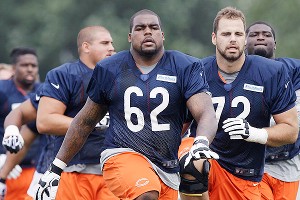 AP Photo/Nam Y. HuhChilo Rachal started 38 games at right guard for the 49ers over the past four seasons.
Rachal, who signed a one-year deal with the Bears on April 23, started 38 games in four season with the
San Francisco 49ers
.
"I need to just seize the moment and take advantage of it," Rachal said Monday. "I had a good dude before me (Spencer), but now that I'm in and have the opportunity. I want to just maximize it. I was a little (surprised), but I've always been a hard worker. I show up to work every day and let that take care of itself.
"The team called my number and that's what I'm here for, to help anyway I can."
Spencer joined the Bears last summer after spending his first six NFL seasons with the
Seattle Seahawks
. Although he started mainly at center during his time in Seattle, Spencer played well his first season in Chicago at right guard (14 starts) before he moved to left guard in the offseason.
But Spencer struggled at times in the preseason and in the Bears' Week 2 loss at Green Bay.
"I guess they have to do what's best for the team, and I have to keep working and get better," Spencer said. "I'm a veteran, and I've been around a long time. I understand the process. All I can do is come out here and focus on what I have to do."
August, 24, 2012
8/24/12
12:45
PM ET
In which we look ahead to the remainder of Week 3 in the NFC North's preseason schedule:
Chicago Bears

Opponent:
New York Giants
Location:
MetLife Stadium
Day/Time:
Friday/8 p.m. ET
Personnel notes:
After an intense
week of discussion
about linebacker
Brian Urlacher
's future, there is more reason than ever to scrutinize
Nick Roach
's play at middle linebacker. Whereas we once considered it a lock that Urlacher will be ready to start the season, there now seems at least a chance that Roach will open the year at middle linebacker. It's not his best position. … Punter
Adam Podlesh
has a hip flexor, so rookie
Ryan Quigley
will handle all of the punting duties Friday night. His performance will determine whether the Bears need to consider other options if Podlesh isn't ready to start the season. … The game will be televised nationally on CBS.
Focal point:
What else, if not for the Bears' offensive line? The Giants aren't expected to play All-Pro defensive end
Jason Pierre-Paul
because of back spasms, but they should still give the Bears' line its best test yet. The Bears would like to make a final decision on their starting left tackle, where
J'Marcus Webb
is trying to hold off
Chris Williams
, as well as at left guard.
Chris Spencer
and
Chilo Rachal
are competing for that job.
Minnesota Vikings


Opponent:
San Diego Chargers

Location:
Metrodome

Day/Time:
Friday/8 p.m. ET

Personnel notes:
Tailback
Adrian Peterson
won't play but will participate fully in pregame warmups, according to
ESPN's Chris Mortensen
. … Cornerback
Chris Cook
(concussion) and nose tackle
Letroy Guion
(knee) aren't expected to play. … The Vikings will continue to search for possibilities to replace receiver
Jerome Simpson
during his three-game suspension. Look for second-year player
Stephen Burton
, along with veterans
Michael Jenkins
and
Devin Aromashodu
, to all get long looks. … Rookie cornerback
Josh Robinson
has impressed the Vikings in training camp and could get a chance to work with the first team Friday night. … Quarterback
Charlie Whitehurst
will start for the Chargers, who don't want to risk starter
Philip Rivers
behind an injury-riddled offensive line. Tight end
Antonio Gates
will also sit out.

Focal point:
This might be middle linebacker
Jasper Brinkley
's final chance to secure the starting job. The Vikings haven't been thrilled with his tentative preseason performances, coming after a hip injury cost him the 2011 season. Another poor outing could put the team on a search for replacements.
Detroit Lions

Opponent:
Oakland Raiders
Location:
Oakland-Alameda County Coliseum
Day/Time:
Saturday/7 p.m. ET
Personnel notes:
Tailback
Mikel Leshoure
is expected to make his NFL debut, nearly 17 months after he was drafted and nearly 20 months from his last live game. Leshoure last played for Illinois on Dec. 29, 2010. He missed last season because of a ruptured Achilles and a portion of training camp this summer because of a hamstring strain. The Lions want to get him some preseason work because he'll has been suspended for the first two weeks of the regular season. ... New special teams ace
Kassim Osgood
isn't expected to play. ... Rookie
Kellen Moore
's chances of making the team increased with the release of R.J. Archer, but he still must earn a roster spot even though he is one of only three quarterbacks on the roster. The Lions could keep only two on their final 53-man roster.
Focal point:
It would be nice to see defensive tackle
Nick Fairley
have
a signature, breakout game to
reinforce projections that he will be a significant factor this season. But in reality, a game with impact would suffice.
August, 21, 2012
8/21/12
12:36
PM ET
LAKE FOREST, Ill. – Friday night's third preseason game against the
New York Giants
will give
Chicago Bears
offensive coordinator Mike Tice one final chance to evaluate the left side of the offensive line versus one of the best pass rushes in the NFL.
[+] Enlarge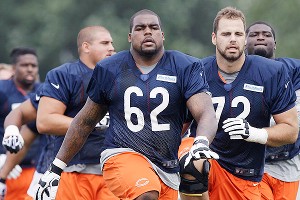 AP Photo/Nam Y. HuhChilo Rachal started 38 games at right guard for the 49ers over the past four seasons.
While the bulk of the focus has been directed toward the battle at left tackle between J'Marcus Webb and
Chris Williams
, Tice has steadily turned up the heat on starting left guard
Chris Spencer
in the wake of Spencer's poor preseason debut against the
Denver Broncos
on Aug. 9. Despite the fact Spencer finished last season with the second-highest grade of any Bears' offensive lineman, the converted center is being challenged by fifth-year veteran guard
Chilo Rachal
, who was signed to a one-year deal in the offseason.
Although a minor injury kept Rachal on the sidelines for several days leading up to the Redskins game, he and Williams were on the field together at various points with the rest of the members of the Bears' first unit. Tice said Monday he plans to use a similar rotation when the team travels to the New York area for Friday's game.
"I can always get better in some areas, but I feel I played pretty aggressive, strong," Rachal said. "That's what I critique my game after is being a mauler. But like I said, there's always room for improvement.
"I just picked up the system recently, but as far as bonding with the guys, I think we're getting along pretty good. My thing was just coming from a different system and learning different terminology, stuff like that, so it's been pretty good. I'm always ready. When my number's called, I go out and help my team the best way I can. That's why I prepare hard every day. I work so in the event that they do need me, I can step right in and won't miss a beat."
Rachal started 38 games at right guard the past four seasons for a
San Francisco 49ers
offense that produced three 1,000-yard rushing seasons for tailback
Frank Gore
. Originally a second-round choice of the 49ers out of USC, the 6-foot-5, 323-pound Rachal is known for his physical play along the interior of the offensive line.
Rachal smiled when asked if Tice appreciates his nasty style of play.
"Most definitely," Rachal said. "I try to let that speak for itself."
August, 20, 2012
8/20/12
6:20
PM ET
LAKE FOREST, Ill. -- The
Chicago Bears
plan to work
J'Marcus Webb
at left tackle with the starters Saturday when the team faces the defending Super Bowl champion
New York Giants
, but the competition for the starting job remains in full effect, said offensive coordinator Mike Tice.
Tice estimates the game Saturday will determine the winner of the starting left tackle job between Webb and
Chris Williams
as well as the starter at left guard, where
Chris Spencer
and
Chilo Rachal
continue to compete.
"Let's face it: this is gonna be the week (that determines the starter at left tackle)," Tice said, laughing. "We'll all know when we watch the game. You guys can text me and tell me who it should be."
Read the entire story.
April, 23, 2012
4/23/12
2:14
PM ET
The
Chicago Bears
signed former
San Francisco 49ers
guard
Chilo Rachal
to a one-year contract on Monday.
The 6-foot-5, 323-pound Rachal, a second-round pick out of USC in the 2008 draft, appeared in 55 games, making 38 starts in his four seasons with the 49ers.