February, 4, 2010
2/04/10
5:22
PM ET
FT. LAUDERDALE, Fla. -- Former NFL offensive lineman
Kyle Turley
paints an interesting picture of former
St. Louis Rams
head coach and new Bears offensive coordinator Mike Martz.
"I didn't care for the guy as a head coach, but I heard a lot of great things about him as an offensive coordinator," Turley said Thursday at a press conference supporting Gridiron Greats. "I hope the best for that team. ... Lovie [Smith] is a great guy and that team deserves to win. I think their offense can be a lot better with a coach like Mike Martz as long as he's got somebody who keeps him where he needs to be. That proved itself when he was with the Rams -- what his capabilities are."
Turley thinks the Bears' success in 2010 will depend on whether Martz and Smith can find balance.
"I feel like Lovie, being a defensive-minded coach, can keep a handle on what [Martz] is doing in certain situations, you know maybe keep a governor on him, because the guy is full tilt and wants to get in that end zone as fast as possible," Turley said. "But that doesn't necessarily help out what you're trying to do on defense, you don't want to get in shootouts. I think if there is a balance there, they got a real good opportunity this season."
January, 31, 2010
1/31/10
10:24
AM ET
FT. LAUDERDALE -- NFL front office types are paid big bucks to make tough decisions. Well, it's time for the certain members of the
Chicago Bears
organization to earn their money, because choosing between Mike Martz and Kevin Rogers for the team's vacant offensive coordinator position is no easy task.
It's clear exactly what's at stake here: Lovie Smith must make the playoffs in 2010 to keep his job.
[+] Enlarge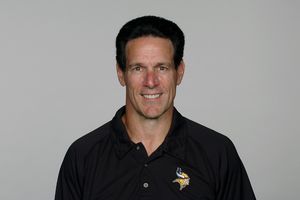 NFL PhotosKevin Rogers served as the Minnesota Vikings quarterbacks coach in 2009.
But which potential coordinator gives Smith the best chance to win right away?
Conventional wisdom says Martz offers the highest odds of a quick turnaround because of the experience factor. The reviews on Rogers have been great from his former and current players, but he's never called plays during an NFL game. On the other hand, Martz has a wealth of experience running offenses in St. Louis, Detroit and San Francisco, not to mention a successful stint as Rams' head coach on his resume.
However, Martz has historically run a very pass-happy offense that values premiere pass protection from tackles and tight ends, while placing a somewhat lower priority on the run game. Do the Bears have the proper personnel to make that type of system work? There is nothing wrong with players being pushed outside of their comfort zone, but would that philosophy be asking too much from guys on the current roster? As my colleague Neil Hayes at the Chicago Sun Times pointed out, Rogers is said to favor the West Coast style of offense, which would be much easier for everybody to run and learn during offseason workouts and training camp.
Then there's the topic of connecting with players on and off the field. Rogers is said to be very charismatic and would no doubt be a big hit in the locker room. But does it really matter how the players feel on the subject? After all, the Bears have missed the playoffs for three consecutive seasons, so one could argue the players have forfeited the right to make any noise about the hire. We all know
Jay Cutler
is involved in the process, and even though he had or possibly still has reservations about Martz, winning can cure all those problems.
This should not be about personalities. This should not be a popularity contest. This should not be about hiring old friends.
This should be about winning.
Smith doesn't have time to worry about the other stuff.
January, 26, 2010
1/26/10
7:10
PM ET
CHICAGO -- Prior to joining the
Minnesota Vikings
as quarterbacks coach in 2006, Kevin Rogers -- reportedly a potential candidate for the
Chicago Bears
offensive coordinator position -- spent four seasons at Virginia Tech.
During his first two years in Blacksburg, the star player on the Hokies' offense was none other than Bears running back
Kevin Jones
.
"I know him very well, he's a real good guy," Jones told ESPNChicago.com Tuesday. "He'd fit in here really well. He's a real players coach. He was always very well liked by everybody I knew."
Rogers also coached at Notre Dame (1999-01) and Syracuse (1991-98), where he helped quarterback
Donovan McNabb
.
The Bears asked Minnesota for permission to speak with Rogers about their offensive coordinator position, according to the Chicago Tribune.
"Kevin is a really good guy," Vikings wide receiver Bernard Berrian told ESPNChicago.com. "He gets along with everybody.


"And he loves to crack jokes."


Let's hope he finds humor in the Bears' situation.
January, 25, 2010
1/25/10
5:11
PM ET
[+] Enlarge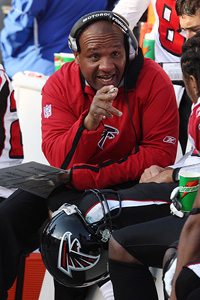 David Drapkin/Getty ImagesFormer Atlanta Falcons offensive coordinator and current Baltimore Ravens quarterbacks coach Hue Jackson will interview for the Bears' offensive coordinator position.
CHICAGO -- Former NFL quarterback and current ESPN analyst
Tim Hasselbeck
knows current
Baltimore Ravens
' quarterbacks coach Hue Jackson from their days together with the
Washington Redskins
. Back in 2003, Jackson was Washington's offense coordinator while Hasselbeck came off the bench to start five games at quarterback for a group that finished a disappointing 5-11.
"Back then, [former Redskins head coach] Steve Spurrier was pretty much in control of everything, but things weren't going that well," Hasselbeck told ESPNChicago.com Monday. "Eventually, people thought the best thing to do was let Hue call the plays and deal with our protection issues. One thing about Hue, he relates to players well and does an excellent job of keeping things fairly simple. Not simple to the point of remedial, but simple to the point that players understand their responsibilities."
Jackson, who will interview for the
Chicago Bears
' offensive coordinator position, also called plays for the 2007
Atlanta Falcons
, the same team abandoned by head coach Bobby Petrino late in the year.
"That was a tough situation for everybody down there," Hasselbeck said. "But look up how [Falcons quarterback]
Chris Redman
did late in the year. I was with Arizona in 2007, and I remember when we played Atlanta watching Redman throw the ball all over the place. Look it up. That was all Hue right there with Redman."
Redman threw for 315 yards and a pair of touchdowns in that overtime loss to the Cardinals, and then finished up the season tossing four scores against Seattle -- in six games (four starts) in 2007, Redman passed for 1,079 yards, 10 touchdowns and had a passer rating of 90.4.
But how would Jackson do in Chicago?
"Hue really has a presence," Hasselbeck said. "He can stand up in front of the room and have the attention of all 25 guys on offense. Some coaches aren't able to command the room. Hue can, and he does it quite well.
Hasselbeck said Jackson focuses on calling plays that best suit his personnel.
"Ultimately, that's what good coaches do," Hasselbeck said. "Look at [
Kansas City Chiefs
head coach] Todd Haley, people thought based on what he did in Arizona with
Kurt Warner
,
Larry Fitzgerald
and
Anquan Boldin
that he was a guy more comfortable in the shotgun. Then he gets to Kansas City, and we see he wants a tailback, fullback and two tight ends to run a more traditional style."
"The Bears have invested a lot in
Jay Cutler
, so do something [offensively] he's good at, There are a couple quarterbacks in the league that would be great no matter where they go. But the majority of the guys, even those who are Pro Bowl caliber, need to be in a system that fits them. My brother [
Seattle Seahawks
quarterback
Matt Hasselbeck
] is the same way, despite going to Pro Bowls and playing in a Super Bowl, he benefited from being put in a system that fit him, rather than being forced to fit in a system."
ESPN NFL Insider Adam Schefter first reported that Jackson is coming to interview for the Bears' offensive coordinator position on Tuesday.
January, 13, 2010
1/13/10
9:57
PM ET
CHICAGO -- While the Chicago Bears search to fill their vacant offensive coaching positions continues to heat up, the quest for a defensive coordinator has come to a screeching halt. The Bears may begin to speak with other candidates in the coming days, but their clear cut No. 1 choice to run the defense remains Perry Fewell.
But according to multiple sources familiar with the situation, Fewell continues to hold out hope he'll land the Buffalo Bills head coaching job, thereby delaying any decision regarding the defensive coordinator openings in Chicago and New York. However, there is no guarantee the Giants will continue to wait much longer for Fewell to make up his mind, so this current strategy does not come without risk.
On the other hand, the Bears may be content to sit tight if they know they'll land their guy in the end. But the longer this drags out, the less leverage Fewell may have in fielding offers from both teams, thus driving up his price. Do the Bears strike you as a franchise dumb enough to bid against themselves? This isn't Jim Hendry/Alfonso Soriano we're talking about here.
January, 11, 2010
1/11/10
10:23
PM ET
CHICAGO -- Cross
Green Bay Packers
quarterbacks coach Tom Clement's name off the list of potential offensive coordinators for the
Chicago Bears
.
As expected
, the Packers denied the Bears' request to speak with Clements about the opening, a league source confirmed Monday night. Even though going from position coach to coordinator is a major promotion in the coaching ranks, teams are allowed to block their assistants from interviewing for other positions, unless that position is head coach.
A 13-year NFL coaching veteran, Clements has spent the last four seasons working with quarterbacks in Green Bay, after a two year stint calling plays for the
Buffalo Bills
.
The news was first reported by the Chicago Sun-Times.
January, 10, 2010
1/10/10
4:24
PM ET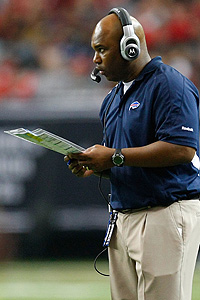 Kevin C. Cox/Getty ImagesPerry Fewell led the Buffalo Bills to a 3-4 finish after taking over for Dick Jauron as interim head coach.
CHICAGO -- It's going to be a busy upcoming week at Halas Hall as the
Chicago Bears
attempt to begin filling the vacant spots on their coaching staff. Just to recap, here is where we stand as of Sunday afternoon:
The Bears want Perry Fewell to be the new defensive coordinator -- a fact that's been obvious since the season ended -- so the job is his for the taking. The only hold up may be Fewell, who remains somewhat undecided about his next move, according to people familiar with the situation. Perhaps some of that uncertainty may be related to possible (but not guaranteed) head coach openings in Carolina and Jacksonville. For example, if Jack Del Rio leaves for USC, Fewell would probably be a candidate for the Jaguars' job considering he coached the Jacksonville secondary from 1998-2002. However, it's not a slam dunk that Del Rio or Panthers coach John Fox will go elsewhere, so holding out for one of those positions may prove to be pointless.Fewell also met with the Giants and has a strong relationship with Tom Coughlin, but Romeo Crennel and Dick Jauron have also been rumored as possible defensive coordinator hires in New York. Fewell will interview with the Bears on Monday, and may feel like he can't pass up an opportunity to work in such a familiar and comfortable setting. Since the Bears' defensive staff is currently re-evaluating certain aspects of their scheme, Lovie Smith probably wants a new coordinator in place as soon as possible.

What a wild weekend on the Jeremy Bates watch. First, he was reportedly headed to Seattle with Pete Carroll. Then just a few hours later, he was back in play for the Bears. It's never been a question about the Bears wanting to add bright, young minds like Bates and Jedd Fisch to the staff. The issue has been in what capacity. Can the Bears bring Bates to Chicago as quarterbacks coach, and not as offensive coordinator? How would that dynamic play out between Bates, Jay Cutler and a different play caller? Would such a set-up even work? If not, then the Bears have a tough decision to make. Whose happiness is most important at Halas Hall? As for Fisch, he was the Broncos' wide receivers coach in 2008, so it's not like he can only work with quarterbacks. Brandon Marshall and Eddie Royal seemed to do fine when Fisch was their position coach. Bates is scheduled to interview with the Bears early next week.Mike Martz wants the job of offensive coordinator and would make Smith very comfortable. But it's still unclear how Martz would mesh with certain players, especially Cutler, who he publicly criticized earlier last season. That might sound silly and petty, but it's the reality of the situation.If Green Bay loses to Arizona, then maybe the Bears re-visit earlier talks regarding Tom Clements.

Either way, things should become clearer once Carroll officially takes the Seahawks job and begins to assemble his staff. At least then we'll find out how Carroll really feels about Bates.
December, 27, 2009
12/27/09
2:20
PM ET
CHICAGO, Ill. -- ESPN's Adam Schefter just threw a bucket of cold water on any Mike Shanahan-to-Chicago speculation. Schefter reported Sunday morning --
via his Twitter account
-- that Shanahan won't be the next
Chicago Bears
coach because he has too much respect for Lovie Smith.
"Despite speculation to contrary, Mike Shanahan will not wind up coaching Chicago nor Houston. Too much respect for Lovie and Kubiak," Shefter wrote.
Shanahan's reluctance to replace Gary Kubiak in Houston is understandable because Kubiak is Shanahan's former top assistant in Denver. It's unclear why Shanahan would feel the same way about Smith. One thing is clear; he's expected to command between $8-10 million per season. Bears general manager Jerry Angelo said last week money would not be an issue when it comes to potentially firing Smith, but he never mentioned anything about being able to open up the McCaskey's checkbook to hire an expensive new head coach.
Most analysts feel Shanahan is heading to the
Washington Redskins
.