Chicago Bears:

Cordarrelle Patterson
November, 29, 2013
11/29/13
12:00
PM ET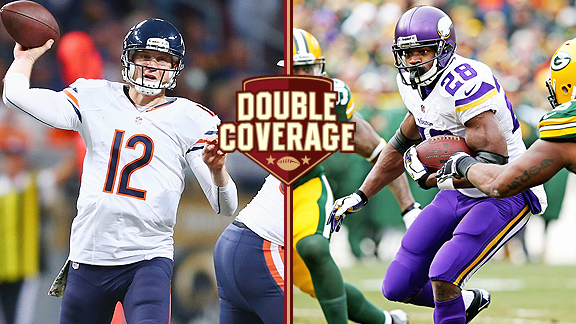 Getty ImagesJosh McCown has a successful history against Minnesota, but Adrian Peterson is gaining traction.
The last time the
Chicago Bears
and
Minnesota Vikings
met, the Bears' touchdown with 16 seconds left gave them a 31-30 victory that put Chicago at the top of the NFC North and sent Minnesota home, just two weeks into the season, with grave concerns about its ability to put a team away.
Eleven weeks later, the two teams are still more or less in the same spot. The Bears are tied for the NFC North lead with the
Detroit Lions
, and could take the outright lead this week if they beat the Vikings and the
Green Bay Packers
knock off the Lions on Thanksgiving Day. The Vikings, meanwhile, blew their fourth last-minute lead of the season on Sunday, when the Packers forced overtime in a game that eventually ended in a tie.
With the Bears playing for first place -- and the Vikings trying to recover some dignity -- on Sunday at Mall of America Field, ESPN.com Vikings reporter Ben Goessling and Bears reporter Michael C. Wright got together to preview the game:
Ben Goessling:
The Vikings might have some bad memories from Week 2, but they also have bad memories of
Josh McCown
. Ten years ago, as a member of the
Arizona Cardinals
, McCown threw a last-second touchdown pass that kept the Vikings out of the playoffs on the final play of the 2003 season. What's he doing so well in his latest stint as a starting quarterback?
Michael C. Wright:
McCown says it's a combination of factors such as where he is in life right now (he's 34), the lessons he has learned from being in the league so long playing behind guys such as
Jon Kitna
and
Kurt Warner
, and the fact he has been with the Bears since they implemented this new offense. When McCown first signed with the Bears in 2011 and was forced to play, he came in basically cold. Now, McCown has just as good of a handle on the offense as starter
Jay Cutler
because he had some input with Bears coach Marc Trestman when the system was being installed. McCown obviously doesn't possess the cannon of an arm that Cutler has, but he makes up for that with a quick release and strong anticipation skills. McCown really has excelled at not getting outside of himself, and allowing his weapons --
Matt Forte
,
Brandon Marshall
,
Alshon Jeffery
and
Martellus Bennett
-- to do the majority of the work. But McCown is also being careful with the ball and not taking chances by throwing into coverage as Cutler might.
After watching film from Chicago's loss to the Rams when they gave up 109 yards to
Benny Cunningham
and allowed an average of 8.9 yards per carry, do you think
Adrian Peterson
is more or less licking his chops thinking about what he might be able to do?
Goessling:
He certainly should be. Peterson had a season-high 146 yards on 32 carries (also a season-high) on Sunday in Green Bay, and though he's dealing with a groin injury, he looked like he was running harder against the Packers than he was able to the week before against Seattle. The other guy the Bears might need to keep an eye on is
Toby Gerhart
, who ran eight times for 91 yards against the Packers and provided a nice change of pace when the Vikings gave Peterson a break. They could look to use Gerhart a little more this week; he's a good downhill runner who's obviously not as shifty as Peterson, but who can do some damage to a tired defense. The Vikings ran the ball more effectively last week than they had all season, and Peterson has had plenty of big days against the Bears before.
As the season has played out, it looks like the Bears have had a similar problem to the Vikings' on their defensive line, which isn't getting the same kind of pressure it used to. Why have the Bears had so much trouble getting to the quarterback?
Wright:
The No. 1 reason is simply injuries. The Bears have used nine different combination of starters in the front four alone having lost defensive tackles
Henry Melton
and
Nate Collins
for the season, in addition to playing without defensive tackle
Stephen Paea
and defensive end
Shea McClellin
for stretches. With so many newcomers such as
David Bass
and
Landon Cohen
, the Bears lack experience up front and, most importantly, they haven't played with a set lineup long enough to develop any level of chemistry.
Julius Peppers
is the only member of Chicago's defensive line to start in the same spot for every game, and he has been largely ineffective, although he came alive in the team's win over the
Baltimore Ravens
on Nov. 17 and notched multiple sacks (2) for the first time since December of last season.
How's Leslie Frazier's job security looking, and will it have an effect on how this team plays down the stretch?
Goessling:
The Vikings are still playing hard for Frazier, and players say they believe he's the right man to lead them. You need look no further than how they battled the Packers last Sunday to see that. But will it save his job? I'm not so sure. The Vikings picked up Frazier's 2014 option, but didn't give him a contract extension after he took the Vikings to the playoffs last season, so if he were to come back they'd either have to let him coach into the last year of his deal or give him a new contract after a disappointing season. Either one of those moves would be a gamble on the Vikings' part, so if Frazier stays, it will be because he has proved to ownership that he's still the man to lead the Vikings forward. And if he does stay, I have a hard time seeing his offensive and defensive coordinators -- Bill Musgrave and Alan Williams -- joining him for another season in Minnesota. Somebody's going to have to pay for this season, I'm guessing.
Cordarrelle Patterson
first made his mark for the Vikings in Week 2 against the Bears, and now he's seeing a bigger role in their offense. As much trouble as the Bears had with
Tavon Austin
last week, could Patterson be in line for a big day on Sunday?
Wright:
Patterson and Austin are much different players, and from this vantage point, Patterson doesn't appear to be as elusive out in space as Austin. Austin ripped the Bears for a 65-yard touchdown run early on last Sunday. But for the most part, the Bears held him in check, limiting him to two catches and one 24-yard kickoff return. Patterson's best chance to hurt the Bears would probably be on special teams where he already stung them in Week 2 for a 105-yard kickoff return for a TD. But on offense, Patterson probably won't be as impactful because Chicago's cornerbacks -- even backup
Zack Bowman
-- should be able to hold their own against him fairly well. Remember,
Tim Jennings
is a Pro Bowl player and Bowman is experienced and matches up well with Patterson in terms of size.
What's going on with Minnesota's red zone offense? The Vikings' numbers in that area haven't looked very good over the past two games.
Goessling:
They certainly haven't been very good there, and they could have won last Sunday if they'd scored more than two TDs in five red-zone trips. This is where I think not having tight end
Kyle Rudolph
hurts the most; he'd become a reliable red zone threat for
Christian Ponder
last year and this year before fracturing his foot. The other problem is, with less space to work, Ponder has to be more decisive and do a better job of getting the ball out quickly. Those aren't his strong suits, though I should note he made a sharp throw to the back of the end zone in overtime on Sunday that could've won the game if Patterson had been able to hang onto it after
Davon House
got just a piece of it. When the Vikings are inside the 10, they've always got Adrian Peterson to rely on, but when they need to throw the ball, they're definitely missing Rudolph.
November, 1, 2013
11/01/13
12:00
PM ET
On the day former
Chicago Bears
coach Lovie Smith got the job, he said that one of his priorities was to beat the
Green Bay Packers
.
First-year Bears coach Marc Trestman made no such promises about this rivalry, but it goes without saying that he's eager to end Chicago's six-game losing streak to the Packers.
The last time Chicago beat Green Bay was on Sept. 27, 2010, on "Monday Night Football." The teams meet again in prime time Monday night at Lambeau Field.
ESPN.com's Packers reporter Rob Demovsky and Bears reporter Michael C. Wright break down the matchup.
Rob Demovsky:
We all know how much Smith wanted to beat the Packers. He stated as much the day he got the head coaching job. What has Trestman's approach to this rivalry been like?
Wright
: Rob, my man, you know that rivalries have to cut both ways in terms of wins and losses for it to be truly considered a rivalry. Counting the postseason, the Bears have lost six in a row and nine of the last 11. So, if anything, this is more Green Bay dominance than a rivalry. But the interesting thing about Trestman is he's a guy who likes to compartmentalize everything. He looks at today rather than the past or the future. So while it sounds cliché, Trestman is looking at the Packers as just another opponent on the schedule. That's just the way Trestman likes to operate, and I think for him it sort of makes things easier.
I keep looking at Green Bay's sack numbers, and I'm a little surprised the club is still in the top 10 in sacks with
Clay Matthews
out the last three games and other key members of the defense missing time. What is Dom Capers doing over there schematically to keep up the production?
Demovsky:
I figured when Matthews broke his thumb, Capers would have to blitz like crazy. Now, he's picked his spots, but he hasn't gone blitz-happy like I thought he might. However, he has been sending different pass-rushers to keep offenses off guard. One game, against the
Baltimore Ravens
, linebacker
A.J. Hawk
came a bunch and sacked
Joe Flacco
three times. Also, they've finally found a defensive lineman with some rush ability in second-year pro
Mike Daniels
. Three of his team-leading four sacks have come in the past two games.
As long as we're on the topic of quarterbacks, in 2011, backup
Josh McCown
played a halfway decent game against the Packers on Christmas at Lambeau Field, but he threw a couple of interceptions. What do you expect from him this time around as he starts in place of the injured
Jay Cutler
?
[+] Enlarge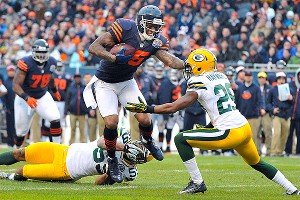 Rob Grabowski/USA TODAY SportsThe Packers have limited Brandon Marshall to 8 catches for 80 yards in their past two meetings.
Wright
: Believe it or not, I expect little to no drop-off from McCown in this game. The biggest difference between now and then is that in 2011, McCown joined the team in November, fresh from a stint as a high school football coach in North Carolina, and four weeks later became the starter. So he basically came in cold and still played relatively well. This time around, McCown has become immersed in the offense from the ground level, when Trestman first came on board, and even had some input as the team constructed the scheme. In fact, during the offseason, McCown was holding film sessions with all the club's new additions to teach everyone the new offense. So he's got complete mastery of the offense just like Cutler, which is why McCown came in against the Redskins and the offense didn't miss a beat. Obviously, McCown doesn't possess Cutler's arm strength. But he'll make up for that deficiency with anticipation. I'm quite sure the Bears won't scale down the offense to accommodate McCown at all, because they don't need to. So I expect McCown to play well. I'm just not sure Chicago's offense can keep up with Green Bay's in what I expect to be a high-scoring game.
Speaking of high scoring, the Packers put up 44 points on the
Minnesota Vikings
. How is Green Bay handling the preparation process for the Bears?
Demovsky
: Well, they certainly don't have as much time as the Bears do, considering the Bears are coming off their bye week. But the Packers have gotten themselves into a rhythm. They've won four in a row after their 1-2 start and look like a different team than they did the first three weeks of the season. Mike McCarthy probably doesn't get enough credit nationally, but show me another coach who has stared injuries in the face and hasn't blinked. What other team could lose playmakers like
Randall Cobb
,
James Jones
,
Jermichael Finley
and Matthews and still keep winning? That's a testament to the program he has established here. You can argue with some of his in-game coaching decisions, but you can do that with every coach. What you can't question, though, is the team's preparation.
The Bears, obviously, have had their share of injuries, too, losing Cutler and linebacker
Lance Briggs
. What's a bigger loss -- Cutler to the offense or Briggs to the defense?
Wright
: Well, Cutler's replacement is a veteran in McCown who has plenty of experience and a ton of weapons surrounding him on offense, while rookie
Khaseem Greene
will likely fill in for Briggs on a bad defense that will also feature rookie
Jon Bostic
in the middle. From my vantage point, losing Briggs is much more significant. The Bears have already proved to be horrible against the run (ranked 25th), and that issue certainly won't improve with two rookies at linebacker and a defensive line decimated by injury. It's also worth noting that Briggs made all the defensive calls and served as somewhat of a coach on the field for Bostic. Given that Green Bay seems to be running the ball so well, the current situation with Chicago's front seven could be devastating.
Now that the Packers are running the ball so well, how has that changed the way the offense is called? It seems Green Bay runs well regardless of which running back they line up in the backfield.
Demovsky
: It's remarkable -- and even a bit stunning -- to see
Aaron Rodgers
check out of a pass play and in to a run play at the line of scrimmage. That kind of thing hasn't happened around here in a long, long time -- probably not since
Ahman Green
was piling up 1,000-yard seasons nearly a decade ago. Teams no longer can sit back in a Cover-2 look and dare the Packers to run. Because guess what? The Packers can finally do it. It also has given the receivers more one-on-one opportunities, so it's helped the passing game, too. Right now, this offense almost looks unstoppable.
If the Packers keep playing like this, they might be tough to catch in the NFC North. What are the Bears' prospects for staying in the NFC North race until Cutler and Briggs return?
Wright:
To me, this game is the measuring stick for making that determination. But I'm not really confident about Chicago's chances, and that has more to do with the team's struggling defense than Cutler's absence. There have been conflicting statements made about Cutler's recovery time frame. Some teammates think he'll be ready to return by the time the Bears face Detroit on Nov. 4, while Trestman said the plan is to stick to the minimum four-week time frame prescribed by the doctors. Either way, if the Bears lose to the Lions you can kiss their prospects for the playoffs goodbye. The Bears might be able to afford a loss to the Packers because they'll face them again on Dec. 29. But a sweep by the Lions kills Chicago's chances to me because just from what we've seen so far, it appears one of the wild cards will come out of the NFC North with the other coming from the NFC West. Obviously it's too early to predict that, but that's the way things seem to be shaking out.
Without two of his top receivers and tight end Finley, Rogers still hit 83 percent of his passes against the Vikings. Is that success a product of the system, a bad Minnesota defense, or is Rodgers just that good at this point?
Demovsky
: The more I see other quarterbacks play, the more I'm convinced it's Rodgers. For example, seldom-used receiver
Jarrett Boykin
makes his first NFL start two weeks ago against the
Cleveland Browns
, and he ends up with eight catches for 103 yards and a touchdown. How many catches do you think he would have had if he were playing for the Browns that day? Their quarterback,
Brandon Weeden
, completed only 17-of-42 passes. That's not to minimize what Boykin did or what players like
Jordy Nelson
do week in and week out, but Rodgers is special, and special players elevate the play of those around them. Look at what
Greg Jennings
has done since he left for the Vikings. Now tell me the quarterback doesn't make the receiver, not vice versa.
Speaking of receivers, other than
Anquan Boldin
, who lit up the Packers in the opener at San Francisco, they've done a solid job shutting down other team's No. 1 receivers -- most recently Jennings and Cincinnati's
A.J. Green
. How do you think the Bears will try to get
Brandon Marshall
involved against what has been a pretty good Packers secondary?
Wright
: This question brings me back to the 2012 massacre at Lambeau Field on Sept. 13. The Packers bracketed Marshall with two-man coverage, and the Bears struggled tremendously. Shoot, cornerback
Tramon Williams
caught as many of Cutler's passes as Marshall, who finished the game with two grabs for 24 yards. Obviously, this offensive coaching staff is a lot different than last year's group. So the Bears will go into this game with a lot more answers for that coverage. I definitely see McCown leaning on Marshall and trying to get him involved as early as possible, but the only way he'll be able to do that is for the Bears to establish the rushing attack with
Matt Forte
so the quarterback can operate off play action. When the Bears go to Marshall early, expect to see a lot of short passes that will enable the receiver to gain some yardage after the catch.
Over the years, Green Bay has been pretty successful at limiting the impact of return man
Devin Hester
. So I was a little shocked to see the Packers give up a kickoff return for a touchdown to
Cordarrelle Patterson
. As you probably know, Hester is coming off a pretty strong return game against the Redskins. Do you think the Packers fix the problems they encountered last week, and minimize Hester's impact?
Demovsky
: Part of the Packers' problem on special teams has been that all the injuries have created a trickle-down effect. Here's what I mean: On the kickoff coverage until they gave up the 109-yard return to Patterson, they lined up six rookies, two of whom weren't even on the opening day roster. The Packers always have feared Hester, as they should, and in various games in recent years have shown they'd almost rather kick the ball out of bounds than give him any return opportunities. He's one of those special players who make rivalry games so entertaining.
September, 15, 2013
9/15/13
7:15
PM ET
CHICAGO – Here are five things we learned in the
Chicago Bears
'
31-30 win
over the
Minnesota Vikings
:

1. Jay Cutler led in crunch time.
Cutler made his share of mistakes on Sunday, but he managed to shake them off and guide the Bears 66 yards down the field in 3:05 to score the game-winning touchdown on a 16-yard pass to tight end
Martellus Bennett
. Cutler went 7 for 10 on the drive, but keep in mind he had to spike the ball to kill the clock and that his first pass of the drive bounced off an official standing in the middle of the field in front of intended target
Alshon Jeffery
(another incomplete pass to Jeffery got wiped out by a holding penalty). This is why the Bears traded for Cutler four years ago: to win games. When the chips were down, the quarterback stayed calm, put the team on his shoulders and led them to a come-from-behind victory in the closing minutes of an important game. What an encouraging start to the season for Cutler in a contract year.
2. Turnovers keep inferior teams in games.
Now for the bad part: The Bears almost handed the game to Minnesota -- literally. It's hard to win when a team commits four turnovers. The Bears were able to survive versus the Vikings, but next time they probably won't be so lucky. In the span of a little more than three minutes in the second quarter, Cutler was sacked and fumbled the ball, which Minnesota returned for a touchdown, and threw an interception in the end zone on first-and-goal from the Vikings' 1-yard line that killed a prime scoring chance. Cutler later tossed a pick on a deep ball to
Brandon Marshall
, and
Matt Forte
had the ball ripped away at the end of a run. Both of those turnovers came in the fourth quarter. Throw in a special-teams breakdown on
Cordarrelle Patterson
's 105-yard touchdown return on the opening kickoff, and the Bears have plenty of mistakes to correct going into their Week 3 game at Pittsburgh. That should prevent the team from feeling too good about themselves this week in practice.
3. Devin Hester is again ridiculous.
People snickered at the positive reviews Hester received from observers during training camp, but even the most anti-Hester fans have to admit he ran with a purpose on Sunday, returning five kickoffs for a career-high 249 yards, with long runs of 76 and 80 yards. The decision to limit Hester to strictly special teams was a brilliant one. He has fresh legs. That's been obvious since the preseason. But the most important thing with Hester is always his confidence. Ever since he got over the whole 'I want to retire' drama at the end of last season, Hester has been walking tall with his head held high. When Hester feels good about himself, he's dangerous. Don't be surprised to see his success in the return game snowball over the next couple of weeks. That's how it goes with Hester.
4. Defense is still searching for an identity.
The Bears continue to take the ball away on defense, which is good, but they are simply not generating enough pressure up front. Vikings quarterback
Christian Ponder
attempted 30 passes and was sacked just once. That's not good enough. For the second straight week, Pro Bowl defensive linemen
Julius Peppers
and
Henry Melton
were non-factors, with a combined three tackles (before the coaches review the film). What's going on up front? Overall, the Bears surrendered six plays of 20-plus yards against Minnesota after being torched repeatedly by Bengals wide receiver
A.J. Green
in Week 1. To be fair, the Vikings scored 14 points on Sunday on a fumble return and a kickoff return. But I think we would all agree the defense looks very un-Bears-like to open the regular season.
5. Ponder better than expected.
Ponder is still the fourth-best quarterback in the NFC North, but he deserves some credit for almost leading the Vikings to their first win in Chicago since 2007. Ponder completed some key throws late to finish with 227 passing yards, one touchdown and one interception, while also showing no fear running with the football. He took a heck of a hit from Bears linebacker
James Anderson
near the home team's sideline in the second half, but at no point did Ponder shy away from the contact. Minnesota is still 0-2 and in deep trouble already with two loses to NFC North teams, but I don't think Vikings fans will be clamoring for
Matt Cassel
to start anytime soon. Or at least they shouldn't be.
September, 15, 2013
9/15/13
6:20
PM ET
CHICAGO – As if
Devin Hester
needed any extra motivation on Sunday, the three-time Pro Bowl return man seethed with anger on the
Chicago Bears
' sideline as Minnesota rookie
Cordarrelle Patterson
returned the game's opening kickoff 105 yards for a touchdown.
"Man, it [ticked] me off," Hester said. "It [ticked] me off to have someone come into our home turf and to take one to the house. Ooh, it [ticked] me off. I was so [ticked] before the kickoff, I was praying, 'Please, I don't care how deep the guy kicks it I'm bringing it out.' That's the mentality I took. I told my guys out there we're not going to get punched in the mouth like that and just fall over and back down. If he kicks it 9 yards deep [in the end zone], especially after they take one to the house, we coming out. So, don't expect me to take a knee."
[+] Enlarge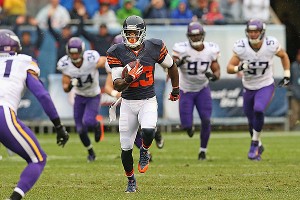 Jonathan Daniel/Getty ImagesDevin Hester returned five kickoffs for 249 yards -- including a 76-yarder and an 80-yarder.
Patterson's early heroics lit a fire under Hester, who entered Week 2 with four return scores in 13 career games against the Vikings. Hester responded with a 76-yard return of his own on the ensuing kickoff to set up the Bears' first scoring drive of the afternoon. He finished with five kickoff returns for a career-high 249 yards, eclipsing the 225 yards he had on kickoff returns against St. Louis in his rookie season of 2006.
But Hester's best moment in the Bears'
31-30 victory
occurred in the second quarter when he fielded the ball 3 yards deep in the end zone and proceeded to run it back 80 yards to the Minnesota 23. The 76- and 80-yard returns were Hester's longest kickoff returns since he ran one back 98 yards for a touchdown on Oct. 16, 2011, against the Vikings.
"I think they were kind of cheating [on the 80-yard return]," Hester said. "Their [primary tacklers on kickoff coverage] weren't coming down and trying to make the tackles, they were kind of just playing contain and sitting around the 40- or 45-yard line just waiting to cut off the angle on me. That's a good plan, a very smart call by their special-teams coach. We just have to make sure we make plays when that happens."
Hester acknowledged the wet conditions at Soldier Field on Sunday also were a factor in his success.
"I think the weather played a big role in what happened today," Hester said. "It was a rainy day and the ball was a little heavy, so it kind of prevented a lot of touchbacks. We knew it was going to be a run-and-attack day with the rain. We knew the special teams were going to have to play a big factor in this game, and that's what we did. We stepped up and made plays.
"I was just happy they kicked it to me. Whenever you get an opportunity to get your hands on the ball, even if it's a nice kick and you have to bring it out, it gives me an opportunity to make plays."
July, 19, 2013
7/19/13
12:00
PM ET
NFC Eight in the Box:
East
|
West
|
North
|
South
»
AFC:
East
|
West
|
North
|
South
What are the three key camp issues facing each NFC North team?
CHICAGO BEARS

Offense: Kyle Long's readiness
The Bears drafted Long in the first round to help an offensive line that has struggled for years to protect quarterback
Jay Cutler
. Long, however, had a short Division I career and missed almost all of the Bears' offseason work because of the timing of Oregon's final academic quarter. The Bears will find out in camp, and during the preseason, whether Long is ready to be an immediate starter as you would expect based on his draft position.
Defense: Configuring linebackers
After the retirement of
Brian Urlacher
and the departure of
Nick Roach
, the Bears gave themselves two tiers of options at linebacker to play alongside
Lance Briggs
. If all else fails, they can use veteran
D.J. Williams
in the middle and
James Anderson
on the strong side. But they also drafted two players who one day will get their chance:
Jon Bostic
in the second round and
Khaseem Greene
in the fourth. The process of determining the best combination will begin in training camp.
Wild card: Coaching transition
This will be the Bears' first training camp in 10 years without Lovie Smith as the coach. Marc Trestman began the transition process during offseason workouts, but training camp is the time for establishing the meat of his program. How does he expect players to practice? How quickly does he expect scheme assimilation? How do players know when he's happy? When he's angry? The first training camp will set the parameters.
DETROIT LIONS

Offense: Line changes
One way or the other, the Lions will enter the season with three new starters on the offensive line.
Riley Reiff
is at left tackle after the retirement of
Jeff Backus
, and there will be competition at right guard and right tackle. Pulling off an overhaul of the offensive line in a win-or-else season is an ambitious task. All discussion of improvement for quarterback
Matthew Stafford
, and the impact of newcomer
Reggie Bush
, is made on the presumption that the offensive line won't take a step back.
Defense: Ziggy Ansah's development
Usually, the No. 5 overall pick of a draft is ready to step in and play right away. But Ansah was a late arrival to football and was almost an unknown to NFL scouts a year ago at this time. There was a sense during pre-draft evaluations that Ansah would need more development time than the typical No. 5 pick, but the Lions have high hopes of putting him into the starting lineup right away. They gave themselves some flexibility by signing free agent
Israel Idonije
, but they'll find out in camp if Ansah is going to be ready to play a full-time role in Week 1.
Wild card: Ryan Broyles' status
Broyles was a value pick in the 2012 draft, but he is very much needed after the release of
Titus Young
.
Nate Burleson
has returned to play alongside All-Pro
Calvin Johnson
, but the Lions' depth would be thin if Broyles isn't ready to play soon after tearing his ACL in Week 13 last year. The Lions hope Broyles can be full-speed by the start of the season, a pace he must confirm with at least some significant work in training camp.
GREEN BAY PACKERS

Offense: Running back rotation
The Packers added two rookies,
Eddie Lacy
and
Johnathan Franklin
, to a group that includes holdovers
DuJuan Harris
,
James Starks
,
Alex Green
and
John Kuhn
. Unless the Packers suddenly convert to a run-based offense, an impossibility as long as
Aaron Rodgers
is at quarterback, the Packers will have to thin this herd in training camp. Not everyone from that group will make the team, and a few who do aren't likely to get much action in games. Harris, Lacy and Franklin seem the likeliest candidates -- in that order -- to be feature backs.
Defense: Replacing Woodson
The Packers have openings at safety and cornerback following the release of
Charles Woodson
. Training camp should provide significant insight, if not an outright answer, into who will start at safety --
M.D. Jennings
?
Jerron McMillian
? -- alongside
Morgan Burnett
. We'll also get a sense for who is ready to step into the cornerback and nickel job opposite veteran
Tramon Williams
. Top candidates for that job include
Sam Shields
,
Casey Hayward
and
Davon House
. The Packers' cornerback group is by far the deepest in the NFC North.
Wild card: Crosby's state of mind
No one expects
Giorgio Tavecchio
to beat out place-kicker
Mason Crosby
, who went through a well-publicized extended slump last season. But how will Crosby react to the first competition of any sort he has faced since taking over as the Packers' kicker in 2007? That's what the Packers want to find out, frankly. If he isn't sharp in camp, the Packers might need to consider their options elsewhere.
MINNESOTA VIKINGS

Offense: Cordarrelle Patterson's development
The Vikings know they want Patterson to be their kickoff returner, replacing
Percy Harvin
, but is Patterson ready to take over any part of Harvin's role as a primary offensive playmaker? Patterson's short stay at Tennessee once suggested he will need some development time before contributing regularly on offense. His performance in offseason practices, however, suggested he might be further along than once believed. Training camp will tell us for sure.
Defense: Linebacker alignment
Will newcomer
Desmond Bishop
play middle linebacker or on the outside? What would that mean for
Erin Henderson
, who spent the offseason transitioning to the middle position? It seems pretty clear that Bishop, Henderson and
Chad Greenway
will be the Vikings' three linebackers. Training camp should give us a better idea of where they will line up and, importantly, who will come off the field in nickel situations.
Wild card: Chemistry in passing game
The Vikings are expecting a jump in the efficiency, if not raw numbers, of their passing game this season. Quarterback
Christian Ponder
will have to accomplish that by developing quick chemistry with his new receivers, including Patterson and veteran
Greg Jennings
. That task appeared to be a work in progress during offseason practices.
July, 16, 2013
7/16/13
2:15
PM ET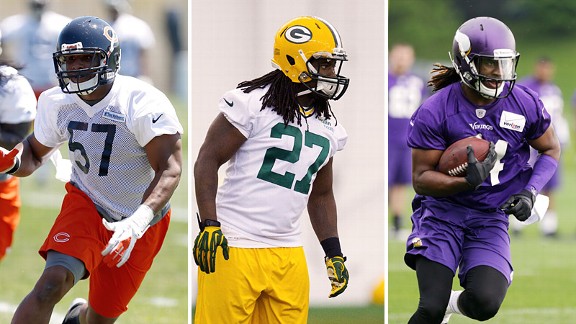 Getty ImagesOpportunities await Jon Bostic, left, Eddie Lacy, center, and Cordarrelle Patterson in training camp.
In 10 days, all four NFC North teams will have stepped onto the practice field for their 2013 training camps. I can't think of a better way to wade through these final days than by identifying 10 key issues we will no doubt be focusing on over the next six weeks or so.
I'm staying away from some of the obvious ones and instead focusing on developments for which we have a reasonable expectation of resolution before the start of the regular season. We won't know by Labor Day, for example, if
Jay Cutler
is a good fit for the
Chicago Bears
' new offense under Marc Trestman. It'll be impossible to conclude whether
Christian Ponder
has taken a step forward as the
Minnesota Vikings
' quarterback, or whether the
Detroit Lions
'
Matthew Stafford
has fixed his mechanics or if the
Green Bay Packers
know how to stop the read-option.
Answers to those questions won't be evident until regular-season games start. I think it's reasonable to expect quicker resolution to the questions identified below.
Issue:
Jon Bostic
and the Bears' middle linebacker job
Analysis:
General manager Phil Emery gave the team a safety blanket by signing veteran
D.J. Williams
, who is expected to open training camp in Brian Urlacher's old spot. But the Bears used a second-round draft pick on Bostic, and one day he almost certainly will have the job. If he can win it in training camp, the Bears can move Williams to the outside or use fellow newcomer
James Anderson
there.
Issue:
A role for Bears defensive end
Shea McClellin
Analysis:
McClellin was the Bears' first-round draft pick just one year ago, but he'll have to compete hard to establish a role commensurate with that status.
Julius Peppers
and
Corey Wootton
finished last season as the Bears' starting defensive ends, and Wootton is in a contract year and thus will be highly motivated. The Bears cleared some space by allowing
Israel Idonije
to depart via free agency, but McClellin's path to regular playing time is far from certain.
Issue:
Starting
Kyle Long
Analysis:
There has been an assumption that Long will be plugged into the starting lineup at one of the Bears' guard positions, but it's only fair to reiterate his relative lack of experience (four starts) in Division I. Moreover, Long was unable to participate in most of the Bears' offseason program because of NFL rules regarding the timing of college graduation. In other words, Long is as green as it gets for a first-round draft pick. It will be nice to see, finally, what the Bears have in him.
Issue:
Ryan Broyles
' status in Detroit
Analysis:
Broyles tore his ACL in Week 13 last season and will push to be ready for camp. If Broyles is healthy and available, he will join
Calvin Johnson
and
Nate Burleson
to form a really good trio. If he needs more time, the Lions will be thin at the position to start the season.
Mike Thomas
, a slot receiver acquired last season from the
Jacksonville Jaguars
, would be next up.
Issue:
Ziggy Ansah
's development
Analysis:
Generally speaking, the No. 5 overall pick of a draft should be ready to step into the lineup and make an immediate contribution. Ansah, as has been well-documented, was a late arrival to football and might need more development time than most No. 5 overall picks. Idonije gives the Lions an option if Ansah isn't ready to start, and in truth snaps are more important than the starting lineup. But when you draft a defensive end at No. 5 overall, you expect him to be ready to handle a full-time load almost immediately.
Issue:
Packers' running back rotation
Analysis:
The Packers gave themselves a good problem this offseason by adding two draft choices,
Eddie Lacy
and
Johnathan Franklin
, to a group that also included
DuJuan Harris
,
James Starks
and
Alex Green
. It seems unlikely that all of them will make the roster, but the more pressing matter is how they will be used and how often. Harris would have been the favorite to start entering training camp, but he missed the offseason because of injuries, and the position should now be considered wide open.
Issue:
Mason Crosby
's reaction to competition
Analysis:
Crosby's extended slump last season prompted the Packers to bring a second place-kicker to camp for the first time since he established himself as the Packers' full-time kicker. There is every reason to consider Crosby the heavy favorite over
Giorgio Tavecchio
, but that's assuming Crosby handles the competition well. It has been a while since Crosby had to secure his job.
Issue:
Replacing
Charles Woodson
in Green Bay
Analysis:
Woodson played safety and cornerback for the Packers last season. Now, they have a competitive situation at both spots. Training camp should tell us whether
M.D. Jennings
or
Jerron McMillian
is ready to grab a safety spot next to
Morgan Burnett
. We'll also get to see a spirited competition at cornerback between
Sam Shields
,
Casey Hayward
,
Davon House
and others for the chance to play alongside
Tramon Williams
.
Issue:
Vikings linebacker alignment
Analysis:
It is reasonable to expect
Chad Greenway
,
Erin Henderson
and
Desmond Bishop
to start in the Vikings' 4-3 base. But what positions will they play? Training camp should make that clear. Bishop would seem best suited for the inside, with Henderson returning to his former role outside, but it's not out of the question that the Vikings could experiment in the reverse during camp to find the best combination.
Issue:
Cordarrelle Patterson
's development
Analysis:
Shortly after the draft, we were led to believe that the Vikings rookie would fit in as a kickoff returner this season while he learned how to play receiver at the professional level. But if offseason practices were any indication, Patterson might be ready for a bigger role on offense right away. Can he emerge from training camp as a starter opposite
Greg Jennings
? That's the Vikings' best-case scenario, one that didn't seem possible in April but can't be ruled out on the eve of camp.
April, 29, 2013
4/29/13
8:37
AM ET
Reading
Mel Kiper Jr.'s grades

the morning after the draft is like a holiday tradition. No matter how much we all understand intuitively that it's impossible to project future success, we still want to know what the man who has spent three decades evaluating draft classes thinks of our favorite team's efforts.
You'll need an Insider subscription to read the entire evaluation, but below is what I can sneak to you if you don't tell anyone:
Green Bay Packers
Mel's grade:
B+

Kiper Jr. snippet:
" I love what Green Bay got out of this draft, particularly at two spots -- defensive end and running back."
Seifert comment:
The Packers really went after the running back position, drafting two backs --
Eddie Lacy
and
Johnathan Franklin
-- that many teams pegged as feature backs on their own. Franklin also hedges concerns about Lacy's durability. The Packers can feel confident that at least one of them will make an impact on 2013. Defensive end
Datone Jones
is a different-looking player than what the Packers currently have at the position, and fits into the league's trend toward longer and leaner even for 3-4 ends.
Minnesota Vikings
Mel's grade:
B

Kiper Jr. snippet:
"Hey, they got starters, but they needed to add impact in this draft considering they dealt
[Percy] Harvin
and had a few pretty big needs."
Seifert comment:
A good portion of evaluating this draft will come down to whether receiver
Cordarrelle Patterson
pans out. The Vikings gave up their chance to draft a starting-caliber middle linebacker, among other things, by trading back up into the first round to draft him. The Harvin trade was a big motivator. Kiper really thought the Vikings needed to get linebacker
Manti Te'o
; I just thought they needed someone at that position. Seventh-round draft pick
Michael Mauti
could be a factor if he can recover from a third torn ACL. Regardless, three first-round draft choices give the Vikings a good chance at a high-impact draft.
Detroit Lions
Mel's grade:
B

Kiper Jr. snippet:
"The pivot point for how we see this draft in three years will be
[Ezekiel] Ansah
. If he's great, then it looks good. If he's not, and
Dee Milliner
thrives with the Jets, fans will wonder."
Seifert comment:
It would be disappointing if the Lions didn't get at least two functional starters out of their first three picks. It doesn't matter who is on the field for the first play of the game, but you would like to see Ansah get as many snaps as he can for development purposes. Cornerback
Darius Slay
should compete with
Bill Bentley
to start opposite
Chris Houston
and, at worst, play in nickel situations that comprise more than half of most team's defensive snaps. And third-round guard
Larry Warford
should push hard for the right guard spot.
Chicago Bears
Mel's grade:
C+

Kiper Jr. snippet:
"My issue with
[Kyle] Long
isn't that he's short on talent -- he's not. I just wasn't in love with the value."
Seifert comment:
We'll never know if the Bears would have been better off trading down to grab Long later or waiting until the second round. Kiper Jr. didn't like the decision and thought tight end
Tyler Eifert
would have been a better choice. I'm stuck here, because we all know how much help the Bears' offensive line needs. Solidifying an interior spot, if that's what Long does, will help quarterback
Jay Cutler
in a measureable way. That's no different in the big picture than what Eifert could do. We all can agree, however, that the Bears upgraded their linebacker depth significantly with
Jon Bostic
and
Khaseem Greene
.
Related:
For fun, here are Kiper Jr.s NFC North grades for the
2010
,
2011
and
2012
drafts.
April, 27, 2013
4/27/13
7:01
PM ET
»
NFC draft analysis
:
East
|
West
|
North
|
South
»
AFC
:
East
|
West
|
North
|
South
How top-heavy was the 2013 draft in the NFC North? We welcomed more players in the first round (six) than in the second and third rounds combined (four), the result of two big trades.
With the 2013 affair basically in the books, let's take a closer look at its highs and lows. So much happened that we might not get to the relatively rare occurrence of
two punters
being drafted
.
Onward:
BEST MOVE
The
Green Bay Packers
have gone 43 games without a 100-yard rusher, the longest active streak in the NFL by more than twice. Their running backs have combined for 12 rushing touchdowns over the past three seasons, the fewest in the NFL, and their average of 3.8 yards per rush over that span is tied for last in the league.
After years of subordinating this segment of their roster, the Packers reacted aggressively in 2013. They drafted not one but two of the top running backs available. Alabama's
Eddie Lacy
came
in the second round
(No. 61 overall), and UCLA's
Johnathan Franklin
came
in the fourth round
(No. 125 overall).
The relative flurry came at a time when the rest of the league appeared to have devalued the position. It was the first time in the history of the modern draft that zero running backs were selected in the first round. Perhaps the timing was coincidence, but if general manager Ted Thompson intended to capitalize on depressed prices to load up, it was a brilliant thought.
Thompson and the Packers had been trying to patch together the position ever since
Ryan Grant
broke his ankle in Week 1 of the 2010 season. It was time to find a more permanent solution, and Lacy and Franklin give them the personnel infusion they needed.
Runner-up: Like the Packers, the
Chicago Bears
finally attacked an area of need. They used two of their first three selections in what was originally a five-pick draft on high-end linebackers who actually project as starters rather than special-teams contributors. Second-rounder
Jonathan Bostic
could be
the Bears' middle linebacker as early as this season
, and fourth-rounder
Khaseem Greene
was
one of the best defensive playmakers
in college football last season.
RISKIEST MOVE
The
Minnesota Vikings
used
four draft picks to move back into the first round
and select Tennessee receiver
Cordarrelle Patterson
, taking on risk in two forms.
First, Patterson is a boom-or-bust prospect who spent only one year playing at the Division I level. He has the physical tools to be an exceptional player but has more development ahead of him than most first-round picks. Here's how
ESPN analyst Todd McShay
put it before the draft: "He scares me coming out of Tennessee, but I see the talent. … Patterson, with the ball in his hands, is just freakish, and even though he disappears for 30-40 plays [per game], he'll show up with one or two big plays a game that just kind of blow your mind and leave you wanting more."
At the very least, Patterson will need to be guided through the early part of his career. The Vikings hope to start him off as a kickoff returner and work him into their offense slowly. Expecting him to jump into the starting lineup alongside
Greg Jennings
for a full 70 plays per game is probably unrealistic.
Second, the trade left the Vikings unable to fill one of their most pressing needs: middle linebacker. Giving up picks in the second and third rounds left them watching as more than a half-dozen middle linebackers were drafted. The Vikings gave up the opportunity to fill that job on a long-term basis by jumping to draft a receiver who generated plenty of divergent viewpoints during the pre-draft evaluation process.
Runner-up: The
Detroit Lions
used the No. 5 overall pick on a pass-rusher who had 4.5 sacks in his college career. BYU defensive end
Ezekiel Ansah
has all the physical tools to be a dominant pass-rusher, but his learning curve is steep and his potential for immediate impact is at least worth questioning.
MOST SURPRISING MOVE
[+] Enlarge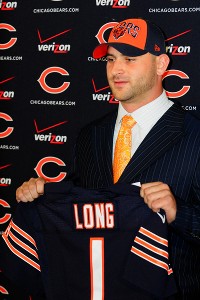 Reid Compton/USA TODAY SportsThe Bears were willing to overlook offensive lineman Kyle Long's inexperience because of his extraordinary athleticism for a man his size.
You would have been hard-pressed to find a mock draft that projected Oregon guard
Kyle Long
as a first-round pick. In
a seven-round mock
performed last week, Scouts Inc. suggested he would go No. 47 overall. And even that was based on Long's overwhelmingly positive athletic attributes rather than evaluation of his limited play at Oregon.
The Bears produced
arguably the surprise of the draft
by selecting Long at No. 20 overall, a time when even the most polished guards are rarely taken historically. But the Bears were blown away by Long's agility for his 6-foot-6 frame and were willing to overlook a one-season, four-start career at the Division I college level.
There is no doubt the Bears needed help on their offensive line, but you could have a spirited philosophical argument over the draft value of a raw, inexperienced guard. Even if the Bears are right about Long -- that his athleticism will make him a long-term starter -- it's fair to question whether they needed to take him in the first round. Did another team covet the draft's third-best guard enough to take him between picks 21 and 50, where the Bears were situated in the second round? One explanation: The Bears, with only five total picks in the draft at that point, thought it would be too difficult to trade up in the second round assuming Long got out of the first. I'm not going to say it was the wrong choice, but it sure was surprising.
FILE IT AWAY
The Lions bolstered their pass defense at the expense of some other positions of need. You can't have it all, and the Lions made some clear decisions.
On the plus side, they used three of their first four choices on Ansah, cornerback
Darius Slay
and defensive end
Devin Taylor
. Ansah (6-foot-5 with 35 1/8-inch arms) and Taylor (6-7 with 36-inch arms) will provide incredible length and a new look to the Lions' outside pass rush. Slay, meanwhile, has elite speed (4.36 seconds in the 40-yard dash).
That focus left the Lions less able to surround quarterback
Matthew Stafford
with additional weapons and protection. The Lions didn't draft an offensive tackle after the departure of both 2012 starters, and they didn't get around to selecting a receiver until grabbing Virginia Tech's
Corey Fuller
with the third pick of the sixth round (No. 171 overall).
(The Lions did draft guard
Larry Warford
in the third round.)
From a roster-balance perspective, it made sense for the Lions to focus on pass defense -- long a weakness -- rather than their passing offense. But the Lions still finished the draft with less depth at receiver and offensive tackle than they would have liked. Life is a trade-off, after all.
April, 17, 2013
4/17/13
12:00
PM ET
The
Detroit Lions
hosted the top receiver prospect in the 2013 draft, West Virginia's receiver
Tavon Austin
, on
a visit Wednesday
. But barring some draft-day maneuvering -- a trade down by the Lions or a move up from another NFC North team -- it seems unlikely that Austin will wind up in this division.
Which begs the question: How does the rest of the receiver class stack up for our teams?
That was one of the topics ESPN draft analyst Todd McShay discussed during a conference call last week. McShay ran through six other names, most of whom should be available when the
Chicago Bears
,
Minnesota Vikings
and
Green Bay Packers
choose between No. 20 and No. 26 overall.
[+] Enlarge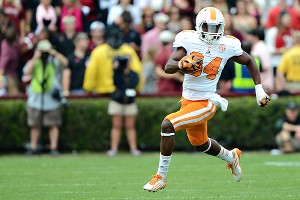 Donald Page/Tennessee Athletics/Collegiate Images/Getty ImagesTennessee receiver Cordarrelle Patterson is expected to be selected in the top 20 next week according to ESPN draft analyst Todd McShay.
I consider this position to have division-wide relevance, given the Lions' clear desire to add an outside receiver opposite
Calvin Johnson
, the Vikings' depth issues following the trade of
Percy Harvin
, the Bears' continued push to fortify their passing game, and the Packers' history of relative routine drafting at the position.
The Lions have hosted three of the six names below on visits, in addition to Austin, while the Vikings had at least two in their building this month. The names are listed in order of McShay's evaluation. Note McShay's upside-down thoughts on the pair of Tennessee receivers.
Cordarrelle Patterson
School:
Tennessee
McShay:
"He scares me coming out of Tennessee, but I see the talent. Everyone I talk to in the league, I think he's gone in the top 20. … Patterson, with the ball in his hands is just freakish, and even though he disappears for 30-40 plays, he'll show up with one or two big plays a game that just kind of blow your mind and leave you wanting more, and I think that's why he's going to be able to go where he's going."
Keenan Allen
School:
Cal
McShay:
"Keenan Allen is not 100 percent [because of a knee injury]. He ran a 4.7 the other day. It's not a perfect situation. But he's a late-first, early-second round prospect and should play like that. He runs on tape, we estimate him at 4.53, 4.55 range. I think he is going to be a really, really good No. 2 in the league. He would be a good fit. He was catching the ball better than ever this year. He knows how to use his body. He's got size and he's thickly built. He's not a burner, but he's quick and he's athletic and he's got enough speed to challenge you and take advantage of mistakes. Keenan Allen to me would be the highest rated wide receiver when Tavon Austin and Patterson are off the board." [After the conference call,
ESPN's Adam Schefter
reported that Allen's drug test at the NFL scouting combine had been "red-flagged," requiring a re-test.]
Justin Hunter
School:
Tennessee

McShay:
"If you're looking for someone to run vertical routes and stretch the field … a poor man's
Randy Moss
, that's what Justin Hunter is. … He's a silky-smooth route runner, and he's the guy quite honestly when they needed a throw, when they needed to pick up a first down, when they needed a play at Tennessee, that's where they went. It wasn't to the other guy, Patterson. He's the one who showed up consistently on tape. I think he's a better football player than Cordarelle Patterson."
[+] Enlarge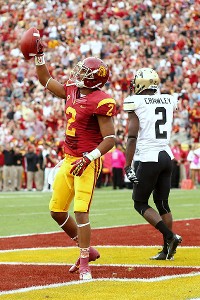 Stephen Dunn/Getty ImagesUSC receiver Robert Woods had 11 touchdown catches last season.
DeAndre Hopkins
School:
Clemson
McShay:
"After that group, you start getting into
Robert Woods
, DeAndre Hopkins, and
Quinton Patton
. They're all kind of in that same range -- 6-1, 200, 210, 212 pounds -- and they're all in mid-4.5's in terms of speed. Hopkins has the best hands of the three."
Robert Woods
School:
USC
McShay:
"I think you have to look at the whole picture and what has gone on throughout his career and the ups and downs. It might amount to nothing … The thing so often that's difficult to predict is, in addition, what are guys going to do when they have all this free time on their hands. … He could end up in Atlanta with a guy like
Roddy White
who will be [on him] all day … and he'll be fine. Or he could go to Detroit, where Calvin Johnson is the greatest guy in the world but he's not going to get on you for making mistakes. He's not that kind of leader. If [Woods] is not going to be around guys that are going to make him accountable, maybe he's not the player he would be if he goes to an Atlanta and plays with Roddy White. That's the tricky part. That's why there is some more risk with him, because he's not necessarily the greatest self-starter."
Quinton Patton
School:
Louisiana Tech
McShay:
"He doesn't like going over the middle, but he's very athletic, he has great hands and ball skills 90 percent of the time, but he'll have some focus drops. He's a wild-card to me. If he plays to his potential, he could be the third- or fourth-best receiver of this group in the NFL."
Note:
The Lions hosted Patterson, Hunter and Woods,
according to the team's web site
. The Vikings, according to
1500ESPN.com's Tom Pelissero
, hosted at least Allen and Hopkins.