Chicago Bears:

Corvey Irvin
August, 31, 2013
8/31/13
6:24
PM ET
Most significant move:
Despite
J'Marcus Webb
making 44 starts in 46 career games, including 32 consecutive starts at left tackle over the last two years, the Bears made the decision to part ways with him, even after reducing his salary to the league minimum for a veteran with three years of tenure.

Webb entered the offseason as the starter at right tackle, and stayed in that spot through the early part of training camp. Then, after the preseason opener at Carolina, the club demoted Webb to the second team behind rookie fifth-round pick
Jordan Mills
.
The demotion put Webb in competition for a backup role with veterans
Jonathan Scott
and
Eben Britton
. A five-year veteran, Britton has 30 games of starting experience on his résumé, but also possesses more versatility than Webb because of his ability to kick inside to guard and center. Scott hasn't played all preseason, and recently underwent a procedure on his knee. But the team is confident that even a dinged-up Scott is more reliable than a fully healthy Webb.
Webb possesses the physical skillset to be a starter in the NFL for several years, but lacks motivation and passion, which is a no-no for general manager Phil Emery and the new coaching regime. The new staff worked diligently to coax out the best in Webb, but couldn't do it consistently enough for the team to feel confident in the three-year veteran, even as a backup.
Good outing, bad result:
Quarterback
Jordan Palmer
performed well in the preseason finale against Cleveland despite little preparation after signing as an injury replacement for Matt Blanchard. But a 64.7 completion percent and a passer rating of 102.8 with a touchdown pass in his preseason debut wasn't good enough to keep the Bears from cutting Palmer.
A big part of that was the team's reported desire to sign a third quarterback with practice-squad eligibility. Palmer doesn't have any practice-squad eligibility remaining.
What's next:
With the 53-man roster finalized, the Bears will start to build their practice squad. If the club wants to bring back some of the players it cut, it will have to wait until they clear waivers. The Bears will likely be looking to add a few players cut from other teams to their practice squad, too.
Bears cuts:
QB:
Trent Edwards
,
Jordan Palmer
. RB:
Armando Allen
. OG: Dennis Temple,
Edwin Williams
. LB:
Jerry Franklin
,
J.T. Thomas
. WR: Brittan Golden,
Terrence Toliver
, Josh Lenz. OT:
J'Marcus Webb
,
Cory Brandon
. DT:
Corvey Irvin
, Christian Tupou. S:
Tom Nelson
,
Brandon Hardin
. LS: Brandon Hartson. CB: Demontre Hurst. TE:
Fendi Onobun
. FB: Harvey Unga. DE: Aston Whiteside,
Josh Williams
.
Note:
Brandon and Irvin received injury settlements. Hardin was waived/injured, which means if he clears waivers, he'll revert to Chicago's injured reserve.
August, 28, 2013
8/28/13
2:35
PM ET
LAKE FOREST, Ill. --
Chicago Bears
defensive tackle
Henry Melton
is expected to be medically cleared next week from a concussion and be ready for the regular season opener against the
Cincinnati Bengals
on Sept. 8.
[+] Enlarge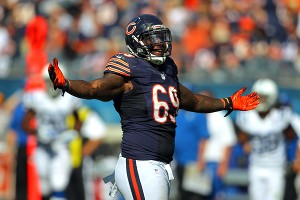 Dennis Wierzbicki/USA TODAY Sports Henry Melton appears to be on track to return from a concussion and play in the opener against the Bengals.
Melton, who suffered the concussion on Aug. 9, wore a helmet and participated in the individual open portion of practice on Wednesday, but he is remains off-limits to the media, per NFL rules.
"All indications are he is progressing that way (to be cleared by next week), yes," Bears coach Marc Trestman said. "When Monday shows up I don't know what the doctors are going to say, but the indications are if not by Monday then by Wednesday."
However, Trestman isn't exactly sure what kind of physical shape Melton will be in after missing the last couple of weeks.
"It's a question mark," Trestman said, "He's still getting himself back into shape and he's got four or five more days to do that. We're working with him to get him up to speed. His number of reps could change due to his conditioning level a week from Sunday (versus the Bengals), but we've got some time."
Wide receiver
Earl Bennett
(concussion) continues to be listed as day-to-day, but Bennett ran routes and caught passes on a side practice field on Wednesday. Bennett has been sidelined since Aug. 2.
"Earl came out and ran today," Trestman said. "He was out here earlier and had a helmet and shoulder pads and was out here running around. He caught some balls out here in practice. He is still day-to-day, but it's encouraging. He's been released to work and begin his re-conditioning process. So that's a good sign."
In other injury news, cornerback
Zack Bowman
(hamstring), linebacker
J.T. Thomas
(hamstring), offensive tackle
Jonathan Scott
(knee) and defensive tackle
Corvey Irvin
(ankle) all sat out practice on Wednesday.
Bowman's hamstring injury isn't believed to be serious.
Also, linebacker
D.J. Williams
did limited work at practice as he continues to recover from a serious calf injury.
August, 27, 2013
8/27/13
3:12
PM ET
LAKE FOREST, Ill. -- Middle linebacker
D.J. Williams
returned to practice on Tuesday for the first time since suffering a July 31 right calf injury, but the club's plan for him moving forward is murky with the starters not expected to play Thursday in the preseason finale and the regular-season opener nearly two weeks away.
Williams didn't participate fully in practice.
Williams
"But he's getting more work," Bears coach Marc Trestman said.
Williams took part Monday in pre-practice stretching, and has also spent some time running. But Trestman said Monday that Williams' conditioning could be an issue for the opener. So there's a chance the team could opt to hold out Williams in favor of rookie second-round pick
Jon Bostic
, who has filled in as the starting middle linebacker.
"I couldn't answer that question," Trestman said when asked whether Williams would be ready for the opener. "Each and every day he gets a little better, and we'll know a lot more at the beginning of next week. He's got four or five days before our first day of practice on Monday. So we'll see how it is at that point in time. I can't answer the question other than there's improvement there. Talking to him, he's certainly positive that he can be ready. Players are always that way. They are, and they should be. We'll see. I'm encouraged, but we don't know at this time."
The Bears signed Williams to a one-year contract in March worth $900,000 as the replacement at middle linebacker for
Brian Urlacher
, and drafted Bostic as the future at the position.
Bostic
But Williams' calf injury pushed Bostic into the starting spot, and the rookie has turned heads with big hits and game-changing plays such as his interception return for a touchdown in the exhibition opener at Carolina.
Still, Trestman wasn't ready on Monday to declare Bostic the starter.
"Well, I am not going to use that term 'starting middle linebacker,'" Trestman said. "(Bostic) has started in the last couple games, and I think he has continued to grow and get better, and shown he can be a very good player in this league. He is fitting in and if he happens to be the guy who is that guy on Game 1 or Game 2 or whatever it is, I think he can grow into the position and be a more than sufficient middle linebacker in this league."
With Williams still technically a starter, it's unlikely the Bears would place him in harm's way by giving him snaps Thursday against the
Cleveland Browns
. Given that Williams has missed virtually all of training camp and the preseason, he won't have any way to compete with Bostic for the starting job.
Perhaps Williams' long track record in the NFL is sufficient enough for the staff. Before joining the Bears, Williams played in 127 games for the
Denver Broncos
with 115 starts and has posted 886 tackles (673 solo) to go with 20.5 sacks, two interceptions, 14 forced fumbles and seven recoveries. Throughout his career, Williams has posted five 100-tackle seasons.
"There's always competition. It's compete to play, compete to stay," Bears defensive coordinator Mel Tucker said. "So there's nothing ever set in stone. You're only as good as your next play. That's what we preach to the guys. So every time out is important. Every practice is important, every meeting, every rep that we take in a game. It all means something."
In other injury news, the Bears practiced Tuesday without offensive tackle
Jonathan Scott
(knee), defensive tackle
Corvey Irvin
(ankle), cornerback
Zack Bowman
(hamstring), and running back
Harvey Unga
(undisclosed).
The team also held out defensive tackle
Henry Melton
and receiver
Earl Bennett
, who continue to go through the concussion protocol. Melton and Bennett took part in pre-practice stretches with teammates, and they're also working on physical conditioning.
Trestman believed that Tuesday marked the first time Bennett had run since suffering the concussion.
"Earl and Henry both got running in today," he said.
August, 20, 2013
8/20/13
4:03
PM ET
LAKE FOREST, Ill. -- Defensive tackle
Henry Melton
and wide receiver
Earl Bennett
remained sidelined on Tuesday due to concussions, but both players watched practice from the sidelines for the first time since the
Chicago Bears
concluded the Bourbonnais portion of their training camp on Aug. 13.
However, Melton and Bennett have still not passed the NFL concussion protocol to return to action, and therefore both continue to be off-limits to the media, per league rules.
While veteran
Nate Collins
has elevated his game filling in for Melton at defensive tackle, the picture at the No. 3 wide receiver spot is cloudier with Bennett out. Wideouts
Joe Anderson
,
Marquess Wilson
,
Eric Weems
,
Terrence Toliver
and
Devin Aromashodu
have all been given an opportunity to run with the first and second teams in recent weeks, but quarterback
Jay Cutler
said on Tuesday that he has no input on which specific player would fill the void left by Bennett if his absence continues to drag on.
"They don't give me an opinion so we'll see who they throw in there," Cutler said. "We'll see who Marc (Trestman), Phil (Emery) and those guys like. Whoever is out there I trust that they can get the job done."
In other injury news, quarterback
Matt Blanchard
(hand), fullback
Harvey Unga
(rib), defensive end
Cheta Ozougwu
(hamstring), linebacker
D.J. Williams
(calf), long snapper
Patrick Mannelly
(rib), offensive tackle
Jonathan Scott
(knee) and defensive tackle
Corvey Irvin
(ankle) were all held out of Tuesday's practice.
The news on Blanchard is encouraging. The second-year quarterback is expected to miss about a month, but could still have a role on the team in 2013 in some capacity. Blanchard also remains eligible for the practice squad.
June, 3, 2013
6/03/13
4:04
PM ET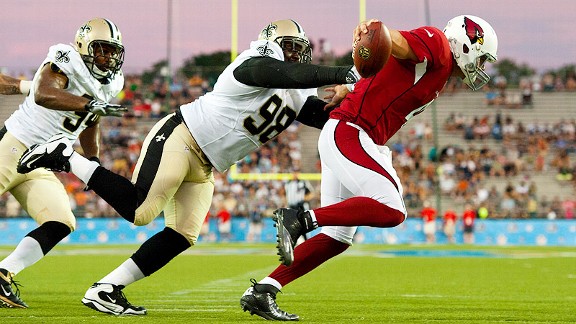 Jason Miller/Getty ImagesSedrick Ellis was the No. 7 pick in the 2008 draft by the New Orleans Saints.
Free agent defensive tackle
Sedrick Ellis
is scheduled to visit the
Chicago Bears
this week, according to ESPN NFL Insider Adam Schefter.
Schefter reports Ellis will also meet with the
Detroit Lions
after he visited the
New England Patriots
at the end of last week.
Selected No. 7 overall in the 2008 NFL draft by the
New Orleans Saints
, Ellis played five years for New Orleans, recording just 12.5 sacks.
Ellis had 36 tackles in 16 games for the Saints last season, but zero sacks. Ellis is considered more of a three-technique pass-rushing defensive end as opposed to a run-stopper.
The Bears have already made a handful of moves at tackle in the offseason; the club brought back defensive tackle
Nate Collins
and also signed DT
Corvey Irvin
, the 2009 third-round pick of the
Carolina Panthers
. The Bears briefly had veteran tackle
Andre Fluellen
on the roster, but he was released. There are also several undrafted rookie defensive tackles under contract with the Bears.
Former Bears defensive tackle
Amobi Okoye
remains unsigned.
May, 13, 2013
5/13/13
6:24
PM ET
The
Chicago Bears
signed receiver Demetrius Fields and defensive tackles
Corvey Irvin
and Christian Tupou, in addition to agreeing to terms with cornerback Maurice Jones.
All four worked with the team during last weekend's rookie minicamp on a tryout basis. In other roster moves, the Bears also released linebacker
Dom DeCicco
and cornerback
LeQuan Lewis
.
A rookie out of Northwestern, Fields caught 114 passes for 1,203 yards and seven touchdowns over four seasons with the Wildcats. Irvin, meanwhile, is a former third-round pick of the
Carolina Panthers
who has played in 18 games over three seasons with three teams (Carolina, Tampa Bay and Jacksonville), contributing 11 tackles.
Tupou finished his college eligibility at USC, but went undrafted and unsigned in 2012. Tupou played in 41 games from 2007-11 with the Trojans, contributing 53 tackles, including seven stops for lost yardage.
Jones played collegiately at Temple, and made 12 starts in four seasons with the Owls.