Chicago Bears:

Craig Krenzel
December, 10, 2012
12/10/12
3:10
PM ET
After the Chicago Bears' 21-14 loss to the Minnesota Vikings, here are three issues that merit further examination:
ESPN.com

Quarterback Jay Cutler said during his ESPN 1000 radio show that his stiff neck shouldn't keep him out of next Sunday's game against the Green Bay Packers. Cutler allowed the Vikings to set the tone with a pass rush that prevented him from finding a rhythm. He completed only one of eight passes against the Vikings' blitz for eight yards, according to ESPN's Stats & Information. And Sunday might have been one of the few occasions when Cutler has forced the ball too often to receiver Brandon Marshall. Cutler (14) and backup Jason Campbell (one) threw 15 passes to Marshall that traveled at least 10 yards in the air. That was the highest total in one game for a wide receiver in at least the past five years. Cutler completed only two of seven such throws in the second half, one of which was intercepted and returned for a touchdown by Vikings safety Harrison Smith, and the Bears couldn't close the gap created by an early deficit.

Running back Michael Bush only got two snaps because of a recurring rib injury that had left him questionable for the game. That is one of an inordinate amount of injuries the Bears are dealing with for their key people. Cutler might miss some practice time this week. Bush obviously had a setback. Receiver Earl Bennett is trying to come back from a concussion. Linebacker Brian Urlacher has a hamstring injury that could keep him off the field for the rest of the regular season. The same goes for cornerback Tim Jennings' shoulder injury. Place-kicker Robbie Gould's calf strain might necessitate reinforcements. Rookie defensive end Shea McClellin suffered a knee injury Sunday that prevented his return. Two of the Bears' best special teams players, Craig Steltz and Sherrick McManis, left Sunday's game because of chest and knee injuries, respectively. That's a long list of ailments for a team that needs to win at least two of its last three games, and perhaps all of them, to make the playoffs.

The Bears rotated Edwin Williams and James Brown at left guard, with Brown actually getting more snaps (42) than Williams (36). Offensive coordinator Mike Tice has spoken highly of Brown since training camp, and you wonder if he is considering using Brown as a starter as Chris Spencer deals with a knee injury. Brown is an undrafted rookie and the Bears have already used five different starting guards this season, but his sudden entrance into the game Sunday was worth noting.
And here is one issue I still don't get:
Earlier this season, we noted the Bears hadn't established an offensive identity. Other than Cutler's connection to Marshall, it wasn't easy to come up with a long list of things the Bears do well offensively. After Week 14, that's still the case. They rank No. 18 in the NFL in yards per carry (4.2), No. 27 in passing yards per game and No. 28 in scoring. At the end of this season, whenever that comes, we'll have to ask whether the Bears' preseason plan to mesh their former scheme, Tice's philosophies and the ideas of quarterbacks coach Jeremy Bates all into one offense was too complicated a task.
January, 13, 2010
1/13/10
4:26
PM ET
[+] Enlarge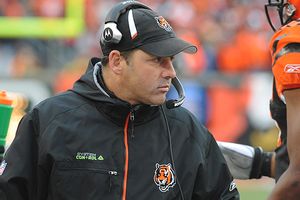 Al Messerschmidt/Getty ImagesKen Zampese has extensive knowledge of all phases of an offense, according to Craig Krenzel.
CHICAGO -- It doesn't take long for
Craig Krenzel
to return a phone call when somebody wants to discuss his former
Cincinnati Bengals
quarterbacks coach Ken Zampese.
Krenzel, a former Bears' fifth-round choice out of Ohio State in 2004, spent just one season (2005) with Zampese in Cincinnati, but says he came away with an inordinate amount of football knowledge. That, in itself, counts for something, because as most of us know, Krenzel graduated from Ohio State with a degree in molecular genetics.
Say what you want about Krenzel's professional football career (cut short by a 2006 elbow injury), his intelligence on or off-the-field should not be questioned.
"Even though Ken never played quarterback, from a preparation standpoint, you would have thought he played the position," Krenzel told ESPNChicago.com Wednesday. "His knowledge of the game, the way he prepared us allowed me to learn a ton from him, even though I was only there for a short period of time. And I don't limit that to just his understanding of the quarterback position. He understood the entire offense.
"We would talk all the time in film study about X's and O's, who needs to be blocked, what route was run, etc. He was highly involved with [Bengals offensive coordinator] Bob Bratkowski in the passing game. I consider myself a pretty knowledgeable guy, but I learned a ton being around Ken."
Krenzel considers himself lucky to have worked with two outstanding professional quarterbacks coaches: Zampese in Cincinnati and
Wade Wilson
in Chicago. Wilson was part of Lovie Smith's original staff in 2004, and somebody Krenzel respects to this day, although it's funny to hear how Wilson's coaching style differs from Zampese's.
"I loved Wade, loved the guy," Krenzel said. "Wade had that cool, laid-back Texas style of discussing things, but in the end, you always knew he came to the correct conclusion. He took a little bit of time to get there, but he knew exactly what he was talking about.
"Same thing with Ken, although personality-wise he's a lot different than Wade. Zampese is like the micro-machine guy. He moves a million miles a minute, constantly harping on details, the little things, he gets straight to the point. The guy is football 24 hours a day, 7 days a week, and 365 days a year. I always thought he'd be a good coordinator."
But Zampese has never risen above the rank of quarterbacks coach, even though he has interviewed for several coordinator positions in the past. Even a staunch Zampese supporter like Krenzel admits it's always a gamble hiring somebody with no prior play-calling experience.
"Of course, the one unknown is game-day play-calling, because that is truly an art form at the NFL level," Krenzel said. "People just don't understand everything that goes into calling plays during an NFL game. Still, even though I was only with him for a short period of time, I think he's a great coach, and certainly qualified to run an offense."
"I'm very surprised it's taken him this long to get a coordinator job."