Chicago Bears:

Cris Carter
May, 20, 2014
May 20
3:49
PM ET
The likelihood of
Brandon Marshall
eclipsing Hall of Famer Cris Carter's receiving milestones boils down to one simple question: Can Marshall maintain his current level of production over the next four to five years?
Over eight seasons with Chicago, Miami and Denver, Marshall has averaged 89 catches for 1,131 yards and seven touchdowns per year, for a career total of 712 receptions for 9,050 yards and 57 touchdowns.
Marshall

Carter
Carter finished his 16-year NFL career with 1,101 receptions for 13,899 yards and 130 touchdowns.
There is little chance Marshall will break Carter's touchdown mark, but the Bears wideout only needs 389 catches and 4,849 receiving yards to pass Carter on the list of the all-time NFL receivers.
That is doable. In fact, Marshall actually has more receptions, yards and touchdowns than Carter did in his first eight years, according to ESPN Stats & Information, but Carter managed to last an impressive 16 seasons in the league.
Marshall, 30, stated on ESPN 1000's "Carmen and Jurko Show" on Tuesday that he's focused on playing 14 seasons until he reaches the age of 36. But even if Marshall ends his career two years before Carter ended his, the evidence suggests Marshall can finish with more receptions and receiving yards.
First of all, Marshall has been extremely durable, missing just six regular season games over eight years, despite undergoing three hip surgeries.
Secondly, he's been reunited with his old Denver quarterback,
Jay Cutler
, in Chicago, and the results speak for themselves. In only two seasons with the Bears, Marshall has caught 218 passes for 2,803 yards and 23 touchdowns.
An argument can be made that Marshall was the Bears' only target on offense in 2012 and therefore put up some of those numbers by default, but the Bears were flush at talent at the skill positions last year (
Matt Forte
,
Alshon Jeffery
and
Martellus Bennett
) and Marshall still managed to have another Pro Bowl year and record his fifth 100-plus catch season -- Marshall is the only player in NFL history to catch 100 balls for two different teams (Bears and Broncos).
With Marshall (four years, $40 million) and Cutler (seven years, $126.7 million) both under contract for the foreseeable future, Marshall can theoretically expect to play with his favorite quarterback for possibly the rest of his career, a luxury few wide receivers are afforded.
Thirdly, while statistical evidence suggests running backs fall off a cliff in terms of production when they hit a certain age, wide receivers have been known to flourish deep into their 30s.
One of the best recent examples of this phenomenon is
Terrell Owens
, who topped the 1,000-receiving yard mark five times after turning 30 and continued to be a productive player up until he left the league at age 37.
October, 22, 2012
10/22/12
12:04
PM ET
ESPN's NFL team gets you ready for the Bears and Lions on Monday Night Football:


June, 22, 2012
6/22/12
6:34
PM ET
CHICAGO -- As the last days of June melt into July and football talk in Chicago occupies a legitimate spot on the sports landscape rather than just as a time-killer to avoid Cubs talk, the Matt Forte issue will become much more of a Bears issue.
Read the entire story.
November, 18, 2011
11/18/11
9:30
AM ET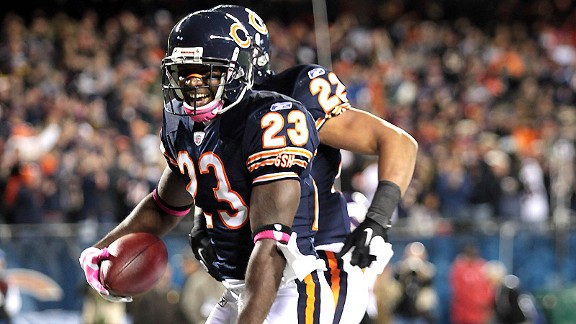 Tasos Katopodis /Getty ImagesDevin Hester is one return away from tying Deion Sanders' NFL record of 19 TD returns of any kind.
Chicago Bears
kick returner/receiver
Devin Hester
is 29. So it's reasonable to assume that the actual debate on his candidacy for the Pro Football Hall of Fame is at least 10 years -- and probably a few more touchdown returns -- away. Already, however, Hester's unique status has conjured discussion about his place in history and whether he'll ultimately be recognized as one of the best players of this era.
Here are the facts:
Less than six years into his career, Hester has obliterated the NFL record for career kick returns for touchdowns. He has 17 in his 85-game career, most recently an 82-yard punt return on Nov. 13 against the Detroit Lions, plus one more in the playoffs. It took Brian Mitchell 223 games to finish with 13, the previous record.

When you add in his return of a missed field goal in 2006, Hester is one return from tying Deion Sanders' NFL record of 19 touchdown returns of any kind. Sanders played in 188 games before retiring.

The Hall of Fame has never inducted a player based on his impact as a returner. In fact, there is only one "pure" special-teams player in the Hall: Place-kicker Jan Stenerud.
Hester's record-breaking production, not to mention his pace, has spurred passionate discussion among his supporters. Bears linebacker
Brian Urlacher
provided a particularly direct assessment this week
during an interview with ESPN 1000
.
"He's the greatest of all time at what he does," Urlacher said. "And in my opinion, when you're the greatest of all time at your position, you should be in the Hall of Fame. He is a first-ballot Hall of Famer in my opinion. He's going to have 30-something touchdown returns if people keep kicking to him. It's a no-brainer for me. I just don't see how people can not agree with that."
From my amateur vantage point, the best way to consider Hester as a potential Hall of Fame candidate is to expand the analysis of his impact. It's going to be difficult for voters to elect a player based solely on "30-something" touchdown returns over the course of a decade, if that's indeed what Hester finishes his career with.
The reality is that punt and kickoff returns make up less than 10 percent of the total plays in an average game; the figures were about 12 of 138 plays in 2010. That's essentially the definition of a specialist who is hard-pressed to make a broad-based impact on games when he is typically exposed to so few opportunities. That's probably why Mitchell, Dante Hall (12 return touchdowns) and Eric Metcalf (12) have not received serious consideration as a Hall of Fame candidate.
But Urlacher made an important point this week: "He changes every football game he's in."
How? By impacting the Bears' field position. Take a look at the chart accompanying this post, which we present after some dutiful research by Mike Corbo of the Bears' communications office.
The Bears have had the NFL's best field position, based on the start of their average drive, in three of Hester's five full seasons. They ranked No. 3 in the other two.
Multiple factors contributed to that success, including their Bears' strong defense of this era. And it's worth noting that they had top-10 field position in four of the five seasons preceding Hester's arrival. But it would be foolish to ignore the role of Hester's returns and also of kicks intentionally shortened or otherwise diverted by opponents to keep the ball away from him.
There are all kinds of politics, waiting games and backlogs involved in election to the Pro Football Hall of Fame. Given the difficulty that players like Kevin Greene (160 career sacks) and Cris Carter (1,101 receptions) have had getting attention, it's hard to imagine that a couple dozen touchdown returns alone would put Hester on track for induction.
But when you consider Hester a player who impacts field position all game long, as he appears to have done for large portions of his career, then you're moving the conversation away from a specialist and toward the kind of criteria voters are looking for. If you're a proponent of Hester's burgeoning candidacy, that's the direction you need to head.
October, 18, 2010
10/18/10
4:09
PM ET
Former
Philadelphia Eagles
and
Minnesota Vikings
great Cris Carter not only doesn't think the
Chicago Bears
will win the NFC North, but he doesn't even think
Jay Cutler
will last the season.
"I'm really shocked with Mike Tice and his ability to coach an offensive line, and being the offensive line coach, and how he hasn't been able to [develop] some type of system," Carter said on "Mike & Mike" on ESPN Radio. 'Mike Tice is a very good offensive line coach, but he hasn't been able to put in some type of pass protection to be able to protect Cutler.
"That's why I believe the Vikings will win the North, because Cutler will not make it through the season with that offensive line. One human being can only take so much pounding. I don't care how brave they seem to be."
October, 4, 2010
10/04/10
9:29
AM ET
The Bears' flop on national television Sunday night was the talk on "Mike & Mike" on Monday morning.


Listen to the various descriptions of what went wrong for the Bears:


Click here for Kurt Warner.