Chicago Bears:

Darrell Bevell
January, 15, 2013
1/15/13
9:45
AM ET
As word
filtered out Monday night
on the finalists for the
Chicago Bears
' coaching job, some of you immediately expressed support for
Seattle Seahawks
offensive coordinator Darrell Bevell. Why? Everyone has their reasons, but without a doubt, age is one of them.
Via Twitter,
@cubbieBearHawk
wrote: "We need a young Innovative mind not senior citizens." Meanwhile,
@MikeDBears
recognized how unusual his hopes were: "cant believe im rooting for the 2 old guys."
Fans tend to gravitate toward the "young, innovative mind" narrative -- especially for first-time head coaches. And quite frankly, NFL teams do as well. That undeniable fact makes the Bears' other two known finalists -- Marc Trestman and Bruce Arians -- unique.
Bevell is 43, which puts him neatly in the profile of recent NFL hires. Arians, meanwhile, is 60 and Trestman is 57. As silly as it might sound, their ages make them outliers in the candidate pool teams have recently dipped into among candidates who have not been NFL head coaches before. (In the video, ESPN's Adam Schefter implies Trestman could be a finalist for the job.)
I did a quick look Tuesday morning at the ages of the 21 current coaches who -- like Bevell, Trestman and Arians -- had never been NFL head coaches when hired into their jobs. The average age of those men was 45.3 years old, with a range of 34 (Mike Tomlin of the
Pittsburgh Steelers
) to 51 (Mike Munchak of the
Tennessee Titans
, Leslie Frazier of the
Minnesota Vikings
and Chuck Pagano of the
Indianapolis Colts
.)
There are seven men who are in their second jobs as NFL head coaches, meanwhile, and Arians is older than all of them were when they were hired. Trestman is older than all but Seattle Seahawks coach Pete Carroll, who was 58 when he accepted the job.
In a vacuum, I hope we would all argue that age shouldn't be so relevant in a job that should require leadership and experience. But in recent history, at least, it's clear that NFL teams are just as drawn as fans are to young coaches with potential for growth, favoring them over those who -- like Arians and Trestman -- have spent decades working their way through the coaching ranks.
It would take weeks to fully report out the reasons for that trend. I'm sure that identifying with players, energizing fan bases and bringing "new" schemes are all part of the allure.
What we can say is this: The Bears would certainly buck recent NFL thought by hiring Arians -- whose role as the Colts' interim coach this season was temporary and came only after Pagano's bout with leukemia -- or Trestman. I don't think it is the least bit fair to see that kind of ageism taking place, but as I'm sure every NFL coach in recent history has said at some point, it is what it is.
January, 14, 2013
1/14/13
8:16
PM ET

The
Chicago Bears
have entered their second phase in finding a head coach and will speak again with three candidates, including
Seattle Seahawks
offensive coordinator Darrell Bevell.
Seahawks coach Pete Carroll said Monday that Bevell and defensive coordinator Gus Bradley were "heading toward second interviews." Bradley is in the running for the
Philadelphia Eagles
' job.
Read the entire story.
January, 14, 2013
1/14/13
1:04
PM ET
Of the 13 known candidates interviewed by the
Chicago Bears
for their head coaching vacancy, at least one expects the club to settle on one of the last four to meet with general manager Phil Emery.
That group consists of offensive coordinators Tom Clements (Green Bay), Rick Dennison (Houston), Darrell Bevell (Seattle), and Bruce Arians (Indianapolis).
"I would bet on one of the last four candidates," said one of the coaches who had already been interviewed.
January, 13, 2013
1/13/13
9:21
PM ET
Chicago Bears
general manager Phil Emery acknowledged Jan. 1 that in his search for a new head coach "the playoffs are a consideration," but that potential roadblock appears to have come down Sunday with the conclusion of the divisional round of the postseason.
[+] Enlarge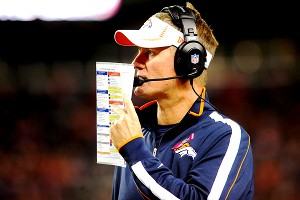 Byron Hetzler/US PRESSWIREDenver's Mike McCoy is one of four offensive coordinators whose season ended this weekend, opening the door for the Bears to move forward in their coaching search.
Of the known candidates, four coached for teams that lost in the divisional round, a group consisting of four offensive coordinators: Seattle's Darrell Bevell, Houston's Rick Dennison, Green Bay's Tom Clements and
Mike McCoy
of the
Denver Broncos
. The losses by the Seahawks, Texans, Packers and Broncos open up availability for those coaches to talk more in the coming days, with Emery expected to move into the next phase of the process. He'll probably pick two to three finalists for second interviews that will also involve team president Ted Phillips and Bears chairman George McCaskey.
"There may be a candidate that's in the playoffs and may be unavailable to us (that) we may have to wait out," Emery said. "After we're at the point where we feel good (that) we have quality candidates to select two or three as finalists, we will either have them come to us or go to them so we can have an opportunity for them to talk to George or to talk to Ted and that George and Ted can interact with them and get a feel for them. At the end, the final decision will be mine."
The timeline for Emery making the choice seems now to be a little less difficult.
January, 13, 2013
1/13/13
11:53
AM ET
By the end of Sunday, it's possible the
Chicago Bears
will have concluded their first round of interviews in what has already been an epic coaching search.
Indianapolis Colts
offensive coordinator Bruce Arians was scheduled to be the 13th known candidate to speak with general manager Phil Emery. If there are more first-round interviews scheduled, they haven't been reported.
My educated guess is that some interviews have been completed in secrecy, so I wouldn't be surprised if Emery has spoken with 15 or more candidates.
We've discussed the possibility
that Emery is using this opportunity to pick the brains of as many smart assistant coaches as he can, but I think we have also seen an undeniable quality emerge as well.
Here's how
Tennessee Titans
general manger Ruston Webster put it last week during an interview with my AFC South colleague Paul Kuharsky on 104.5-FM in Nashville: "I know Phil Emery, and Phil Emery is about as thorough of a human being as I've ever known."
Meanwhile,
according to ESPN's Adam Schefter
, two of the coaches Emery has spoken with said "they never have interviewed with anyone as prepared and detailed" as him.
So before we try to ascribe some kind of ulterior motive to Emery's approach, and rather than conclude he is flailing blindly in the night, perhaps this search is best viewed as a physical extension of Emery's meticulous personality. Where and when it ends remains anyone's guess. Former NFL coach Jimmy Johnson tweeted that Emery favored his former assistant, current Montreal Alouettes coach Marc Trestman, but
nothing more has come
of what appears to be Johnson's personal view.
For the record, here are the Bears' Lucky 13 to this point:
Arians
Atlanta Falcons special teams coordinator Keith Armstrong
Seattle Seahawks offensive coordinator Darrell Bevell
New Orleans Saints offensive coordinator Pete Carmichael Jr.
Green Bay Packers offensive coordinator Tom Clements
Dallas Cowboys special teams coordinator Joe DeCamillis
Houston Texans offensive coordinator Rick Dennison
Denver Broncos offensive coordinator Mike McCoy
Minnesota Vikings special teams coordinator Mike Priefer
Vikings special assistant to the head coach Mike Singletary.
Tampa Bay Buccaneers offensive coordinator Mike Sullivan
Trestman
Bears special teams coordinator Dave Toub