Chicago Bears:

Darryl Drake
January, 29, 2013
1/29/13
12:51
PM ET
By
Staff
| ESPNChicago.com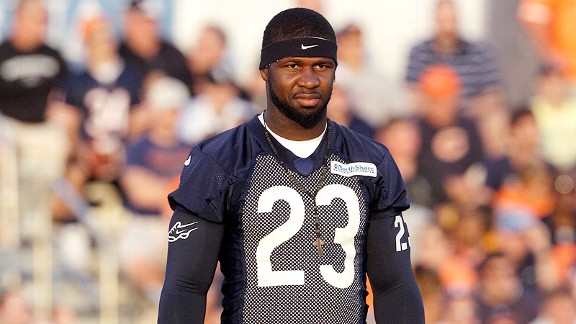 AP Photo/Nam Y. Huh"The Devin Hester Package" never surfaced this season as he caught just 23 passes.
As Darryl Drake leaves the
Chicago Bears
after nine seasons as receivers coach, he is preparing to work with one of the best in the NFL,
Arizona Cardinals
WR
Larry Fitzgerald
. But Drake is also thinking about leaving a receiver in Chicago who never seemed to match his potential.
Before this season, Drake said that if
Devin Hester
didn't catch more than 26 passes, then "we failed him." Hester caught just 23. Drake was asked why on Tuesday during a visit to "The Waddle & Silvy Show" on ESPN 1000.
July, 26, 2012
7/26/12
8:16
PM ET
BOURBONNAIS, Ill. -- Chicago Bears wide receivers coach Darryl Drake thinks the club's last offensive scheme ignored Devin Hester, which resulted in the wideout posting his lowest receiving numbers since 2007.
[+] Enlarge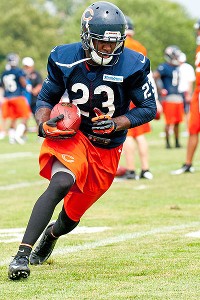 Bradley Leeb/US PresswireDarryl Drake seemed to indicate Mike Martz was to blame for Devin Hester's drop in production.
Drake said he expects Hester to surpass the 26 catches for 369 yards he totaled in 2011 this upcoming season.
"If he stays healthy, I hope so," Drake said. "If he doesn't have more then we failed him. But I'm sure he'll have more than 26 [receptions]. Only time he had 26 was when? Last year. We didn't throw it to him. Who's fault was that? Wasn't his. Wasn't mine."
Hester's productivity at wide receiver took a sharp hit after Mike Martz was hired as Chicago's offensive coordinator prior to the 2010 season. Hester went from hauling in at least 50 passes in 2008 (51) and 2009 (57), to catching just 40 balls in Martz's first year on the job followed by the meager 26 receptions last season, after which Martz was dimissed.
"When you've got a great player, you've got to feed him," Drake said. "If Michael Jordan didn't touch the ball he'd have problems, you know because he would demand it. You've got to get him the ball, and you've got to feed him. And he's getting the ball, and he's feeling good about things right now."
The Bears began the offseason by promising to create a special package of plays for Hester in an effort to maximize the speedsters strengths and get him more involved in the offense. According to Drake, Hester responded to the increased role and in the estimation of the receivers coach, has been the most improved receiver since the end of last season.
"In every way possible...route running, everything, you just see it in everything he does right now," Drake said. "He understands it. I mean, it's bam, that's what you're seeing. If you watched practice today, how many times did he get covered? That's the difference. I think he's probably the most improved, in my opinion, but when it comes to Devin, I'm kind of prejudice, you guys know that. But I just see a lot of improvement in a lot of areas. He's no longer worrying about being the guy, you know, he's just playing."
Hester and Brandon Marshall lined up as the top two receivers during the Bears first training camp practice on Thursday.
May, 15, 2012
5/15/12
12:58
PM ET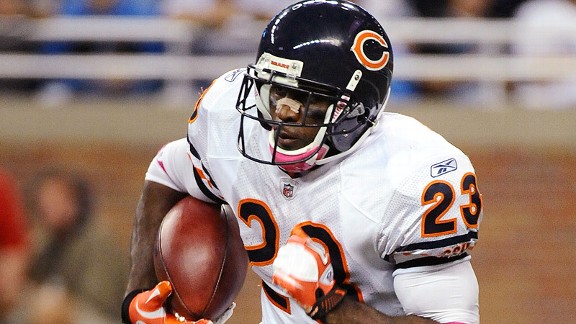 Tim Fuller/US PresswireChicago Bears fans will likely see more of the 'Devin Hester Package' in the 2012 season.
Over the past few months, the
Chicago Bears
have transformed their receiving corps from one of the NFL's shortest to arguably the tallest. They've reunited the key players from the
Denver Broncos
' dynamic 2008 offense and they've fended off questions -- including some from their quarterback -- about their offensive line. But to me, the most intriguing thing happening in Chicago at the moment is the development of a mysterious package of plays for receiver/kick returner
Devin Hester
, the latest in a long line of attempts to harness Hester's Hall of Fame speed and skills for their offense.
General manager Phil Emery hinted at the new approach shortly after the draft. Offensive coordinator Mike Tice and receivers coach Darryl Drake offered some morsels to reporters during last weekend's rookie minicamp, and all that's left now is to see if it actually works.
Part of me wants to roll my eyes and cringe,
as we did recently on the blog
, as the Bears once again refuse to accept what Hester is and isn't -- at least what he hasn't been yet. They remain unsatisfied with him simply being the best kick returner in NFL history. And another part thinks this attempt could prove to be the most productive balance the Bears have tried yet.
Drake
might have best explained the plan last weekend
by suggesting the "Hester Package" will limit snaps but elevate targets to make more efficient use of Hester's time on offense.
"The talent has always been there," Drake told reporters. "It's just a matter of not having him play 70 plays and throw to him twice. Play him 15 [plays], let him touch it 13 [times.] In order for him to be effective, we don't need to have him out there playing that many plays. If he's out there, put the ball in his hands. We need to have that package, and Mike Tice -- I promise you -- he's going to do it."
On the surface, it makes sense. Hester's combination of speed and open-field running ability is rare and awfully tempting to expand on. And when you look at the chart, you see what happens when a team doesn't have or utilize the speed to stretch a defense vertically. The 2011 Bears, for instance, had one of the least efficient short passing games in the NFL last season.
But running a full game's worth of pass routes probably takes the edge off Hester's energy in the return game. There is reason to think he could have a similar impact in 15 plays designed to involve him than he could in 70 plays that spread the ball around the field.
That appears to be the starting point for a tweak that appears to have emanated from, or at least endorsed by, Emery himself.
"I want to make sure that we have a special plan for Devin," Emery said last month. "We have the 'Devin Package' -- packages of plays as a receiver. You never know where he's going to line up. I don't want to get too far ahead of that in terms of letting other people know what we're going to do with him, but he will have a package of plays that we feel can bring out his dynamic ability to the forefront and if not only as carrying or catching the ball, but sometimes that's a decoy.
"Devin's speed vertically is something that has to be accounted for. So if that pulls people from coverage, to handle that vertical ball, you've got other people; we've got some awfully big targets to hit."
On the other hand, of course, it's not as easy as it sounds. You better believe that opposing defenses will notice when Hester is on the field, especially now that the Bears have announced they want to get him the ball often in the relatively brief period of time he plays offense. I don't think it will make teams leave, say,
Brandon Marshall
wide open to account for Hester, but his appearance isn't going to surprise anyone, either.
The "Hester Package" has already conjured comparisons to the "Randy Ratio" that Tice used after taking over the
Minnesota Vikings
' head coaching job in 2002. As you might recall, a study of the Vikings' 2001 season showed they won every game they targeted receiver
Randy Moss
on at least 40 percent of their throws. Tice announced he would make that goal a centerpiece of his offense.
The "Randy Ratio" wasn't a schematic adjustment as much as it was Tice's attempt to cajole the notoriously anti-authoritarian receiver to buy in as a team leader. It backfired on a number of fronts, and
Tice himself acknowledged over the weekend
that it "came back to bite me in the [rear end]."
Turning serious, Tice said: "Devin is going to be on the field. If he's not on the field, then they should fire me."
That final line speaks to the extent the Bears have prioritized Hester's potential contribution. You know the old saying: If at first you don't succeed, try try again.
May, 13, 2012
5/13/12
2:41
PM ET
LAKE FOREST, Ill. -- Bears receivers coach Darryl Drake brought about thoughts of Animal Planet on Sunday when assessing the potential of his position group.
"We've got two giraffes outside, and we've got some cheetahs inside,"
Drake said. "So I'm looking forward to it. I'm excited about this group because I think there's an awful lot of talent. There's an awful lot of potential, and it's my job to make sure that potential comes out."
The mix of stalwarts such as Earl Bennett, Devin Hester, and Johnny Knox -- if he's able to return from his back injury -- could make that easier. Not to mention new additions Brandon Marshall and second-round pick Alshon Jeffery, who actually surprised the staff somewhat over the three-day rookie minicamp by showing "he's a little bit better getting out of breaks" than the club anticipated, Drake said while adding that "I've been amazed how well he picks things up."
Couple that with a new plan of attack for how they'll deploy Hester in
2012, and it's easy to see why the Bears think they could field one of their most talented and deep receiving corps in recent history.
Drake doesn't anticipate Bennett and Hester being threatened by Jeffery's presence.
[+] Enlarge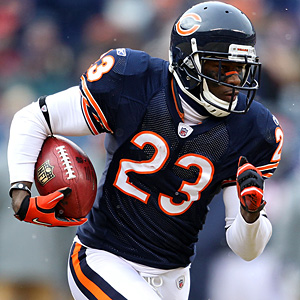 Andy Lyons/Getty ImagesDarryl Drake is confident Devin Hester will be utilized even with the additions the Bears made at wideout.
"They don't fear anybody. Why would they?" Drake said. "I promise you Devin's not reading press clippings about Alshon Jeffery. Alshon Jeffery's reading press clippings about Devin Hester. Devin Hester don't give a crap. He's gonna go out there and play. And I'll say this about Devin Hester, and I've always said it: all we've got to do is use him and you'll see what kind of player he is, period."
In the past, the club didn't sufficiently involve Hester -- arguably one of the league's most dangerous players with the ball in his hands
-- according to Drake. The Bears plan in 2012 to change that with their newly-designed playbook, which features a package specifically for Hester.
"The talent has always been there. It's just a matter of not having him play 70 plays and throw to him twice," Drake said. "Play him 15 (plays), let him touch it 13 (times). In order for him to be effective we don't need to have him out there playing that many plays. If he's out there, put the ball in his hands. We need to have that package, and (offensive coordinator) Mike Tice -- I promise you -- he's gonna do it."
As for Marshall, apparently he's already making significant contributions towards elevating the level of play from his peers; especially with his input during meetings. Drake called the veteran "a student of the game."
"He's the one that's forcing Earl and Devin and Dane and those guys to raise their games," the coach added. "He's the one that's forcing them to do that because of his talent."
Tice called this "a very successful offseason up to this point," and pointed out he's "very excited about the draft picks, and I like the change in schemes, the change in philosophy and personality; all of it."
The key now is to find a way to successfully utilize all the weapons, which will also include tight ends and running back Matt Forte.
"As far as the amount of talent, there's some depth, and guys (have) got to fight (to play). If you want to play, go out there and make plays, do things the right way," Drake said. "I see some guys that have that kind of ability. Brandon Marshall, he does that. Alshon Jeffery, even though he's a rookie, he has the ability to do that. We know that Earl Bennett is gonna be consistent, catch the football and get open. Devin, we've got to make sure we play to his strengths.
Johnny (Knox), when he gets back, you let him do the things he does.
So I feel real good about the group. I'm looking forward to those guys doing the things they're capable of doing."
September, 23, 2011
9/23/11
4:27
PM ET
We're Black and Blue All Over:
Here's something that might catch you by surprise: Green Bay Packers receiver Jordy Nelson is on an extraordinarily productive run dating back to Week 16 of last season.

As
Tyler Dunne of the Milwaukee Journal Sentinel
notes, Nelson has caught 34 passes for 610 yards and five touchdowns over the Packers' past eight games, including the playoffs. Greg Jennings is the only receiver who has caught more passes for more yards over that span, but Nelson has him beat by a touchdown.
Consider this development another example of where the Packers' purported starting lineup doesn't necessarily correlate to playing time or production. Already, backup tailback James Starks is getting substantially more playing time than starter Ryan Grant. And by the numbers, at least, Nelson is the Packers' No. 2 receiver next to Jennings.
Nelson isn't getting more playing time than other receivers; according to Dunne, he was on the field for 33 of 58 plays last Sunday against the Carolina Panthers. But he is capitalizing on the opportunities he does get, and opposing defenses would be well advised to catch on.
Continuing around the NFC North:
December, 17, 2009
12/17/09
4:17
PM ET
LAKE FOREST, Ill. --
Chicago Bears
receivers coach Darryl Drake said Thursday
Devin Hester
was not referring to any future coaching moves when the wide receiver predicted "a lot of changes" this offseason.
"He [Hester] sat there and said players," Drake said. "He said after the Super Bowl we had players change. He said through draft, through trades, that's exactly what he said. He didn't say a word about no coaches, everybody else said that. That's what I heard...am I wrong?
"People thought coaches because that's what they want to think. But that ain't what the kid said. That ain't exactly what he said. I heard what he said. If he would have said it, I will sit here and tell you, you're exactly right. But he didn't say that. He didn't. But he was made out to say that. Alright, and that ain't right."
Hester told reporters Wednesday he discussed the issue of potential turnover with Drake, who attempted to clarity their conversation.
"He said, 'Do you think everybody will be back?' and I said, 'When has our room ever been the same?' And that's pretty much what he said in that interview. That's what I said to him, and that's what he said. I said our room has never been the same, there's always change in that room. Every year you go in there it's different."