Chicago Bears:

Dave Duerson
August, 29, 2013
8/29/13
6:59
PM ET
Former
Chicago Bears
coach Mike Ditka offered his take Thursday on the
$765 million settlement
reached between the NFL and more than 4,500 former players.
"Concussions are part of the game," Ditka said. "I know a lot of the old players need a lot of help, and it's quite a settlement from what I understand. I think people have hid behind this too long. It's time it's out in the open. It's out in the open now, so we'll see what happens."
The former players alleged that the NFL mistreated concussions by hiding the risks. With the lawsuit now settled, the allegations against the league won't be made public in court.
According to
the court document
, following
the order
from Senior U.S. District Judge Anita Brody outlining the settlement, "the settlement does not represent, and cannot be considered an admission by the NFL of liability, or an admission that plaintiffs' injuries were caused by football. Nor is it an acknowledgement by the plaintiffs of any deficiency in their case. Instead, it represents a decision by both sides to compromise their claims and defenses, and to devote their resources to benefit retired players and their families, rather than litigate these cases."
Alicia Duerson, the ex-wife of former Bears safety Dave Duerson, who committed suicide by shooting himself in the chest in February 2011, told ESPN's Kelly Naqi she still isn't quite sure of the implications the settlement carries. Duerson's family donated his brain to the Center for the Study of Traumatic Encephalopathy at Boston University, where experts found the former safety's brain tissue revealed evidence of chronic traumatic encephalopathy (CTE).
"It's so new," Alicia Duerson said. "We haven't had a chance to talk to the attorneys, so I don't know what it means for me and my kids. I'll need a couple of days to digest it."
April, 2, 2012
4/02/12
5:47
PM ET
MUNCIE, Ind. -- The family and friends of the late NFL star Dave Duerson have begun a program to help high school and middle school athletes in his hometown of Muncie who suffer head injuries.
The Dave Duerson Muncie Community Schools Athletic Safety Fund is designed to help them avoid chronic traumatic encephalopathy, a condition caused by repeated brain trauma. Duerson suffered from it before killing himself a year ago.
Read the entire story.
February, 23, 2012
2/23/12
1:50
PM ET
May, 2, 2011
5/02/11
10:47
AM ET
BOSTON -- The Boston University center that studies brain injuries to professional athletes says former NFL player
Dave Duerson
had brain damage when he committed suicide in February.
Read the entire story
.
March, 22, 2011
3/22/11
2:36
PM ET
NEW ORLEANS -- Rex Ryan didn't want to dignify the accusation with a reaction.
Three Notre Dame football players, including Dave Duerson, center, at Jackson Square on Saturday, Dec. 27, 1980, in New Orleans.The passionate New York Jets head coach couldn't help himself when asked about last month's allegation that his father, Buddy Ryan, called late Chicago Bears safety Dave Duerson the N-word.
Read the entire story.
February, 24, 2011
2/24/11
9:16
AM ET
INDIANAPOLIS -- New
Carolina Panthers
head coach Ron Rivera reflected on the recent passing of former
Chicago Bears
teammate
Dave Duerson
while addressing the media Thursday at the NFL Combine.
The two men were teammates from 1984-89, and Rivera started at strong side linebacker during Duerson's final two years with the Bears -- 1988-89.
"That was a very sad situation," Rivera said at Lucas Oil Stadium. "It's the 25th anniversary [of the Bears Super Bowl XX victory],
Richard Dent
is getting into the Hall of Fame and this coming weekend we're going to celebrate the life of another one [of our teammates during Duerson's funeral]. It's a very sad situation. Sad for all of his former teammates, friends and family. It most certainly did hit home a little bit. He'll be greatly missed."
February, 23, 2011
2/23/11
12:38
PM ET
Soon we may know whether Dave Duerson had CTE. His death and others remind us why the NFL's efforts to minimize the potential damage to players should be lauded, not derided.
Read the entire story
.
February, 20, 2011
2/20/11
2:35
PM ET
By
ESPN.com news services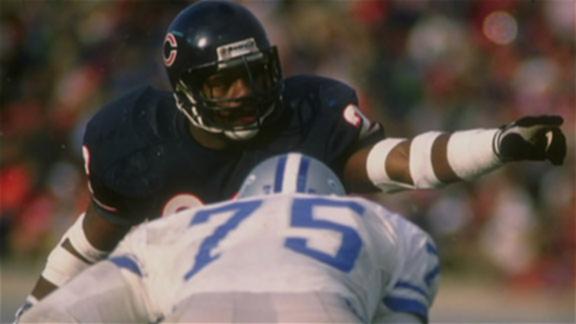 Former four-time Pro Bowl safety Dave Duerson, who committed suicide Thursday by shooting himself in the chest, sent text messages to family asking that his brain be examined for chronic traumatic encephalopathy, a condition linked to more than a dozen deceased NFL players, The New York Times has reported.
Read the entire story.
February, 19, 2011
2/19/11
7:28
PM ET
CHICAGO -- The Chicago Tribune is reporting former Bears safety
Dave Duerson
died of a self-inflicted gunshot wound to the chest, and the co-director of a medical school program tells The Associated Press his family has agreed to donate his brain for research.
Read the entire story.
February, 18, 2011
2/18/11
10:12
AM ET
Dave Duerson, a starting safety on the 1985 Chicago Bears team that won the Super Bowl, was found dead in his Miami home, the team said on Friday. He was 50.
The cause of death was not released.
Read the entire story.