Chicago Bears:

David Carr
January, 29, 2013
1/29/13
11:28
AM ET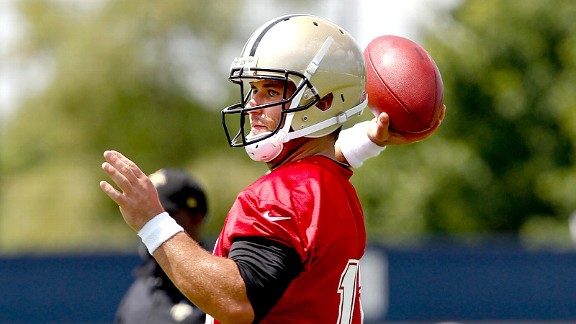 Derick E. Hingle/US PresswireNew Bears offensive coordinator and offensive line coach Aaron Kromer is familiar with Saints backup QB Chase Daniel.
There are two
Chicago Bears
quarterbacks under contract:
Jay Cutler
and Matt Blanchard. That will change at some point in the offseason when the Bears fill out the back end of the quarterback depth chart either via free agency or the draft.
The Bears could also decide to bring back one, or both of the veteran reserves they had at the end of last season in
Jason Campbell
and
Josh McCown
, both of whom are scheduled to be unrestricted free agents.
[+] Enlarge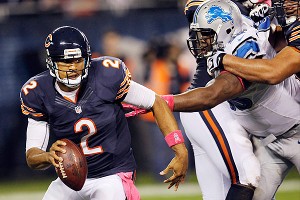 AP Photo/Charles Rex ArbogastA second year of Jason Campbell could be an option for the Bears.
The Bears signed Campbell to a one-year deal last offseason worth a total of $3.5 million ($2 million signing bonus, $1.4 million base salary, $100,000 workout bonus) in order to better protect themselves in the event Cutler missed any time due to injury, which he did.
Campbell took over for a concussed Cutler at the beginning of the second half of the Bears' home loss to the
Houston Texans
, then got the call to start the following game in San Francisco. The 49ers game was a debacle, but it's difficult to blame it all on Campbell, considering his two offensive tackles spent much of the night on their backs. Campbell finished the season completing 32-of-51 passes for 265 yards, two touchdowns, two interceptions and a passer rating of 72.8, not exactly the kind of numbers that will excite teams in need of a starting quarterback, although it is possible Campbell could find a better opportunity and more playing time elsewhere in free agency.
But the laid back and reserved Campbell certainly did not make any enemies during his one-year stint in Chicago, so if the Bears decide they can't upgrade the No. 2 spot, another season with Campbell isn't a horrible option.
McCown brings tremendous value to a roster because of his personality, experience and willingness to impart his wisdom onto others. There is no doubt in my mind that McCown will be an NFL coach one day when his playing career is officially over. But with any veteran back-up, the issue always comes back to money. It is much more expensive to pay the veteran minimum to a guy like McCown with 10 accrued NFL seasons than it is to carry a younger player on your roster, even if it would be more beneficial to the team to keep the older player. McCown can also still play if necessary, which he showed last season in the preseason finale versus the
Cleveland Browns
.
If the Bears choose to add another veteran quarterback, not named Campbell or McCown, here are some of the options expected to be available in free agency, in no particular order.
March, 12, 2012
3/12/12
8:58
AM ET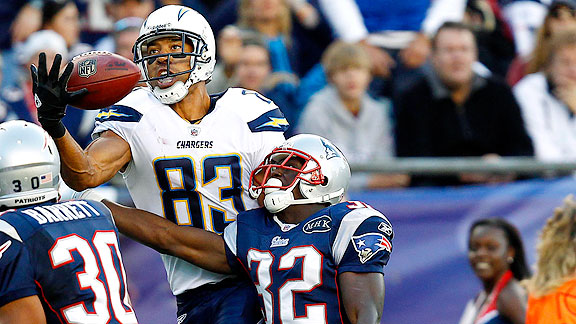 Mark L. Baer/US PresswireVincent Jackson is the big free agent prize among wide receivers. Will the Bears be big players?
Where they stand:
The
Chicago Bears
lead the NFC North in available cap room, sitting on approximately $30 million. But it's important to note that cap room shouldn't be viewed as a blank check; especially when considering the Bears would likely be looking to extend several of their core players with contracts ending in the next couple of years. While upgrades on offense seem most logical of potential Bears moves during free agency, given the need to surround quarterback
Jay Cutler
with more weapons, it's believed that coach Lovie Smith wants to revamp a defense led by four Pro Bowl players -- linebackers
Lance Briggs
and
Brian Urlacher
, cornerback
Charles Tillman
and defensive end
Julius Peppers
-- older than 30.
NEED-METER
[+] Enlarge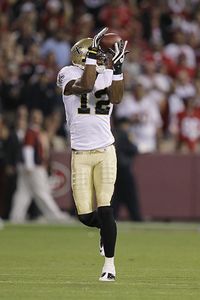 AP Photo/Marcio Jose SanchezMarques Colston is among the second tier of free agent receivers who could be options for the Bears.
Receiver:
10.
To be fair, the position didn't appear as much of an area of need when the team ripped off a 7-3 start. Obviously, Cutler played a significant role in that. Over the first 10 games, Chicago's receiving corps averaged 11 catches per outing. Once Cutler and running back
Matt Forte
suffered injuries that took them out of the lineup, the receivers' production dipped to eight catches per game.
A dominant slot receiver,
Earl Bennett
became the club's go-to option in the passing game with Cutler out of commission. Teams quickly recognized, and adjusted coverage accordingly, leading to Bennett catching one pass or fewer in five of his last six games. Johnny Knox's horrific back injury against the
Seattle Seahawks
further exposed this team's deficiencies at receiver.
So with a major need clearly defined at the position, the question now is how the team proceeds in free agency and the draft.
It's believed the Bears plan on making a run at San Diego receiver
Vincent Jackson
in free agency, and sources have confirmed as much. But if Jackson commands what several agents expect to be a salary in the $12 million-per-season range, it's unlikely new general manager Phil Emery would continue the team's pursuit, based on his stated preference of building through the draft, which signifies he's not a proponent of spending lavishly in free agency.
So surely the team has a few secondary and less-expensive options in mind, such as
New Orleans Saints
receivers
Marques Colston
and
Robert Meachem
, or
Reggie Wayne
and
Pierre Garcon
of the
Indianapolis Colts
. Given their youth and physical attributes, Meachem (just 11 dropped balls over four seasons) and Garcon would appear to be the best fits. Colston averaged just 3.2 yards after catch in 2011, according to Pro Football Focus. That doesn't necessarily jibe with the explosive passing game the Bears envision in 2012. Wayne, meanwhile, is coming off his first season since 2003 in which he didn't gain 1,000 yards receiving.
According to a source, just Wednesday, seven teams (the Bears weren't one of them) expressed interest in Meachem; a list sure to grow as free agency approaches.
February, 1, 2012
2/01/12
2:55
PM ET
INDIANAPOLIS --
David Carr
has some advice for the
Chicago Bears
: Spend money to sign a proven, veteran No. 2 quarterback in the offseason.
[+] Enlarge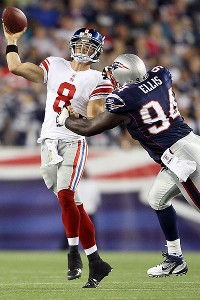 Elsa/Getty ImagesDavid Carr has played in 92 games in a 10-year NFL career, giving the Giants a veteran insurance policy for Eli Manning.
Carr, the former No. 1 overall pick of the 2002 NFL draft by the
Houston Texans
, now spends his days as the primary insurance policy behind quarterback
Eli Manning
in New York. After a 10-year pro career that has also included stops in Carolina and San Francisco, Carr believes he knows what it takes to be a successful second-string quarterback in the NFL: experience and practice reps.
"Look, I started almost 100 games (79), so I know what to expect when I go out on the field," Carr said Wednesday. "[Giants] coach [Tom] Coughlin has always been smart about keeping a veteran guy. Look at the situation the Cowboys got into a couple of years ago.
Jon Kitna
, now maybe his best days athletically were behind him, but it was like his 14th or 15th year. The guy knows what to expect. He's not seeing a defense on a Sunday that he hasn't seen before or already faced at some point in his career. There is a lot of value to veteran quarterbacks. Young guys are great to have, and great to develop, and that's where you find the talent to push on for the next decade. But when you are in a situation like that, it's better to have a guy who has been there before.
"You look at it as an insurance policy. You want to have one that's sound and has been in that situation before. As nice and as fancy as it is to get a strong-armed quarterback who has tremendous upside, there is something to be said for the Jon Kitnas of the world. I think the coaches realize that, I think general managers realize that and they start to see that. Like I said, it's great to have the young guys in there and eventually they can be starters in this league, but in situations like what came up in Chicago, you have to have a guy ready."
Being a reserve quarterback under former Bears offensive coordinator Mike Martz was tricky. Martz worked exclusively with starter
Jay Cutler
, virtually ignoring the other quarterbacks on the roster, until he was forced to watch tape with
Caleb Hanie
after Cutler broke his right thumb in November. Even then, Martz didn't have much time for Hanie outside of one private film session following Hanie's first start against Oakland. Further complicating matters was Martz's philosophy toward backup quarterbacks receiving legitimate practice reps.
Basically, the backup never got meaningful practice reps outside of the bye week. That's a big problem, according to Carr.
"Here as a backup it's a little bit easier just because, most of the time there is a real young guy taking the scout team reps or the defensive look reps, but coach Coughlin gives me every one of them," Carr said. "So I'm taking just as many snaps as Eli. Now, it's not the offense we are really running, but I try to translate it to our terminology. If I see the card, or see the play we are running, I try to switch it over to our language just so guys, who might play, who are in there with me will also get some reps.'
"When I was in San Francisco, I got zero reps all year as a backup quarterback. It's a tough situation, especially when you are asked to go into a game or start a football game when you haven't had a snap in three or four months.
"People can't imagine how hard that is."
Paging Jason Licht:
New England won't make pro personnel director Jason Licht available to the media during Super Bowl week even though Licht was a finalist for the Bears general manager job. Licht was a no-show Tuesday at Super Bowl XLVI media day at Lucas Oil Stadium, then on Wednesday, a Patriots media relations director said Licht will not be made available the entire week.