Chicago Bears:

David Garrard
March, 12, 2012
3/12/12
8:58
AM ET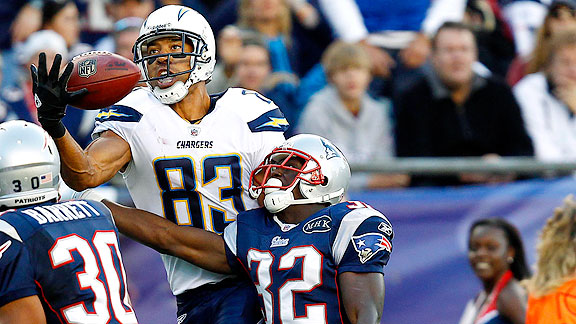 Mark L. Baer/US PresswireVincent Jackson is the big free agent prize among wide receivers. Will the Bears be big players?
Where they stand:
The
Chicago Bears
lead the NFC North in available cap room, sitting on approximately $30 million. But it's important to note that cap room shouldn't be viewed as a blank check; especially when considering the Bears would likely be looking to extend several of their core players with contracts ending in the next couple of years. While upgrades on offense seem most logical of potential Bears moves during free agency, given the need to surround quarterback
Jay Cutler
with more weapons, it's believed that coach Lovie Smith wants to revamp a defense led by four Pro Bowl players -- linebackers
Lance Briggs
and
Brian Urlacher
, cornerback
Charles Tillman
and defensive end
Julius Peppers
-- older than 30.
NEED-METER
[+] Enlarge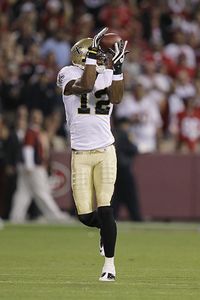 AP Photo/Marcio Jose SanchezMarques Colston is among the second tier of free agent receivers who could be options for the Bears.
Receiver:
10.
To be fair, the position didn't appear as much of an area of need when the team ripped off a 7-3 start. Obviously, Cutler played a significant role in that. Over the first 10 games, Chicago's receiving corps averaged 11 catches per outing. Once Cutler and running back
Matt Forte
suffered injuries that took them out of the lineup, the receivers' production dipped to eight catches per game.
A dominant slot receiver,
Earl Bennett
became the club's go-to option in the passing game with Cutler out of commission. Teams quickly recognized, and adjusted coverage accordingly, leading to Bennett catching one pass or fewer in five of his last six games. Johnny Knox's horrific back injury against the
Seattle Seahawks
further exposed this team's deficiencies at receiver.
So with a major need clearly defined at the position, the question now is how the team proceeds in free agency and the draft.
It's believed the Bears plan on making a run at San Diego receiver
Vincent Jackson
in free agency, and sources have confirmed as much. But if Jackson commands what several agents expect to be a salary in the $12 million-per-season range, it's unlikely new general manager Phil Emery would continue the team's pursuit, based on his stated preference of building through the draft, which signifies he's not a proponent of spending lavishly in free agency.
So surely the team has a few secondary and less-expensive options in mind, such as
New Orleans Saints
receivers
Marques Colston
and
Robert Meachem
, or
Reggie Wayne
and
Pierre Garcon
of the
Indianapolis Colts
. Given their youth and physical attributes, Meachem (just 11 dropped balls over four seasons) and Garcon would appear to be the best fits. Colston averaged just 3.2 yards after catch in 2011, according to Pro Football Focus. That doesn't necessarily jibe with the explosive passing game the Bears envision in 2012. Wayne, meanwhile, is coming off his first season since 2003 in which he didn't gain 1,000 yards receiving.
According to a source, just Wednesday, seven teams (the Bears weren't one of them) expressed interest in Meachem; a list sure to grow as free agency approaches.
March, 7, 2012
3/07/12
3:21
PM ET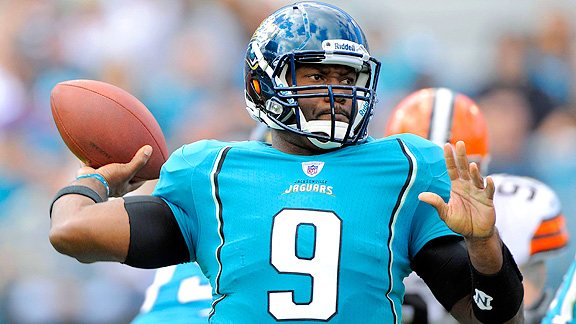 Scott A. Miller/US PresswireDavid Garrard said he'll be fully recovered from surgery by the end of March.
The fervor of the local fan base concerning Chicago's potential pursuit of San Diego Chargers receiver Vincent Jackson hasn't pushed the organization's need to add a capable backup quarterback to the back burner.


That became apparent when news surfaced of the team's plans to set free reserve Caleb Hanie in free agency. Given the team's tight-lipped stance recently regarding potential plans for free agency and the draft, its actions indicate a real desire to upgrade the talent behind starter Jay Cutler.


"I just feel we'll be able to strengthen that position more than we were this past year," Bears coach Lovie Smith said last month at the NFL combine.


That's certainly understandable given Chicago's tumble from 7-3 to 8-8 due largely to Cutler's fractured thumb, which cost the quarterback the final six games of the season, not to mention the Bears a shot at a second-straight appearance in the postseason.


February, 6, 2012
2/06/12
10:17
AM ET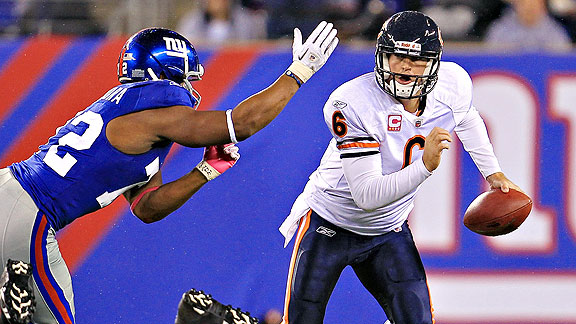 Chris McGrath/Getty ImagesMike Tice's new offense figures to take advantage of Jay Cutler's ability to throw on the run.
This is the first installment of a 10-part series that reviews every Bears position group on offense and defense, while also taking a quick look at potential free agent targets and the top prospects in the upcoming NFL draft.
Jay Cutler
flashed enough development through the first 10 games of the 2011 to merit inclusion into conversations about the NFL's elite at the position. Then he suffered a fractured thumb that forced him to miss the final six contests, ruining what seemed to be a promising season.
If anything, Cutler's injury taught the
Chicago Bears
the value of keeping a capable No. 2 on standby, considering the team lost five of six down the stretch.
With the team set for the future with Cutler at the helm as the starter, the Bears face a couple of interesting dilemmas this offseason with backups such as
Josh McCown
and
Caleb Hanie
set to go into unrestricted free agency.
In addition, new general manager Phil Emery must also determine whether rising second-year player
Nathan Enderle
fits into the offense the team will utilize under new coordinator Mike Tice, while figuring out whether the quarterback possesses enough upside to warrant a roster spot for 2012 as a developmental prospect.
THE CURRENT ROSTER
•
Jay Cutler:
Cutler averaged 229.1 yards passing, which ranks as the third-best single-season mark in franchise history, and his passer rating of 85.7 registered as seventh in franchise annals.
Prior to Cutler's thumb injury, the club ranked sixth in scoring (26.8 points per game), and it seemed the quarterback -- at the time of the injury -- was playing his best football as a Chicago Bear. There's concern about how Cutler will perform in 2012 playing for his third offensive coordinator in four seasons.
But Tice has been clear about his intentions of catering the offense to fit Cutler's talents. So the transition should be smooth. Look for the new offense to feature the ability to audible, in addition to several plays with moving pockets to take advantage of Cutler's mobility.
[+] Enlarge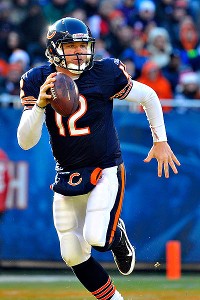 Mike DiNovo/US PresswireFree agent Caleb Hanie would seem to have played his way out of Chicago, but he might be a better fit in Mike Tice's offense.
•
Caleb Hanie:
Following a promising showing in the 2010 NFC title game with a few shaky performances when given the opportunity to start in relief of Cutler. In four starts, Hanie tossed nine interceptions, and finished the season with a passer rating of 41.8.
Those showings, coupled with the fact he's a free agent might mean Hanie won't remain with the team in 2012. But don't be so fast to make that assumption. Hanie wasn't an ideal fit for Mike Martz's offense, but what Tice plans to implement actually caters to what the quarterback does well.
The club likely won't ever trust Hanie again as the No. 2. But there's a small chance he sticks as the third quarterback.
•
Josh McCown:
Played well enough to warrant consideration as the No. 2 behind Cutler in 2012. But the club would be doing itself a disservice if it doesn't bring in competition from outside for the job.
McCown completed 63.6 percent of his passes in the three games he played (two starts), and showed plenty of poise in the pocket as well as an ability to make things happen with his legs when things break down. It's likely the Bears will extend McCown an offer to return, but the club could have some competition from other teams based on the way the quarterback performed late in the season.
•
Nathan Enderle:
Inactive for 14 of the team's 16 games, Enderle never received an opportunity to play even when Hanie struggled to fill in for Cutler because the coaching staff deemed the rookie unready.
For a brief period during training camp, Enderle moved ahead of Hanie on the depth chart. But Enderle didn't develop enough -- because of limited repetitions -- to become a realistic option as a backup.
Handpicked by Martz because he possessed the traits to thrive in that pass-oriented system, Enderle may no longer be considered an ideal fit for what the Bears plan to do with Tice as the offensive coordinator.
Bears free agents:
Hanie, McCown
POTENTIAL FREE AGENT TARGETS
•
Kyle Orton
,
Kansas City Chiefs
, unrestricted
•
Jason Campbell
,
Oakland Raiders
, unrestricted
•
David Garrard
, unrestricted
WHY GARRARD MIGHT MAKE SENSE
Unlike Orton and Campbell, Garrard likely won't be expensive, and he won't enter a new situation looking to win the starting job. Besides that, Tice is familiar with Garrard from their time spent together with the
Jacksonville Jaguars
.
Garrard, 34, has started 76 career games, with a career completion percentage of 61.6 and a passer rating of 85.8. A 10-year veteran, Garrard has thrown just 54 interceptions in 2,281 attempts. Physically, Garrard possesses many of the traits (strong arm, good mobility, and toughness) that would make him an ideal fit for Tice's offense.