Chicago Bears:

Drew Brees
February, 19, 2015
Feb 19
5:35
PM ET
By
Michael Wright
| ESPNChicago.com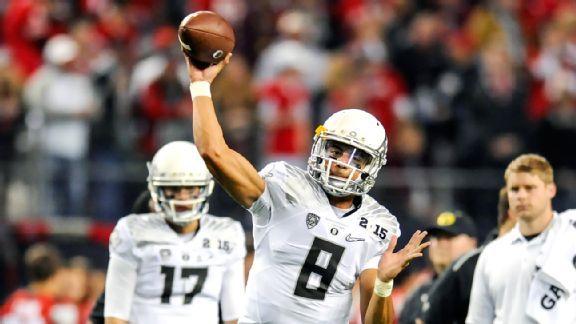 INDIANAPOLIS -- A day after
Chicago Bears
coach John Fox and general manager Ryan Pace danced around any commitment to
Jay Cutler
, the quarterback's potential replacement addressed the media assembled for the combine at Lucas Oil Stadium.
Oregon's
Marcus Mariota
seems a long shot for the Bears, which own the No. 7 overall pick in the draft. But the club's brass left open that possibility Wednesday when asked about the quarterback position. The team also brought in former backup
Josh McCown
for a Wednesday morning breakfast in the restaurant of the team's hotel.
"We're gonna look at all avenues, whether it's free agency, whether it's evaluating and aligning our roster correctly," Fox said when asked about potentially drafting a quarterback. "Obviously [in] the draft because that's where you get young players you can build in your system that can be core guys. All those avenues are going to be things you look at to get better."
But are Fox and Pace being realistic, considering they've got an experienced and talented, yet inconsistent quarterback in Cutler already in the fold? If Mariota tumbled to No. 7 overall, would the Bears seriously ponder making him the team's selection?
That's unclear at this point, but the Bears appear to be leaving open all options.
"That's the hardest position to find, and I recognize that," Pace said. "But that's what we do. That's my challenge and we'll evaluate that.
Having spent considerable time working in New Orleans with
Drew Brees
, one of the NFL's elite signal callers, Pace admitted to being spoiled by strong quarterback play. Pace was asked whether he preferred to draft and develop a quarterback over bringing in an experienced veteran such as McCown.
"I think it can come either way; just getting the best guys at that position," Pace said. "I know [Hall of Fame former Packers GM] Ron Wolf used to draft a quarterback every year. It's such a critical, critical position, that that's something we're always going to look at. And we want competition throughout the entire team. So competition at that position is just as good as competition anywhere. There's different ways. All these quarterbacks, if we went through them all, they all have different personalities; just like we do. I don't think you have to be just like [Brees], and I think it would be wrong for me to be that focused in on that that's the guy it has to be."
That potentially bodes well for Mariota, should he fall out of the top five and into Chicago's range at No. 7. But as the evaluation process intensifies at the combine for Fox and Pace, surely the club's personnel staff is focusing in on finding answers to many of the questions concerning Mariota's potential as a pro.
Mariota excelled in Oregon's high-octane no-huddle attack, and it's logical to ponder whether the quarterback's big numbers in college were manufactured mostly by the system. There are also concerns about Mariota's arm strength.
Mariota admitted to experiencing some awkwardness getting accustomed to huddling again, and he's also working on many of the minor details of a traditional pro-style offense such as three-, five-, and seven-step drops from under center.
Mariota confirmed Thursday he'll throw during Saturday's workouts, and also revealed he's been working closely through the pre-draft process with quarterback specialist Kevin O'Connell, a former third round pick by the
New England Patriots
, who was hired by the
Cleveland Browns
. Mariota has also been working with
San Diego Chargers
quarterback
Philip Rivers
, who told the former Oregon star "to be myself and enjoy this process as much as you can."
"It's nice, but it's all about control," said Mariota when asked about all the speculation concerning where he might be drafted. "People will always talk, there will always be rumors. But for the most part right now in this process for me, I'm trying to be the best player I can be in order to make an impact on whatever team I go to."
January, 9, 2015
Jan 9
2:20
PM ET
LAKE FOREST, Ill. – New
Chicago Bears
general manager Ryan Pace said Friday that he plans to schedule a future meeting with
Jay Cutler
, but he declined to evaluate the quarterback's on-field performance, a resume that includes a league-high 24 turnovers in 2014.
"I just found my office this morning," Pace said. "I have a list. I'm going to meet with him soon. But right now, seriously, I'm really narrowed in on this head coach search right now. I'll have time to talk to Jay. But I don't have a set date."
Cutler
I don't want to comment on specific things about him right now. Evaluating the quarterback is more than just what I see on tape. There are a lot of other things that go into the position. For me to fully that question [about Cutler], I need to get to know him as a person."
Pace is no stranger to the football DNA of great NFL quarterbacks.
The 37-year old talent evaluator spent the last two years (2013-14) in New Orleans as director of player personnel, but he held the title of pro scout in 2006 when the Saints acquired free-agent quarterback
Drew Brees
, who suffered a torn labrum in his right throwing shoulder in the final game of the 2005 season while a member of the
San Diego Chargers
.
Brees went on to rewrite the record books in New Orleans, leading the Saints to the 2009 Super Bowl title.
"The quarterback obviously is a critical, critical position to achieve sustained success, but it's not the only position," Pace said. "For us to have a lot of success all 53 guys are going to be accounted for. I witnessed things with Drew Brees that I have in my mind that I know why he was successful, and those are ingrained in me. I want to get to know Jay. I want to get to know him further before I come to these conclusions."
Pace fondly recalled the Saints' push to land Brees in free agency, and their original trepidation over the quarterback's injured shoulder.
"That seriously was a group effort," Pace said. "I'm not saying that as a generic answer. It really was [a group effort]. We talked about Drew Brees at the time. Obviously, there were some concerns with this shoulder. We had a plan in place to possibly draft a quarterback, and acquire a veteran free agent, if we didn't get Drew Brees. That was our backup plan. We were fortunate to get Drew.
"Once you get to know him, once you interviewed him, you realized that he was coming off a shoulder [injury], but he was going to persevere through that. I remember we joke about our first training camp practice, because Drew didn't throw the entire minicamps or OTAs. So [we're at training camp], and here's Drew's first throw, right? He drops back for a little 5-yard out and he skips [the pass] off the ground. We all look at each other like, 'Oh, man.' But that guy's work ethic, he progressed right through that, and hey, led us to a championship."
October, 3, 2013
10/03/13
3:45
PM ET
LAKE FOREST, Ill. -- More than a decade in the NFL has taught
Chicago Bears
defensive end
Julius Peppers
several certainties. Among them, the truth about playing against quarterbacks such as New Orleans'
Drew Brees
.
"When you play against somebody like a Drew Brees, a
Peyton Manning
, a (Tom) Brady or somebody like that, sometimes you've just got to hope for them to have a bad game," Peppers said, laughing. "That's just where we are right now. We're gonna rush. We're gonna try to affect him in the ways we can. I think we're gonna do a little bit better this week in that area."
Brees
Peppers
If they do, the Bears certainly increase their prospects for winning Sunday at Soldier Field.
The Saints currently average 338.3 net yards per game through the air, which ranks second in the NFL. When Brees eclipses 300 yards passing, the Saints hold a 45-19 record over the quarterback's eight-year career with the Saints. His current streak of nine consecutive 300-yard passing games ties his nine-game tear from 2011 and 2012, which went down as the longest streak in NFL history.
"It's huge what he's been able to do so far this year," defensive end
Corey Wootton
said. "The offense seems so different from last year to this year. They got their coach (Sean Payton) back. Brees has looked great, (tight end)
Jimmy Graham
, (receiver Marques) Colston has looked great. (Running back Darren) Sproles is always a dynamic player. We're going to have our hands full. We have to come out and start fast and rally to the football; something we haven't been doing."
Peppers sees that changing this week somehow. He wouldn't say exactly why but alluded to Chicago's custom under new coach Marc Trestman of working the starters on offense against the No. 1s on defense at practice, and the fact the Bears' offense is similar to what the Saints run.
"A guy like Drew Brees is a guy that knows how to undress a defense," Peppers said. "Most of the time he knows where he's gonna go before he even gets the ball. So he's ready to deliver that ball almost as soon as it comes to his hands."
What enables Brees to do that, according to Bears defensive coordinator Mel Tucker, is his tremendous command of the offense, which Trestman said, makes the quarterback "an expert at everything that they do."
"He's one of the best quarterbacks ever to play this game," Tucker said. "They have answers. He has answers. Their scheme has answers. So we'll do what we have to do to hold these guys to a low number."
It won't be easy. Peppers knows that first hand. Prior to joining the Bears in 2010, Peppers spent the first eight years of his career with the
Carolina Panthers
in the NFC South and faced the Saints twice per year. In eight games against New Orleans, dating to Brees' first season with the Saints (2006), Peppers collected three sacks to help Carolina post a 6-2 record in those contests.
As a Chicago Bear, Peppers faced Brees only once (in 2011), and finished without a sack.
"That's been a long time ago," Peppers said about his twice-yearly matchups against Brees. "That was four or five years ago. So I'm not as familiar with those guys now. But basically, our offense is very similar to theirs. So we do see something (the Bears can capitalize on). We're not them. But practicing against our offense helps gets us prepared."
October, 25, 2012
10/25/12
4:32
PM ET
No NFC North teams appeared on
John Clayton's list of the NFL's 10 worst contracts
, and I really can't come up with an obvious nomination. There are no abominable contracts in this division at the moment, at least none any team entered by choice that will limit its flexibility moving forward.
Some of you might note the five-year, $25 million contract the
Minnesota Vikings
gave tight end
John Carlson
last spring. Carlson has played sparingly (27.2 percent of snaps), caught three passes and is currently sidelined by a concussion. But as
Tom Pelissero of 1500ESPN.com
points out, the Vikings could void his contract after this season (provided he is not still injured) for a modest $4 million cap hit.
[+] Enlarge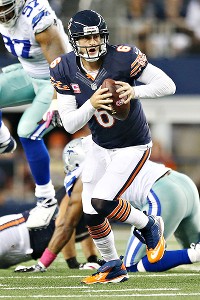 Matthew Emmons/US PresswireJay Cutler's contract is up following the 2013 season.
What Clayton's project did bring to mind is that the NFC North is primed for three monster-truck contracts that will be the types of deals that entire salary caps are structured around. For different reasons, quarterbacks
Jay Cutler
,
Aaron Rodgers
and
Matthew Stafford
are all closer to new contracts than you might have realized.
Cutler's deal with the
Chicago Bears
expires after the 2013 season. He's making $8.2 million this year and is due to make $8.9 million next season. Would the Bears go into 2013 with their franchise quarterback in a free-agent year? It wouldn't be ideal, and if they want to avoid it, they would need to address it this offseason.
We've discussed Rodgers' situation
several times.
He is signed through the 2014 season but has obviously outperformed a deal that will pay him $9.75 million in 2013 and $11 million in 2014. You would assume it's a matter of when, not if, Rodgers gets a new deal. The current benchmark is the five-year, $100 million contract the
New Orleans Saints
gave quarterback
Drew Brees
.
Stafford's situation, meanwhile, is no less urgent even though he is technically signed through 2015. The final year of his deal is voidable and, more importantly, Stafford is due to count $20.320 million against the
Detroit Lions
' 2013 salary cap after two years of renegotiations. The Lions could conceivably deal with a cap number that high, but you wonder if they'll seek an extension in order to lower his cap hit over the next few years. They will have a busy offseason given the pending free agency of seven starters: cornerback
Chris Houston
, safety
Louis Delmas
, linebacker
DeAndre Levy
, defensive tackle
Corey Williams
, right tackle
Gosder Cherilus
, linebacker
Justin Durant
and place-kicker
Jason Hanson
.
Investing in a franchise quarterback is usually a sound policy, but it'll be costly in each instance.
September, 19, 2011
9/19/11
10:21
AM ET
After the Chicago Bears' 30-13 loss Sunday to the New Orleans Saints, here are three issues that merit further examination: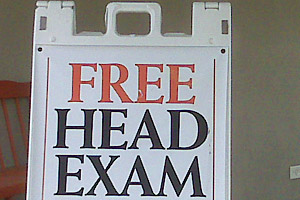 Kevin SeifertFollowing their loss at New Orleans, the Bears take a seat in the examination room.
A series of injuries made it difficult to judge the Bears in several areas Sunday. At the top of the list was the offensive line, where the Bears finished with an entirely different right side. Chris Spencer was at right guard for Lance Louis and Frank Omiyale had replaced right tackle Gabe Carimi, who departed with a knee injury. Five of the Saints' six sacks came in the fourth quarter, and five of them also came when the Saints pinned back their ears and sent at least six pass-rushers. It's hard to come down too hard when a line featuring two injury replacements is overwhelmed by a pass rush that, because of the game situation, can disregard the running game and come after the quarterback.

The Bears' secondary was also in shambles by the final whistle, with both starting safeties on the sideline. Chris Harris (hamstring) was inactive and Major Wright departed because of a concussion, but only after missing a tackle on Devery Henderson's 84-yard touchdown reception. So it's no surprise that the Bears' nickel and dime defense struggled Sunday. Saints quarterback Drew Brees completed 13 of 18 passes for 170 yards and two touchdowns on 19 plays in which the Bears had at least five defensive backs on the field, according to ESPN Stats & Information. But independent of having backup safeties in the game, the Bears also were unable to get much pressure from their defensive line in those situations. Those 19 plays included but one sack.

The Bears were too reliant on tailback Matt Forte. He took 10 of the 11 carries by running backs and was targeted on a team-high 14 of Jay Cutler's 45 passing attempts. He caught 10 for 117 yards. I realize the Saints' pass rush probably had something to do with it, as did the chest injury to receiver Earl Bennett, but the Bears weren't able to get downfield at all Sunday. Receivers Devin Hester and Johnny Knox caught a combined three of the 15 passes Cutler threw in their direction. This season, Forte has touched the ball or been the intended target on nearly 40 percent of the Bears' plays. That's great for Forte, who is seeking a contract extension. But it makes things too easy on opposing defenses.
And here is one issue I still don't get:
I never understood exactly how linebacker Brian Urlacher was expected to erupt for the game of his life Sunday, a day after attending the funeral of his mother. No matter how motivated or emotionally raw Urlacher might have been at kickoff, a middle linebacker can't simply will himself to a rare performance in the way, say, Green Bay Packers quarterback Brett Favre did after his father died in 2003. We've all seen Urlacher have monster games, but anyone in his position needs a confluence of favorable factors to produce a 20-tackle game. It was unrealistic to expect Urlacher to start throwing fellow NFL players around in a made-for-Hollywood storyline.
February, 3, 2011
2/03/11
1:15
PM ET
Response to a report that Chicago Bears quarterback Jay Cutler underwent a painkillingshot for his injured left knee during halftime of the NFC Championship Game was basically a collective shrug of the shoulders by a couple of NFL veterans.
Read the entire story.
January, 7, 2011
1/07/11
7:31
PM ET
The
Seattle Seahawks
and
New Orleans Saints
are potential playoff opponents for the Bears in the second round. Five things to look for in their first-round matchup on Saturday:
[+] Enlarge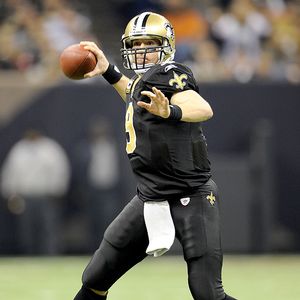 John David Mercer/US PresswireSaints quarterback Drew Brees has been sacked just 25 times this season.
1. Pressure on Brees:
Seattle couldn't get to
Drew Brees
when the teams first met in Week 11, and the quarterback made the Seahawks pay, hitting 29 of 43 for 382 yards and four touchdowns. In fact, not many teams have gotten to Brees, who has been sacked 25 times all season.
With the Saints expected to struggle on the ground, the Seahawks could help themselves by putting heat on Brees, who will be under pressure to distribute the ball through the passing game. Part of the difficulty in sacking Brees is his quick release, but the Seahawks' defensive line may be able to offset that by getting their hands up on the rush. Remember, Brees is just 6-feet tall, which means Seattle has a shot at batting down passes or tipping them to cause potential interceptions.
If they can't, look for Brees to pick apart Seattle's secondary with his large array of weapons.
2. Can Bush and Jones handle the load?:
Saints running back
Chris Ivory
gained 99 yards against the Seahawks when the teams met in Week 11, but the club recently placed him on the injured reserve, along with
Pierre Thomas
, the top backup option.
That means the Seahawks should see plenty of injury-prone
Reggie Bush
and
Julius Jones
. Are they capable of generating enough production in the rushing to take pressure off Brees and the passing game? Seattle knows that despite the Saints' depleted backfield, as long as they have Brees, the Saints can win.
But if Bush and Jones can't produce, look for the Saints' offense to sputter.
3. Hasselbeck's experience:
Making his 10th -- that's right -- 10th start in the postseason,
Matt Hasselbeck
has proven (in the regular season, and playoffs) he can defeat a unit led by Saints defensive coordinator Gregg Williams. But the question is whether anything remains in the tank for Hasselbeck, who skewered the Saints for 366 yards and a touchdown in a Week 11 loss.
Hasselbeck hasn't duplicated his performance from that Saints game, surrendering 13 turnovers in his next four outings, before he being benched against Atlanta, then suffering a strained hip the next week against Tampa Bay. So if Hasselbeck can call upon his vast playoff experience and eliminate the turnovers, the Seahawks might have a shot at pulling off the upset.
4. The Qwest Field crowd:
Similar to the Bears' use of the "4th Phase" moniker, Seattle calls its crowd the "12th man."
The Seahawks' fans definitely live up to the nickname.
Qwest Field is often referred to as the loudest outdoor stadium in the league. In the last six years, visiting teams have been flagged 104 times for false-start penalties, the most for any stadium in that period, and decibel readings there have reportedly been recorded as high as 115, which is the equivalent of a rock concert.
Given the intricate nature of New Orleans' offense, crowd noise can play a major role in disrupting audibles and protection calls made at the line of scrimmage.
It's also worth mentioning here that the Saints have never won a road playoff game.
5. How the Saints attack the middle:
There's a good chance the Seahawks take a conservative approach to covering New Orleans in the secondary in an attempt to eliminate big plays. But that shouldn't slow down the Saints because they'll just lean on intermediate routes, which are the bulk of the offense anyway.
Brees will have to be patient and settle for underneath throws to the slot receivers, tight ends -- such as
Jeremy Shockey
-- and running backs with the Seahawks playing so conservatively. But will he?
The fact is Brees has thrown more interceptions this season (22) than ever in his career. So the Seahawks are banking on the quarterback possibly making mistakes, which is precisely why they'll force Brees to dink and dunk.
February, 7, 2010
2/07/10
10:40
PM ET
MIAMI -- Sitting on a bus in bumper-to-bumper traffic trying to leave Sun Life Stadium has afforded me the opportunity to jot down a few final thoughts:
It's amazing how a short quarterback like Drew Brees can stand in the pocket and survey the entire field. Both Brees and Peyton Manning showed, for the most part, exactly how a quarterback is supposed to go through his reads and check down on certain plays. Even though Manning's late game interception was inexcusable, that 27-yard throw he made to Dallas Clark in the third quarter was incredible.
I still want Colts safety Antoine Bethea on the Chicago Bears next year. Too bad he'll be a restricted free agent if 2010 is played without a salary cap.
Saints running back Pierre Thomas was the most impressive person I interviewed this week. I had no idea he was so charismatic off the field. On the field, he's quickly developing into an upper echelon running back, and it's sad Ron Turner's pleas for the Bears to sign Thomas back in 2007 fell on deaf ears at Halas Hall.
For my money, there is not a single more exciting moment in sports than the opening kickoff of the Super Bowl. I've been lucky enough to cover the last six, and I get chills every single year when all those flashes go off around the stadium.
The crowd was dead when The Who performed at halftime. Maybe it's time the NFL went back to scheduling current acts for their Super Bowl halftime show. I nominate Lil' Wayne and Lady Gaga for 2011, but seeing that the game will be played in Dallas, I have a hunch it'll be a well-known country music performer.
February, 7, 2010
2/07/10
10:20
PM ET
MIAMI -- Super Bowl MVP
Drew Brees
put on a clinic.
That's the best way to describe the
New Orleans Saints
quarterback's performance in the biggest game of his career. Brees completed a remarkable 32 of 39 pass attempts for 288 yards and two touchdowns. But maybe just as important, he never turned the ball over.
"We knew that would be a key statistic coming into the game," Brees said. "We knew we had to win the turnover battle, take care of the football, and convert of third downs and score some touchdowns."
New Orleans also took some chances in their 31-17 win over the
Indianapolis Colts
, the biggest being an outside kick to start the second half.
"That's the type of team we are," Brees said. "We play with a very aggressive mentality and a lot of confidence. We came into this game knowing we had to play loose and take a chance in order to win."
February, 4, 2010
2/04/10
1:01
PM ET
FT. LAUDERDALE, Fla. -- A different challenge faces the
Indianapolis Colts
' defense in this South Florida Super Bowl.
"The Bears, they had
Thomas Jones
and
Cedric Benson
that were running the ball," Colts safety
Antoine Bethea
said. "This week, this time, we have to prepare for
Drew Brees
and that passing sector that they have. Not to disregard the running back that they have [
Matt Forte
], they do have a great running game. They've got real good balance. It's going to be a good chance for our defense and no better showcase to see it rather than in the Super Bowl."
The Colts benefited from five Bears turnovers back in Super Bowl XLI, as
Rex Grossman
threw for just 165 yards and a pair of interceptions. Something tells me Brees will be a little more efficient than Grossman was three years ago.