Chicago Bears:

Ezekiel Ansah
September, 25, 2013
9/25/13
3:40
PM ET
LAKE FOREST, Ill. -- The
Chicago Bears
' Week 3 Sunday night road win in Pittsburgh was on
Kyle Long
's thoughts until approximately 6 a.m. on Monday. That's when Long finally went to sleep after the rookie decided to stay up and watch a saved television copy of the Steelers game, despite not returning home until 3:30 a.m. following the team's postgame flight back to Chicago.
In the NFL, teams are required to move on from a victory or a defeat at lightning speed, and for Long and the rest of the Bears' offense linemen, that means getting a jump start on their next opponent: the
Detroit Lions
.
Long said Tuesday night on ESPN 1000's "Football Night in Chicago" he began the process of breaking down film on Detroit's talent defensive tackle duo of
Ndamukong Suh
and
Nick Fairley
since early in the week to get a jump start on the process.
"I've been doing some early preparations," Long said. "I've been trying to sharpen my mental sword I guess you could say. I've been just trying to pick up some tendencies that I can use against their defense, hopefully.
"Suh is just relentless. He is a relentless football player. He is somebody that is just going to always keep coming and give you his best. He's got that kind of presence where you're like, 'I can't take a play off.' If you do, he will expose you."
The upcoming battle between Long and Suh could be especially physical on Sunday since both players are known for their strength and nasty on-the-field demeanor. Although Long has yet to cross the line after the whistle the way Suh has throughout his three-plus years in the league. Suh is without a sack through the first three games of 2013, but his 8.0 sacks last year was the second-highest total of any defensive tackle. Fairley is second on the Lions defense with 1.5 sacks, behind rookie defensive end
Ezekiel Ansah
(2.5).
"What people can't see through all the time with all the media scrutiny is truly how great of a player Suh is and how great of a player Fairley is and the devastation those two guys can impose on an offense," Long said.
April, 29, 2013
4/29/13
8:37
AM ET
Reading
Mel Kiper Jr.'s grades

the morning after the draft is like a holiday tradition. No matter how much we all understand intuitively that it's impossible to project future success, we still want to know what the man who has spent three decades evaluating draft classes thinks of our favorite team's efforts.
You'll need an Insider subscription to read the entire evaluation, but below is what I can sneak to you if you don't tell anyone:
Green Bay Packers
Mel's grade:
B+

Kiper Jr. snippet:
" I love what Green Bay got out of this draft, particularly at two spots -- defensive end and running back."
Seifert comment:
The Packers really went after the running back position, drafting two backs --
Eddie Lacy
and
Johnathan Franklin
-- that many teams pegged as feature backs on their own. Franklin also hedges concerns about Lacy's durability. The Packers can feel confident that at least one of them will make an impact on 2013. Defensive end
Datone Jones
is a different-looking player than what the Packers currently have at the position, and fits into the league's trend toward longer and leaner even for 3-4 ends.
Minnesota Vikings
Mel's grade:
B

Kiper Jr. snippet:
"Hey, they got starters, but they needed to add impact in this draft considering they dealt
[Percy] Harvin
and had a few pretty big needs."
Seifert comment:
A good portion of evaluating this draft will come down to whether receiver
Cordarrelle Patterson
pans out. The Vikings gave up their chance to draft a starting-caliber middle linebacker, among other things, by trading back up into the first round to draft him. The Harvin trade was a big motivator. Kiper really thought the Vikings needed to get linebacker
Manti Te'o
; I just thought they needed someone at that position. Seventh-round draft pick
Michael Mauti
could be a factor if he can recover from a third torn ACL. Regardless, three first-round draft choices give the Vikings a good chance at a high-impact draft.
Detroit Lions
Mel's grade:
B

Kiper Jr. snippet:
"The pivot point for how we see this draft in three years will be
[Ezekiel] Ansah
. If he's great, then it looks good. If he's not, and
Dee Milliner
thrives with the Jets, fans will wonder."
Seifert comment:
It would be disappointing if the Lions didn't get at least two functional starters out of their first three picks. It doesn't matter who is on the field for the first play of the game, but you would like to see Ansah get as many snaps as he can for development purposes. Cornerback
Darius Slay
should compete with
Bill Bentley
to start opposite
Chris Houston
and, at worst, play in nickel situations that comprise more than half of most team's defensive snaps. And third-round guard
Larry Warford
should push hard for the right guard spot.
Chicago Bears
Mel's grade:
C+

Kiper Jr. snippet:
"My issue with
[Kyle] Long
isn't that he's short on talent -- he's not. I just wasn't in love with the value."
Seifert comment:
We'll never know if the Bears would have been better off trading down to grab Long later or waiting until the second round. Kiper Jr. didn't like the decision and thought tight end
Tyler Eifert
would have been a better choice. I'm stuck here, because we all know how much help the Bears' offensive line needs. Solidifying an interior spot, if that's what Long does, will help quarterback
Jay Cutler
in a measureable way. That's no different in the big picture than what Eifert could do. We all can agree, however, that the Bears upgraded their linebacker depth significantly with
Jon Bostic
and
Khaseem Greene
.
Related:
For fun, here are Kiper Jr.s NFC North grades for the
2010
,
2011
and
2012
drafts.
April, 27, 2013
4/27/13
7:01
PM ET
»
NFC draft analysis
:
East
|
West
|
North
|
South
»
AFC
:
East
|
West
|
North
|
South
How top-heavy was the 2013 draft in the NFC North? We welcomed more players in the first round (six) than in the second and third rounds combined (four), the result of two big trades.
With the 2013 affair basically in the books, let's take a closer look at its highs and lows. So much happened that we might not get to the relatively rare occurrence of
two punters
being drafted
.
Onward:
BEST MOVE
The
Green Bay Packers
have gone 43 games without a 100-yard rusher, the longest active streak in the NFL by more than twice. Their running backs have combined for 12 rushing touchdowns over the past three seasons, the fewest in the NFL, and their average of 3.8 yards per rush over that span is tied for last in the league.
After years of subordinating this segment of their roster, the Packers reacted aggressively in 2013. They drafted not one but two of the top running backs available. Alabama's
Eddie Lacy
came
in the second round
(No. 61 overall), and UCLA's
Johnathan Franklin
came
in the fourth round
(No. 125 overall).
The relative flurry came at a time when the rest of the league appeared to have devalued the position. It was the first time in the history of the modern draft that zero running backs were selected in the first round. Perhaps the timing was coincidence, but if general manager Ted Thompson intended to capitalize on depressed prices to load up, it was a brilliant thought.
Thompson and the Packers had been trying to patch together the position ever since
Ryan Grant
broke his ankle in Week 1 of the 2010 season. It was time to find a more permanent solution, and Lacy and Franklin give them the personnel infusion they needed.
Runner-up: Like the Packers, the
Chicago Bears
finally attacked an area of need. They used two of their first three selections in what was originally a five-pick draft on high-end linebackers who actually project as starters rather than special-teams contributors. Second-rounder
Jonathan Bostic
could be
the Bears' middle linebacker as early as this season
, and fourth-rounder
Khaseem Greene
was
one of the best defensive playmakers
in college football last season.
RISKIEST MOVE
The
Minnesota Vikings
used
four draft picks to move back into the first round
and select Tennessee receiver
Cordarrelle Patterson
, taking on risk in two forms.
First, Patterson is a boom-or-bust prospect who spent only one year playing at the Division I level. He has the physical tools to be an exceptional player but has more development ahead of him than most first-round picks. Here's how
ESPN analyst Todd McShay
put it before the draft: "He scares me coming out of Tennessee, but I see the talent. … Patterson, with the ball in his hands, is just freakish, and even though he disappears for 30-40 plays [per game], he'll show up with one or two big plays a game that just kind of blow your mind and leave you wanting more."
At the very least, Patterson will need to be guided through the early part of his career. The Vikings hope to start him off as a kickoff returner and work him into their offense slowly. Expecting him to jump into the starting lineup alongside
Greg Jennings
for a full 70 plays per game is probably unrealistic.
Second, the trade left the Vikings unable to fill one of their most pressing needs: middle linebacker. Giving up picks in the second and third rounds left them watching as more than a half-dozen middle linebackers were drafted. The Vikings gave up the opportunity to fill that job on a long-term basis by jumping to draft a receiver who generated plenty of divergent viewpoints during the pre-draft evaluation process.
Runner-up: The
Detroit Lions
used the No. 5 overall pick on a pass-rusher who had 4.5 sacks in his college career. BYU defensive end
Ezekiel Ansah
has all the physical tools to be a dominant pass-rusher, but his learning curve is steep and his potential for immediate impact is at least worth questioning.
MOST SURPRISING MOVE
[+] Enlarge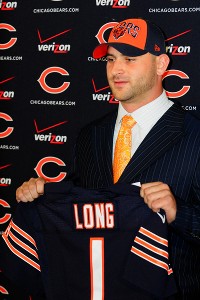 Reid Compton/USA TODAY SportsThe Bears were willing to overlook offensive lineman Kyle Long's inexperience because of his extraordinary athleticism for a man his size.
You would have been hard-pressed to find a mock draft that projected Oregon guard
Kyle Long
as a first-round pick. In
a seven-round mock
performed last week, Scouts Inc. suggested he would go No. 47 overall. And even that was based on Long's overwhelmingly positive athletic attributes rather than evaluation of his limited play at Oregon.
The Bears produced
arguably the surprise of the draft
by selecting Long at No. 20 overall, a time when even the most polished guards are rarely taken historically. But the Bears were blown away by Long's agility for his 6-foot-6 frame and were willing to overlook a one-season, four-start career at the Division I college level.
There is no doubt the Bears needed help on their offensive line, but you could have a spirited philosophical argument over the draft value of a raw, inexperienced guard. Even if the Bears are right about Long -- that his athleticism will make him a long-term starter -- it's fair to question whether they needed to take him in the first round. Did another team covet the draft's third-best guard enough to take him between picks 21 and 50, where the Bears were situated in the second round? One explanation: The Bears, with only five total picks in the draft at that point, thought it would be too difficult to trade up in the second round assuming Long got out of the first. I'm not going to say it was the wrong choice, but it sure was surprising.
FILE IT AWAY
The Lions bolstered their pass defense at the expense of some other positions of need. You can't have it all, and the Lions made some clear decisions.
On the plus side, they used three of their first four choices on Ansah, cornerback
Darius Slay
and defensive end
Devin Taylor
. Ansah (6-foot-5 with 35 1/8-inch arms) and Taylor (6-7 with 36-inch arms) will provide incredible length and a new look to the Lions' outside pass rush. Slay, meanwhile, has elite speed (4.36 seconds in the 40-yard dash).
That focus left the Lions less able to surround quarterback
Matthew Stafford
with additional weapons and protection. The Lions didn't draft an offensive tackle after the departure of both 2012 starters, and they didn't get around to selecting a receiver until grabbing Virginia Tech's
Corey Fuller
with the third pick of the sixth round (No. 171 overall).
(The Lions did draft guard
Larry Warford
in the third round.)
From a roster-balance perspective, it made sense for the Lions to focus on pass defense -- long a weakness -- rather than their passing offense. But the Lions still finished the draft with less depth at receiver and offensive tackle than they would have liked. Life is a trade-off, after all.
March, 12, 2013
3/12/13
12:31
PM ET
Amid the unpredictability of NFL free agency we have at least one paragon of stability:
ESPN analyst Mel Kiper Jr.'s latest mock draft

. It is an Insider piece, of course, but I thought I would sneak you his choices for NFC North teams before they could be outdated by free-agent activity.
5. Detroit Lions
Kiper pick:
BYU defensive end
Ezekiel Ansah
Seifert comment:
This pick has been gaining media steam but leaves unanswered the question of whether Ansah could excel right away. The Lions have said they need an immediate contributor with this pick.
20. Chicago Bears
Kiper pick:
Alabama offensive lineman
D.J. Fluker
Seifert comment:
This pick would make sense on many levels but might not be necessary depending on what the Bears do in free agency. Because he is projected as a right tackle, Fluker figures to be available at this point in the first round.
23. Minnesota Vikings
Kiper pick:
Cal receiver
Keenan Allen
Seifert comment:
The receiver position will be a big need for the Vikings even after free agency. They've cleaned house and need a total rebuild with a combination of veterans and rookies. Allen is big enough (6-foot-2) to be a legitimate downfield threat.
25. Vikings
Kiper pick:
North Carolina defensive tackle
Sylvester Williams
Seifert comment:
The Vikings added this pick in exchange for
Percy Harvin
. One way or the other, they'll need to add some youth to a defensive line that includes three starters who are at least 30 years old.
26. Green Bay Packers
Kiper pick:
Alabama running back
Eddie Lacy
Seifert comment:
Are the Packers really ready to spend a first-round draft pick on a running back? Media analysts seem to think so. It would be a departure from general manager Ted Thompson's recent history, for sure.