Chicago Bears:

Illinois Fighting Illini
April, 20, 2012
4/20/12
4:55
PM ET
Chicago's King High School has always been touted for its basketball history.
[+] Enlarge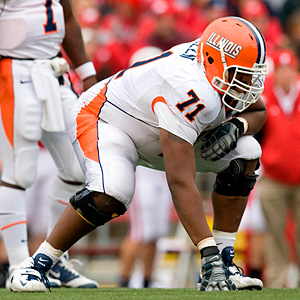 Jeff Hanisch/US PresswireIllinois' Jeff Allen is projected to be selected in the second round of the NFL draft by Mel Kiper.
From Marcus Liberty to Rashard Griffith to Leon Smith to Thomas Hamilton to Jamie Brandon to Imari Sawyer, the list of basketball stars to come through the Chicago South Side school has been plentiful.
King's football program is a different story. It isn't nearly as known, but
Jeff Allen
plans to change that.
Allen, who graduated from King in 2008 and started four years on the offensive line at Illinois, is expected to be selected somewhere in the opening rounds of the NFL draft next week.
"We have had some decent players from our high school program go onto college," Allen said of King. "We just haven't had any great players. That would be an honor for me. We've had some great players throughout time, but they obviously played basketball. To be included in the same sentence with them would be an honor."
Always one of the bigger kids growing up, Allen gravitated toward football at an early age. His dreams of the NFL started not too long after he began playing when he was 9 years old.
February, 26, 2011
2/26/11
2:31
PM ET
INDIANAPOLIS -- We focused quite a bit Thursday on the Bears after news of coach Lovie Smith's extension broke, with general manager Jerry Angelo holding court in his hotel room just a couple of hours later.
So today, let's focus a bit more on some of the local prospects working out here at the NFL Combine at Lucas Oil Stadium.
We spoke with former Illinois linebacker Mikel Leshoure, a second-team all-American selection who rushed for a single-season school record 1,697 yards and 17 touchdowns, and was named Texas Bowl MVP after pounding Texas Tech for 187 yards and three TDs.
Here's what Leshoure, a potential first-day pick, said during his time with the media at the combine.
Did you come in weighing less than your playing weight from the season?
Mikel Leshoure:I actually did. I had about six weeks of training down in McKinney, Texas, with Michael Johnson Performance. I came in about 230 and I weighed in today about 227 (Leshoure's playing weight was 230 pounds).
Can less weight help with your time in the 40-yard dash?
[+] Enlarge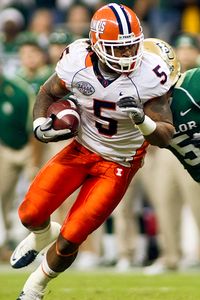 John Korduner / Icon SMIMikel Leshoure hopes to be the next Illinois running back to move on to NFL success.
ML:
I think it just makes my agility a lot better. My quickness a lot better and my stamina. My best time running at MJP was 4.57 and that was the third week of training. I definitely think those numbers could be better Sunday.
Former Illinois running backs Pierre Thomas and Rashard Mendenhall have gone on to become successful in the NFL. Does their success give you hope about your potential NFL career?

ML: Definitely. I don't think it's any added pressure or anything like that to me. I feel like if I continue to do what I'm doing, and what I have done at the collegiate level, I'll be just fine. But for those guys to have the success that they did at the NFL is a plus to Illinois football, and the running backs that came out of there.
Do you think the scouts will take those guys into account when evaluating you?

ML: I think it will help; the running backs that have come out of Illinois and what they've done so far.
You rushed for a school-record 330 yards and two touchdowns against Northwestern at Wrigley Field. Was that the game that helped solidify your decision to declare for the draft early?
ML: I would say just that game, but overall I felt like I exceeded my expectations for the season as far as my stats and, also my team goals. One of my goals was to make it to a bowl game and win. I feel like I did that and I was blessed to get MVP of the game. And as a running back, the time's running. You've got to go when the iron's hot, and I felt like this was the best time for me.
Have the Bears or Packers shown interest in you?

ML: I haven't gotten any special attention from those two teams or any one-on-one visits with those guys, just the meetings that we had with the 32 teams yesterday. That was about it.
Would you say you're a complete running back?

ML: I definitely feel like I'm a complete back. I feel like I can run, I can pass-block and I'm very confident with my hands, not only the short 5- and 10-yard routes, but I feel like I can beat some of the safeties and linebackers downfield. So me personally, I feel like I'm a complete back.
Do you think you can be the first back taken in April?
ML: Yes, I definitely think I can be the No. 1 back taken. That's my goal. Everyone has their own opinion. You hear a lot of different stuff and see a lot of different things on T.V. But with my versatility and the things I can bring to the table, it will show a lot of scouts and GMs that I can be their guy.
Would you rather juke a guy or run him over?
ML: It depends on how that guy's looking. You can look in his eyes and that will tell you a lot. I feel like I can do either one of those, and that's what makes me a different back. One of those guys might just have the quickness and can move, and another guy might have the power that can run him over. But I feel like I have a little bit of both.
Are you a smack talker?

ML: I've never been a smack talker. I do like to celebrate a little in the end zone and with my teammates, but I'm not the type of guy that goes out on the field and talks a lot of smack.
With character being such an issue with teams these days, how will you address questions about your character with these teams in interviews?

ML: I feel like I've grown as man from my first year to my junior year. I made some mistakes earlier in my collegiate career, but if you were to go act and talk to any of the coaches, from the strength and conditioning coach to the head coach about me, they'll tell you that I'm mature for my age and I've learned a lot from my mistakes. I'm a guy that they can count on and I'll be there for my team or my coaches.
Can you tell us a little more about the game against Northwestern?
ML: It was a good game. That game we had something to prove. Our coach [Ron Zook] came in that Monday of practice and told us a little quote that was said by the head coach [Pat Fitzgerald] of Northwestern. He called some of our guys a bunch of thugs and all of us would've gone to their school, but weren't academically eligible to do so. That fired us up. You could look in my guys' eyes, my teammates before that game started and you could tell that we all wanted it. We proved it that game.
You had some adversity growing up. Could you tell us about that?

ML: Growing up, I grew up without my father for about 16, 17 years of my life. It was just me and my mother [Jacqueline Jones]. I'm an only child, so it was just me and her. I learned a lot from that. I learned from an early age that I have to be the man of the house and take care of my mother and myself, and it taught me a lot of responsibility. It made me the man I am today.
So this has to be an exciting time for you and your mother, right?
ML: Definitely. It's been a dream of mine since I was a little boy. If you talk to my mom, she'll tell you that when I was little, I used to walk around with a Nerf football. So to finally get an opportunity at the biggest stage in football, it's a blessing and I just want to take advantage of it and work hard.
Why did you choose Illinois out of high school?
ML: I definitely had other options as far as which schools I wanted to go to. Unfortunately, I didn't take any other official visits, which I wish I would've done. It may have changed my decision. But I was happy with the decision I made. I was happy with my teammates, with the coaching staff. If I could go back and do it again, I would do everything the same.
Are there any running backs in the NFL you like right now in terms of rushing style?

ML: [Rams running back] Steven Jackson. I love the way he plays. He reminds me of myself. He's a big guy, but he's very versatile. He shows good hands and he shows toughness. He plays through injuries, and I feel like I can do all of those things.
February, 26, 2011
2/26/11
11:49
AM ET
INDIANAPOLIS -- For a program short on consistency, the University of Illinois has churned out an impressive amount of NFL talent the past couple of seasons.
Three Illini products have been selected in the top two rounds in the last three years: RB Rashard Mendenhall (No. 23) to the Steelers in 2008, CB Vontae Davis (No. 25) to the Miami Dolphins in 2009 and WR Arrelious Benn (No. 39) to the Tampa Bay Buccaneers in 2010.
This year, even though Illinois finished 7-6, three members of the team could come off the board in the first round alone.
That list includes: defensive tackle Corey Liuget, running back Mikel Leshoure and linebacker Martez Wilson.
All three are underclassmen.
Liuget displayed excellent productivity from his interior line position, and recorded 12.5 tackles for a loss and 4.5 sacks his final year in Champaign. The defensive tackle had a banner performance in Illinois' 38-14 win over Baylor in the Texas Bowl, registering 5 tackles, 2.5 tackles for a loss and a sack.
Leshoure was a second team All-American selection who broke the Illinois single-season record with 1,697 rushing yards and 17 touchdowns. He ran for 187 yards and three touchdowns in the Texas Bowl and was named the games MVP.
Wilson, an athletic inside linebacker, may have the lowest draft stock of the three, but he was selected first team All-Big Ten in 2010 and led the Illini defense with 112 tackles.