November, 28, 2012
11/28/12
1:31
PM ET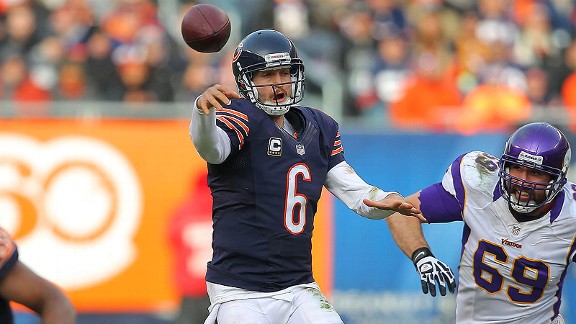 Dennis Wierzbicki/US PresswireDoes Chicago Bears quarterback Jay Cutler have a case for being in the MVP conversation? The numbers don't necessarily back it up.
The
Chicago Bears
have a 13-2 record in
Jay Cutler
's past 15 starts.
They have a 1-6 record in the games he has missed during that time.
That has to make Cutler a prime candidate for MVP Watch, right? His presence must mean everything for the Bears. We all know quarterbacks are usually the most important players on their teams. And we've all heard about what a gunslinger Cutler can be with that strong arm and defiant nature.
"MVP! MVP! MVP!"
Now comes the hard part: proving Cutler is indeed such a key player for the Bears.
Let's take a closer look at the Bears' 1-6 record without him.
That record includes a defeat at San Francisco this season. Cutler wasn't going to stop
Aldon Smith
from getting 5.5 sacks. He wasn't going to stop
Colin Kaepernick
from lighting up the Bears' defense. He wasn't going to win a game the Bears lost 32-7 without him.
Cutler missed the final six games last season, five of them losses. Running back
Matt Forte
missed the final three-plus games. Having Cutler available probably would have enabled the Bears to finish better, but Chicago wasn't going to win at its usual clip without Forte. Lots of starting quarterbacks improve their teams' chances for winning relative to what a backup would provide. That doesn't make them MVP candidates.
The one game Chicago won without Cutler during the 1-6 stretch in question came during Week 17 last season, against Minnesota. The Bears picked off three passes from Joe Webb and Christian Ponder, returning one for a touchdown.
In 2010, the Bears won the lone game Cutler missed, defeating a horrendous Carolina team on its way to winning the
Cam Newton
sweepstakes. Bears backup
Todd Collins
threw four picks in that game. Forte carried 22 times for 166 yards. The Bears won 23-6.
Doesn't exactly enhance those MVP credentials for Cutler, does it?
Neither do the stats.
Cutler ranks 20th in Total QBR at 50.4 this season; 50 is average.
Tom Brady
is in the low 80s. Pro Bowl-caliber quarterbacks usually score in the mid-60s or higher. Cutler ranks a distant third
among NFC North quarterbacks
by this measure. He isn't all that far ahead of Minnesota's
Christian Ponder
(47.7).
Cutler ranks 26th in NFL passer rating at 81.1, which is below the 86.9 figure covering every pass thrown in the league this season. He has 13 touchdowns and 11 interceptions.
But Cutler comes through in the clutch, right? Yes and no.
Cutler has a 92.9 QBR score (out of 100) on 16 fourth-quarter plays when the score was within eight points. That ranks second to MVP Watch leader
Peyton Manning
and right ahead of St. Louis'
Sam Bradford
. That's fine, but all 16 of those plays were against the Rams and Panthers. Cutler completed 10 of 14 passes with no touchdowns. He also rushed twice for 20 yards in those situations.
To further explore the clutch theory, I filtered ESPN's charting database for higher-leverage situations, defined as those when play results have above-average impact on win probability.
It's a more complicated way to measure what the vernacular calls clutch situations, but the math is sound. Ten years of charting information says teams are either more or less likely to win based on the results for each play. Some situations are more pivotal than others.
Cutler's QBR score falls to 44.4 with two touchdowns, five picks and 14 sacks in higher-leverage situations, meaning situations when the stakes were above average. That compares to a 63.3 QBR score with four touchdowns, one pick and nine sacks in lower-leverage situations.
Overall, Cutler has three touchdowns, six picks and a 47.0 QBR score in one-score games, defined as those when the margin is within eight points.
Perhaps someone else can build the MVP case for Cutler. I'd like to hear it.
November, 12, 2012
11/12/12
12:53
AM ET
[+] Enlarge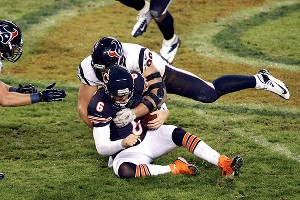 Brian Cassella/Getty Images Texans defensive end J.J. Watt wraps up Bears quarterback Jay Cutler, one of his two tackles on the night.
CHICAGO --
Chicago Bears
offensive tackle
Gabe Carimi
had little to say about his former
Wisconsin
teammate
Houston Texans
defensive end
J.J. Watt
after the Texans' 13-6 win on Sunday.
Carimi admitted earlier in the week he and Watt weren't friends in school, and they had their share of battles. So when Carimi talked about Watt and his performance on Sunday, he simply stated Watt's statistics.
"I think he had one tackle the whole game," Carimi said.
It was actually two tackles, but you get the point. Watt had entered the game with an NFL-best 10.5 sacks, and Carimi and the Bears offensive line made him a non-factor for most of the game. Sunday was the second time Watt was held without a sack this year.
November, 9, 2012
11/09/12
1:15
PM ET
Wednesday morning, the
Chicago Bears
offense sat down to watch film of the
Houston Texans
' active and swarming defense. One of the games they watched was a Week 6 affair in which the Texans took their standard approach -- press coverage with a single-high safety -- and were torched by
Green Bay Packers
quarterback
Aaron Rodgers
for six touchdown passes and a total of eight explosive throws that traveled at least 16 yards.
Like the Packers, the Bears have the personnel to exploit single-high safety looks.
[+] Enlarge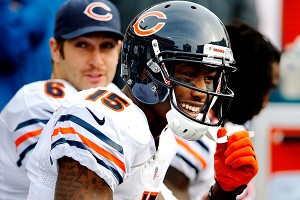 AP Photo/Joe HowellThe Bears have the personnel to exploit the single-high safety look the Texans will give them.
So for me, there are two questions that must be answered as the Bears and Texans prepare for Sunday night's showdown:
Will the Texans give the Bears the same look?

If so, will the Bears protect quarterback Jay Cutler enough to capitalize?
Texans defensive coordinator Wade Phillips
told reporters
-- jokingly, I assume -- that the Texans will double-team receiver
Brandon Marshall
on every play. Phillips made the convincing argument that the Bears "haven't thrown it to the other guys very much except the running back," but if form holds, Marshall will get more opportunities than he might ordinarily to make big plays downfield early in this game.
"We've been pretty good against single-high teams," offensive coordinator Mike Tice said this week. Added Marshall: "I'm going to get some single coverage."
As we noted earlier this week,
five of Marshall's seven touchdowns this season have come with the Bears leading by at least 17 points. Facing a deficit, opposing defenses have assumed the Bears would run to eat time off the clock and are bringing one of their safeties close to the line of scrimmage. That leaves the other safety in a "single-high" look that limits the attention paid to Marshall.
If the Texans open the game that way, the Bears could be in business if Cutler has enough time to throw. That's a big "if," of course, and not just because Cutler has been sacked 28 times this season. The Texans have arguably the NFL's best pass defense, allowing a league-low 17.4 QBR to opposing quarterbacks. Their standard four-man pass rush is averaging one sack per 11.7 dropbacks, the second-highest total in the NFL, and defensive lineman
J.J. Watt
has 10.5 sacks and nine tipped passes on his own.
With this game now two days away, I feel comfortable spending more time focusing on the Bears' offense than the rest of their team. Way back in training camp, as we noted, the Bears' confidence this season was based not just on their defense or special teams, but that they would finally have an offense to match those two long-running elite groups.
The Bears have started 7-1 without the strength of a consistently high-performing offense, but they are about to hit a stretch of games -- beginning Sunday night -- that will require the offense to be better. If the Texans play their single-high safety look, and the Bears protect Cutler, the offense has a great chance to do its part.
November, 8, 2012
11/08/12
2:58
PM ET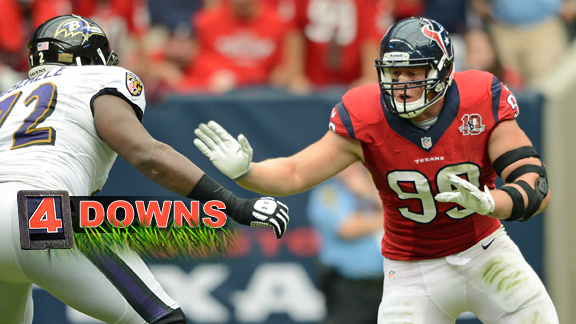 AP Photos/David DrapkinTexans defensive tackle J.J. Watt leads the NFL with 10.5 sacks this season.
The 7-1
Houston Texans
come to town for a Sunday night showdown in prime time, giving the
Chicago Bears
a chance to notch by far their most impressive win so far.
The combined record of their opponents through eight games is 24-33, and they have faced just one team (Cowboys at 2-1) with a better than .500 record when they played them.
The Texans game begins a tough stretch that consists of games against the
San Francisco 49ers
,
Minnesota Vikings
,
Seattle Seahawks
, Vikings again and the
Green Bay Packers
. Will the Bears be exposed on Sunday night or will their 7-1 start be validated?
Our panel weighs in on that and more:

Fact or Fiction: The Texans will expose the Bears as a team that got fat against lesser foes.
Jeff Dickerson: Fiction. Spare me the nonsense about the Bears beating up on weak teams. An NFL team doesn't rank No. 3 in points scored (29.5), No. 1 in turnover ratio (plus-16) and boast a top-10 defense if they stink. The Bears did exactly what they needed to do in their first eight games and shouldn't have to apologize for it. Now, the Texans are talented enough to win at Soldier Field. That is fairly obvious. But even if the Bears get blown off the field it doesn't mean they're not a serious contender in the NFC. How many great teams are there really in the NFL? So far, the Bears look like a team with a great shot to make the postseason. I don't see that changing much regardless of Sunday's outcome.

[+] Enlarge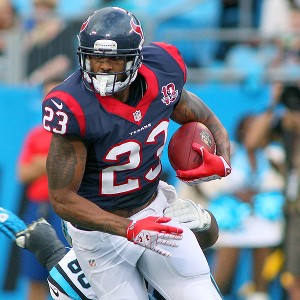 Jeremy Brevard/US PresswireThe Texans' Arian Foster is fifth in the NFL with 770 yards rushing.
Michael C. Wright: Fiction. The likelihood of that taking place is definitely there, but it's also legitimate to question whether the Texans are the real deal. Given Chicago's home-field advantage, it wouldn't surprise me at all if the opposite actually took place. The teams seem pretty evenly matched, with both suffering their only loss to the Green Bay Packers. It's also impressive that Houston defeated the Denver Broncos on the road, and destroyed a 6-2 Baltimore Ravens team. If the Texans do manage to leave Soldier Field with a victory, they won't necessarily be exposing the Bears. They will have simply been better than a pretty good Bears team. I do see this game as being one in which Chicago's problems on offense could finally sink the team, the way it did in Week 2 at Green Bay.

Scott Powers: Fiction. I'm not convinced the Texans haven't done the same. They were roughed up by the Packers and have respectable wins over the Broncos and Ravens, but their victories over the Jets, Jaguars, Bills, Dolphins and Titans aren't overly impressive. This is a game for both teams to prove themselves as elite.

Jon Greenberg: Fiction. If the Bears lose, it won't expose them as frauds. In fact, I'd argue we know exactly what kind of team the Bears are right now, from their strengths to their flaws. The Bears' defense was good against Green Bay and Detroit, two strong offenses, so it's not like they've only beaten the dregs of the AFC South. The offense has had its problems against all kinds of defenses so far. The Bears should be amped for this game, because it's a nationally-televised showdown against a potential Super Bowl team. But I think we can agree that we know what kind of team the Bears are after half the season, and it's a very good team with a few legitimate weaknesses.


November, 8, 2012
11/08/12
12:35
PM ET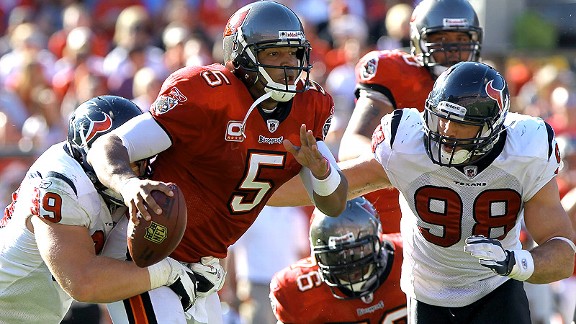 Kim Klement/US PresswireJ.J. Watt, left, and Connor Barwin (98) are part of a ferocious Texans pass rush.
Houston Texans
linebacker
Connor Barwin
has played with some talented players in his four years in the NFL, but he says none have the unique ability to always be around the ball like teammate and defensive end
J.J. Watt
.
"The biggest compliment I can give J.J. is in my four years he's probably the most instinctual player that I've been around," Barwin said Wednesday on "Carmen, Jurko & Harry" on ESPN 1000. "He just has a real knack for getting to the ball. Usually you find that with inside linebackers or safeties. You don't usually see that from a defensive tackle. But he's definitely finds a way to get to the ball almost every single snap."
Watt, a second-year player out of Wisconsin, leads the NFL with 10.5 sacks and will be a formidable challenge for the
Chicago Bears
offensive line on Sunday night when the 7-1 teams meet in prime time.
Barwin, whose Texans rank third in the NFL in total defense, allowing 285.6 yards per game, said they will approach the Bears' inconsistent offensive line just like any other.
"I know they've got some big athletic guys," Barwin said. "They've given up some pressure against some defenses, but I think every week our front seven thinks that we can get pressure on the quarterback and this week will be no different."
November, 7, 2012
11/07/12
5:42
PM ET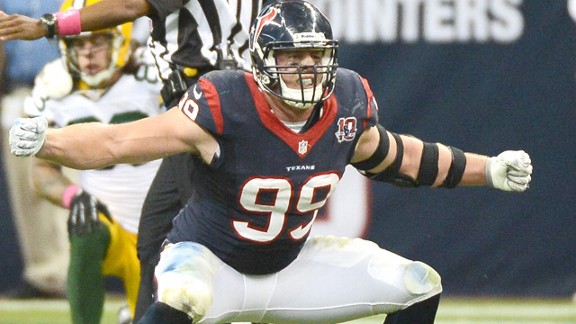 George Bridges/MCT/Getty ImagesGabe Carimi has plenty of experience going against J.J. Watt from their days at Wisconsin.
LAKE FOREST, Ill. -- Not much has changed about
Houston Texans
defensive end
J.J. Watt
's game since
Chicago Bears
right tackle
Gabe Carimi
squared off against him in practice when the two were college teammates at Wisconsin from 2008-10.
"He's a relentless guy," Carimi said. "He's a hard worker. That's who he is."
Watt has exploded in his second season in Houston after the Texans selected him No. 11 overall in the 2011 NFL raft, ahead of Carimi who went to the Bears in the first round with the 29th overall pick. Houston's 6-foot-5 pass rush specialist leads the league with 10.5 sacks and is tops on the Texans' defense in tackles (59), tackles for a loss (18), quarterback hits (21), pass break ups (10) and forced fumbles (2).
October, 24, 2012
10/24/12
1:09
PM ET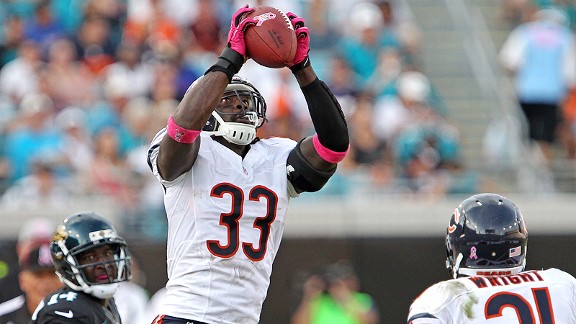 John J. Kim/Getty ImagesChicago Bears cornerback Charles Tillman makes his first appearance on our MVP Watch list.
The
Chicago Bears
have owned one of the NFL's best records, backed by a dominant defense. They haven't had an obvious MVP candidate.
How about
Charles Tillman
?
The 10th-year cornerback earned Pro Bowl honors for the first time last season. He
blanketed
the
Detroit Lions
'
Calvin Johnson
during a 13-7 victory Monday night.
With two forced fumbles against the Lions, Tillman has 32 for his career. That ranks tied for third since Tillman's rookie season (2003) and the most for a defensive back, according to the Bears. Tillman has two picks and scored on both.
Tillman is playing very well. He's playing for a dominant defense. His team is winning. He makes the MVP Watch list this week, his first appearance.
Tillman joins MVP Watch mainstay
J.J. Watt
as the only defensive players to appear on the list this season.
Lawrence Taylor
was the most recent defensive player to win the Associated Press version of the award. He won following the 1986 season.
Note: ESPN Stats & Information contributed to this item.