Chicago Bears:

Jamar Williams
June, 23, 2010
6/23/10
1:41
PM ET
[+] Enlarge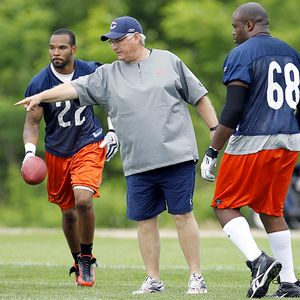 AP Photo/Nam Y. HuhMike Martz talks to Matt Forte, left, and Frank Omiyale during a workout on Wednesday at Halas Hall.
LAKE FOREST, Ill. -- For the second consecutive week
Chicago Bears
safety
Chris Harris
was merely a spectator on the field during the open media session.
Harris, who suffered a knee injury last season in Carolina, said his health is not an issue.
"I'm feeling good, feeling great, just ready to get it started come August," Harris said Wednesday. "I've been smiling ever since I got here, and it feels good to get back in this scheme because I'm very familiar with it. I think I'll bring a little leadership in the back end, you know, making sure the communication is on point as far as the secondary is concerned. I'll be that vocal guy back there in the back end."
The Bears re-acquired Harris from the
Carolina Panthers
in April for linebacker
Jamar Williams
.
"Chris Harris coming back was exactly what I remember," Bears coach Lovie Smith said. "He's moved right into that role. Chris will have more of a leadership role, too. He's a vocal guy, [and it's] like having another coach on the field."
The Bears badly need Harris to provide the safety position with experience and leadership, something the group lacked last season.
Craig Steltz
and
Josh Bullocks
each spent time working at safety with Harris on the sidelines.
With Olin Kreutz back in the middle at center, Josh Beekman and Lance Louis received first-team reps at guard. Beekman eventually replaced Kreutz at center during team drills at the conclusion of the workout, allowing Johan Asiata to slide in at left guard. It will be extremely interesting to note how the Bears divvy up starters' reps once training camp opens up at the end of July.


Smith singled out Brandon Manumaleuna's inability to participate in workouts as one of the few "downers" of the program. Manumaleuna is attempting to recover from the effects of offseason knee surgery.


A recent rash of OTA violations has prompted the league to consider changing its policies in regard to offseason workouts. The Bears opted to use the maximum 14 organized team activities, although the final session always takes place away from Halas Hall in the form of a movie, bowling, or some other team event."I like the way it is right now," Smith said. "The Commissioner hasn't said a lot about our practices. We try to follow the rules. That's one of my main jobs. Whenever you put the helmets on you have to watch the guys. They always would like the do a little bit more, but we watch that. This is a teaching phase of our offseason, and our guys know the rules and we go by them."

Smith also commented on the possibility of the NFL expanding the regular season to 18 games.

"I follow the Commissioner's lead, how is that," Smith said. "Right now, we have a good game. You look at our season right now as we go through, most teams really use three of the preseason games quite a bit. As long as we're all going by the same rules we can adjust with it. Whatever they decide is what we'll be for."
April, 27, 2010
4/27/10
3:12
PM ET
[+] Enlarge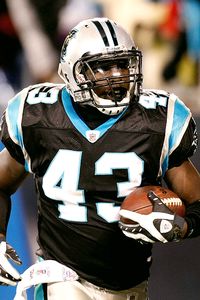 Kevin C. Cox/Getty ImagesThe return of Chris Harris helps clarify the Bears' picture at safety.
One of the toughest things in life is admitting a mistake.
We can all agree, the decision to ship safety
Chris Harris
to the
Carolina Panthers
in 2007 was a massive blunder by the
Chicago Bears
, maybe one of the worst in the post-Super Bowl era.
Not only was Harris, a 2005 sixth-round pick, coming off two productive seasons, he was made expendable, in the Bears' minds, by eventual bust
Adam Archuleta
, who was acquired in a trade with the
Washington Redskins
. This egregious misevaluation of talent is the main reason Lovie Smith has been unable to find any stability at safety over the last three seasons.
However, the Bears are trying to make amends, after reacquiring Harris from Carolina on Tuesday in exchange for linebacker
Jamar Williams
.
After being shipped to Carolina, Harris quickly became one of the Panthers' most popular players, forcing eight fumbles in 2007, while intercepting three passes last season in 13 games. Always well-liked in the locker room during his early years in Chicago, Harris returns at a critical time for the Bears' defense, since the safety picture remains clouded. The hope is for third-round selection
Major Wright
to eventually start at free safety, but there are no guarantees in the NFL, especially when projecting the progress of a rookie.
Harris played both safety spots during his first stint with the Bears, but all indications point to Harris lining up at strong safety in 2010.
"You have to be interchangeable at free safety and strong safety because anything can happen, you got to be able to play both spots," Harris said Tuesday on "The Afternoon Saloon" on ESPN 1000. "But I love playing strong safety, I love being in the box. I think that's one of my strengths, playing down in the box, being a physical player."
What this means for
Craig Steltz
,
Danieal Manning
and
Josh Bullocks
is unclear. Those three, plus Wright and Harris are the top five safeties on the roster. Perhaps Manning returns to his role as nickel back, although
Tim Jennings
and
D.J. Moore
have been working at that spot during voluntary offseason workouts. The Bears may decide to keep Steltz at free safety until Wright is deemed ready -- if that happens -- and use Manning and Bullocks extensively on special teams. Or maybe Manning and Bullocks get a shot to compete at free safety.
Obviously, there's still some fluidity attached to the safety situation, but at least now, one starter is penciled in: Harris. He made some mistakes during his first two years in the league -- as many young players do -- but adding Harris significantly upgrades the defense. If Harris is healthy and over knee issues that some in Carolina felt limited his range, the Bears are one step closer to ending their three-year playoff drought.
April, 27, 2010
4/27/10
1:37
PM ET
By
ESPN.com news services
The Bears and Panthers completed a trade that sends safety Chris Harris to Chicago for linebacker Jamar Williams, multiple sources told ESPN.com's John Clayton.

For Harris, it is a return to the place his NFL career started and he fills a need in the Bears secondary.

Williams is a restricted free agent who hasn't been able to crack the starting lineup because of Pro Bowl linebacker Lance Briggs.

Harris is under contract through 2012. Williams is signed for this season.

April, 21, 2010
4/21/10
6:27
PM ET
By
Michael Wright
| ESPNChicago.com
Chicago Bears linebacker Jamar Williams signed his restricted free-agent tender worth $1.176 million on Wednesday, which means he could soon be participating in the club's voluntary workouts.
Williams, who had been tendered by the Bears at the low level, played in every game last season. A fourth-round pick from Arizona State, Williams contributed a career-high 49 tackles last season in addition to two pass breakups and 10 stops on special teams. Williams churned out a career-high 19 tackles at weakside linebacker in Week 13 against St. Louis.
Read entire story.
April, 16, 2010
4/16/10
3:46
PM ET
[+] Enlarge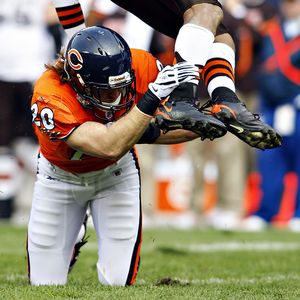 Rob Grabowski/US PresswireBears safety Craig Steltz was inactive for four weeks late in the season.
With the
Chicago Bears
' offseason voluntary workout program now three weeks old, here are a few interesting tidbits since players reconvened on March 29.
March, 22, 2010
3/22/10
2:34
PM ET
[+] Enlarge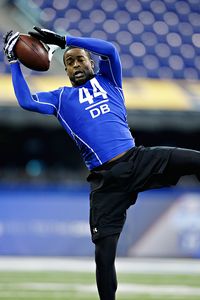 AP Photo/Michael ConroyIowa cornerback Amari Spievey could be available when the Bears pick in the third round of the NFL Draft.
While much of the focus Monday at the University of Iowa pro day centers around future first-round pick, offensive tackle Bryan Bulaga, the Hawkeyes also produced a few players pegged as potential mid-round selections that may interest the Bears.
Amari Spievey, predicted to go anywhere from the second to the fourth round, was an aggressive shut-down cornerback, who chose to leave school a year early after starting two seasons in Iowa City. Spievey actually was kicked off the team in 2007 because of poor grades, but after spending the 2007 season playing for a community college, rejoined the program in 2008 and subsequently earned Big Ten all-conference honors his final year on campus.
Although the Bears seem fairly set at linebacker with
Brian Urlacher
,
Lance Briggs
,
Nick Roach
,
Hunter Hillenmeyer
,
Jamar Williams
and probably
Pisa Tinoisamoa
, general manager Jerry Angelo has drafted a linebacker every year since 2002. With that in mind, there are two linebackers worth watching this spring coming out of Iowa: Pat Angerer and A.J. Edds.
Edds, who is 6 feet 4 and 246 pounds, was a three-year starter for the Hawkeyes. Many believe he projects as a solid special teams performer in the NFL. Meantime, Angerer is smaller and doesn't run nearly as well, but he ranked fourth in the nation with 11.2 tackles per game.
On the other side of the ball, right tackle Kyle Calloway stands 6-7 and was named second team all-Big Ten this past season. One blip on the radar for Calloway occurred during the summer of 2009, when he was arrested for operating a moped while intoxicated. Calloway was suspended one game by coach Kirk Ferentz then returned to action and put together a solid senior campaign.
December, 17, 2009
12/17/09
3:05
PM ET
December, 9, 2009
12/09/09
5:18
PM ET
LAKE FOREST, Ill. --
Jamar Williams
knows all about being patient.
[+] Enlarge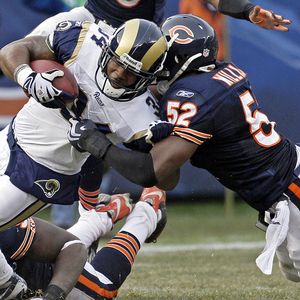 AP Photo/M. Spencer GreenWith Lance Briggs on the mend, Jamar Williams may be moving back to the bench despite a strong game vs. the Rams.
The one-time heir apparent to
Lance Briggs
at weakside linebacker, Williams has spent the majority of his first four NFL seasons primarily on special teams. He opened a lot of eyes versus the Rams, recording a career-high 20 tackles subbing for the injured Briggs. But now that Briggs appears on the mend, Williams may be headed back to the bench for the Packers game.
"We're not really sure what's going to happen," Williams said. "Hopefully I put enough out there that coaches will give me a little more reps. Either way, I trust them 100 percent, and if my role goes back to special teams, I'll just go out there and try to make something happen on that phase."
"When you play like that (how Williams did against St. Louis) it warrants more time," Bears head coach Lovie Smith said. "But it's not like it'll be at Lance Briggs' position. Jamar did a great job, but he's not Lance Briggs. We'll just let the rest of the week play out, and try to find a way to get him a few reps."
Smith did allow Williams and
Nick Roach
to split time at strongside linebacker earlier this season, so that could be a way for the Bears to get Williams a little action -- the Bears also have occasionally shown a four-linebacker look. However, Roach is also coming off a strong game, and took all the reps on the strong side in the Bears base defense during Wednesday's practice. Williams moved in the middle in place of
Hunter Hillenmeyer
who sat out with a groin injury.
December, 7, 2009
12/07/09
10:18
PM ET
CHICAGO –- The news keeps getting better for Bears weak side linebacker
Jamar Williams
, who was credited with a team-high 20 tackles versus St. Louis after coaches graded the game film. Williams finished with 12 solo tackles, 8 assists and 2 passes broken up.
Kevin Payne
and
Hunter Hillenmeyer
each tied for second with 10 total tackles.
Charles Tillman
was credited with seven tackles.
Nick Roach
had six, including a tackle for a loss.
Tim Shaw
led the way on special teams with a pair of tackles.
December, 6, 2009
12/06/09
5:38
PM ET
[+] Enlarge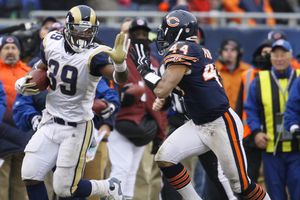 AP Photo/M. Spencer GreenKevin Payne had eight tackles Sunday in his first game back as the starting strong safety.
CHICAGO --
Kevin Payne
's return to the starting lineup at strong safety was a success, as the third-year defensive back displayed a knack for making plays in the box and in the passing game. Not only did Payne record eight tackles (second to
Jamar Williams
), he also broke up two passes and nearly had an interception late in the game.
"I'm not satisfied because there is always room for improvement," Payne said. "I just want to continue to get better, and do whatever I can to help this team win. That's always my goal. As a whole, the defense stepped up and play hard. We had a lot of success out there today."
"We felt that Kevin Payne being in the strong position and
Al Afalava
in the back would be the best combination for us to be successful today," Lovie Smith said.
He was right.
Steven Jackson
(112 yards rushing) was the only offensive threat for St. Louis, which got just 113 yards passing on 32 attempts from quarterback
Kyle Boller
. That's just terrible. For comparison sake;
Jay Cutler
threw for 143 yards on only 17 attempts.
December, 6, 2009
12/06/09
5:20
PM ET
[+] Enlarge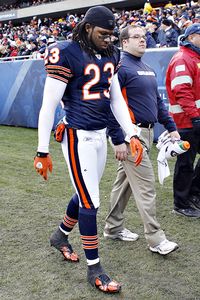 AP Photo/Nam Y. HuhDevin Hester left the game in the third quarter with a calf injury but he expects to be OK for the Packers.
CHICAGO -- It may have been an ugly game, but after losing four straight, the
Chicago Bears
will take any victory they can get -- even if it comes at the expense of the awful
St. Louis Rams
.
"It feels like it's been a long time,"
Jay Cutler
said. "It wasn't the prettiest game, but we pulled it out."
"It's amazing coming into the locker room after playing against the Rams,"
Tommie Harris
chuckled. "It's exciting to get an opportunity to get Monday off. We've been coming in the past month on a Monday and a Tuesday, so it'll be good to get a little time off."
This victory does nothing to change the plight of the organization, but at least it allows us to discuss a few positive things for the next few days --
Jamar Williams
,
Kevin Payne
,
Earl Bennett
,
Johnny Knox
and
Nick Roach
.
From a negative standpoint, the Bears made too many mistakes on special teams, especially the botched fake field goal in the second quarter."When you take a chance like that, we are looking to get more points," Lovie Smith said. "At the time, I thought our defense was playing pretty good, so if we didn't get any, at least we had them down on their end of the field."
The passing game also stalled after a promising start, likely due somewhat to Cutler re-aggravating the hand injury he initially suffered against the Eagles earlier in the season."I just dinged it a little bit," Cutler said. "I will be fine."
Devin Hester also expects to be OK after leaving the game with a calf injury he suffered on a third-quarter run play which resulted in a fumble that Hester recovered.With Hester out, Devin Aromashodu got extended playing time, but failed to record a catch.
December, 6, 2009
12/06/09
4:42
PM ET
[+] Enlarge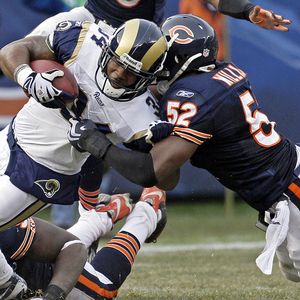 AP Photo/M. Spencer GreenJamar Williams had a game-high 18 tackles against the Rams.
CHICAGO --
Jamar Williams
often talks about wanting to be more than just a special teams contributor. If Sunday's game against the Rams is any indication, Williams may still fulfill his goal of being an NFL starting linebacker -- whether or not it's in Chicago remains to be seen.
Williams, who is scheduled to be an unrestricted free agent after the season pending a new collective bargaining agreement, recorded a game-high 18 tackles filling in for
Lance Briggs
at weak-side linebacker.
"I felt really good," Williams said. "I knew trying to replace Lance Briggs is almost impossible, but I do know when my opportunity is called, I have to make the most of it. I tried to do that in the film room this week, and I studied an awful lot. To make a couple plays early kind of helped my confidence, and I just tried to make something happen and play fast. I think that really showed on the field."
Regardless if Briggs returns to face the Packers, Williams now has an impressive film to show prospective teams in the offseason -- an extremely valuable commodity in the NFL.
December, 3, 2009
12/03/09
2:42
PM ET
LAKE FOREST, Ill. --
Lance Briggs
pulled a veteran move Thursday, skillfully dancing around the topic of his status for Sunday's game against the
St. Louis Rams
.
"My health? I'm breathing well," Briggs said. "My temperature is about 98.6. I feel good. It's not my call (on playing Sunday). Right now, I'm questionable, with a possibility of being possible."
If Briggs doesn't play, the Bears are expected to turn to
Jamar Williams
, who replaced the injured Pro Bowl linebacker in Minnesota. Williams finished with five tackles (after coaches review), and sounded fairly pleased with his performance.
"I felt pretty good," Williams said. "To go out there and make a couple of plays, it felt really good. I wasn't perfect or anything like that, so I've got a lot of things to work on. Ever since I've gotten here, my goal has been to play linebacker in the league, and not just stay on special teams. Whenever I've gotten an opportunity in the past, I've tried to step up, and I'll do the same if I get that chance this week."
"[Jamar] did some good things, like he's done most of the time he's had an opportunity to play," Bears coach Lovie Smith said. "He had a big stop around the end zone (versus the Vikings). Good lick. He's a good player who's been around here a long time."