Chicago Bears:

James Jones
March, 17, 2014
Mar 17
8:00
AM ET
On the eve of free agency last week, our four NFC North reporters -- Rob Demovsky (
Green Bay Packers
), Ben Goessling (
Minnesota Vikings
), Michael Rothstein (
Detroit Lions
) and Michael C. Wright (
Chicago Bears
) -- compiled a list of
the top-15 free agents
in the division.
A week has passed and nine of them already have come off the market, including six who re-signed with their old teams.
Perhaps the biggest-name free agent from the NFC North, former Bears defensive end
Julius Peppers
, did not make the original list because he was not a free agent until he was released last week. He
signed with the Packers
on Saturday.
You can follow all of the NFL free-agent moves in
Bill Polian's free-agent tracker
, but let's revisit the NFC North top 15 and see what has changed:
1.
Sam Shields, Packers CB
: Signed a four-year, $39 million contract just a few hours into the open negotiating period on March 8. His $9.75 million per year average made him the fourth-highest paid cornerback in the league behind
Darrelle Revis
($16 million),
Brandon Carr
($10 million) and
Aqib Talib
($9.8 million).
2. Brandon Pettigrew, Lions TE
: Re-signed with the Lions for four years and $16 million, including a $4 million signing bonus.
3. Jermichael Finley, Packers TE
: Remained unsigned after a visit to the
Seattle Seahawks
last week. It's not known what the Seahawks' medical staff thought of Finley's C-3/C-4 neck vertebra fusion surgery that he had last November following his season-ending neck injury.
4. Charles Tillman, Bears CB
: Signed a one-year contract to return to Chicago last Friday after missing half of last season because of a torn triceps. The deal is worth about $3.5 million.
5. B.J. Raji, Packers DT:
Less than a year after reportedly turning down a multi-year offer that averaged $8 million per season, he returned to the Packers for a one-year deal signed on Friday that was believed to be worth $4 million plus incentives.
6. Matt Cassel, Vikings QB
: Opted out of his 2014 contract after the Super Bowl but signed a new two-year, $10.5 million deal with the Vikings on March 7, just before teams could start contacting his agent and will likely head into training camp with the inside track on the starting job.
7. Willie Young, Lions DL
: Signed a three-year, $9 million contract with the Bears. Former seventh-round pick received his first extensive playing time with the Lions in 2013, becoming a full-time starter after
Jason Jones
was injured for the season in Week 3.
8. James Jones, Packers WR
: Remained unsigned after the first week of free agency and has not had any known visits even after he ranked second on the Packers last season in receptions (59) and yards (817), the latter of which was a career high despite missing nearly three full games because of a knee injury. Three years ago, coming off the NFL lockout, Jones did not draw strong interest on the free-agent market and re-signed with the Packers for three years and $9.6 million. Could the same thing happen again?
9. Jared Allen, Vikings DE
: Remained unsigned after the first week of free agency but reportedly visited the Seattle Seahawks over the weekend. After three All-Pro selections in six years, Allen's time in Minnesota is over.
10. Josh McCown, Bears QB
: Signed a two-year, $10 million contract to rejoin his old coach, Lovie Smith, with the
Tampa Bay Buccaneers
.
11. Henry Melton, Bears DL
: Coming off a torn ACL, Melton went unsigned during the first wave of free agency but has a visit scheduled with the
Dallas Cowboys
this week.
12. Devin Hester, Bears KR
: Remained unsigned more than a week after the Bears said they would not bring him back.
13. Rashean Mathis, Lions CB
: Remained unsigned after playing in 15 games and taking over as a starter early in the season last year.
14. Everson Griffen, Vikings DE
: Cashed in on March 9th by signing a five-year, $42.5 million deal that included $20 million guaranteed to return to Minnesota.
15. Louis Delmas, Lions S
: Signed a one-year, $2.25 million contract with the
Miami Dolphins
after the Lions released him with one year remaining on his contract in February, in part because of a cap number of $6.5 million in 2014.
March, 10, 2014
Mar 10
10:00
AM ET
A few deals have been signed around the NFC North in the days leading up to free agency, but plenty of valuable players are about to hit the open market.
Here is a ranking of top NFC North free agents, with information provided by ESPN.com reporters Rob Demovsky (
Green Bay Packers
), Ben Goessling (
Minnesota Vikings
), Michael Rothstein (
Detroit Lions
) and Michael C. Wright (
Chicago Bears
).
We will update this periodically throughout the next several weeks.
1.Sam Shields, Packers CB:
Emerged as the Packers' top cover cornerback last season while playing for the restricted free-agent tender of $2.023 million and was re-signed to a four-year, $39 million contract just a few hours into the open negotiating period Saturday. His 2014 total pay of $15 million makes him the NFL's second-highest-paid cornerback for next season.
2. Brandon Pettigrew, Lions TE:
The No. 20 pick in the 2009 draft out of Oklahoma State, Pettigrew spent the past five seasons as one of Detroit's primary tight ends, specifically known for the ability to both block and run routes effectively.
3. Jermichael Finley, Packers TE:
Had surgery to fuse the C3 and C4 vertebra in his neck but expects to be cleared by his doctor. Gambled two years ago in free agency, signing just a two-year, $14 million deal in the hope that he would blossom into a star and command an even bigger contract the next time around.
4. Charles Tillman, Bears CB:
The NFL's Walter Payton Man of the Year, Tillman started eight games last season before finishing on the injured reserve with a torn triceps. The Bears hope to bring back Tillman but might not be able to come up with a suitable offer.
5. B.J. Raji, Packers DT:
Reportedly turned down an $8 million per year offer from the Packers last season, which might have been a sign that he preferred to play in a system that gave defensive linemen more freedom. After a disappointing season, his value has gone down, and as of last week, he was close to signing a one-year deal to return.
Cassel
6. Matt Cassel, Vikings QB:
Opted out of his 2014 contract after the Super Bowl but signed a new two-year deal with the Vikings on Friday, just before teams could start contacting his agent. He will likely head into training camp with the inside track on the starting job.
7. Willie Young, Lions DL:
Former seventh-round pick received his first extensive playing time in 2013, becoming a full-time starter after
Jason Jones
was injured for the season in Week 3. Young turned into one of the more disruptive players up front, making 47 tackles, recovering two fumbles and recording three sacks.
8. James Jones, Packers WR:
Ranked second on the Packers last season in receptions (59) and yards (817), the latter of which was a career high despite missing nearly three full games because of a knee injury. Three years ago, coming off the NFL lockout, Jones did not draw strong interest on the free-agent market and re-signed with the Packers for three years and $9.6 million.
9. Jared Allen, Vikings DE:
After three All-Pro selections in six years, Allen's time in Minnesota is likely over. He could come back as a situational pass-rusher on a reduced salary, but after making $14 million last season, Allen might head elsewhere for a bigger role and bigger paycheck.
McCown
10. Josh McCown, Bears QB:
He proved he is capable of filling in for
Jay Cutler
in a pinch and is instrumental behind the scenes for nearly every skill player on the offense. It's not a slam dunk he will be back, and talks with the Bears haven't been especially productive.
11. Henry Melton, Bears DL:
Melton's representatives fully expect him to test the market in free agency because the Bears haven't shown a ton of interest. Coming off a torn ACL, Melton probably won't command top dollar in the first wave of free agency.
12. Devin Hester, Bears KR:
Became strictly a return specialist for the Bears last season and is still one of the league's best at his position. Probably expects a payday similar to what he's gotten in the past.
13. Rashean Mathis, Lions CB:
Mathis signed with Detroit during the 2013 preseason and became one of the team's starting cornerbacks by the third week of the season. He played in 15 games, making 47 tackles and often drawing the opponent's top wide receiver.
14. Everson Griffen, Vikings DE:
The 26-year-old cashed in on Sunday by signing a five-year, $42.5 million deal that included $20 million guaranteed to return to Minnesota. He should flourish in new coach Mike Zimmer's defensive scheme.
15. Louis Delmas, Lions S:
The 26-year-old was released by Detroit with one year remaining on his contract in February, in part because of a cap number of $6.5 million in 2014. Has played in 65 games for Detroit over five seasons, with 328 tackles, six interceptions and two forced fumbles. He also had five sacks and four fumble recoveries.
November, 1, 2013
11/01/13
12:00
PM ET
On the day former
Chicago Bears
coach Lovie Smith got the job, he said that one of his priorities was to beat the
Green Bay Packers
.
First-year Bears coach Marc Trestman made no such promises about this rivalry, but it goes without saying that he's eager to end Chicago's six-game losing streak to the Packers.
The last time Chicago beat Green Bay was on Sept. 27, 2010, on "Monday Night Football." The teams meet again in prime time Monday night at Lambeau Field.
ESPN.com's Packers reporter Rob Demovsky and Bears reporter Michael C. Wright break down the matchup.
Rob Demovsky:
We all know how much Smith wanted to beat the Packers. He stated as much the day he got the head coaching job. What has Trestman's approach to this rivalry been like?
Wright
: Rob, my man, you know that rivalries have to cut both ways in terms of wins and losses for it to be truly considered a rivalry. Counting the postseason, the Bears have lost six in a row and nine of the last 11. So, if anything, this is more Green Bay dominance than a rivalry. But the interesting thing about Trestman is he's a guy who likes to compartmentalize everything. He looks at today rather than the past or the future. So while it sounds cliché, Trestman is looking at the Packers as just another opponent on the schedule. That's just the way Trestman likes to operate, and I think for him it sort of makes things easier.
I keep looking at Green Bay's sack numbers, and I'm a little surprised the club is still in the top 10 in sacks with
Clay Matthews
out the last three games and other key members of the defense missing time. What is Dom Capers doing over there schematically to keep up the production?
Demovsky:
I figured when Matthews broke his thumb, Capers would have to blitz like crazy. Now, he's picked his spots, but he hasn't gone blitz-happy like I thought he might. However, he has been sending different pass-rushers to keep offenses off guard. One game, against the
Baltimore Ravens
, linebacker
A.J. Hawk
came a bunch and sacked
Joe Flacco
three times. Also, they've finally found a defensive lineman with some rush ability in second-year pro
Mike Daniels
. Three of his team-leading four sacks have come in the past two games.
As long as we're on the topic of quarterbacks, in 2011, backup
Josh McCown
played a halfway decent game against the Packers on Christmas at Lambeau Field, but he threw a couple of interceptions. What do you expect from him this time around as he starts in place of the injured
Jay Cutler
?
[+] Enlarge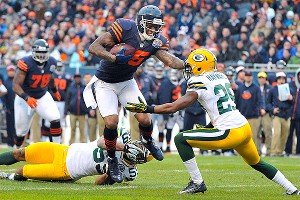 Rob Grabowski/USA TODAY SportsThe Packers have limited Brandon Marshall to 8 catches for 80 yards in their past two meetings.
Wright
: Believe it or not, I expect little to no drop-off from McCown in this game. The biggest difference between now and then is that in 2011, McCown joined the team in November, fresh from a stint as a high school football coach in North Carolina, and four weeks later became the starter. So he basically came in cold and still played relatively well. This time around, McCown has become immersed in the offense from the ground level, when Trestman first came on board, and even had some input as the team constructed the scheme. In fact, during the offseason, McCown was holding film sessions with all the club's new additions to teach everyone the new offense. So he's got complete mastery of the offense just like Cutler, which is why McCown came in against the Redskins and the offense didn't miss a beat. Obviously, McCown doesn't possess Cutler's arm strength. But he'll make up for that deficiency with anticipation. I'm quite sure the Bears won't scale down the offense to accommodate McCown at all, because they don't need to. So I expect McCown to play well. I'm just not sure Chicago's offense can keep up with Green Bay's in what I expect to be a high-scoring game.
Speaking of high scoring, the Packers put up 44 points on the
Minnesota Vikings
. How is Green Bay handling the preparation process for the Bears?
Demovsky
: Well, they certainly don't have as much time as the Bears do, considering the Bears are coming off their bye week. But the Packers have gotten themselves into a rhythm. They've won four in a row after their 1-2 start and look like a different team than they did the first three weeks of the season. Mike McCarthy probably doesn't get enough credit nationally, but show me another coach who has stared injuries in the face and hasn't blinked. What other team could lose playmakers like
Randall Cobb
,
James Jones
,
Jermichael Finley
and Matthews and still keep winning? That's a testament to the program he has established here. You can argue with some of his in-game coaching decisions, but you can do that with every coach. What you can't question, though, is the team's preparation.
The Bears, obviously, have had their share of injuries, too, losing Cutler and linebacker
Lance Briggs
. What's a bigger loss -- Cutler to the offense or Briggs to the defense?
Wright
: Well, Cutler's replacement is a veteran in McCown who has plenty of experience and a ton of weapons surrounding him on offense, while rookie
Khaseem Greene
will likely fill in for Briggs on a bad defense that will also feature rookie
Jon Bostic
in the middle. From my vantage point, losing Briggs is much more significant. The Bears have already proved to be horrible against the run (ranked 25th), and that issue certainly won't improve with two rookies at linebacker and a defensive line decimated by injury. It's also worth noting that Briggs made all the defensive calls and served as somewhat of a coach on the field for Bostic. Given that Green Bay seems to be running the ball so well, the current situation with Chicago's front seven could be devastating.
Now that the Packers are running the ball so well, how has that changed the way the offense is called? It seems Green Bay runs well regardless of which running back they line up in the backfield.
Demovsky
: It's remarkable -- and even a bit stunning -- to see
Aaron Rodgers
check out of a pass play and in to a run play at the line of scrimmage. That kind of thing hasn't happened around here in a long, long time -- probably not since
Ahman Green
was piling up 1,000-yard seasons nearly a decade ago. Teams no longer can sit back in a Cover-2 look and dare the Packers to run. Because guess what? The Packers can finally do it. It also has given the receivers more one-on-one opportunities, so it's helped the passing game, too. Right now, this offense almost looks unstoppable.
If the Packers keep playing like this, they might be tough to catch in the NFC North. What are the Bears' prospects for staying in the NFC North race until Cutler and Briggs return?
Wright:
To me, this game is the measuring stick for making that determination. But I'm not really confident about Chicago's chances, and that has more to do with the team's struggling defense than Cutler's absence. There have been conflicting statements made about Cutler's recovery time frame. Some teammates think he'll be ready to return by the time the Bears face Detroit on Nov. 4, while Trestman said the plan is to stick to the minimum four-week time frame prescribed by the doctors. Either way, if the Bears lose to the Lions you can kiss their prospects for the playoffs goodbye. The Bears might be able to afford a loss to the Packers because they'll face them again on Dec. 29. But a sweep by the Lions kills Chicago's chances to me because just from what we've seen so far, it appears one of the wild cards will come out of the NFC North with the other coming from the NFC West. Obviously it's too early to predict that, but that's the way things seem to be shaking out.
Without two of his top receivers and tight end Finley, Rogers still hit 83 percent of his passes against the Vikings. Is that success a product of the system, a bad Minnesota defense, or is Rodgers just that good at this point?
Demovsky
: The more I see other quarterbacks play, the more I'm convinced it's Rodgers. For example, seldom-used receiver
Jarrett Boykin
makes his first NFL start two weeks ago against the
Cleveland Browns
, and he ends up with eight catches for 103 yards and a touchdown. How many catches do you think he would have had if he were playing for the Browns that day? Their quarterback,
Brandon Weeden
, completed only 17-of-42 passes. That's not to minimize what Boykin did or what players like
Jordy Nelson
do week in and week out, but Rodgers is special, and special players elevate the play of those around them. Look at what
Greg Jennings
has done since he left for the Vikings. Now tell me the quarterback doesn't make the receiver, not vice versa.
Speaking of receivers, other than
Anquan Boldin
, who lit up the Packers in the opener at San Francisco, they've done a solid job shutting down other team's No. 1 receivers -- most recently Jennings and Cincinnati's
A.J. Green
. How do you think the Bears will try to get
Brandon Marshall
involved against what has been a pretty good Packers secondary?
Wright
: This question brings me back to the 2012 massacre at Lambeau Field on Sept. 13. The Packers bracketed Marshall with two-man coverage, and the Bears struggled tremendously. Shoot, cornerback
Tramon Williams
caught as many of Cutler's passes as Marshall, who finished the game with two grabs for 24 yards. Obviously, this offensive coaching staff is a lot different than last year's group. So the Bears will go into this game with a lot more answers for that coverage. I definitely see McCown leaning on Marshall and trying to get him involved as early as possible, but the only way he'll be able to do that is for the Bears to establish the rushing attack with
Matt Forte
so the quarterback can operate off play action. When the Bears go to Marshall early, expect to see a lot of short passes that will enable the receiver to gain some yardage after the catch.
Over the years, Green Bay has been pretty successful at limiting the impact of return man
Devin Hester
. So I was a little shocked to see the Packers give up a kickoff return for a touchdown to
Cordarrelle Patterson
. As you probably know, Hester is coming off a pretty strong return game against the Redskins. Do you think the Packers fix the problems they encountered last week, and minimize Hester's impact?
Demovsky
: Part of the Packers' problem on special teams has been that all the injuries have created a trickle-down effect. Here's what I mean: On the kickoff coverage until they gave up the 109-yard return to Patterson, they lined up six rookies, two of whom weren't even on the opening day roster. The Packers always have feared Hester, as they should, and in various games in recent years have shown they'd almost rather kick the ball out of bounds than give him any return opportunities. He's one of those special players who make rivalry games so entertaining.
December, 17, 2012
12/17/12
4:53
PM ET
After the Chicago Bears' 21-13 loss to the Green Bay Packers, here are three issues that merit further examination:
ESPN.com

Everyone wants to know what will happen to coach Lovie Smith after the season. The truth is there are too many possibilities remaining to make an accurate judgment. General manager Phil Emery was noticeably vague when discussing Smith's future with the team's flagship radio station, but that's because the Bears could finish anywhere between 8-8 and 10-6. They could miss the playoffs or they could conceivably make a deep playoff run. Despite the current despair surrounding the franchise, to me it's fair to make Smith's continued employment contingent on a playoff berth. If he makes the playoffs, a firing would be an awfully harsh verdict. But if the Bears miss the playoffs for the fifth time in the past six years, that's a sufficient timeframe to expect better results. Based on what we've seen over the past month, it's hard to envision the Bears winning out and making a deep playoff run. But we have to leave open that possibility before making any grand guesses about Smith's future.

Offensive pass interference calls aren't as rare as you might think. Through Week 14, officials had called a total of 72. Still, that's an avearge of about one for every three games this season. So Bears receiver Alshon Jeffery certainly set a new bar by getting three on his own Sunday -- only Kenny Britt of the Tennessee Titans had that many all season entering the week. Packers defenders made clear they thought Bears receivers routinely get away with illegal contact. Charles Woodson said he was "very, very surprised but also very happy" to see the calls made because of "blatant push-offs" Bears receivers usually employ. Cornerback Tramon Williams said he was "pleasantly surprised" to see the calls. My sense is that Jeffery will learn how to create separation more subtly as he becomes a savvier player. It's absolutely part of the game, but there are ways to accomplish the goal without getting called. He might want to start by watching the tape of Packers receiver James Jones' 29-yard touchdown reception. Jones did just enough with his left hand to keep cornerback Kelvin Hayden away from him, but not enough to merit a penalty.

I don't blame players for struggling with the constant scrutiny they face from fans and media. It's no doubt part of the gig, but that doesn't make it easy. So I'll give injured linebacker Brian Urlacher a pass on his televised statement that "two of the people I don't care about" are "fans or the media." The only way to live with the scrutiny is to ignore it as best you can. But at least part of Urlacher's rant was factually inaccurate. The Bears are most definitely not the only team in the NFC North who get booed by their home fans, despite what Urlacher suggested. I've spent the past five seasons covering games at the Soldier Field, Ford Field, Lambeau Field and the Metrodome. I've heard the boos first-hand in each locale. (I guess I never considered whether they were booing the NFC North blog. Probably not, though.) I'm sure Urlacher is frustrated and perhaps he can see the end of a long run for the nucleus of players and coaches he's spent the past decade working with. But I really doubt he has made it this long in the NFL while holding on to the notion that most local fans treat their teams with kid gloves.
And here is one issue I still don't get:
What is it about the Packers that has so befuddled quarterback Jay Cutler? Since arriving in 2009, Cutler is 1-6 against the Packers and 11-3 against the rest of the NFC North. And to be clear, his performance in most of those games has been terrible. His Total Quarterback Rating was 6.9 (out of 100) Sunday and 4.7 (still out of 100) in Week 2 against the Packers. In fact, four of the six lowest QBRs in Cutler's career have come against the Packers. His frustration ran sky high Sunday, at least based on his reaction to a huge second-quarter interception. I don't blame him. It has been four years of this now.
November, 7, 2012
11/07/12
11:23
AM ET
»
NFC Midseason Teams
:
East
|
West
|
North
|
South
»
AFC
:
East
|
West
|
North
|
South
We've posted an All-NFC North team after every season since we started this blog five seasons ago. (Links:
2011
,
2010
,
2009
,
2008
.)
Below, you'll find our first attempt at a midseason division team. As always, its composition is a blend of advice I've received from football professionals, my own eyes and consultations with some media services I respect. (For those interested, here is
Pro Football Focus' All-NFC North team from last week.
)
As we've learned in past years, there isn't always a direct correlation between individual frequency and team success. If there were, the
Minnesota Vikings
-- who sit in third place here in Week 10 -- wouldn't have a division-high eight players on this team.
Many of the choices are obvious and/or self-explanatory. Here are some thoughts on the more difficult decisions:
November, 1, 2012
11/01/12
2:00
PM ET
I've found over the years that dropped passes tend to generate high levels of angst among readers, regardless of their frequency. I get it. There are few things more frustrating in football than seeing a good-looking play have the proverbial rug pulled out from under it.
I tossed out a few of ESPN Stats and Information's raw numbers Wednesday on Twitter and was quickly deluged with individual questions and requests for more context. So I'll endeavor to pass along all relevant information in this post.
Drops are a subjective statistic, and my experience with ESPN Stats & Information is that an incompletion has to be an obvious, clear drop for it to be recorded as one. As a result, you might see other statistical services hand out more drops. But to me it's all relative, as long as the same standards are applied to each team, we can get a clear perspective on who is dropping lots of passes and who isn't.
As the chart shows, the
Green Bay Packers
have the most drops in the NFC North (19) as well as the highest drop percentage (6.6). The 19 drops is tied for the NFL lead, but as we discussed on Twitter, percentage is more important because it adjusts for teams who throw more often. It stand to reason that a team like the Packers would have more drops than the Bears, who have thrown 155 fewer targeted passes over the first eight weeks of the season.
For the Packers, receiver
Jordy Nelson
has been debited with five drops. Tight end
Jermichael Finley
has four, receiver
Randall Cobb
has three and receiver
Donald Driver
has two (on nine targeted passes). No one else has more than one drop, and receiver
James Jones
-- who has some of the most notorious drops in recent Packers history -- has not been debited with any in 2012.
Below are some other notable drop figures in the NFC North. For reference, the NFL leader in drops based on this standard are
Tampa Bay Buccaneers
running back
Doug Martin
and
Dallas Cowboys
tight end
Jason Witten
, who have seven drops apiece.
September, 10, 2012
9/10/12
5:48
PM ET
After the Green Bay Packers' 30-22 loss to the San Francisco 49ers, here are three issues that merit further examination:
ESPN.com

Results were inconclusive, at best, on the Packers' primary offseason thrust. On the positive side, press box statistics show their pass rush got to 49ers quarterback Alex Smith for four sacks and two other post-throw hits. Linebacker Clay Matthews was credited with 2.5 sacks and defensive back Charles Woodson got the other 1.5. And two of Smith's biggest throws -- 29 yards to tight end Vernon Davis and 14 yards for a touchdown to Randy Moss -- were the fault of busted coverages. Smith threw plenty of quick-release passes, but in the end he had enough time to connect on nearly three-quarters of his throws. So to me it was a mixed bag. And for what it's worth, the Packers were blitzing heavily for a good portion of the game to ratchet up their pressure. They sent at least one extra rusher on 10 of Smith's first 21 dropbacks, according to ESPN Stats & Information. Woodson insisted the Packers' pass defense is "nowhere close to where it was last year" and said he liked the energy he saw. We'll see.

Tight end Jermichael Finley was targeted a team-high 11 times and caught seven passes for 47 yards and a score. He also had one clear drop, another that could have been called one if you're a tough grader and a third play where he had enough trouble controlling the ball that the 49ers challenged the ruling of a completion. Afterwards, it was interesting to note how Finley responded when asked about the Packers "dropping" their first game. He misunderstood the question and belied his insistence that he isn't going to mourn drops this season. Here's what he said: "I thought about it all last year. I let it stress me. But this year, a drop is a drop. An interception is an interception, and we've got to move on from it. And go to the next play."

If there was any doubt before, it's clear now: Veteran Donald Driver ranks no better than fifth on the Packers' receiver depth chart. He doesn't play on special teams, so the blunt truth was that he was active Sunday for insurance purposes. He didn't play until the final three snaps of the game, when starter Greg Jennings waved himself off the field. Before that, Driver did not get a snap. As we noted Sunday, second-year receiver Randall Cobb was a key part of the primary set the Packers used Sunday: Four receivers with Cobb lined up, initially, in the backfield. They used a variation of that formation on 31 of their 61 plays. Still, I actually think it makes sense to keep Driver on the roster as injury protection. If the Packers lose Jennings, Cobb, Jordy Nelson or James Jones, they could plug in Driver and not lose any formational versatility. Without him, they would be limited to three-receiver sets if someone were injured. It's worth a September roster spot.
And here is one issue I still don't get:
Who did officials initially believe had committed an illegal block on Cobb's 75-yard punt return? I hope it was linebacker Brad Jones, whose block seemed questionable at best, and not linebacker Terrell Manning -- who blatantly hit Anthony Dixon in the back. The officials eventually picked up the flag, allowing the touchdown to stand. Such plays aren't reviewable, but Manning's illegal block was clear and undeniable. For the sake of the integrity of this replacement experiment, I hope they simply missed it altogether and didn't actually judge Manning's block to be legal upon further consideration.
July, 2, 2012
7/02/12
1:14
PM ET
»
AFC camp battles
:
West
|
North
|
South
|
East
»
NFC
:
West
|
North
|
South
|
East
An early look at the biggest training camp position battles:

CHICAGO BEARS
Left tackle: J'Marcus Webb versus Chris Williams
It's a bit disconcerting to stage a competition at such an important position, especially when you consider how difficult it is to find a good left tackle at the NFL level.
Williams, a first-round draft pick in 2008, hasn't manned the position since early in the 2010 season. Left tackles who are moved away mid-career usually aren't brought back. He has also started games at right tackle and left guard in his career, making him a candidate to be a swing backup if Webb wins the job.
Webb was one of the Bears' few options last season at left tackle. But after absorbing 15 accepted penalties and allowing 12 sacks, based on tracking from
Pro Football Focus
, it's clear Webb did not establish himself as a long-term answer.
Offensive coordinator Mike Tice was the Bears' offensive line coach when Williams moved to left guard. Tice also installed Webb as his left tackle last season, so it's reasonable to guess Webb would get the benefit of the doubt. The Bears will cross their fingers and hope one of the two emerges as a competent option.

DETROIT LIONS
Cornerback: Aaron Berry versus Jacob Lacey
Lions training camp will include a number of competitive storylines, from whether rookie offensive lineman
Riley Reiff
can win a starting job (somewhere) to whether safety
Amari Spievey
can hold on to his role. But the most significant battle could be between Berry and Lacey for the chance to replace
Eric Wright
as a starting cornerback.
Berry was the Lions' Week 1 nickel back in each of the past two seasons, and it would be a natural progression for him to take over as a starter. Lacey started 27 games for the
Indianapolis Colts
over the past three seasons, but it's worth reiterating that the Colts did not issue him a qualifying tender as a restricted free agent. That decision wasn't exactly an endorsement of his career to this point.
For the moment, at least, Berry's recent arrest for suspicion of drunken driving hasn't threatened his roster spot. The bigger issue has been his inability to stay on the field, having missed 15 games in 2010-11 and five last season because of injury.
Given the number of three- and four-receiver sets the Lions likely will face in the NFC North this season, both Berry and Lacey should see plenty of action. But the Lions surely would like Berry to feed off the competition and solidify himself as a permanent starter.

GREEN BAY PACKERS
No. 3 receiver: James Jones versus Randall Cobb versus Donald Driver
The winner of this competition might be reflected in playing time rather than actual starts, and that, of course, is assuming
Greg Jennings
and
Jordy Nelson
receive the most snaps among the Packers' deep and talented group of receivers.
Driver started 15 games last season
even though he played fewer snaps than Jennings and Nelson.
Cobb's expected development adds another element to the question of who will play most often among this trio.
Some of the answer will depend upon matchups and scheme, but ultimately the most reliable playmaker will emerge and receive the most playing time.

MINNESOTA VIKINGS
Safety: Multiple players and positions
Given the miserable performance of their pass defense in 2011, it's safe to assume the Vikings will have a new starter at one safety position, and possibly both, in 2012. Veterans
Jamarca Sanford
and
Mistral Raymond
worked with the first team during most spring practices, but Sanford has proved a liability in pass coverage in the past, and a number of other players should get long looks during training camp.
That list is headed by first-round draft pick
Harrison Smith
, who eventually will be a starter, even if it isn't in Week 1. Fellow rookie
Robert Blanton
, who is making the transition from cornerback, is another candidate.
The Vikings also will have competition at right guard between second-year player
Brandon Fusco
and veteran newcomer
Geoff Schwartz
, but it's likely more fans will follow the progress of the safety positions.