Chicago Bears:

Jay Cutler Show
October, 14, 2013
Oct 14
7:27
PM ET
Chicago Bears
quarterback
Jay Cutler
acknowledged on Monday that he has changed for the better, and credited the new coaching staff headed up by Marc Trestman, in addition to teammates on the offensive line and at the "skill" positions.
Often described as petulant, Cutler hasn't displayed the quality so far this season the way he did in years past.
Cutler
"I think everyone changes over a period of time," Cutler said during "The Jay Cutler Show" on ESPN 1000. "People change for the better, some for the worst. It just depends."
Having moved on to a new staff led by an offensive-minded head coach, Cutler receives the best pass protection he has had as a Bears QB, and he is surrounded by multiple weapons on his side of the ball, which is a change from Lovie Smith, who preferred to bolster the defense.
In the 2013 regular season, Cutler has connected on 143 of 217 passing attempts, or 65.9 percent, and is on pace for a career high and highest for a season in franchise history. He has completed at least 60 percent of his passes in five of six games, and has thrown for 300 or more yards in two games.
With nine 300-yard passing games as a Bear, Cutler is tied with Billy Wade for the most in franchise history.
"I like the situation I'm in right now with the coaches. Marc Trestman, [Matt Cavanaugh], [Aaron Kromer], all those guys are doing a great job of getting this team offensively where we need to be. Offensive line, I can't say enough about them. I think they're the biggest byproduct of where we are offensively," Cutler said. "We brought in
Martellus Bennett
, some other guys around us. We've got (
Brandon Marshall
), Alshon [Jeffery], Earl [Bennett],
Matt Forte
, [Michael] Bush, all those guys are playing well."
In the final year of a contract that pays $8.47 million this season, Cutler also cited an enjoyable life off the field for the change he has experienced. Cutler and reality television star Kristin Cavallari married in June, and, the summer before that, Cavallari gave birth to the couple's son, Camden.
"At home, life is good. Kristin's actually here tonight with me. We're gonna have a little date night, go downtown stuff, go to dinner. So that's great," Cutler said. "Cam is doing great. I'm in a good place right now. It makes it a lot easier when you have good guys to work around you. It makes my life easier."
January, 9, 2013
Jan 9
4:32
PM ET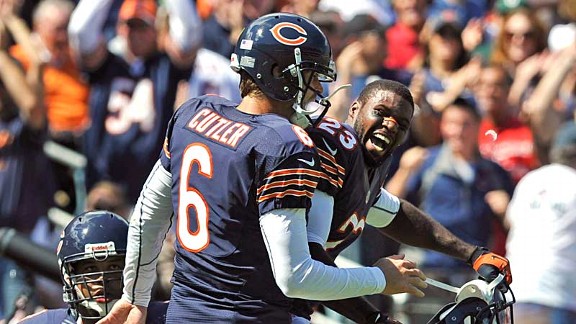 AP Photo/Jim PrischingDespite Devin Hester's talk of retirement, Jay Cutler wants him back with the Bears in 2013.
Chicago Bears
quarterback
Jay Cutler
made it clear he wants
Devin Hester
to return for the 2013 season, and he acknowledged it is "safe to say" the receiver might flourish in a new offense likely to be brought in once the team hires a new coach to replace Lovie Smith.
December, 17, 2012
12/17/12
2:25
PM ET
Chicago Bears quarterback Jay Cutler agreed Monday with the assertion by receiver Brandon Marshall that "everybody involved in this offense should be held accountable, even if that means jobs."
Marshall made those comments Sunday, just moments after the team's fifth loss in six weeks, a 21-13 fall at the hands of the rival Green Bay Packers. During "The Jay Cutler Show" on ESPN 1000, Cutler clarified Marshall's remarks, saying "I think he was talking more (about) players" as opposed to members of the coaching staff.
Read the entire story.
November, 19, 2012
11/19/12
12:30
PM ET
By
Staff
| ESPNChicago.com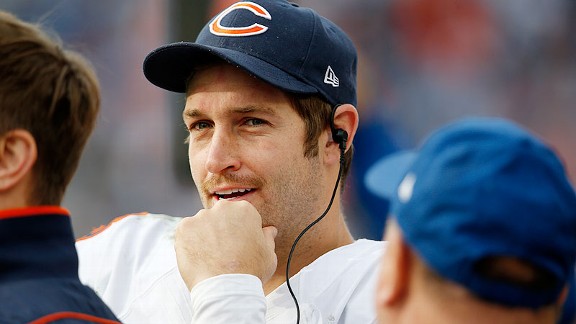 AP Photo/Joe HowellThe Bears felt it would be best that Jay Cutler not fly to S.F. after his concussion.
Jay Cutler
, who was ruled inactive Friday, did not accompany the
Chicago Bears
to San Francisco for Monday night's game as he recovers from a concussion.
The Bears felt it would be better if Cutler didn't travel on the four-hour flight.
October, 2, 2012
10/02/12
2:52
PM ET
[+] Enlarge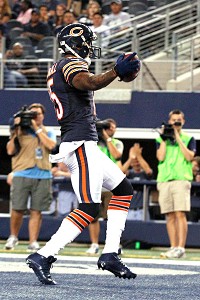 AP Photo/LM OteroThe Bears' Brandon Marshall posted his second 100-yard receiving game in four weeks on Monday night.
Jay Cutler
and
Brandon Marshall
have always communicated well with each other dating back to their days in Denver. But in the first two games of the season, Cutler said he heard from his favorite receiver a little bit too much on the sideline between series.
And Monday's game against the
Dallas Cowboys
started the same way.
"He started coming over in Dallas early in the game, and I was like 'Get out of here. Go do your thing, the ball is going to come your way just let us be. We're talking this over, we'll figure it out,' " Cutler said Tuesday on "The Jay Cutler Show" on ESPN 1000. "And he did. Third, fourth quarter we started getting some rhythm, getting him the ball. It was fun to watch."
Marshall caught seven passes for 138 yards and a touchdown in the Bears' 34-18 victory over the Cowboys on Monday night. After starting off his Bears career with a big day against the
Indianapolis Colts
on Sept. 9, catching nine passes for 119 yards and a touchdown, Marshall had just seven catches for 95 yards and no touchdowns over the next two games.
But Marshall made the most of his eight targets against the Cowboys, capping off the night with a 31-yard touchdown catch in the fourth quarter for a 34-10 lead.
"He played within the system," Cutler said. "We've got a lot of plays designed for Brandon. Whenever we do get a lead teams are going to play single high, try to come get us and stop the run, so it's going to open him up. Whenever he plays within the system and lets it come to him instead of trying to force it ... I felt the first three games he wanted to make big plays so badly that he was getting a little bit out of rhythm, doing things that he shouldn't do. I felt this game he did exactly what we asked him to do and whenever the ball came to him he made plays for us."
PODCAST
Listen to Jay Cutler's reaction to his team's dissection of the Cowboys in Big D. Plus, find out what really happened on the sidelines with Mike Tice.

Listen

Cutler said Monday's game -- in which he posted a 140.1 passer rating -- felt a lot like his Denver days with Marshall, who posted two 100-catch, 1,000-yard seasons with Cutler as his quarterback.
"Watching (the game) on the way back I got to sit next to him on the plane also," Cutler said. "I'm never away from him. I'm watching and he's leaning over my shoulder, 'Yeah, that looks good.' I'm like 'Yeah, I got it.' So it's fun to have him back. We've just got to build on that. It's about consistency in the NFL and putting it together week after week."
September, 24, 2012
9/24/12
4:51
PM ET
By
Staff
| ESPNChicago.com
[+] Enlarge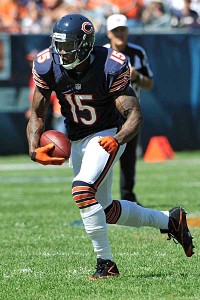 David Banks/Getty ImagesBrandon Marshall has 31 targets this season.
Brandon Marshall
's 31 targets this season are tied for ninth-most in the NFL, and
Chicago Bears
quarterback
Jay Cutler
doesn't plan on reducing that pace anytime soon.
"He's our go-to receiver," Cutler said Monday during "The Jay Cutler Show" on ESPN 1000. "He's a guy we're going to try to get to. Plays are designed for him. Plays are designed to get the ball in his area and let him make plays. I don't think we made errors in doing that. It's just sometimes they take it away and we have to go elsewhere.'
Marshall has 16 receptions for 214 yards and one touchdown. He also has three drops.
Here are some other highlights from "The Jay Cutler Show":