Chicago Bears:

Jim Schwartz
November, 7, 2012
11/07/12
11:00
AM ET
As we noted last month, we've done away with the weekly Stock Watch post and instead will hit it after every quarter of the season. Here's what we posted
after every NFC North team had played four games
, and below is our assessment now that everyone has played at least half of the games on their 2012 schedule. I'm such a happy guy that I went crazy and shifted a slot from our "Falling" category to "Rising" to reflect the fact that all four of our teams are at least .500 at the moment. The glass is half-full up in here.
FALLING
[+] Enlarge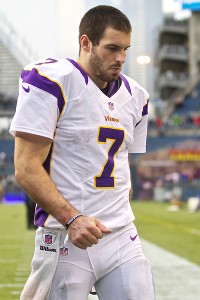 Stephen Brashear/Getty ImagesChristian Ponder has thrown six interceptions in the past four games, three of them losses.
1. Minnesota Vikings' vision:
The most important task facing the Vikings this season was not challenging for a postseason spot, something a 5-3 record through eight games put them in position to do. Instead, it was developing and cementing quarterback
Christian Ponder
as their long-term answer at the position. Ponder made clear progress during training camp and
played efficiently in the Vikings' conservative structure
early this season. But a slump has now extended to five games, lowlighted by a pair of sub-70 yard efforts, and raised an uncomfortable specter. If Ponder can't straighten himself out, his second NFL season will be a failure. The Vikings' long-term plan centers around his successful development. Would they give him an unchallenged third season to prove himself? Or would they need to start considering contingency plans? NFL franchises are lost without a quarterback, putting the Vikings at a critical point under their current leadership.
2. Health in Green Bay:
Nearly half of the
Green Bay Packers
' Week 1 lineup has missed at least one game because of injuries. All told, the Packers have lost 40 starts from players who were either listed as the starters on the team's opening depth chart or moved into that role as a result of other injuries. They face a post-bye landscape without receiver
Greg Jennings
, right tackle
Bryan Bulaga
, running back
Cedric Benson
, linebackers
Nick Perry
and
Clay Matthews
, and cornerback
Charles Woodson
, for various periods of time. Receiver
Jordy Nelson
's status is uncertain. Optimists recall the Packers won the Super Bowl two years ago with 15 players on injured reserve. A realist would wonder how likely it is to repeat that feat under such circumstances.
RISING
1. Cornerbacks in Chicago:
Even in a passing league, NFL teams have devalued the cornerback position in favor of pass rushers in recent years. Conventional wisdom has suggested that rules inhibiting aggressive coverage made pressure a better defensive weapon. But the
Chicago Bears
have proved otherwise this season, getting dominant performances from cornerbacks
Charles Tillman
and
Tim Jennings
both in coverage and playmaking. Their coverage has helped the Bears' pass rush compile an NFL-high 21 sacks from a standard four-man alignment, and as playmakers they've contributed a combined eight interceptions, three touchdowns, 21 defensed passes and seven forced fumbles. Oh, and they're combining to earn $6.55 million this season. That might have to change between now and the start of the 2013 season.
2. Scott Linehan, Detroit Lions offensive coordinator:
The Lions have faced considerable criticism for not forcing more downfield passes against defenses who are blatantly aligned to stop those plays. That strength-on-strength argument sounds good around the water cooler, but it's a suicidal long-term approach. Linehan and coach Jim Schwartz understood that and, from the beginning, have insisted on a traditional antidote: The running game. Personnel shortages
made that difficult earlier this season,
but the emergence of
Mikel Leshoure
and
Joique Bell
provide hope for the second half of the season. The two combined for 149 yards on 29 carries last Sunday against the
Jacksonville Jaguars
, and Leshoure scored three touchdowns. Linehan deserves credit for maintaining a sane thought process amid early season panic around the team. A successful running game might not force radical defensive changes, but it will give the Lions a reliable way to move the ball and score if they don't.
3. Adrian Peterson, Vikings running back:
Exactly 315 days ago, Peterson's left knee was a mangled mess. We've already noted
his stunning comeback,
but it's worth updating after his 182-yard performance last Sunday against the
Seattle Seahawks
. In his past three games alone, Peterson has amassed 458 yards and four touchdowns, including breakaway runs of 74 and 64 yards. He leads the NFL in rushing yards (his total of 957 this season is 163 more than the NFL's next-most productive running back), yards from scrimmage (1,107), yards per carry (5.7), yards after contact (515) and runs of at least 20 yards (11). His comeback has been no less impressive than that of
Denver Broncos
quarterback
Peyton Manning
, and his recovery came in less than half the time.
4. Jay Cutler, Bears quarterback:
From this vantage point, Cutler made substantial progress on multiple fronts over the past month. We got to the point where Cutler's quirks and sideline exchanges became
a matter of course rather than cause for personality debates.
We acknowledged how good
he has been in clutch situations
. And now we should note that the Bears are 12-1 in Cutler's past 13 starts dating to last season. Since the start of the 2010 season, in fact, the Bears have a .750 winning percentage in his starts (24-9). For reference, the Packers have a .769 winning percentage under quarterback
Aaron Rodgers
in that same span.
October, 23, 2012
10/23/12
2:00
AM ET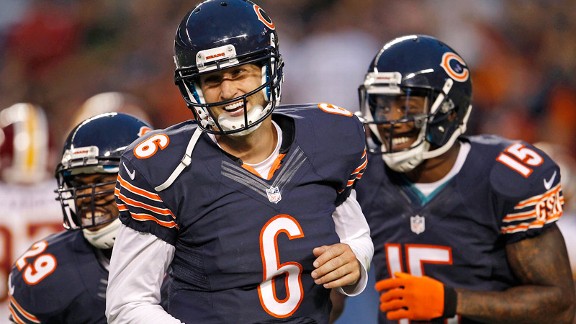 Nuccio DiNuzzo/Chicago Tribune/MCTThe Bears have the second best record in the NFC while the Lions may be on the brink of a lost season.
CHICAGO -- It's late and I'm loopy, so let's play a silly little game just for the heck of it. If the NFL season ended Monday night, three NFC North teams would be playoff bound. The fourth would own a top-10 draft choice.
Commissioner Roger Goodell would never call off a season after seven weeks, of course.
(Think of all the lost ticket revenue!)
We're not even at the season's midpoint, but already, I think, we're beginning to see some clarity in this division. The
Chicago Bears
,
Green Bay Packers
and
Minnesota Vikings
have each put themselves in position for the division title, while the
Detroit Lions
are on the brink of 2012 extinction.
That's right. After a
13-7 defeat
of the Lions in a game that wasn't that close, the Bears have the second-best record (5-1) in the NFC. According to the
updated standings,
the Vikings (5-2) rank fifth and the Packers (4-3) sixth in the conference. The Lions, on the other hand, have more losses at 2-4 than 24 of the NFL's 32 teams.
I realize there is more football left to be played this season than has been played. But this is the time of year when patterns emerge and stories start getting written, and Monday night we saw the Bears emerge from their bye as sharp as they entered it. They forced four turnovers, three in the red zone, and were 30 seconds away from their first shutout in three years. And the Lions looked no different than the team that has won this season only when mounting a fourth-quarter comeback.
"This was two evenly matched teams," Lions coach Jim Schwartz said afterward. "When you're playing a good team like Chicago, one that's leading the NFC North, we're on the road, we're not going to win the way we played."
To be clear, the Lions had a chance to steal this game largely because the Bears' offense slowed considerably after quarterback
Jay Cutler
suffered bruised ribs late in the second quarter. But there was never a time when I thought the Lions were matching the Bears blow for blow, as evenly matched teams do.
Evidence? Bears cornerback
Charles Tillman
did the impossible, matching up all night with Lions receiver
Calvin Johnson
and limiting him to three catches on the 11 passes he was targeted on. The Bears surprised the Lions by blitzing more often than usual, on 28.8 percent of
Matthew Stafford
's dropbacks, according to ESPN's Stats and Information. And the Bears' two-deep safety look didn't give up a pass longer than 23 yards.
The Lions, in fact, absorbed most of the blows Monday. Bears defenders stripped the ball from running backs
Mikel Leshoure
and
Joique Bell
in the red zone. And in a sequence that defined the current situations for both teams, the Bears fought off the Lions at their most vulnerable moment.
It began when Lions defensive tackle
Ndamukong Suh
sacked Cutler violently but legally -- and cleanly, according to all involved -- with 4 minutes, 52 seconds left in the second quarter.
Cutler missed five plays while getting the injury attended to. (Asked if he received a pain-killing injection at halftime, Cutler said: "We did some stuff back here in the back room.") When he returned to open the third quarter, it was clear Cutler couldn't step into and drive his throws. He was short to tight end
Kyle Adams
on second down and managed a pair of 2-yard passes to tailback
Matt Forte
before the Bears punted.
"It was on my right side," Cutler said. "I couldn't really follow through. Couldn't get through the ball. It had an impact on our play calling, but defense was playing so well, we thought we could ride it out a little."
Still, at that moment -- with Cutler debilitated and the Lions' defense seemingly energized -- you could sense the potential for a turning point. But the Lions'
Stefan Logan
muffed the ensuing punt, and three minutes later the Bears took a 13-0 lead that stood until the final seconds of the game.
Schwartz kept it positive afterward, saying: "We can battle back. We've battled back in games, we can do it in the season." But the Lions now have six very similar games on their resume -- slow starts, special teams miscues and last-second dashes -- that suggest they have some fundamental issues they might not be equipped to address immediately.
"If I had all the answers," Stafford said, "it would be nice."
If the Lions seem stuck in a rut, the Bears appear as well-rounded and disciplined as they've ever been under coach Lovie Smith. Tillman and linebacker
Lance Briggs
are having All-Pro seasons, and Monday they had reason to rally around their quarterback for positive reasons.
You might not realize it, but the Bears are 10-1 in Cutler's past 11 starts dating back to last season. While there was never a (rational) reason to doubt his toughness, Monday night felt like the moment when he earned his stripes in Chicago.
"That's what you should have as your Chicago Bear quarterback," Smith said. "And he does it time after time."
Put it all together, and the Bears are in their best-case scenario after six games. The Vikings and Packers aren't far behind. The Lions are on the short end of things. But no division is perfect, right?
October, 20, 2012
10/20/12
10:44
PM ET
The on-field incidents belie the weeklong muzzle job performed by the players in the buildup to a showdown on ESPN's "Monday Night Football" between the
Chicago Bears
and
Detroit Lions
at Soldier Field.
While the teams claimed mutual respect, it's clear they're not fond of one another, a sentiment expected to manifest itself on the field like it has so many other times in recent meetings.
[+] Enlarge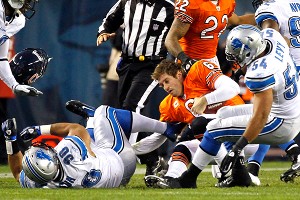 AP Photo/Charles Rex ArbogastNdamukong Suh snapped off Jay Cutler's helmet last November in a game that featured $62,500 in fines.
"Just because games are chippy doesn't mean the teams don't respect each other and don't want the emphasis to be the play on the field," Lions coach Jim Schwartz said. "There are a lot of great players that are going to play in this game on both sides of the ball, and I think these guys know each other very well. The schemes are well known. We have a good idea what they're going to do. They have a good idea what we're going to do. The more you know somebody, probably the better opportunity there is for guys to push and shove a little bit."
There has been opportunity aplenty in this series for sure.
Detroit defensive tackle
Ndamukong Suh
snapped off
Jay Cutler
's helmet during a 37-13 Bears win at Soldier Field in November. That was a game in which six players received fines totaling $62,500, including quarterback
Matthew Stafford
($7,500) and cornerback
D.J. Moore
($15,000) who were involved in an incident that led to an on-field brawl between the teams. Officials also flagged
Lance Briggs
for a crushing hit on Lions receiver
Calvin Johnson
, but the linebacker didn't receive a fine.
During the first meeting between the teams last season -- a 24-13 Lions win at Ford Field on Oct. 10 -- former Bears safety
Brandon Meriweather
received a $25,000 fine for a vicious hit on receiver
Nate Burleson
, while cornerback
Charles Tillman
was docked $7,500 for a horse-collar tackle on
Jahvid Best
.
Rewind to two years ago, and there's the incident in which Suh shoved Cutler hard in the back during a 24-20 Bears win, drawing a $15,000 fine from the league.
"They're a tough defense, they play hard," Cutler said. "They tackle hard, they rush the passer hard. They do everything full speed, so it's a challenge. With anybody in our division, we're not going to like them and they're not going to like us."
But Bears coach Lovie Smith made it clear that respect is there.
"With today's technology, you don't have to remind guys [about] an awful lot," Smith said. "It's not like I have to bring out the George Halas pep talk to get them ready to play Detroit. We realize what's at stake. We know about the rivalry we have with them, but it's still going to be decided on the football field."
October, 18, 2012
10/18/12
10:02
AM ET
We're Black and Blue All Over:
After a tough and physical game last Sunday at Lincoln Financial Field, the Detroit Lions have begun preparations for Monday night's game against the Chicago Bears with only two healthy cornerbacks.

The Lions aren't required to issue an injury report until Thursday at 4 p.m. ET, but as
Dave Birkett of the Detroit Free Press
notes, rookie Bill Bentley (shoulder) and veteran Jacob Lacey (concussion) appeared to sit out Wednesday's practice. Both players didn't return after suffering their injuries against the Eagles. That left veteran Chris Houston and rookie Jonte Green as the only healthy cornerbacks on the 53-man roster.
Fellow rookie Chris Greenwood was activated from the physically unable to perform (PUP) list this week but hasn't yet been added to the 53-man roster. It would be asking a lot for him to be ready to play Monday night.
The Bears aren't expected to have their full arsenal of receivers Monday night because of Alshon Jeffery's fractured hand, as
ESPNChicago.com's Michael C. Wright
notes, but the Lions appear shorthanded for the moment regardless.
Continuing around the NFC North:
August, 28, 2012
8/28/12
1:15
PM ET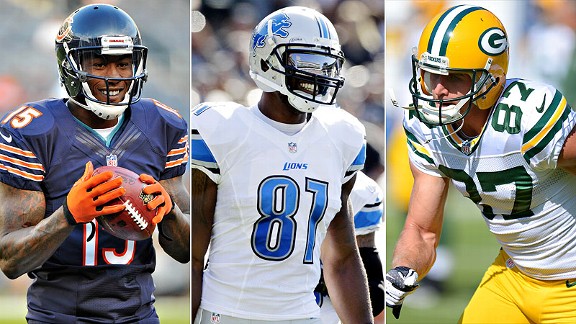 US PresswireBigger receivers like Chicago's Brandon Marshall, Detroit's Calvin Johnson and Green Bay's Jordy Nelson present unique challenges for the division's defensive backs.
You've already read half of this story. Surely you're aware of the increasing size disparity between NFL pass-catchers and cornerbacks. That train has left the station, and there's no going back.
So here's what I'm interested in: Assuming they don't plan to forfeit the season, how will NFC North cornerbacks and coaches deal with what looks like an increasingly one-sided matchup?
I spent part of
CampTour'12
asking cornerbacks, receivers and coaches a version of that question. After all, the
Chicago Bears
' acquisition of receiver
Brandon Marshall
means that each of our teams has at least one receiver taller than 6-foot-2 and one or more tight ends who stand at least 6-4. In total, the division boasts six "big" receivers and seven "big" tight ends based on those qualifications, as the first chart shows.
On the other hand, there are only three NFC North cornerbacks taller than 6-feet among the 12 expected to make up each team's primary rotation. (See second chart.) Cornerbacks don't always match up in single coverage against big receivers, and bigger safeties often take on tight ends. But at some point there is no choice. Eventually, NFC North teams will have a 5-foot-9 cornerback assigned to a 6-foot-4 receiver, a height differential of more than half a foot.
Most everyone engaged thoughtfully on the issue, and below I've categorized their thoughts in three ways. Let's take a closer look.
Muscle up or play off?
The game is football, of course, so the instinct of many cornerbacks is to get physical with big receivers -- especially at the line of scrimmage and even as the ball approaches. That approach is almost always a mistake, NFC North cornerbacks agreed.
"A guy that big, you don't want to be too aggressive with him,"
Green Bay Packers
cornerback
Tramon Williams
said. "You want to feel him, but you don't want him to feel you. As a big receiver, he wants you to be aggressive. That's his thing. He can push you off and do things like that. He can get separation and get you off your stride. So you don't want to be too aggressive with guys like that."
Instead, cornerbacks often are best served to "stalk" bigger receivers as they run downfield.
"They love for a little guy to get physical so they can body you," said
Detroit Lions
cornerback
Chris Houston
, who spends most practices matched up on 6-foot-5 receiver
Calvin Johnson
. "You've got to be smart, use your technique throughout the game. You can body them sometimes, but the majority of the time, they like for you to try to get in there. Their arms are much longer, so they can get you before you get them. You've got to be smart on your technique and stay disciplined."
The NFC North's shortest cornerback is
Antoine Winfield
of the
Minnesota Vikings
, whose reputation as a physical tackler overshadows the fact that he rarely tussles with receivers until after the ball arrives.
"I like to play off," Winfield said. "It's hard for me to be fighting with a guy who is 6-4, 6-5 at the line. He has the advantage. The first thing he is probably going to do is run at me, grab me, throw me to the side and take off."
Thinking back over his career during training camp, Marshall said "every guy plays a little differently." But Marshall could identify only one cornerback who deliberately got physical with him at the line of scrimmage: the
Denver Broncos
'
Champ Bailey
, who is just shy of 6-foot.
"A guy like that, he loves to go against big guys," Marshall said. "He trusts himself."
Everybody jump, jump
What Bailey and many other cornerbacks lack in height, however, they try to make up with timing and leaping ability. Bears coach Lovie Smith, in fact, said that vertical jumps are one of the most important attributes he seeks in defensive backs.
"Once the receiver gets off the ball," Smith said, "and he gets in position and the ball is thrown up in the air, just throwing it up high and it's a jump situation, that height and that vertical is going to come into play. And for us, most of our DBs have good verticals. They're 36-[inches] plus, 37-plus for a reason.
"If you have a good vertical, eventually if the ball is in the air, you can go out there and get it. I just don't think it's a gimmee just because you have a tall receiver and the cornerbacks are shorter. Most of the guys in the league are playing under six feet at the corner position and they're making a lot of big plays."
Indeed, the Bears employ two cornerbacks shorter than 5-10 --
Tim Jennings
and
D.J. Moore
-- among their top three. Jennings recorded a 37 1/2-inch vertical jump at his scouting combine, Moore hit 39 1/2.
Charles Tillman
, who at 6-1 1/8 is the second-tallest cornerback in the division, had a 40-inch vertical leap.
"You never concede a jump ball," said the Packers' Williams, whose vertical has been recorded at 41 inches. "I've always been confident in my jumping ability. Me, personally, I haven't had many jump balls caught on me."
Of course, big receivers watch film and usually know who the good jumpers are. Packers receiver
Jordy Nelson
said there are ways to maintain the height advantage against a cornerback who can jump.
"When we watch them, we see how they can play a deep ball," Nelson said. "If we know that so-and-so is out there, we know that you really have to attack the ball in the air. He is going to go up and get it. You've got to go compete for it. You can't let it come down and try to catch it over your shoulder. There's things like that that we watch."
In the absence of jumping ability, Vikings coach Leslie Frazier said, shorter cornerbacks must rely on extraordinary quickness and speed. The Vikings, for example, this year drafted the player who ran the fastest 40-yard dash at the 2012 scouting combine, Central Florida cornerback
Josh Robinson
(4.33 seconds). Robinson is 5-foot-9 1/2.
"What we try to find is a guy who is extremely quick," Frazier said. "Sometimes you can out-quick guys who are long striders, and they're usually better a little bit down the field. If you can offset some of that with the quickness and you are a gnat, just harassing them, that helps."
Scheme
Coaches can play an important role in equalizing the physical mismatch as well. Although it is bound to happen at some point, the least appealing way of defending a big receiver is putting him in a pure man-to-man matchup with a cornerback.
"There are things you can do where you don't get isolated in coverage," said Lions coach Jim Schwartz, whose top four cornerbacks are all shorter than 5-10. "You're playing man but you get a double team from somewhere, and so you're not playing the 'whole' man. You're not playing that whole 6-foot-3 receiver. You're only playing a portion of him. Those ways can be significant."
If you're not in position to double-team, the Bears' Smith said, zone concepts usually work better in physical mismatches. Players in man coverage usually turn their backs to chase the receiver they're assigned to, while players in zone are taught to keep receivers in front of them so they can watch the quarterback.
"It helps to play a little bit more zone," Smith said, "where you have your defensive backs with their eyes on the ball. When you're short and you're playing man-to-man and you have your back to the quarterback, there's a lot of things going against you in that situation."
So where does this leave us? When I spoke with Marshall about this topic, he smiled and said he didn't want to give up any secrets for exposing height mismatches. In truth, however, there aren't many.
Cornerbacks must play smart, both in technique and within the scheme. They need a physical attribute, especially jumping ability, that helps compensate for their height disadvantage. And they need to realize that, no matter what approach they take, NFC North teams are going to utilize their big receivers to complete plenty of passes. The defense that can best minimize the impact of those completions will put its team in position for the NFC North title.
August, 17, 2012
8/17/12
11:30
AM ET
In which we look ahead to two more nights of exciting Week 2 preseason action in the NFC North:
Detroit Lions

Opponent:
Baltimore Ravens
Location:
M&T Bank Stadium
Day/Time:
Friday/8 p.m. ET
Personnel notes:
The Lions continue to experiment with their arrangement in the defensive secondary, and
Jacob Lacey
is expected to start at cornerback with rookie
Bill Bentley
playing in nickel packages. … The first-team offense is looking to sustain some success after a scoreless preseason opener. ... Two prominent players who missed that game, receiver
Titus Young
(birth of child) and defensive end
Cliff Avril
(late camp report) are scheduled to play. … Coach Jim Schwartz grew up in Baltimore and was
tweeting cityscapes from his hotel room
Thursday evening. … The game will be televised nationally on FOX.
Focal point:
Tailback
Jahvid Best
appears likely to open the season on the physically unable to perform (PUP) list, once again placing an emphasis on depth behind
Mikel Leshoure
(hamstring) and current starter
Kevin Smith
. You would figure that
Keiland Williams
and
Joique Bell
will once again get a heavy workload.
Minnesota Vikings

Opponent:
Buffalo Bills
Location:
Metrodome
Day/Time:
Friday/8 p.m. ET
Personnel notes:
The Vikings held a number of veterans out of their preseason opener, but most of them are expected to play Friday night. The list includes defensive end
Jared Allen
, defensive tackle
Kevin Williams
, cornerback
Antoine Winfield
and receiver
Percy Harvin
. … You should also get your first look at rookie cornerback
Josh Robinson
. … Tailback
Adrian Peterson
(knee) returned to practice this week but won't play. … The Vikings are looking forward to seeing rookie place-kicker
Blair Walsh
's big leg in the still conditions of the Metrodome.
Focal point:
The most important task for the franchise is continuing to push the development of quarterback
Christian Ponder
, who made an encouraging 2012 debut last week. But almost as important is getting at least an even performance from backup
Joe Webb
, who hasn't had a good summer. The Vikings made Webb a full-time quarterback in the offseason, but if he falls short, he's too good of an athlete to cast aside.
Chicago Bears

Opponent:
Washington Redskins
Location:
Soldier Field
Day/Time:
Saturday/8 p.m. ET
Personnel notes:
Quarterback
Jay Cutler
will make his preseason debut, and the same is assumed for tailback
Matt Forte
and defensive end
Julius Peppers
. … The next installment of the Bears' left tackle drama is expected to include some first-team time for
Chris Williams
. The Bears want
J'Marcus Webb
to win the job, but at this point Cutler's safety is the primary goal.
Focal point:
Middle linebacker
Brian Urlacher
's knee surgery brings new scrutiny on the Bears' emergency plan at the position, which for the moment includes moving
Nick Roach
inside from the strong side and inserting veteran newcomer
Geno Hayes
on the strong side. Is that an arrangement the Bears could use if Urlacher is forced to miss regular-season time? Or do they need to find help from the outside?
October, 11, 2011
10/11/11
1:43
AM ET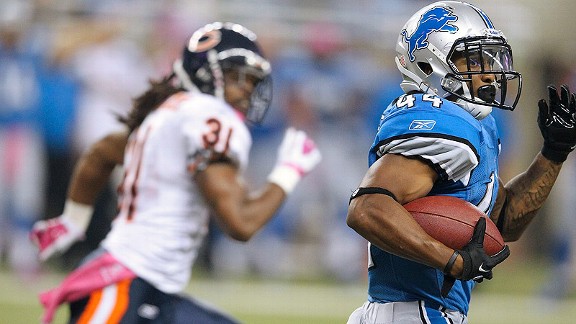 Leon Halip/Getty ImagesJahvid Best's 88-yard touchdown gave the Lions an 11-point lead late in the third quarter.
DETROIT -- Make no mistake: The
Detroit Lions
gave their city a first-in-a-generation scene Monday night.
Michael Buffer bellowed the pregame introductions.
Barry Sanders
took the field as an honorary captain. A record crowd at Ford Field
induced nine false-start penalties
and later emptied into the streets as if the French Quarter had been transported north. Detroit's burgeoning cadre of celebrity fans, including pop stars Kid Rock and Uncle Kracker, held court in the Lions' postgame locker room.
It's a sight I won't soon forget. Neither will the 67,861 in attendance nor the Lions' still-gestating roster. But to me, the takeaway memory of the Lions'
24-13
victory over the
Chicago Bears
was the evidence that Monday night won't be a once-in-a-lifetime event.
The Bears matched up well against the Lions, largely stifling their offense and moving the ball decently against their defense. At halftime, the Bears led 10-7. But no matter how the Lions play, they have a critical ingredient that helps any good team navigate dips in efficiency: the ability to score easy touchdowns. In the NFL, that attribute is known as "explosiveness," and for the Lions, it is the ultimate equalizer.
The Lions won Monday night largely because of three huge plays:
Receiver Calvin Johnson's 73-yard touchdown reception in the first quarter.

Running back Jahvid Best's 88-yard scoring run in the third quarter.

Best's 43-yard run in the fourth quarter, which put the Lions in position for a game-clinching field goal.
Those three plays totaled 204 yards, or 51.6 percent of the Lions' total offensive output Monday night. They had 191 yards on their other 43 plays, an average of 4.3 yards per pop.
"Our playmakers answered the bell tonight for us," receiver
Nate Burleson
said. "We knew we were going to need that."
It probably didn't surprise the national television audience when quarterback
Matthew Stafford
caught the Bears trying to defend Johnson with a single-high safety in the second quarter. Johnson blew past strong safety
Chris Harris
, and free safety
Brandon Meriweather
was too late providing help.
But Best was another story. He had averaged 3.2 yards per carry over the Lions' first four games and hadn't produced a run longer than 19 yards. Most of us had written off both him and the Lions' running game, but the mistake was forgetting what Best can do when he gets in the open field.
Crushing blocks from right guard
Stephen Peterman
and right tackle
Gosder Cherilus
opened a crease at the 12-yard line in the third quarter, and Best said: "I figure if I get in the open field, nobody should catch me. I knew nobody was going to catch me from behind."
It sounds simple, but not every NFL team has one player like Johnson or Best, someone who can turn a relatively simple play into a game-changing touchdown.
It's true that the Bears have been vulnerable to the kind of runs Best broke. Entering Week 5, they were allowing 5.3 yards per rush between the tackles, the NFL's third-worst mark. And some of you might like Best to provide more of a consistent threat.
Since joining the Lions last season, Best has five carries that have totaled 229 yards. He has averaged 2.9 yards on his other 238 carries. But what he did Monday night helped win a key NFC North game and, more importantly, will have ramifications for the rest of the season -- even if he never comes close to replicating it.
"When you have a quarterback like we have, when you have a receiver like we have, you're probably not going to be a team that's going to run the ball 40 times a game," Lions coach Jim Schwartz said. "So we're going to do what it takes to win the game, and we have a lot of explosiveness in our pass game. You saw the way it was able to be effective. We ran the ball well enough to be able to set it up."
Indeed, the Lions' third touchdown came on a play-action fake to Best. That's how tight end
Brandon Pettigrew
got wide open for an 18-yard touchdown reception. On Monday night, Stafford completed all five of his play-action passes, according to ESPN Stats & Information.
Hereafter, Lions opponents who overlook Best, or lose track of him, will do so at their own peril. NFL teams fear players who can score on their own and build game plans around them. The Lions have two great equalizers in their arsenal, and that's the scene I'll remember from Monday night.
"I don't think we proved anything," Stafford said. "We go out ... expecting to win every game."
With big-play weapons such as Johnson and Best, the Lions have every right to feel that way. I don't know where this magical season will take them. But they've shown us they have the ingredients to continue winning well into January.
Now, wouldn't
that
be a scene to remember?
October, 8, 2011
10/08/11
3:02
PM ET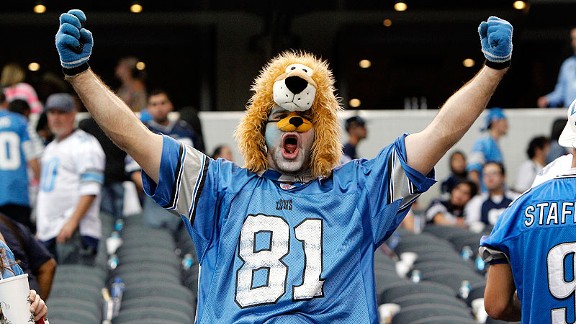 AP Photo/LM Otero"It's important for our players to perform for our fans," Lions coach Jim Schwartz said of Monday.
You know already that Detroit hasn't hosted a Monday night game in 10 years. You're aware that the
Detroit Lions
haven't won on Monday night since 1998 and that Ford Field has been sold out for months and that 2,000 standing-room-only tickets were sold in a matter of hours last week. And maybe, just maybe, you
saw the lions that stomped on a bear piñata
at the Detroit Zoo.
If you think the past week has been crazy in Detroit, the next 36 hours or so will be flat-out wild. But when you pull back the pomp and sift through the circumstance, and when you're done listening to
Barry Sanders
narrate the new introduction of ESPN's broadcast, and you remember that Sanders played in the last Lions' victory on a Monday night, you'll note that we have a pretty critical division game on our hands as Week 5 matchups go.
A Lions victory would give them a three-game lead over the 2010 NFC North champions in the second week of October. The
Chicago Bears
would be 2-3, trailing what could be two 5-0 teams if the
Green Bay Packers
defeat the
Atlanta Falcons
on Sunday night.
[+] Enlarge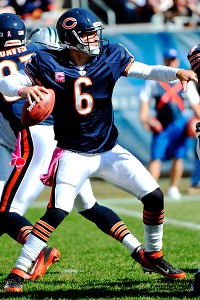 Rob Grabowski/US PRESSWIREJay Cutler has a passer rating above 100 in four meetings against the Lions.
It's not unheard of for a team with a three-game deficit after Week 5 to recover and clinch a division title. It happened as recently as 2009, according to the Elias Sports Bureau, when the
San Diego Chargers
(3-3 after six games) overtook the 6-0
Denver Broncos
.
But let's just say the Bears don't want to put themselves in that spot, which required the Chargers to win their final 10 games while the Broncos finished 2-8. It's also never too early to note that a defeat Monday night would give the Bears two losses in the division and three in their conference, both of which are important factors in playoff tiebreakers. And with two of their division competitors off to perfect starts, the Bears find themselves fighting for relevance with leaves still on the Upper Midwest trees.
Bears linebacker
Lance Briggs
dispensed with the usual clichés this week and
acknowledged to Chicago reporters
that Monday night's game is "huge." He added: "It's a division game, and it's a game that puts us right in the mix or will set us back three games. We're just coming off two losses in the conference, so this is a must have. We have to have it. Period."
The Bears have won six consecutive games against the Lions, and quarterback
Jay Cutler
has finished with better than a 100 passer rating in his four starts against them. The potential of overcoming that history, which has become a weekly event for the Lions, brings another level of intrigue to this game. One of the biggest challenges for the Lions, in fact, will be to enjoy the festivities while still recognizing the importance of the game.
In truth, the NFC North could be a two-team race by early Tuesday morning.
"It's important for our players to perform for our fans," Lions coach Jim Schwartz said. "I mean, they know the history of this franchise and they know how long it's been since they really had something to get behind and something to cheer about. I don't know if that makes a difference on [game day]. It's important for us to play well, it's important for us to play for our city, but there's a lot of other things that go into it."
February, 24, 2011
2/24/11
11:47
AM ET
INDIANAPOLIS -- Beginning with the selection of quarterback
Joey Harrington
(No. 3) in the 2001 NFL draft, the
Detroit Lions
have picked in the top 10 eight of the previous nine years.
However, Lions coach Jim Schwartz believes he has the organization headed in the right direction. Although Detroit finished 6-10 and will draft at No. 13, Schwartz's team won their final four games and defeated the Super Bowl Champion
Green Bay Packers
at Ford Field.
Plus, the Lions lost two games to the Bears by a combined nine points, and would have beaten the NFC North Champions in Week 1 if not for the controversial
Calvin Johnson
no-catch call in the end zone.
So how close is Detroit to closing the gap and catching the Bears and Packers?
"We're not trying to close a gap, it's not our objective," Schwartz said Thursday at the NFL Combine. "Our objective is to build a team and keep improving. When we do that, then we'll be successful against those teams. We [can] talk a little bit about where we were against them this season. I don't know if there's still a whole lot of gap that still needs to be closed. I mean, we obviously need to come out ahead in those games, instead of near misses. But it's obviously a big difference from where we've been in the past."