Chicago Bears:

Johnathan Franklin
July, 19, 2013
7/19/13
12:00
PM ET
NFC Eight in the Box:
East
|
West
|
North
|
South
»
AFC:
East
|
West
|
North
|
South
What are the three key camp issues facing each NFC North team?
CHICAGO BEARS

Offense: Kyle Long's readiness
The Bears drafted Long in the first round to help an offensive line that has struggled for years to protect quarterback
Jay Cutler
. Long, however, had a short Division I career and missed almost all of the Bears' offseason work because of the timing of Oregon's final academic quarter. The Bears will find out in camp, and during the preseason, whether Long is ready to be an immediate starter as you would expect based on his draft position.
Defense: Configuring linebackers
After the retirement of
Brian Urlacher
and the departure of
Nick Roach
, the Bears gave themselves two tiers of options at linebacker to play alongside
Lance Briggs
. If all else fails, they can use veteran
D.J. Williams
in the middle and
James Anderson
on the strong side. But they also drafted two players who one day will get their chance:
Jon Bostic
in the second round and
Khaseem Greene
in the fourth. The process of determining the best combination will begin in training camp.
Wild card: Coaching transition
This will be the Bears' first training camp in 10 years without Lovie Smith as the coach. Marc Trestman began the transition process during offseason workouts, but training camp is the time for establishing the meat of his program. How does he expect players to practice? How quickly does he expect scheme assimilation? How do players know when he's happy? When he's angry? The first training camp will set the parameters.
DETROIT LIONS

Offense: Line changes
One way or the other, the Lions will enter the season with three new starters on the offensive line.
Riley Reiff
is at left tackle after the retirement of
Jeff Backus
, and there will be competition at right guard and right tackle. Pulling off an overhaul of the offensive line in a win-or-else season is an ambitious task. All discussion of improvement for quarterback
Matthew Stafford
, and the impact of newcomer
Reggie Bush
, is made on the presumption that the offensive line won't take a step back.
Defense: Ziggy Ansah's development
Usually, the No. 5 overall pick of a draft is ready to step in and play right away. But Ansah was a late arrival to football and was almost an unknown to NFL scouts a year ago at this time. There was a sense during pre-draft evaluations that Ansah would need more development time than the typical No. 5 pick, but the Lions have high hopes of putting him into the starting lineup right away. They gave themselves some flexibility by signing free agent
Israel Idonije
, but they'll find out in camp if Ansah is going to be ready to play a full-time role in Week 1.
Wild card: Ryan Broyles' status
Broyles was a value pick in the 2012 draft, but he is very much needed after the release of
Titus Young
.
Nate Burleson
has returned to play alongside All-Pro
Calvin Johnson
, but the Lions' depth would be thin if Broyles isn't ready to play soon after tearing his ACL in Week 13 last year. The Lions hope Broyles can be full-speed by the start of the season, a pace he must confirm with at least some significant work in training camp.
GREEN BAY PACKERS

Offense: Running back rotation
The Packers added two rookies,
Eddie Lacy
and
Johnathan Franklin
, to a group that includes holdovers
DuJuan Harris
,
James Starks
,
Alex Green
and
John Kuhn
. Unless the Packers suddenly convert to a run-based offense, an impossibility as long as
Aaron Rodgers
is at quarterback, the Packers will have to thin this herd in training camp. Not everyone from that group will make the team, and a few who do aren't likely to get much action in games. Harris, Lacy and Franklin seem the likeliest candidates -- in that order -- to be feature backs.
Defense: Replacing Woodson
The Packers have openings at safety and cornerback following the release of
Charles Woodson
. Training camp should provide significant insight, if not an outright answer, into who will start at safety --
M.D. Jennings
?
Jerron McMillian
? -- alongside
Morgan Burnett
. We'll also get a sense for who is ready to step into the cornerback and nickel job opposite veteran
Tramon Williams
. Top candidates for that job include
Sam Shields
,
Casey Hayward
and
Davon House
. The Packers' cornerback group is by far the deepest in the NFC North.
Wild card: Crosby's state of mind
No one expects
Giorgio Tavecchio
to beat out place-kicker
Mason Crosby
, who went through a well-publicized extended slump last season. But how will Crosby react to the first competition of any sort he has faced since taking over as the Packers' kicker in 2007? That's what the Packers want to find out, frankly. If he isn't sharp in camp, the Packers might need to consider their options elsewhere.
MINNESOTA VIKINGS

Offense: Cordarrelle Patterson's development
The Vikings know they want Patterson to be their kickoff returner, replacing
Percy Harvin
, but is Patterson ready to take over any part of Harvin's role as a primary offensive playmaker? Patterson's short stay at Tennessee once suggested he will need some development time before contributing regularly on offense. His performance in offseason practices, however, suggested he might be further along than once believed. Training camp will tell us for sure.
Defense: Linebacker alignment
Will newcomer
Desmond Bishop
play middle linebacker or on the outside? What would that mean for
Erin Henderson
, who spent the offseason transitioning to the middle position? It seems pretty clear that Bishop, Henderson and
Chad Greenway
will be the Vikings' three linebackers. Training camp should give us a better idea of where they will line up and, importantly, who will come off the field in nickel situations.
Wild card: Chemistry in passing game
The Vikings are expecting a jump in the efficiency, if not raw numbers, of their passing game this season. Quarterback
Christian Ponder
will have to accomplish that by developing quick chemistry with his new receivers, including Patterson and veteran
Greg Jennings
. That task appeared to be a work in progress during offseason practices.
July, 16, 2013
7/16/13
2:15
PM ET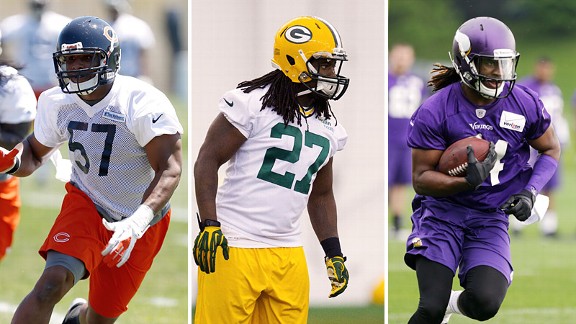 Getty ImagesOpportunities await Jon Bostic, left, Eddie Lacy, center, and Cordarrelle Patterson in training camp.
In 10 days, all four NFC North teams will have stepped onto the practice field for their 2013 training camps. I can't think of a better way to wade through these final days than by identifying 10 key issues we will no doubt be focusing on over the next six weeks or so.
I'm staying away from some of the obvious ones and instead focusing on developments for which we have a reasonable expectation of resolution before the start of the regular season. We won't know by Labor Day, for example, if
Jay Cutler
is a good fit for the
Chicago Bears
' new offense under Marc Trestman. It'll be impossible to conclude whether
Christian Ponder
has taken a step forward as the
Minnesota Vikings
' quarterback, or whether the
Detroit Lions
'
Matthew Stafford
has fixed his mechanics or if the
Green Bay Packers
know how to stop the read-option.
Answers to those questions won't be evident until regular-season games start. I think it's reasonable to expect quicker resolution to the questions identified below.
Issue:
Jon Bostic
and the Bears' middle linebacker job
Analysis:
General manager Phil Emery gave the team a safety blanket by signing veteran
D.J. Williams
, who is expected to open training camp in Brian Urlacher's old spot. But the Bears used a second-round draft pick on Bostic, and one day he almost certainly will have the job. If he can win it in training camp, the Bears can move Williams to the outside or use fellow newcomer
James Anderson
there.
Issue:
A role for Bears defensive end
Shea McClellin
Analysis:
McClellin was the Bears' first-round draft pick just one year ago, but he'll have to compete hard to establish a role commensurate with that status.
Julius Peppers
and
Corey Wootton
finished last season as the Bears' starting defensive ends, and Wootton is in a contract year and thus will be highly motivated. The Bears cleared some space by allowing
Israel Idonije
to depart via free agency, but McClellin's path to regular playing time is far from certain.
Issue:
Starting
Kyle Long
Analysis:
There has been an assumption that Long will be plugged into the starting lineup at one of the Bears' guard positions, but it's only fair to reiterate his relative lack of experience (four starts) in Division I. Moreover, Long was unable to participate in most of the Bears' offseason program because of NFL rules regarding the timing of college graduation. In other words, Long is as green as it gets for a first-round draft pick. It will be nice to see, finally, what the Bears have in him.
Issue:
Ryan Broyles
' status in Detroit
Analysis:
Broyles tore his ACL in Week 13 last season and will push to be ready for camp. If Broyles is healthy and available, he will join
Calvin Johnson
and
Nate Burleson
to form a really good trio. If he needs more time, the Lions will be thin at the position to start the season.
Mike Thomas
, a slot receiver acquired last season from the
Jacksonville Jaguars
, would be next up.
Issue:
Ziggy Ansah
's development
Analysis:
Generally speaking, the No. 5 overall pick of a draft should be ready to step into the lineup and make an immediate contribution. Ansah, as has been well-documented, was a late arrival to football and might need more development time than most No. 5 overall picks. Idonije gives the Lions an option if Ansah isn't ready to start, and in truth snaps are more important than the starting lineup. But when you draft a defensive end at No. 5 overall, you expect him to be ready to handle a full-time load almost immediately.
Issue:
Packers' running back rotation
Analysis:
The Packers gave themselves a good problem this offseason by adding two draft choices,
Eddie Lacy
and
Johnathan Franklin
, to a group that also included
DuJuan Harris
,
James Starks
and
Alex Green
. It seems unlikely that all of them will make the roster, but the more pressing matter is how they will be used and how often. Harris would have been the favorite to start entering training camp, but he missed the offseason because of injuries, and the position should now be considered wide open.
Issue:
Mason Crosby
's reaction to competition
Analysis:
Crosby's extended slump last season prompted the Packers to bring a second place-kicker to camp for the first time since he established himself as the Packers' full-time kicker. There is every reason to consider Crosby the heavy favorite over
Giorgio Tavecchio
, but that's assuming Crosby handles the competition well. It has been a while since Crosby had to secure his job.
Issue:
Replacing
Charles Woodson
in Green Bay
Analysis:
Woodson played safety and cornerback for the Packers last season. Now, they have a competitive situation at both spots. Training camp should tell us whether
M.D. Jennings
or
Jerron McMillian
is ready to grab a safety spot next to
Morgan Burnett
. We'll also get to see a spirited competition at cornerback between
Sam Shields
,
Casey Hayward
,
Davon House
and others for the chance to play alongside
Tramon Williams
.
Issue:
Vikings linebacker alignment
Analysis:
It is reasonable to expect
Chad Greenway
,
Erin Henderson
and
Desmond Bishop
to start in the Vikings' 4-3 base. But what positions will they play? Training camp should make that clear. Bishop would seem best suited for the inside, with Henderson returning to his former role outside, but it's not out of the question that the Vikings could experiment in the reverse during camp to find the best combination.
Issue:
Cordarrelle Patterson
's development
Analysis:
Shortly after the draft, we were led to believe that the Vikings rookie would fit in as a kickoff returner this season while he learned how to play receiver at the professional level. But if offseason practices were any indication, Patterson might be ready for a bigger role on offense right away. Can he emerge from training camp as a starter opposite
Greg Jennings
? That's the Vikings' best-case scenario, one that didn't seem possible in April but can't be ruled out on the eve of camp.
June, 6, 2013
6/06/13
9:45
AM ET
Matt Williamson scouts the NFL for ESPN.com, and this week he revealed his
offseason grades for all 32 teams.

You'll need an Insider subscription to view the full file, but I've been authorized by high-level executives to leak a few NFC North snippets:
Chicago Bears

Williamson grade:
B+
Williamson snippet:
"Upgrading the offensive line, getting younger and better at linebacker and adding another weapon in the passing game were the Bears' top priorities this offseason -- and they accomplished all three."
Seifert comment:
The Bears' offseason performance is particularly notable when you remember they entered the draft with only five selections. (They acquired a sixth via trade). The offensive line remains fluid, but has been addressed more aggressively than in years. Getting younger at linebacker was the first step in what will be a multi-part process of filling in behind 30-something starters
Charles Tillman
,
Tim Jennings
and
Julius Peppers
. (Jennings turns 30 in December).
Detroit Lions

Williamson grade:
B
Williamson snippet:
"Expect the Lions' pass defense to be significantly improved. … But another area of weakness was created this offseason for the Lions. Their offensive line played quite well overall last year but lost three starters to retirement and free agency."
Seifert comment:
The signing of safety
Glover Quin
and the decision to (finally) draft a cornerback at a high position (second-rounder
Darius Slay
) bodes well for the pass defense. Even without a new receiver opposite
Calvin Johnson
, the Lions have plenty of skill position players on offense. The significance of an offensive-line overhaul is not to be underestimated, however. The Lions will be counting on as many as three untested linemen to come through.
Green Bay Packers

Williamson grade:
B
Williamson snippet:
"The Packers are the only team for which I didn't list a veteran 'key addition,' and their 'key losses' are rather extensive. Still, they remain one of the very best teams in football."
Seifert comment:
It's not unusual for the Packers to avoid key veteran additions. But they certainly added some important pieces in running backs
Eddie Lacy
and
Johnathan Franklin
, along with defensive lineman
Datone Jones
. In minicamp this week, Jones was working both as a defensive end in base defenses, and inside at tackle in the nickel. Once he learns the scheme, Jones is going to be a difference-maker.
Minnesota Vikings

Williamson grade:
B-
Williamson snippet:
"Minnesota brought in some big-time prospects in the draft, but the losses of two great players' contributions on game day will be hard to replace this season."
Seifert comment:
Williamson was referring to the trade of receiver
Percy Harvin
and the release for cornerback
Antoine Winfield
. Both players wound up with the
Seattle Seahawks
. They also failed to find a replacement at middle linebacker, requiring the shift of
Erin Henderson
from the outside. The team's biggest personnel question mark, other than the continued development of quarterback
Christian Ponder
, is whether they can replace Winfield's presence in the slot.
May, 24, 2013
5/24/13
11:00
AM ET
»
NFC Eight in the Box
:
East
|
West
|
North
|
South
»
AFC
:
East
|
West
|
North
|
South
How does each NFC North team look at running back, and what still needs to be done?

Chicago Bears
: If you were drawing up plans for an experienced but diverse backfield, you could do a lot worse than modeling after the Bears. Starter
Matt Forte
is a shifty off-tackle runner and one of the NFL's top pass-catching running backs, a collection of skills that will fit neatly into new coach Marc Trestman's offense. Forte has caught 267 passes since his career started in 2008, the
third-most in the NFL by a running back
over that stretch. Backup
Michael Bush
, meanwhile, is a bigger and stronger inside threat who gives the Bears a better option in short-yardage and goal-line situations. He produced a first down on 24.6 percent of his rushes last season, according to ESPN Stats & Information, the 10th-best percentage in the NFL. As long as Forte and Bush are healthy, the Bears' relatively thin depth behind them is irrelevant.

Detroit Lions:
Free agent acquisition
Reggie Bush
figures to
benefit from opponents' attention
on receiver
Calvin Johnson
to much greater extent than the Lions' backfield did last season. Early indications are the Lions will use Bush
similarly to the way
the
New Orleans Saints
did earlier in his career. With the Saints in 2006, Bush caught 88 passes. Training camp should bring competition for the right to be the "thumper" behind Bush. Will it be 2011 second-round draft choice
Mikel Leshoure
, who looked
slow and not very elusive
after returning last season from a torn Achilles tendon? (No NFL running back had as many touches as Leshoure without at least one play of at least 20 yards.) Or will it be the lesser-known
Joique Bell
, who
as Pro Football Focus points out
, made defenders miss regularly last season. He forced 26 missed tackles in 82 carries and actually averaged more yards after contact (2.99) than Bush did with the
Miami Dolphins
(2.06).

Green Bay Packers:
The team re-made its backfield through the draft after years of transition, throwing the situation into unknown territory. At some point, the Packers will have to thin the herd of a group that includes returnees
DuJuan Harris
,
James Starks
,
Alex Green
and
John Kuhn
, along with rookies
Eddie Lacy
and
Johnathan Franklin
. The competition is wide open, although both Starks and Green have failed when given previous opportunities. Lacy's
build and pedigree
suggests he has an excellent chance to ultimately win the starting job, but Harris impressed the team late last season and could get the first shot this summer.

Minnesota Vikings:
Adrian Peterson
. Is there much more to say? Historically, runners who put together a 2,000-yard season tend to fall back the following year. But nothing about Peterson's career suggests he will fit neatly into a trend. He has set a goal of 2,500 yards, and however unrealistic it might be, he has earned the benefit of the doubt. Backup
Toby Gerhart
is in his fourth and presumably last season as Peterson's understudy. While Gerhart hasn't shown much explosion in short stints in Peterson's place, you would think he'll want to look elsewhere for more carries when his contract expires after this season.
May, 9, 2013
5/09/13
2:52
PM ET
This week,
NFC West colleague Mike Sando
posted the NFL's little-known rules for rookie participation in offseason programs. The key portion for our consumption: Draft picks and college free agents can't participate in organized team activities until after final exams at their respective schools.
K. Long
That isn't an issue on most campuses, where finals occur in early May. But there are at least four NFC North players, all from Pac-12 schools, who apparently will miss all or most of their team's OTAs this spring because of a later academic calendar.
Atop the list is
Chicago Bears
first-round draft pick
Kyle Long
of Oregon, a guard who figures to compete for an immediate starting job. The Bears' OTAs will take place between May 13 and June 6, but Oregon's final exams
don't end until June 14
. Long is eligible for this weekend's rookie minicamp but not the Bears' veteran mandatory minicamp June 11-13. (
*Update:
An earlier version of this post said Long was eligible for veteran mandatory minicamp. Upon review, that is not the case.)
The same is believed to be true for a trio of UCLA players who were drafted by NFC North teams.
Green Bay Packers
running back
Johnathan Franklin
, along with
Minnesota Vikings
punter
Jeff Locke
and
Jeff Baca
, appear ineligible for OTAs until after June 14. The Packers and Vikings are both scheduled to have OTAs wrap up on the same day.
Franklin would not be eligible for the Packers' veteran mandatory minicamp, which is scheduled for June 4-6. Locke and Baca would be able to participate because the Vikings' mandatory minicamp is scheduled to start June 18. (
Update:
Frankin's eligibility status has also been revised.) Packers defensive end
Datone Jones
, also of UCLA, is eligible for OTAs because he has already graduated from school.
How critical will these absences be? Repetitions are the key to learning, but most rookies are swimming when they arrive at training camp regardless of their offseason participation. But in Long's case, for one, it stiffens the learning curve required for him to compete effectively for a Week 1 starting job, as many have projected he will.
April, 29, 2013
4/29/13
8:37
AM ET
Reading
Mel Kiper Jr.'s grades

the morning after the draft is like a holiday tradition. No matter how much we all understand intuitively that it's impossible to project future success, we still want to know what the man who has spent three decades evaluating draft classes thinks of our favorite team's efforts.
You'll need an Insider subscription to read the entire evaluation, but below is what I can sneak to you if you don't tell anyone:
Green Bay Packers
Mel's grade:
B+

Kiper Jr. snippet:
" I love what Green Bay got out of this draft, particularly at two spots -- defensive end and running back."
Seifert comment:
The Packers really went after the running back position, drafting two backs --
Eddie Lacy
and
Johnathan Franklin
-- that many teams pegged as feature backs on their own. Franklin also hedges concerns about Lacy's durability. The Packers can feel confident that at least one of them will make an impact on 2013. Defensive end
Datone Jones
is a different-looking player than what the Packers currently have at the position, and fits into the league's trend toward longer and leaner even for 3-4 ends.
Minnesota Vikings
Mel's grade:
B

Kiper Jr. snippet:
"Hey, they got starters, but they needed to add impact in this draft considering they dealt
[Percy] Harvin
and had a few pretty big needs."
Seifert comment:
A good portion of evaluating this draft will come down to whether receiver
Cordarrelle Patterson
pans out. The Vikings gave up their chance to draft a starting-caliber middle linebacker, among other things, by trading back up into the first round to draft him. The Harvin trade was a big motivator. Kiper really thought the Vikings needed to get linebacker
Manti Te'o
; I just thought they needed someone at that position. Seventh-round draft pick
Michael Mauti
could be a factor if he can recover from a third torn ACL. Regardless, three first-round draft choices give the Vikings a good chance at a high-impact draft.
Detroit Lions
Mel's grade:
B

Kiper Jr. snippet:
"The pivot point for how we see this draft in three years will be
[Ezekiel] Ansah
. If he's great, then it looks good. If he's not, and
Dee Milliner
thrives with the Jets, fans will wonder."
Seifert comment:
It would be disappointing if the Lions didn't get at least two functional starters out of their first three picks. It doesn't matter who is on the field for the first play of the game, but you would like to see Ansah get as many snaps as he can for development purposes. Cornerback
Darius Slay
should compete with
Bill Bentley
to start opposite
Chris Houston
and, at worst, play in nickel situations that comprise more than half of most team's defensive snaps. And third-round guard
Larry Warford
should push hard for the right guard spot.
Chicago Bears
Mel's grade:
C+

Kiper Jr. snippet:
"My issue with
[Kyle] Long
isn't that he's short on talent -- he's not. I just wasn't in love with the value."
Seifert comment:
We'll never know if the Bears would have been better off trading down to grab Long later or waiting until the second round. Kiper Jr. didn't like the decision and thought tight end
Tyler Eifert
would have been a better choice. I'm stuck here, because we all know how much help the Bears' offensive line needs. Solidifying an interior spot, if that's what Long does, will help quarterback
Jay Cutler
in a measureable way. That's no different in the big picture than what Eifert could do. We all can agree, however, that the Bears upgraded their linebacker depth significantly with
Jon Bostic
and
Khaseem Greene
.
Related:
For fun, here are Kiper Jr.s NFC North grades for the
2010
,
2011
and
2012
drafts.
April, 27, 2013
4/27/13
7:01
PM ET
»
NFC draft analysis
:
East
|
West
|
North
|
South
»
AFC
:
East
|
West
|
North
|
South
How top-heavy was the 2013 draft in the NFC North? We welcomed more players in the first round (six) than in the second and third rounds combined (four), the result of two big trades.
With the 2013 affair basically in the books, let's take a closer look at its highs and lows. So much happened that we might not get to the relatively rare occurrence of
two punters
being drafted
.
Onward:
BEST MOVE
The
Green Bay Packers
have gone 43 games without a 100-yard rusher, the longest active streak in the NFL by more than twice. Their running backs have combined for 12 rushing touchdowns over the past three seasons, the fewest in the NFL, and their average of 3.8 yards per rush over that span is tied for last in the league.
After years of subordinating this segment of their roster, the Packers reacted aggressively in 2013. They drafted not one but two of the top running backs available. Alabama's
Eddie Lacy
came
in the second round
(No. 61 overall), and UCLA's
Johnathan Franklin
came
in the fourth round
(No. 125 overall).
The relative flurry came at a time when the rest of the league appeared to have devalued the position. It was the first time in the history of the modern draft that zero running backs were selected in the first round. Perhaps the timing was coincidence, but if general manager Ted Thompson intended to capitalize on depressed prices to load up, it was a brilliant thought.
Thompson and the Packers had been trying to patch together the position ever since
Ryan Grant
broke his ankle in Week 1 of the 2010 season. It was time to find a more permanent solution, and Lacy and Franklin give them the personnel infusion they needed.
Runner-up: Like the Packers, the
Chicago Bears
finally attacked an area of need. They used two of their first three selections in what was originally a five-pick draft on high-end linebackers who actually project as starters rather than special-teams contributors. Second-rounder
Jonathan Bostic
could be
the Bears' middle linebacker as early as this season
, and fourth-rounder
Khaseem Greene
was
one of the best defensive playmakers
in college football last season.
RISKIEST MOVE
The
Minnesota Vikings
used
four draft picks to move back into the first round
and select Tennessee receiver
Cordarrelle Patterson
, taking on risk in two forms.
First, Patterson is a boom-or-bust prospect who spent only one year playing at the Division I level. He has the physical tools to be an exceptional player but has more development ahead of him than most first-round picks. Here's how
ESPN analyst Todd McShay
put it before the draft: "He scares me coming out of Tennessee, but I see the talent. … Patterson, with the ball in his hands, is just freakish, and even though he disappears for 30-40 plays [per game], he'll show up with one or two big plays a game that just kind of blow your mind and leave you wanting more."
At the very least, Patterson will need to be guided through the early part of his career. The Vikings hope to start him off as a kickoff returner and work him into their offense slowly. Expecting him to jump into the starting lineup alongside
Greg Jennings
for a full 70 plays per game is probably unrealistic.
Second, the trade left the Vikings unable to fill one of their most pressing needs: middle linebacker. Giving up picks in the second and third rounds left them watching as more than a half-dozen middle linebackers were drafted. The Vikings gave up the opportunity to fill that job on a long-term basis by jumping to draft a receiver who generated plenty of divergent viewpoints during the pre-draft evaluation process.
Runner-up: The
Detroit Lions
used the No. 5 overall pick on a pass-rusher who had 4.5 sacks in his college career. BYU defensive end
Ezekiel Ansah
has all the physical tools to be a dominant pass-rusher, but his learning curve is steep and his potential for immediate impact is at least worth questioning.
MOST SURPRISING MOVE
[+] Enlarge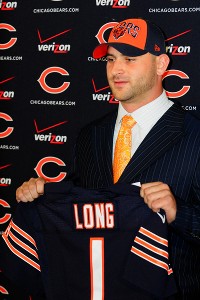 Reid Compton/USA TODAY SportsThe Bears were willing to overlook offensive lineman Kyle Long's inexperience because of his extraordinary athleticism for a man his size.
You would have been hard-pressed to find a mock draft that projected Oregon guard
Kyle Long
as a first-round pick. In
a seven-round mock
performed last week, Scouts Inc. suggested he would go No. 47 overall. And even that was based on Long's overwhelmingly positive athletic attributes rather than evaluation of his limited play at Oregon.
The Bears produced
arguably the surprise of the draft
by selecting Long at No. 20 overall, a time when even the most polished guards are rarely taken historically. But the Bears were blown away by Long's agility for his 6-foot-6 frame and were willing to overlook a one-season, four-start career at the Division I college level.
There is no doubt the Bears needed help on their offensive line, but you could have a spirited philosophical argument over the draft value of a raw, inexperienced guard. Even if the Bears are right about Long -- that his athleticism will make him a long-term starter -- it's fair to question whether they needed to take him in the first round. Did another team covet the draft's third-best guard enough to take him between picks 21 and 50, where the Bears were situated in the second round? One explanation: The Bears, with only five total picks in the draft at that point, thought it would be too difficult to trade up in the second round assuming Long got out of the first. I'm not going to say it was the wrong choice, but it sure was surprising.
FILE IT AWAY
The Lions bolstered their pass defense at the expense of some other positions of need. You can't have it all, and the Lions made some clear decisions.
On the plus side, they used three of their first four choices on Ansah, cornerback
Darius Slay
and defensive end
Devin Taylor
. Ansah (6-foot-5 with 35 1/8-inch arms) and Taylor (6-7 with 36-inch arms) will provide incredible length and a new look to the Lions' outside pass rush. Slay, meanwhile, has elite speed (4.36 seconds in the 40-yard dash).
That focus left the Lions less able to surround quarterback
Matthew Stafford
with additional weapons and protection. The Lions didn't draft an offensive tackle after the departure of both 2012 starters, and they didn't get around to selecting a receiver until grabbing Virginia Tech's
Corey Fuller
with the third pick of the sixth round (No. 171 overall).
(The Lions did draft guard
Larry Warford
in the third round.)
From a roster-balance perspective, it made sense for the Lions to focus on pass defense -- long a weakness -- rather than their passing offense. But the Lions still finished the draft with less depth at receiver and offensive tackle than they would have liked. Life is a trade-off, after all.
April, 17, 2013
4/17/13
9:08
AM ET
ESPNChicago.com continues its Bears draft preview series with a look at the running backs.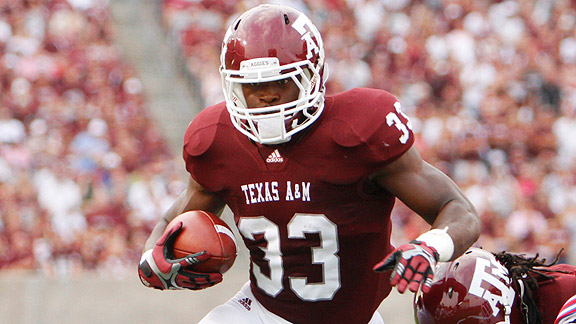 Thomas Campbell/US PresswireTexas A&M's Christine Michael might have the most talent of any running back in the draft.
Despite
Matt Forte
's standing as one of the NFL's best and most versatile backs, the
Chicago Bears
have shown some interest in multiple players throughout the pre-draft process, but it's unknown whether the team plans to add at the position through the draft.
The Bears spent time with UCLA's
Johnathan Franklin
at the Senior Bowl, and Texas A&M's
Christine Michael
at the East-West Shrine game, and it's believed there's legitimate interest from the team in the latter. During the Bears' marathon meetings with prospects at the NFL Combine, they sat down with Nevada's
Stefphon Jefferson
and also spent time with SMU's
Zach Line
at the East-West.
Interestingly, all possess widely differing styles. So if the Bears choose a running back, he'll likely come in playing a complementary role to Forte and backup
Michael Bush
.
Michael possesses, arguably the most overall talent of any back in the draft. But injuries throughout his college career and questions about discipline and attitude appear to have pushed his stock down to the point at which he could become a third- to fifth-round pick. Michael runs the 40-yard dash in the 4.4 range, and registered a vertical leap -- which Bears general manager Phil Emery has said is the most important predictor of a player's potential explosiveness on the field -- of more than 40 inches at the NFL combine.
Franklin, meanwhile, is considered a locker room leader type who is solid in almost every facet at the position.
Jefferson isn't expected to be drafted because of his 4.7 speed, but it's difficult to overlook the fact he racked up 1,883 yards rushing in 2012, his first season as the starter at Nevada. Line also projects to be a late-round pick or a free agent. At 6-foot, 232 pounds, Line could take on a situational role in the NFL as an h-back, short-yardage back or fullback, who would also contribute on special teams.
The next 10:
11.
Miguel Maysonet
, Stony Brook, 5-9, 209; 12.
Knile Davis
, Arkansas, 5-11, 227; 13.
Stepfan Taylor
, Stanford, 5-9, 214; 14.
Joseph Randle
, Oklahoma State, 6-0, 204; 15.
Kenjon Barner
, Oregon, 5-9, 196; 16.
Jawan Jamison
, Rutgers, 5-7, 203; 17.
Zachary Stacy
, Vanderbilt, 5-8, 216; 18. 18.
Spencer Ware
, LSU, 5-10, 228; 19.
Cierre Wood
, Notre Dame, 5-11, 213; 20.
Rex Burkhead
, Nebraska, 5-10, 214.
Position grade:
C-
Analysis:
Forte received his deserved and long-awaited contract extension just before the start of last year's training camp, and he rewarded the team with his second 1,000-yard rushing season in three years, in addition to producing his fifth consecutive year in which he gained more than 1,400 yards from scrimmage. Still, something seemed amiss with the rushing attack, in part because of inconsistent play from the offensive line, not to mention a run-pass ratio of 470 to 485.
While Forte appears to be in good standing with the Bears, it's interesting the team so far has shown some interest in at least four running backs with varying styles during the pre-draft process. If the Bears add at this position in the draft, it would be a complementary back to Forte and Bush.