Chicago Bears:

Ka'Deem Carey
August, 28, 2014
Aug 28
9:45
PM ET
CLEVELAND -- Here are five things we learned in the first half of the
Chicago Bears
' preseason finale versus the Browns.
1. 53-man roster mostly set before game:
The Bears offered up a fairly complete picture of the final roster when they decided to sit numerous reserve players like:
Josh Morgan
,
Ka'Deem Carey
,
Brock Vereen
and
Michael Spurlock
. Unless the Bears find better alternatives over the weekend; all four appear to be in decent shape as the final cut date looms on Saturday. However, the decision to rest Carey and Vereen is somewhat curious. Outside of their draft status as fourth-round picks, neither did much to stand out over the summer. And no,
Shea McClellin
was never going to be cut. The Bears have not abandoned hope of salvaging the career of the former first-round draft choice.
2. David Fales knows the offense:
Fales lacks ideal arm strength, but he does come across as a smart quarterback who understands where the ball is supposed to go. He did a decent job under intense pressure, and showed serious courage by throwing the ball deep on several occasions. The Bears are probably better off keeping only two quarterbacks on the active roster, but Fales showed enough smarts in the preseason to warrant a spot on the practice squad, if he clears waivers as expected.
3. Santonio Holmes can help Bears:
Holmes proved he still has some juice left when he broke a tackle to score a 32-yard touchdown, followed by a 30-yard punt return. Granted, Holmes accomplished this against Cleveland backups, but he made the most of the opportunities presented to him. Holmes has too much experience to let walk away.
Josh Bellamy
had himself a solid first half with two catches for 43 yards in the opening quarter, but Holmes seems a smart choice to be the No. 4 wideout behind
Brandon Marshall
,
Alshon Jeffery
and Morgan, with Spurlock also in the mix. We'll see how/if
Marquess Wilson
's injury complicates the situation when it boils down to determining the 53.
4. FirstEnergy video screens a nice touch:
The Browns installed two giant video screens in the upper decks behind each end zone, a move that greatly enhances the in-stadium experience in Cleveland. The Bears need to strongly consider adding similar technology at Soldier Field, because the current video setup is below average for a stadium built in the last 11 years. The fans would love it. And it opens up tons of marketing and sales opportunities for the club. That's a win-win for everybody involved.
5. Browns took it seriously:
Cleveland needed starting quarterback
Brian Hoyer
to orchestrate a touchdown drive. The Browns are desperate for good vibes heading into Week 1. We all know Cleveland will probably stink again, but this is a franchise that is trying to sell hope to its tortured fan base. They call this place the "Factory of Sadness" for a reason. But the home fans actually seemed upbeat after the first 30 minutes, especially when
Johnny Manziel
fired a touchdown pass. Mission accomplished for the Browns.
August, 28, 2014
Aug 28
8:04
PM ET
CLEVELAND -- The
Chicago Bears
are taking a conservative approach to the preseason finale.
With the regular season opener 10 days away, the Bears appear to be resting all of their starters and several key reserves in the fourth preseason games against the
Cleveland Browns
.
The Bears made no official announcement except that rookie
David Fales
will start at quarterback in place of
Jay Cutler
, but nearly every member of the first-team offense and defense participated in pregame warm-ups without pads or helmets.
That list of players included: linebackers
Jon Bostic
and
Shea McClellin
, and right tackle
Jordan Mills
, who missed the first three preseason games with a foot injury.
Even certain backups seem to be getting the night off.
Wide receiver
Josh Morgan
, running back
Ka'Deem Carey
, wide receiver
Micheal Spurlock
, defensive end
Trevor Scott
and defensive tackle
Ego Ferguson
wore baseball caps instead of helmets while teammates went through pregame drills.
Safety
Chris Conte
(concussion) made the trip to Cleveland, but is not expected to play.
However, veteran guard
Eben Britton
is scheduled to make his preseason debut.
The Bears must reduce their roster from 75 to 53 by Saturday afternoon.
July, 28, 2014
Jul 28
5:17
PM ET
BOURBONNAIS, Ill. -- Churning up a toboggan hill as part of his offseason conditioning program in a suburban Chicago park,
Matt Forte
apparently stopped long enough only to urge on and, yes, ride his workout partner.
"He killed me," said
Michael Ford
, one of several Bears running backs vying for the No. 2 spot behind Forte this training camp.
[+] Enlarge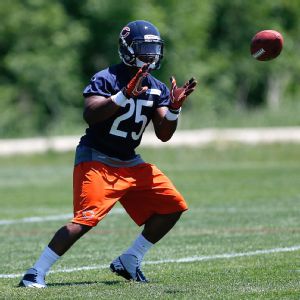 AP Photo/Scott BoehmFourth-round draft pick Ka'Deem Carey is one of four backs with no NFL experience competing for a backup job with the Bears.
"His work ethic is amazing and the things he does in the offseason to get himself ready are brutal. ... But the tradition set before him and with him, we have to hold to the same standards."
Ford and the others are well aware what they are up against -- not just the No. 2 job, which to a large extent, is up for grabs, or in the words of GM Phil Emery just last week, "very unsettled."
But with four of the five backs behind Forte having not had a single NFL carry, they must also be prepared to step into a position that may be de-valued throughout the league but remains a central part of the Bears offense.
Forte's production in 2013 amounted to almost one-third of the Bears' total offense; his career highs in rushing (1,339 yards) and receiving (74 catches for 594 yards) both setting a standard and a making a statement that first-year coach and offensive innovator Marc Trestman was not about to abandon his running back.
"It's important to this offense," said rookie
Ka'Deem Carey
. "You get out in bursts, you catch some passes, you run, you pass block. They love the running back here, so I landed in the perfect spot."
Carey, selected in the fourth found, will get plenty of competition from Ford,
Shaun Draughn
, who signed a one-year free agent contract and undrafted rookies
Senorise Perry
and
Jordan Lynch
, who might end up with a spot on the practice squad in his first year of transitioning from college quarterback to NFL running back.
"You can tell the way the reps are going, they want to see everybody at their best, so they give you chances out there to make plays and it's up to you to learn the playbook and do it," Carey said Monday, the second day in pads for the Bears.
"With everyone out there, it just makes you better. But we're not selfish. If someone messes up, we'll tell him what he did wrong and we'll learn off his mistakes and we just get better off each other's mistakes."
Carey's speed has been questioned, but more importantly for the former Arizona standout and the others will be their protection skills. Ford, who played in 12 games last season on special teams, likely will contribute the most in the return game.
"It's definitely not nerve-wracking," Ford said of the competition, "because it's always going to bring out the best. If you want to be the best, you have to play the best and you want the best competition at your camp. At least then you know you're going to be battle-tested."
Ford said he prefers not to look at the position as his.
"Even Matt told me he doesn't look at it like that," he said. "He just goes to practice everyday and tries to separate himself from everybody and he tells me to do that, too. ... Just try to get better each and every day."
July, 24, 2014
Jul 24
5:59
PM ET
BOURBONNAIS, Ill. -- Making the move from quarterback to running back at the NFL level is daunting.
But that is the challenge awaiting former Northern Illinois standout and Heisman Trophy finalist
Jordan Lynch
, a fan favorite who lost 15 pounds since the
Chicago Bears
' rookie minicamp in May to weigh in at 205 pounds when players reported to Bourbonnais on Wednesday.
"I know Chicago has my back. But I have to go out there and do the work," Lynch said on Thursday.
"I'm going out there and giving it everything I got. That's how I made it this far. I'm going out there to prove that I can play running back in this league, and I can play some special teams. So I'm going to do whatever the coaches ask me to do and I'm going to bust my tail. At the end, I'm going to try and make a roster spot."
With a minimum of three roster spots often reserved for running backs, Lynch finds himself in direct competition with
Ka'Deem Carey
,
Michael Ford
,
Senorise Perry
and
Shaun Draughn
to earn one of the reserve backfield spots behind Pro Bowl tailback
Matt Forte
.
A well-rounded quarterback/athlete in college, Lynch, an undrafted rookie free agent, gained 4,344 rushing yards for the Huskies and passed for 51 touchdowns while posting a 24-4 record as a starter in two seasons.
Lynch believes that kind of versatility can only aid his cause when cuts begin to trickle down later next month.
"The more you can do, the better in this league," Lynch said. "I think my versatility is one of the things that stand out. When it comes down to the last cuts, the more you can do, the better you are.
"Heading into my first professional camp, I feel kind of anxious. But I'm going to go all out and give everything I have."
June, 24, 2014
Jun 24
9:00
AM ET
Overview:
Matt Forte
racked up a career-high 1,933 yards from scrimmage last season, which ranked as the fifth most in franchise history, and he did it in a new offense. In Year 2 in Marc Trestman's offense, Forte figures to put up similar numbers as the staff refines the scheme to focus on the club's strengths.
Forte
"Last year, we had to figure out what we were gonna be good at," Forte said, "and I think that's just being balanced between the run and the pass. We kind of started out heavy pass early last season, and kind of sprinkling in runs. Then we found out what kinds of runs the O-line likes to block and were good at with the tight ends. Then we started doing different types [of runs]. [Offensive coordinator Aaron] Kromer is good at mixing them up between runs. Being balanced this year and already knowing with the offensive line likes to block is gonna give us a little head start."
Battle to watch:
Forte's got the top spot locked up, obviously. So the most intriguing competition at this position at training camp will involve rising second-year man
Michael Ford
and rookie fourth-round pick Ka'Deem Carey. Team officials and coaches typically mention that money doesn't play into personnel decisions, but that's not always the case. The Bears paid Carey $443,380 in a signing bonus, while Ford, last season received $3,500. So it's likely Carey will be given more opportunities than Ford to win the backup job behind Forte. But Carey's got to win the position as the team simply won't just hand it to him.
"I don't feel any pressure. I like to have fun, and when I have fun, I play my best," Carey said. "If I get worked up about trying to compete and trying to show what I've got, then I will just show out bad. I want to perform how I know how to perform. I walk around with a smile, and I have fun, and I perform."
Ford, listed at 5-foot-10, 216 pounds is bigger than Carey. But the latter is considered more a grinder between the tackles as Ford seems to be more of a scat back type with impressive quickness. Carey was a contributor on special teams last season, which should help his cause.
Dark horse:
Undrafted rookie
Jordan Lynch
probably won't receive a real opportunity to see any playing time next season, and it's going to be difficult for him to make the team. But the coaching staff likes Lynch, a former quarterback at Northern Illinois, and he could impress in the preseason if given the opportunity. Trestman has mentioned on multiple occasions that the former quarterback doesn't look out of place playing running back, and he doesn't. At NIU, Lynch rushed for 1,815 and 1,920 yards in back-to-back seasons. So there's no question he can tote the pill. Lynch's background as a quarterback likely means he'll absorb Chicago's playbook quickly enough to really open eyes in the preseason, provided he's given a legit shot to play.
"I spent a lot of time in the film room in past years [as a quarterback], and I feel that work ethic is going to carry over to running back, and always watching film and trying to pick up on little things," Lynch said. "I'm a football player. I love football, and I'll do whatever it takes to stay in the NFL."
Who makes the cut:
The Bears finished the season with three running backs (
Michael Bush
, Ford and Forte) and a fullback in
Tony Fiammetta
. It's likely the Bears head into 2014 with Forte, Carey and Ford along with Fiammetta. The best-case scenario for Lynch appears to be a spot on the practice squad.
May, 13, 2014
May 13
4:26
PM ET
Three days after concluding the NFL draft, the
Chicago Bears
on Tuesday are three-fourths of the way to completing deals with the entire eight-man 2014 draft class.
The Bears announced they agreed to terms on four-year deals with second-round pick
Ego Ferguson
, third-round pick
Ka'Deem Carey
, sixth-round pick
Patrick O'Donnell
and seventh-round pick
Charles Leno Jr.
The announcement came just a day after Chicago agreed to terms with safety
Brock Vereen
and quarterback
David Fales
.
Financial terms of the deals weren't immediately disclosed.
The Bears were the first team in the NFL to come to agreement with any members of the 2014 draft class, and the club typically completes deals with its draft picks at a much faster rate than the rest of the league.
A defensive tackle, Ferguson played in 38 games at LSU, starting his last 12 outings. Ferguson contributed 85 tackles throughout his career, a sack and five breakups. Ferguson was named all-Southeastern Conference honorable mention in 2013, a season in which he finished fifth on the team in tackles.
Carey earned Pac-12 Offensive Player of the Year in 2014 as a running back at Arizona. Having started 24 of 36 games over three years for the Arizona Wildcats, Carey rushed for a school-record 4,239 yards and 48 touchdowns, in addition to contributing 679 yards receiving and four touchdowns on 77 catches.
Carey's 48 rushing TDs rank No. 2 in FBS history behind
Montee Ball
of Wisconsin, who scored 49 touchdowns from 2009 to '12.
After starting his career at Miami (2009-12), O'Donnell finished at Miami, hitting a total of 234 punts throughout his college career for a 43.5-yard gross average, while landing 86 of his attempts inside the 20.
Leno, an offensive tackle, started 39 games at Boise State during his last three years at the school -- 13 games at right tackle and 26 on the left side. Leno received first-team All-Mountain West Conference honors as a senior.
With six members of the eight-man 2014 draft class signed, the Bears still need to strike deals with first-round pick
Kyle Fuller
and third-round pick
Will Sutton
.
The Fuller deal could take a little more time, because even though there is a salary slotting system, the sides will likely wait until some agreements are reached with some of the others players drafted in the first round.
May, 13, 2014
May 13
12:19
PM ET
Once the NFL draft comes to a close, it's always interesting and fun to go back through all the notes and interviews cobbled throughout the pre-draft process.
The college prospects come in and out, whether at the Senior Bowl or NFL combine, and you just never know whether the player you're interviewing will be later drafted by the team you cover. Here's a transcript of a group interview with
Chicago Bears
fourth-round pick
Ka'Deem Carey
from February's combine:
[+] Enlarge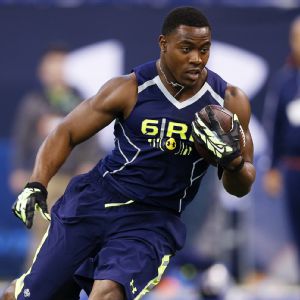 Joe Robbins/Getty ImagesKa'Deem Carey will have the opportunity to step into the No. 2 running back role for the Bears in 2014.
Question:
What back playing would you compare yourself to nowadays?
Answer:
"Oh, you're going to hit me with the nowadays. I'd say a mix between
Adrian Peterson
and
LeSean McCoy
. Adrian Peterson runs hard and LeSean McCoy has the shakes in the open field to break a safety down. My (favorite) running back is
Brian Westbrook
because he catches, he blocks. He does it all."
Q:
How much better of a receiver are you now having played for Rich Rodriguez at Arizona?
A:
"I'm definitely a lot better receiver than what I came to college as. I felt like Rich Rod coming into the program definitely benefited me because playing under coach [Mike] Stoops, I would have had a couple catches. But he (Rodriguez) loved to spread it around, put me in the slot. I'm really comfortable with that and excited about it."
---
Q:
How do you feel about the trend of teams not valuing running backs as much as they did in the past?
A:
"I don't like that. Definitely, I feel like they think the running back spot is going extinct for some reason. They definitely need us. I'm definitely going to make sure they know that when I step on the field that they made a good pick and running backs aren't going extinct."
---
Q:
Would you have changed positions if you knew later down the road we'd be seeing this trend with running backs?
A:
"Tell me about it. Nowadays, they're like you've got to go second, third round. I'm like, 'Why in the hell didn't you tell me this a couple of years ago, that running backs are going extinct?' I'm definitely OK with it. I'm just trying to bring back and to show we're definitely valuable. But I definitely would have went to corner or something. Shoot."
---
Q:
Were you surprised you didn't receive more consideration for the Heisman Trophy? It seemed no one was paying attention to you much of the season.
A:
"I think it's East Coast bias. I'm sorry everybody. You guys are sleeping on us. You guys are asleep at the time we're playing, and I don't blame you, I'd be asleep too. I like to get my sleep."
---
Q:
What if you are drafted by a place that has cold weather like Cleveland?
A:
"Being born and raised in Arizona, and our weather is always sunny and nice. It's always hot. Playing somewhere like Cleveland would be interesting and fun; definitely will test out my game and my talents. I feel comfortable. I played in Washington in some rain and that's the first time ever I played in rain. I had a good game and I was excited to be there. It just motivated me more."
---
Q:
Did people advise you to leave school early?
A:
"They definitely were in my ear, saying you have a limited numbers of hits and running backs, you need to go while you have the chance. I know that I could have come back and played another year, got bigger and stronger and dominated at that level. But my decision was I was ready for the league. I felt like I was ready a year ago but I just couldn't leave. I stayed consistent this year, and really proved to me that I was ready to provide for my family."
---
Q:
What are the scouts going to find out about you as a pass blocker?
A:
"They are going to find an aggressive, hard-nosed [player] that will hit you right under your chin. I'm going to tell you right now, I need more technique in pass blocking. I have no problem with picking up the blitz and delivering the hit."
---
Q:
What would you need to run in the 40 to answer questions about your speed?
A:
"A 4.5 would be just solid, knowing that I've got that getaway speed and the film speaks for the rest. They feel comfortable with the way I play. They just want to know if I can get away from that last defender and actually bring the 6 points home." [
Carey ran a 4.7 official 40-yard dash
at the combine.]
---
Q:
How has the combine experience been for you?
A:
"I'm enjoying this. I get to speak to the coaches. They get to see my personality. Being from the West, they don't know too much about me, so this is a great opportunity for me to get here and get comfortable and be myself and they can see who I am."
---
Q:
Is there a particular coach you are looking forward to meeting?
A:
"Definitely coach Andy Reid. He is the best coach ever. Once I get to see him, shake his hand, and sit in a meeting with him, everything is going to be all gravy. I was a big Eagles fan growing up. I loved the way he did everything with Brian Westbrook. I just love the way he coaches."
---
Q:
What's the best advice you've received and who gave it to you?
A:
"Just walk around with a big smile. Be happy about each day because it can be taken away tomorrow. That was just by mom. So I walk around with a big smile every day. This is a blessing."
---
Q:
Where do you get your confidence?
A:
"Maybe classes that I had to take at the University of Arizona. Little classes, we'd get in a little circle, like therapy or something. We'll just talk about our life. That's where I got really confident in being myself."
---
Q:
What were your favorite classes?
A:
"The ones that I was just talking about. Just getting to know everybody in class, where they are coming from, and their life story. It's helped me become the person I am. You really can't judge everybody. And there's not too much to do in Tucson. I run, I hike. I walk my dogs. I like to get out and play two-hand touch football. Coach Rich Rod didn't like that. But I had to keep it on the low. I can say it now because I'm away from him.'
---
Q:
What kind of dogs you have?
A:
"A Maltese Yorkie, and then I have two pit bulls."
May, 10, 2014
May 10
6:05
PM ET
»
NFC wrap-ups
:
East
|
West
|
North
|
South
»
AFC
:
East
|
West
|
North
|
South
LAKE FOREST, Ill. -- A wrap-up of the Chicago Bears' draft.
Click here
for a full list of Bears' draftees.
Bears general manager Phil Emery likes to say a team can never expect to fill all of its needs via the draft. Well, eight draft choices later, the Bears actually came close.
Best move:
Taking defensive tackles
Ego Ferguson
and
Will Sutton
with consecutive picks on Day 2. We don't know if Ferguson or Sutton will pan out, but the Bears had to keep strengthening the defensive line after last season. Ferguson and Sutton join new faces
Jared Allen
,
Lamarr Houston
,
Willie Young
,
Austen Lane
,
Trevor Scott
and
Israel Idonije
, who is back for his second tour of duty. The Bears also re-signed tackles
Jeremiah Ratliff
and
Nate Collins
to help fortify the trenches on defense.
[+] Enlarge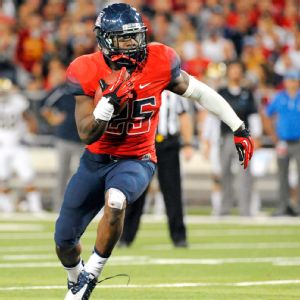 Casey Sapio/USA TODAY SportsArizona running back Ka'Deem Carey, a fourth-round pick by the Bears, has some question marks in terms of off-the-field incidents.
This reminds me of how Emery & Co. rebuilt the offensive line last offseason.
Riskiest move:
Arizona running back Ka'Deem Carey's (fourth round) on-field production speaks for itself: 4,239 yards, 48 rushing touchdowns and 77 receptions for 679 yards in three years for the Wildcats.
However, there are questions about Carey that extended beyond the football field. The 5-9, 207-pound tailback reportedly had multiple run-ins with the authorities, including a charge of assaulting his pregnant ex-girlfriend that was later dismissed.
Carey depicted himself as a high-character individual when he spoke to Chicago media members following his selection by the Bears at No. 117.
"As you guys are going to get to know me over the years; I'm an outgoing [person] who loves kids and is light-hearted," Carey said. "I would never do anything to harm people. I'm a loveful cat."
Emery is not afraid to draft or acquire players with questionable character. Wide receiver
Brandon Marshall
has rewarded Emery's faith in him by posting consecutive Pro Bowl seasons. On the flip side, 2012 fourth-round pick
Evan Rodriguez
lasted only one season before being cut after multiple run-ins with the law last offseason.
Most surprising move:
Emery told reporters before the draft that he rejected the notion of drafting a developmental quarterback in the later rounds with the intent of grooming him to be a future starter.
The Bears selected San Jose State quarterback
David Fales
in the sixth round (183).
Go figure.
File it away:
Time will tell if the Bears regret passing on a safety in the first round.
The organization continued its longstanding tradition of waiting until the later rounds to address the position when they moved back into the fourth round and traded away a pair of fifth-round selections to grab Minnesota's
Brock Vereen
at 131. Vereen does have an excellent NFL pedigree. His brother, Shane, a standout running back, was selected in the second round of the 2011 NFL draft by the
New England Patriots
. Their father, Henry, was drafted by the Bucs in 1979.
Vereen is a versatile player who lined up at all four defensive back spots over the course of his career with the Golden Gophers. He started 36 games and registered 200 tackles, four interceptions, 7.5 tackles-for-loss and one blocked kick.
"Brock is one of the smartest and most versatile players I have ever had the privilege of coaching and is an outstanding young man," Minnesota head coach Jerry Kill said. "He is the ultimate team player and will do whatever is needed to help the Bears win. I know he is going to make Chicago a better team and will also be a great teammate in the locker room."
But you can argue the Bears are in this mess at safety because the organization doesn't put a high enough value on the position.
May, 10, 2014
May 10
1:36
PM ET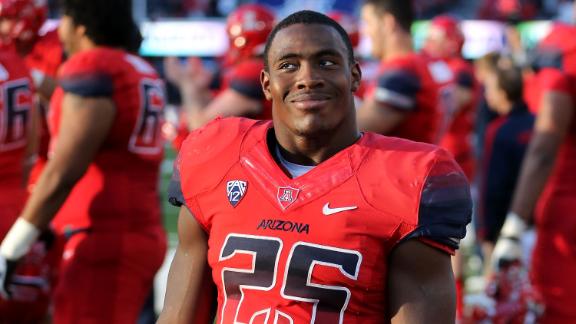 LAKE FOREST, Ill. – The pick: Ka'Deem Carey, running back, Arizona
My take:
General manager Phil Emery said before the draft the Bears planned to add more competition at running back behind starter
Matt Forte
after the team released veteran
Michael Bush
in March. Carey rushed for 3,814 yards and 42 touchdowns over the last two years at Arizona. His 1,885 yards on the ground last season ranked third nationally.
[+] Enlarge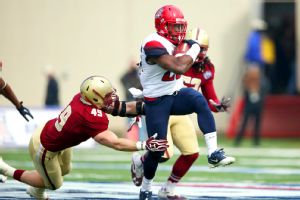 Crystal LoGiudice/USA TODAY SportsArizona's Ka'Deem Carey rushed for 3,814 yards and 42 touchdowns over the last two years at Arizona.
Tailbacks in Marc Trestman's offense must have the ability to catch the football. Carey hauled in 26 passes for 173 yards and one touchdown in 2013.
Carey set the Pac-12 and Arizona single-game record with 366 rushing yards versus Colorado.
This appears to be a sold pick from a production standpoint.
Character concern:
Carey reportedly had issues off-the-field in college. The running back was charged with disorderly conduct and assault for allegedly pushing his pregnant ex-girlfriend to the floor and slamming her hand in a door. The charges were eventually dropped. These are serious accusations.
Under Emery, the Bears have not been afraid to draft players with questionable character. The belief is that sufficient leadership and stability exists in the building to handle potential problem players.
Carey will be afforded every opportunity to prove he is not a clone of 2012 fourth-round pick
Evan Rodriguez
, who the Bears released after his rookie year following multiple run-ins with the law. Rodriguez also had problems throughout his college career.
What's next:
Bears next pick is at No. 156 overall in the 5th round. The Bears are a prime example that quality players can be found on the third day of the draft. Chicago struck gold in the fifth round last year when they selected offensive tackle
Jordan Mills
out of Louisiana Tech. Mills went on to start all 16 games before breaking his foot in pregame warm-ups before the Bears' Week 17 battle at Soldier Field.
Retired wide receiver
Johnny Knox
,
New York Giants
cornerback
Zack Bowman
and
Buffalo Bills
cornerback
Corey Graham
are also former fifth-round picks of the Bears who went on to have productive NFL careers.
The Bears could look to add a linebacker or safety with their next choice. Both remain areas of need.