Chicago Bears:

Kevin Butler
April, 1, 2014
4/01/14
2:15
PM ET
CHICAGO --
Chicago Bears
kicker
Robbie Gould
disagrees with the NFL's decision to move extra-point attempts back to the 20-yard line in the first weeks of the 2014 preseason.
Last week at the NFL meetings in Orlando, Fla. league owners agreed to a two-game experiment in the first two weeks of the preseason to increase the distance of extra points to the equivalent of a 38-yard field. The league will consider a proposal to permanently push all extra-points back to the 25-yard line at a later date.
[+] Enlarge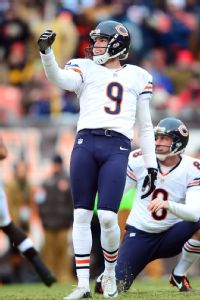 Andrew Weber/USA TODAY SportsBears kicker Robbie Gould thinks moving extra points back increases the possibility of injury.
The extra point is currently snapped from the two-yard line and is the equivalent of a 20-yard field goal.
"I'm not in favor of the extra point being moved back to the 20-yard line, Gould said Tuesday. "First of all, there are a lot of safety issues. The NFL changed the rules based on people coming off the edge really hard to dive at a kicker's leg. You've moved a guy off the center to protect his spine and I think that's a fantastic idea. Moving the extra point back to the 20-yard line, that essentially gives every single person now a green light to rush. That means it puts every blocker at risk because there is no risk of a fake."
Gould, the third most accurate kicker in NFL history, feels the NFL is penalizing kickers for being successful. Gould connected on 45-of-46 extra point attempts last season, and is 323-of-325 (99.4 percent) over his nine-year Bears' career. He signed a four-year contract extension in late-December worth $17,930,425 with $8.85 million in guarantees.
"Because
Tom Brady
and
Peyton Manning
and these guys have become so good at passing the football and going over 5,000 yards per season, are you going to get rid of play action passing?" Gould said. "A linebacker or a defense is so good at blitzing, are you going to get rid of that? No, you're going to embrace it. The NFL has made our position become so good because the competition is so thick, if you fail to perform; they'll cut you right away and get somebody else regardless of your salary because kicker's salaries usually don't mean a ton in regards to the salary cap.
Instead of embracing how good the position has become like they for other positions, they're actually trying to diminish what that position has become and completely overhaul it."
The former All-Pro kicker is also concerned about how lengthening the distance of extra points will affect the legacies of NFL kickers. Gould is the Bears all-time leader in 100-plus point seasons (seven) and single-season field goal percentage (26-of-29, 89.7 percent in 2008 and 2013), while ranking second behind
Kevin Butler
in points (1,025), field goals made (234) and extra points (323).
"How can you compare kickers?" Gould said. "How are you going to compare Kevin Butler to Bob Thomas? How are you going to compare Bob Thomas versus Robbie Gould? Or
Morten Andersen
versus Robbie Gould? If these rules changes become permanent you'll never be able to compare kickers like you do quarterbacks because it's never going to be the same anymore. It changes the entire integrity of the game."
However, Gould believes the NFL was correct when the league owners voted to lengthen the height of the goal posts from 30 to 35 feet.
"Now, the new rules change in regards the uprights is an awesome, awesome rule," Gould said. "If I told you to lie down and I threw a ball across your face and told you to tell me when you see it, realistically, you're probably not going to see it. Same thing with the officials with where the NFL has them stand.
So what they're going to do is take the official out of the play and remove all doubt. I love it. You're going to know for sure if a kicker made it because the uprights are going to be long enough where most kickers are not going to be able to kick the ball over the uprights, especially when you're talking about mid-range to longer field goals."
September, 12, 2013
9/12/13
6:02
PM ET
LAKE FOREST, Ill. -- There used to be a theory floating around that Bears kicker
Robbie Gould
lacked the necessary leg strength to connect on field goals of 50-plus yards. The truth of the matter is that former Bears head coach Lovie Smith simply preferred to play the field position game and turn his powerful defense loose on opponents pinned deep inside their own territory, rather than let Gould kick the ball from 50-yards out.
Gould
Gould was given the opportunity to try just two kicks from 50-plus yards (0-for-2) from 2005-2008, but in the last four-plus seasons he's made 14-of-16 from that distance, including 10 straight dating back to December, 2010.
The former All-Pro, who looks to be completely recovered from offseason surgery to repair a ruptured semitendinosus tendon that forced him to miss the final three games of last year, nailed a 58-yard field goal in the Bears' 24-21 Week 1 victory over the Bengals -- the longest field goal in franchise history and the most prodigious kick ever made by an NFL kicker in the city of Chicago.
"It's pretty cool when you get a chance to make a play and help your team out," Gould said. "The record means a lot because it's obviously a big year for me. I'm pretty excited about how hard I worked to get back to where I am. To get a chance to go out there in the first week and to have the coaching staff show that kind of confidence in me to hit it is pretty special."
The fourth-most accurate kicker in league history, Gould is the Bears' second all-time leading scorer with 908 points, trailing only former kicker
Kevin Butler
(1,116). If Gould continues to play for the Bears beyond the 2013 season (his contract is set to expire after the year) he would likely hold all of the Bears' kicking and scoring records before the end of his career.
"My goal is to try and be as consistent as I can every single day of the week," Gould said. Whatever is going to happens is going to happen. If I leave here with a legacy that's a pretty high standard for the next guy that comes in here whenever my career is over – that's kind of my goal. Obviously, I want to stay here forever. I want to have some fun doing it and hopefully help them along the way."
January, 14, 2011
1/14/11
12:25
PM ET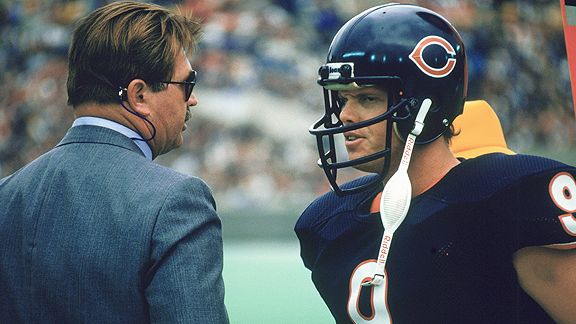 Jonathan Daniel/Getty ImagesJim McMahon and Mike Ditka were two of the personalities that made the '85 Bears memorable.
Former
Chicago Bears
kicker Kevin Butler said even if Jay Cutler's crew wins the Super Bowl this year, it won't capture the attention of Chicago the way the 1985 team did after winning Super Bowl XX.
"The characters on that team really brought many, many fans who weren't football fans to become football fans back then," Butler said Friday on "The Waddle & Silvy Show" on ESPN 1000. "That was something that was so good and unique to that team, and I don't think it will be duplicated.
"So I think if think they win a championship, it will be very exciting, but I don't see it taking over the characters of that football team."
While fans of the current Bears know Cutler and
Brian Urlacher
and
Devin Hester
, Butler said there's no comparison to the characters of the '85 squad.
"That year was very special in so many different ways," Butler said. "Not only winning the championship, but the way we won it, the dominance of the defense the characters of the team from Walter to Fridge to Coach Ditka to Hampton to McMahon, McMichael you can go down the list.
"And the best thing about that team is a lot of them are still in the community and giving back to the city. It's a very unique situation, and I think the players are still giving back to the city that's giving back to us after 25 years."
December, 15, 2010
12/15/10
2:42
PM ET
There are still moments,
Kevin Butler
admits, when he thinks he could be out there again.
"I can honestly tell you, if I had a personal trainer for a year, I could do it," said the highest scoring rookie in NFL history. "But the key to that, during the year, somebody has to pay my bills. That's the harder part."
The fearless rookie kicker has a generous smattering of gray now, and he doesn't get called "Butt-Head" much anymore unless he's at a Bears reunion. Although the confidence that endeared the Georgia kid to his teammates on the '85 Super Bowl champs is still there, it has by the laws of genetics and the force of nature, now been passed down to his children.
Read the entire story
.