Chicago Bears:

Khaseem Green
May, 1, 2014
May 1
2:55
PM ET
LAKE FOREST, Ill. –
Chicago Bears
general manager Phil Emery couldn't resist cracking a smile on Thursday when responding to a question about converted linebacker
Shea McClellin
's new trimmed and toned offseason physique.
"He looks like an extra from a Dolph Lundgren movie, doesn't he?" Emery said. "He's looking good, looking trim and fit."
McClellin moved out to California for 12 weeks in the offseason to train with veteran performance coach Scot Prohaska where he dropped 11 pounds and reduced his body fat by eight percent. He reported to Halas Hall for the start of the offseason program two weeks ago at 252 pounds and 10 percent body fat.
"To be honest with you, I have never expected anything less than Shea and Shea was in tremendous shape when he came here last summer," Emery said. "Shea is a hard gainer in terms of putting weight on. And obviously we've put him in two different directions. Up and through the end of the season it was at defensive end. And to his knowledge he was a defensive end until we hired the rest of our defensive staff at the very last week of January.
The moment that we notified him that, hey, we're moving him to linebacker, he found the right person, he moved out to California and he attacked it with vigor. And that's what I would have expected out of Shea. And the end result of what he looks like is because of his efforts."
However, McClellin has not been promised a starting job at strong side linebacker. McClellin and fellow linebackers
D.J. Williams
,
Jon Bostic
and
Khaseem Greene
will have to compete for the two open linebacker spots next to perennial Pro Bowl weakside linebacker
Lance Briggs
.
"We're counting on him being part of that mix at linebacker and competing for the job. Nobody is going to be given a job; it's a full-on mix. The only person we've told has a job --the room has been told that -- is Lance Briggs. The rest of it is the best player wins."
April, 21, 2014
Apr 21
12:30
PM ET
Despite selecting a pair of linebackers over the opening four rounds of last year's draft, the Bears still need to find a viable, long-term solution in the middle of the defense.
While 2013 second-round pick
Jon Bostic
started nine games at middle linebacker as a rookie, Bears general manager Phil Emery has hinted on multiple occasions that Bostic may be better suited to one day move to outside linebacker.
"Maybe in the future his best position might be at one of those outside spots where he is filling from the backside and able to use his unique talents to the best of his ability," Emery told ESPN 1000's "Waddle and Silvy Show" last December.
[+] Enlarge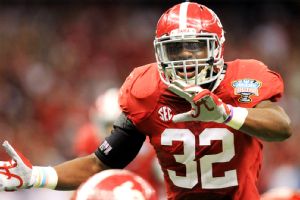 Scott Donaldson/Icon SMIAlabama's C.J. Mosley is the top-rated inside linebacker in this year's draft.
Where Bostic lines up this year is up in the air. The Bears re-signed veteran inside linebacker
D.J. Williams
to a one-year deal, but Williams hasn't been able to stay healthy, and appeared in just six games last season before landing on injured reserve with a torn pectoral muscle. Williams will turn 32 in July, and even if he does manage to shake off the injury bug, is likely a short-term fix at middle linebacker.
Khaseem Greene
, a 2013 fourth-round draft choice, replaced
Lance Briggs
at weakside linebacker for seven games last year and seems earmarked for a role on special teams in 2014, unless the Bears suffer another rash of injuries at the position.
Former first-round pick
Shea McClellin
is expected to transition from defensive end to strongside linebacker.
So if the Bears are serious about potentially moving Bostic outside in the near future, the team needs to find help at inside linebacker, possibly in this draft.
Alabama's
C.J. Mosley
is the consensus No. 1 inside linebacker in the 2014 draft class and could be available when the Bears pick at No. 14 overall in the first round. But with greater needs at safety, cornerback and defensive tackle, the Bears could wait until the middle rounds to address linebacker.
If that is the route the Bears decide to go, Monday is an important day because Stanford linebacker
Shayne Skov
is scheduled to hold a private pro day and run in front of scouts and NFL personnel people for the first time in the offseason. Skov, who declined an invitation to the Senior Bowl, pulled a hamstring before Stanford's pro day that kept him sidelined. He also did not run the 40 yard dash in February at the NFL combine.
Skov has dealt with injuries throughout his college career, but the 6-foot-2, 245 pounder finished last season with better overall numbers than many of the other highly rated linebackers in the class of 2014, including Mosley.
Skov recorded 109 tackles, 5.5 sacks and 13 tackles for loss in 2013.
Another mid-round linebacker that could make sense for the Bears is Louisville's
Preston Brown
, who began his college career at strong side linebacker before moving to the middle where he led the Cardinals in tackles back-to-back seasons. He had 98 stops, five sacks and 14 tackles for loss for Louisville last year.
"Moving to the middle taught me how to take control of the whole defense," Brown said. "When you're on the outside, you line up more at the line of scrimmage. In the middle, you sit back five yards and have to study what's going on and make sure everybody is in the right place. You have to know everybody's job.
"When you play Mike linebacker, you have to study a ton and learn the different shifts and formations. You have to be dialed in every snap, every game, because if you miss a check that could result in the other team scoring a touchdown. [Intelligence] is so important when you play middle linebacker."
Brown has strong ties to new Bears assistant defensive line coach Clint Hurtt, who served as Louisville's defensive line coach/recruiting coordinator from 2010-13.
"I love Coach Hurtt and he was one of my favorite coaches on the staff," Brown said. "I would meet with him at least once a week and watch the run game and pick up some pass-rush moves from him. You could always talk to him if you had a problem. He was one of my favorite coaches."
Five potential targets
1. C.J. Mosley, Alabama
2. Shayne Skov, Stanford
3.
Chris Borland
, Wisconsin
4. Preston Brown, Louisville
5.
Max Bullough
, Michigan State
The next five: 6.
Avery Williamson
, Kentucky; 7.
Yawin Smallwood
, Connecticut; 8.
Khairi Fortt
, California; 9. DeDe Lattimore, South Florida; 10.
Glenn Carson
, Penn State.
Position grade: B
April, 18, 2014
Apr 18
8:00
AM ET
Here is Part 5 of our series reviewing the past five drafts of the
Chicago Bears
.
With one full-season under his belt, general manager Phil Emery took on the task of rebuilding the offensive line, while inserting youth into an aging defense that would be playing under a new head coach for the first time since 2004.
First-round pick:
Kyle Long
, OG, Oregon
Number of picks:
6
How they did:
Above average. Four of the six members of the 2013 draft class cracked the starting lineup last season, with Long and fifth-round choice
Jordan Mills
starting all 16 regular-season games. Bostic was thrown into the fire after veteran middle linebacker
D.J. Williams
suffered a season-ending injury, and Greene had the unenviable task of attempting to replace perennial Pro Bowl weakside linebacker
Lance Briggs
, who missed seven games because of a shoulder issue. Seventh-rounder
Marquess Wilson
played sparingly as a rookie, but is expected to have a much larger role in the offense as the No. 3 wide receiver in 2014.
Cornelius Washington
, a sixth-round defensive end out of Georgia, spent the bulk of the season on the inactive list.
[+] Enlarge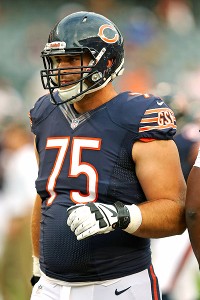 Jonathan Daniel/Getty ImagesKyle Long showed leadership qualities as a rookie.
Pivotal pick:
Long. The Bears switched out four of their five starting offensive linemen from 2012 to 2013. Though the club signed left tackle
Jermon Bushrod
and left guard
Matt Slauson
(a pair of excellent free-agent pickups) before the draft, it was critical for the organization to hit on a first-round offensive lineman after missing on
Chris Williams
(2008) and
Gabe Carimi
(2011). Another failure on the offensive line in the first round would have forced the Bears to spend more money in free agency or re-draft the position again entirely. That will not have to happen unless Long suffers some kind of injury. He should be a fixture on the Bears' offensive line for 10 years, at least. Plus, his athleticism and intelligence could allow him to change positions in the future if the Bears deem it necessary.
Best pick:
Long. When respected team captain and veteran center
Roberto Garza
calls it quits, Long will take over the leadership of the offensive line and be one of the key voices in the locker room. Although Long prefers not to talk about himself, he has a commanding presence that cannot be ignored. But what makes this such a great pick is that Long was a relative unknown coming out of Oregon, where he started just a handful of games. It takes guts to select a player at No. 20 overall who played only one year of major college football. Yet, the Bears did their homework, stood by their convictions, and were rewarded with likely the club's best first-round pick since Tommie Harris in 2004.
Worst pick:
Washington. But to be fair, he's only been in the NFL for one season. There is a chance he improves his technique in the offseason and learns how to use his 6-foot-4 frame to his advantage. Washington never really had a permanent position at Georgia, so he is considered raw. Obviously, the Bears did not feel comfortable enough to use Washington last season as a rookie even though the club badly needed help up front on the defensive line. With the additions of
Jared Allen
,
Lamarr Houston
,
Willie Young
and
Israel Idonije
, it will be tough for Washington to make an impact, or even to make the team in 2014. But it's never wise to give up on a young player after just one season. Let's see how it plays out for Washington when the team officially begins its offseason program on April 22.
February, 20, 2014
Feb 20
3:48
PM ET
INDIANAPOLIS -- Publicly acknowledging the failure of former first-round pick
Shea McClellin
as a defensive end on Thursday at the NFL combine,
Chicago Bears
general manager Phil Emery announced the rising third-year player will move to linebacker.
Interestingly, McClellin -- who played strongside linebacker and middle linebacker in college at Boise State -- will compete for starting jobs at both those positions with 2013 second-round pick
Jonathan Bostic
, who started nine games last season as a rookie in the middle for the Bears.
"I think he's very excited [about switching positions]. Obviously at Boise, he played Mike, he played Sam, he played with his hand on the ground," Emery said. "So versatility is his strength. I'll say this: generally, we'll take calculated risks, which we did with Shea. When we swing, we're gonna swing on the high side of athleticism, and that's why we're still excited about him being able to contribute at a high level."
[+] Enlarge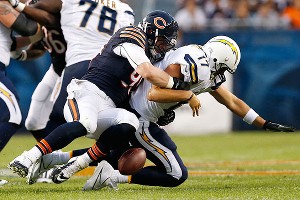 AP Photo/Charles Rex ArbogastHigh on his athleticism, the Bears are confident that Shea McClellin can make an impact at linebacker.
In speaking to new linebackers coach Reggie Herring, Bears coach Marc Trestman gained confidence in McClellin's ability to successfully transition to 4-3 linebacker, despite spending his first two years as a defensive end. During the evaluation process leading up to the 2012 draft, Herring believed McClellin possessed the skill set to play linebacker in the NFL, and relayed those thoughts recently to Trestman.
"And that was great to hear, and great to know," Trestman said. "So he's excited about working with him and certainly he is as big of an expert as we have on this staff in terms of the ability of developing a linebacker. So we are excited about it."
The plan, according to Trestman, is for McClellin to start off competing with Bostic on the strong side, but he'll also play in the middle. Bostic's move to the outside stems from the team's belief that his skill set would be better utilized at that position.
At middle linebacker, Bostic sometimes struggled to fight off blocks by offensive linemen (which came from both directions as the result of him playing in the middle), and even admitted that in the NFL blockers "get up on you" faster than he anticipated. Because of Bostic's speed and explosive burst, however, Emery thinks he could contribute more on the outside. The team thinks that, eventually, Bostic will take over on the weak side for
Lance Briggs
.
"This is what we envision: Shea is going to move to linebacker, but Shea will be used in multiple roles, wherever his skills will take him," Emery said. "He is a perfect candidate to be on the field all downs in some capacity, whether that is blitzing, rushing, playing against the run in run personnel. But he is going to have to compete for his job. Competition right now is
Jon Bostic
,
Khaseem Greene
, and it's Shea. Obviously, we feel that Lance Briggs is our weak[side] starter. If we add back a
D.J. Williams
or another player, that player will be involved in that competitive mix. It's best person wins those two spots. We're excited about the competition."
Given the team's evaluation of McClellin's physical attributes, it appears the Bears envision a Swiss Army knife-type of role for the former defensive end. When the team used a first-round pick to select McClellin in 2012 to play defensive end, two personnel men revealed to ESPN.com that he wasn't a first-round talent on their teams' draft boards.
Still, the Bears held high hopes for McClellin, who racked up 20.5 sacks at Boise State, 33 tackles for lost yardage and four interceptions.
McClellin played 14 games as a rookie and contributed seven tackles and 2.5 sacks, and followed that up with 29 tackles last season and just four sacks.
Emery admits defensive end might not have been the best place for McClellin, but said the situation "taught me to keep picking guys that have versatility because none of us are gonna be perfect. If you swing and miss on a player, you hope that they have the skill set, that they're still competing and contributing in a positive way, which Shea did. In terms of pure defensive ends, [it taught me to] probably make sure they're a little bit longer, and a little bit heavier."
October, 21, 2013
10/21/13
6:28
PM ET
If
Jay Cutler
left the Bears in a tight spot on offense because of the torn groin muscle that will keep him out at least four weeks, then
Lance Briggs
gave the defense a near-insurmountable task: to somehow improve without him on the field.
That's right. The loss of Briggs weighs more heavily because at this point, he means more to the defense than the quarterback does to the offense. It sounds silly, but that's simply the state of affairs these days at Halas Hall.
We expected the defense to fall off a notch this season, with the loss of linebacker
Brian Urlacher
and the acquisition of two new faces (
James Anderson
and
D.J. Williams
) and the hiring of a new coordinator in Mel Tucker. But what we're seeing is an injury-induced dive off a cliff.
[+] Enlarge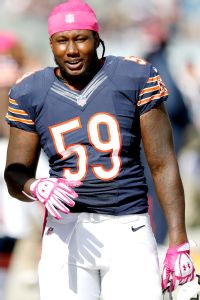 AP Photo/Scott BoehmThe Bears likely will choose between Khaseem Greene, above, and Blake Costanzo as the replacement for Lance Briggs.
In all, the defense -- which has allowed 21 points or more in every game, and gave up 499 yards to the Redskins -- has lost five starters. Briggs, who was playing at a Pro Bowl level, is expected to be out at least six weeks because of a small fracture in his left shoulder.
"There's no simple answers. There are a lot of teams in our position in the National Football League," Bears coach Marc Trestman said. "Defensively, we've got to improve our fits, our assignments. We've been completely inconsistent. At times we've been outstanding, and at times we just haven't done the right things."
That's what comes with thrusting young, inexperienced players into key roles. It's a situation not likely to improve soon. The team still hasn't decided who will call defensive signals in Briggs' place. Right now,
Jonathan Bostic
and
James Anderson
are the likely candidates.
Bostic made the calls in the loss at Washington on Sunday after Briggs left the game in the third quarter.
The club also will choose between rookie
Khaseem Greene
and veteran
Blake Costanzo
as Briggs' replacement.
"We're losing a great leader in Lance," Trestman said. "Arguably we're going to have to work very, very hard to recover, but that doesn't say we can't. It's been done before, we've got time to work through it and there's no reason why as a football team that we can't be confident we can rally around that position, find a way to win games."
On the offensive side of the ball, that's an easier proposition due to the quality of the replacement, the club's revamped protection, not to mention all of the weapons surrounding him, with running back
Matt Forte
, tight end
Martellus Bennett
and receivers
Brandon Marshall
and
Alshon Jeffery
.
Cutler's replacement,
Josh McCown
, demonstrated as much Sunday when he completed 14 of 20 passes for 204 yards and a touchdown to Bennett before finishing the game with a passer rating of 119.6 as the offense put up 34 points.
A 10-year veteran, McCown has logged 20 starts in the NFL and is considered "a glue guy" by general manager Phil Emery, and "a captain," by Marshall "without the 'C' on his chest."
Emery called McCown's "ability to play the position" the backup's greatest asset in his bid to replace Cutler without the offense skipping a beat.
"And probably foremost, just in terms of Josh and the person and the leader he is, the buy-in he has from his team in terms of being able to be a positive part of winning football on Sundays," Emery said. "I didn't notice it because I don't always watch the huddles, but Josh McCown is in every special teams break before they go out on the field. That to me signals to everybody what type of person this guy is. He could be content staying over on the sidelines with the headset and a clipboard, literally, but he's not. He's a big part of this team. He's a big part of the leadership group of this team."
[+] Enlarge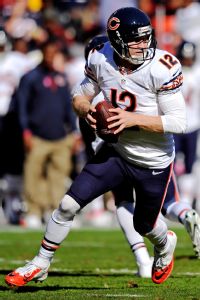 AP Photo/Nick WassJosh McCown is "a big part of the leadership group of this team," general manager Phil Emery said.
McCown's teammates agree. Cornerback
Tim Jennings
admitted Monday "it's going to be tough not having Jay out there, but I also think Josh came in there and played great, and he gave a lot of confidence to the guys in this locker room."
Left tackle
Jermon Bushrod
said he has "all the confidence in the world" in McCown because "he came in yesterday, and he did his thing. He spread the ball around. He got us in good positions, and we had a chance to win the game."
McCown, meanwhile, says the structure in place gives him a leg up from where he was two years ago, when the Bears first asked the veteran to start a game. It was 2011, he had been coaching high school football just before the Bears signed him, and he basically went in cold for his first start at Green Bay. McCown helped the Bears put up 21 points in a loss to the Packers, but helped the club break its five-game losing streak the next week in the season finale at Minnesota.
McCown says "I'm in a better spot right now," having learned Trestman's system from the ground up from Day 1 of the coach's tenure in Chicago.
"The structure is in place and the emphasis has been put on individuals to do their job and do their part," McCown said. "If we continue to get that, and we felt like we got that yesterday, it allows the quarterback to step in there, whether it's Jay or myself, to function and play, because guys are going to be coached to be where they are supposed to be and do what they're supposed to do. It's going to look different between Jay and I; our skill sets are different."
On offense, the highly productive results likely won't change, either. The same can't be said for an already reeling Bears defense without Briggs.