September, 23, 2012
9/23/12
4:41
PM ET
By
Staff
| ESPNChicago.com
[+] Enlarge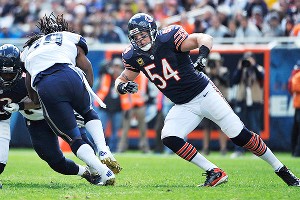 David Banks/Getty ImagesBrian Urlacher said he felt more active during Sunday's win over the Rams.
Chicago Bears
linebacker
Brian Urlacher
said that his conditioning continues to improve and he felt more active in Sunday's 23-6 win over the
St. Louis Rams
.
Urlacher missed most of training camp and all of the offseason activities as he recovered from a knee injury he suffered in last season's finale. He underwent at least one surgical procedure on the knee.
"I felt like I was involved in more plays," Urlacher said on Fox's postgame show in Chicago.
Urlacher was credited with four tackles against the Rams, including three solos. He also had a tackle for a loss and broke up a pass.
"I think I'll get better and better every week, my legs will get underneath me and I'll get in better shape," he said. "(The knee) is good. If it wasn't good, I wouldn't be playing. So I feel good about it.
"(The conditioning) is getting better. The more I play, the better I'll get. It feels better and better every week. I feel pretty good conditioning wise."
September, 4, 2012
9/04/12
12:49
PM ET
[+] Enlarge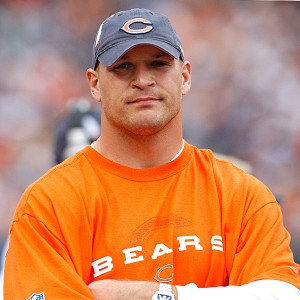 AP Photo/Nam Y. HuhBrian Urlacher said his knee felt fine Tuesday, one day after his first practice in a while.
Chicago Bears
linebacker
Brian Urlacher
said Tuesday that any past procedures that may have been performed on his injured left knee remain a private matter, adding "it is my business what I do with my body. As long as I'm ready to play for football season and on Sundays, that's all that people should care about."
"I know the media was having a fit over what was going on," Urlacher told the "Waddle & Silvy Show" on ESPN 1000. "It's really none of their business. One of my friends told me they did a fan poll about if I should release what I do to my body. Eighty-five percent said no. So it's obvious they don't care. The people that care are the guys writing the article."
Having practiced on Monday for the first time since the first week of training camp, Urlacher said a day after taking in some action the knee felt as good Tuesday as it did before the club kicked off camp in July at Olivet Nazarene University. Despite expressing optimism about the possibility of the knee issues not recurring throughout the season, Urlacher acknowledged a part of that will come from the club limiting his repetitions in practice.
PODCAST
Brian Urlacher tells 'Waddle & Silvy' about his knee and expectations for the season.

Listen

Urlacher hinted the club might utilize a one-practice-per-week schedule for him.
"We're gonna monitor my reps in practice," he said. "I know we can't do it in a game. There are a lot of teams that the guys 10 or 11 years in, (and they) practice one day a week. I've been lucky enough my whole career not to have to do that because I've been healthy for the most part. But it's not an option this year. I'm gonna have to take some reps off in practice so I can be fresh for the whole season."
August, 16, 2012
8/16/12
12:46
PM ET
"It just didn't feel like it was getting any better. So we decided as a team and as a training staff that it would be better to do that, and that's what we did," Urlacher said. "September 9th, that's all I care about. Our goal is September 9th."
Read the entire story.
BOURBONNAIS, Ill. -- Even two days after undergoing arthroscopic knee surgery, Chicago Bears linebacker Brian Urlacher refused to deviate on Thursday from his previously stated goal of playing in the team's Sept. 9 season opener against the Indianapolis Colts.
August, 14, 2012
8/14/12
10:32
AM ET
By
Staff
| ESPNChicago.com
Chicago Bears linebacker Brian Urlacher underwent an arthroscopic debridement procedure on his left knee Tuesday, according to the team's official Twitter account.
The goal remains for Urlacher to be ready for the Sept. 9 regular-season opener, according to the tweet.
Urlacher sprained the medial collateral and posterior cruciate ligaments in his left knee during the Bears' 2011 regular-season finale in Minnesota when safety Major Wright collided with him going for an interception in the end zone.
Read the entire story.
July, 29, 2012
7/29/12
2:26
PM ET
[+] Enlarge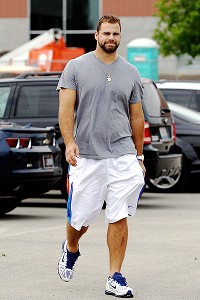 AP Photo/Nam Y. HuhGabe Carimi was happy to get his first live drillls out of the way with no setback.
BOURBONNAIS, Ill. --
Chicago Bears
starting right tackle
Gabe Carimi
reported no health problems one day after participating in live drills for the first time since he partially dislocated his right knee cap in Week 2 of the 2011 regular season against the
New Orleans Saints
. Carimi eventually underwent several procedures on the knee which wiped out the majority of his rookie season and forced him to miss a good portion of the club's offseason workout program.
"Overall, the good point to take away (from the first practice) was that my knee didn't hurt while I was out there and I didn't really think about it while I was out there," Carimi said on Sunday. "There are a lot of positives (to draw from Saturday) after not putting the pads on for ten months and finally going back out there after almost a year of not playing.'
"It was a good one to get under the belt for sure."
Carimi said he felt confident his knee would hold up during the first fully padded practice.
"That would be suicidal to have doubt but I knew there would be some rust," Carimi said. "I knew it wasn't going to be exactly where I left off at, but I think there were some good positive notes. I don't think I was that far off the mark where it'll be pretty easy to get back."
June, 27, 2012
6/27/12
2:45
PM ET
CHICAGO -- Chicago Bears middle linebacker Brian Urlacher said Wednesday that his injured left knee feels good and he plans to be on the practice field when training camp opens on July 26, but he also acknowledged there may only be "2-3 years" left on what many consider a Hall of Fame career.
Read the entire story.
April, 10, 2012
4/10/12
5:42
PM ET
[+] Enlarge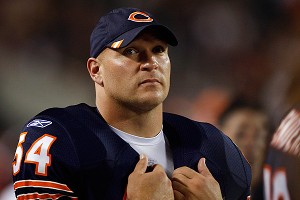 Jerry Lai/US PresswireBrian Urlacher said it's not up to the players to protect other players.
DES PLAINES -- Bears linebacker
Brian Urlacher
said Tuesday he is neither worried about his knee, unsigned running back
Matt Forte
nor the NFL's bounty scandal.
Speaking before a luncheon at Maryville Academy, where he was to receive the team's annual Ed Block Courage Award, voted on by his teammates, Urlacher said it is not up to the league's players to make the game safer.
"That's not our job to protect other players," Urlacher said. "It's the NFL's job and the refs' job to protect the players. ... If they think it's illegal, they'll throw a flag or they'll fine you. It's not our job to regulate that.
"I'm not worried about it. It's always touchy and I'm sure it will be even worse after all this stuff went down. You just have to go out there to do the best you can with the rules in place."
As the team looks to its first voluntary offseason workouts on Monday, Urlacher, who damaged ligaments in his knee during last season's final game at Minnesota but did not require surgery, said it "feels good."
"I've had so much time in the offseason to get it right," he said. "I still have four months [until training camp]. I'm definitely not in a big hurry. I've done everything to this point I've been asked to do. I'm sure when the time's right, I'll be ready to play. I have six months before the season starts to get ready. I'll be good to go when the time is right."
In the meantime, Urlacher is not likely to see Forte at Halas Hall as the disgruntled running back cannot participate in team activities until he signs the team's one-year franchise tender that would pay him $7.742 million, a raise of more than $7.1 million over last season.
"[Free agent acquisition]
Michael Bush
will get a lot of reps then if Matt's not there, and he'll get to know the offense," Urlacher said. "Matt takes care of himself. He knows the offense, he's a smart guy, he's always in shape. He's the least of my concerns. He'll be at training camp when he needs to be. Either way, he'll be there."
Urlacher also commented on the team's somewhat controversial trade for wide receiver
Brandon Marshall
, saying "Brandon is a good guy. I know he's had some issues. Everyone says that. I've been around him a couple times. Jay (Cutler is) going to handle that situation, so I'm not worried about it.
"Jay is a straightforward guy. He's been around Brandon. I don't think it will be an issue. He's coming to a good situation, he's got a great quarterback, good offensive line, good running game, decent defense, great coaching staff, so I think it's a good situation for him to be in. He's going to get a lot of balls thrown at him, so that should keep him happy."
January, 1, 2012
1/01/12
3:48
PM ET