Chicago Bears:

Kyle Rudolph
November, 29, 2013
11/29/13
12:00
PM ET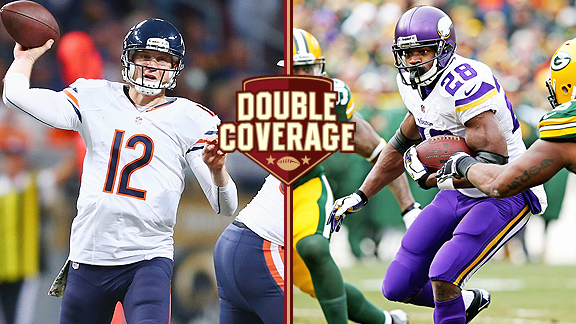 Getty ImagesJosh McCown has a successful history against Minnesota, but Adrian Peterson is gaining traction.
The last time the
Chicago Bears
and
Minnesota Vikings
met, the Bears' touchdown with 16 seconds left gave them a 31-30 victory that put Chicago at the top of the NFC North and sent Minnesota home, just two weeks into the season, with grave concerns about its ability to put a team away.
Eleven weeks later, the two teams are still more or less in the same spot. The Bears are tied for the NFC North lead with the
Detroit Lions
, and could take the outright lead this week if they beat the Vikings and the
Green Bay Packers
knock off the Lions on Thanksgiving Day. The Vikings, meanwhile, blew their fourth last-minute lead of the season on Sunday, when the Packers forced overtime in a game that eventually ended in a tie.
With the Bears playing for first place -- and the Vikings trying to recover some dignity -- on Sunday at Mall of America Field, ESPN.com Vikings reporter Ben Goessling and Bears reporter Michael C. Wright got together to preview the game:
Ben Goessling:
The Vikings might have some bad memories from Week 2, but they also have bad memories of
Josh McCown
. Ten years ago, as a member of the
Arizona Cardinals
, McCown threw a last-second touchdown pass that kept the Vikings out of the playoffs on the final play of the 2003 season. What's he doing so well in his latest stint as a starting quarterback?
Michael C. Wright:
McCown says it's a combination of factors such as where he is in life right now (he's 34), the lessons he has learned from being in the league so long playing behind guys such as
Jon Kitna
and
Kurt Warner
, and the fact he has been with the Bears since they implemented this new offense. When McCown first signed with the Bears in 2011 and was forced to play, he came in basically cold. Now, McCown has just as good of a handle on the offense as starter
Jay Cutler
because he had some input with Bears coach Marc Trestman when the system was being installed. McCown obviously doesn't possess the cannon of an arm that Cutler has, but he makes up for that with a quick release and strong anticipation skills. McCown really has excelled at not getting outside of himself, and allowing his weapons --
Matt Forte
,
Brandon Marshall
,
Alshon Jeffery
and
Martellus Bennett
-- to do the majority of the work. But McCown is also being careful with the ball and not taking chances by throwing into coverage as Cutler might.
After watching film from Chicago's loss to the Rams when they gave up 109 yards to
Benny Cunningham
and allowed an average of 8.9 yards per carry, do you think
Adrian Peterson
is more or less licking his chops thinking about what he might be able to do?
Goessling:
He certainly should be. Peterson had a season-high 146 yards on 32 carries (also a season-high) on Sunday in Green Bay, and though he's dealing with a groin injury, he looked like he was running harder against the Packers than he was able to the week before against Seattle. The other guy the Bears might need to keep an eye on is
Toby Gerhart
, who ran eight times for 91 yards against the Packers and provided a nice change of pace when the Vikings gave Peterson a break. They could look to use Gerhart a little more this week; he's a good downhill runner who's obviously not as shifty as Peterson, but who can do some damage to a tired defense. The Vikings ran the ball more effectively last week than they had all season, and Peterson has had plenty of big days against the Bears before.
As the season has played out, it looks like the Bears have had a similar problem to the Vikings' on their defensive line, which isn't getting the same kind of pressure it used to. Why have the Bears had so much trouble getting to the quarterback?
Wright:
The No. 1 reason is simply injuries. The Bears have used nine different combination of starters in the front four alone having lost defensive tackles
Henry Melton
and
Nate Collins
for the season, in addition to playing without defensive tackle
Stephen Paea
and defensive end
Shea McClellin
for stretches. With so many newcomers such as
David Bass
and
Landon Cohen
, the Bears lack experience up front and, most importantly, they haven't played with a set lineup long enough to develop any level of chemistry.
Julius Peppers
is the only member of Chicago's defensive line to start in the same spot for every game, and he has been largely ineffective, although he came alive in the team's win over the
Baltimore Ravens
on Nov. 17 and notched multiple sacks (2) for the first time since December of last season.
How's Leslie Frazier's job security looking, and will it have an effect on how this team plays down the stretch?
Goessling:
The Vikings are still playing hard for Frazier, and players say they believe he's the right man to lead them. You need look no further than how they battled the Packers last Sunday to see that. But will it save his job? I'm not so sure. The Vikings picked up Frazier's 2014 option, but didn't give him a contract extension after he took the Vikings to the playoffs last season, so if he were to come back they'd either have to let him coach into the last year of his deal or give him a new contract after a disappointing season. Either one of those moves would be a gamble on the Vikings' part, so if Frazier stays, it will be because he has proved to ownership that he's still the man to lead the Vikings forward. And if he does stay, I have a hard time seeing his offensive and defensive coordinators -- Bill Musgrave and Alan Williams -- joining him for another season in Minnesota. Somebody's going to have to pay for this season, I'm guessing.
Cordarrelle Patterson
first made his mark for the Vikings in Week 2 against the Bears, and now he's seeing a bigger role in their offense. As much trouble as the Bears had with
Tavon Austin
last week, could Patterson be in line for a big day on Sunday?
Wright:
Patterson and Austin are much different players, and from this vantage point, Patterson doesn't appear to be as elusive out in space as Austin. Austin ripped the Bears for a 65-yard touchdown run early on last Sunday. But for the most part, the Bears held him in check, limiting him to two catches and one 24-yard kickoff return. Patterson's best chance to hurt the Bears would probably be on special teams where he already stung them in Week 2 for a 105-yard kickoff return for a TD. But on offense, Patterson probably won't be as impactful because Chicago's cornerbacks -- even backup
Zack Bowman
-- should be able to hold their own against him fairly well. Remember,
Tim Jennings
is a Pro Bowl player and Bowman is experienced and matches up well with Patterson in terms of size.
What's going on with Minnesota's red zone offense? The Vikings' numbers in that area haven't looked very good over the past two games.
Goessling:
They certainly haven't been very good there, and they could have won last Sunday if they'd scored more than two TDs in five red-zone trips. This is where I think not having tight end
Kyle Rudolph
hurts the most; he'd become a reliable red zone threat for
Christian Ponder
last year and this year before fracturing his foot. The other problem is, with less space to work, Ponder has to be more decisive and do a better job of getting the ball out quickly. Those aren't his strong suits, though I should note he made a sharp throw to the back of the end zone in overtime on Sunday that could've won the game if Patterson had been able to hang onto it after
Davon House
got just a piece of it. When the Vikings are inside the 10, they've always got Adrian Peterson to rely on, but when they need to throw the ball, they're definitely missing Rudolph.
November, 7, 2012
11/07/12
11:23
AM ET
»
NFC Midseason Teams
:
East
|
West
|
North
|
South
»
AFC
:
East
|
West
|
North
|
South
We've posted an All-NFC North team after every season since we started this blog five seasons ago. (Links:
2011
,
2010
,
2009
,
2008
.)
Below, you'll find our first attempt at a midseason division team. As always, its composition is a blend of advice I've received from football professionals, my own eyes and consultations with some media services I respect. (For those interested, here is
Pro Football Focus' All-NFC North team from last week.
)
As we've learned in past years, there isn't always a direct correlation between individual frequency and team success. If there were, the
Minnesota Vikings
-- who sit in third place here in Week 10 -- wouldn't have a division-high eight players on this team.
Many of the choices are obvious and/or self-explanatory. Here are some thoughts on the more difficult decisions:
September, 20, 2012
9/20/12
10:15
AM ET

Three years ago, there was so much excitement about NFC North tight ends that we monitored their progress regularly throughout the season. For different reasons, we've reached a similar point in 2012.

I'm sure fans of each NFC North team has had some angst about their top tight end this season, but the bottom line is that all four have scored a touchdown during the first two weeks of the season. I've set up a chart in this post to help us monitor their usage, performance and efficiency over time, and in this post I've offered some context and specifics in the Blogger Blitz video.

Drops are based on ESPN Stats & Information's evaluation and standards. They're an unofficial statistic and it's quite possible you'll see different numbers from other evaluators. It's a judgment call.


June, 20, 2012
6/20/12
11:45
AM ET
SportsCenter's divisional analysis moves to the NFC North on Tuesday night (ESPN2, 7 p.m. ET). We've already discussed our most versatile players as well as potential breakout players, so let's give our television pals a pre-show primer on the biggest improvement (and regression) each division team made this offseason:

Chicago Bears: Enhanced comfort zone for quarterback Jay Cutler
In detail:
The Bears fully committed to Cutler three years after acquiring him from the
Denver Broncos
. They finally gave him a full complement of promising receivers, most notably his all-time favorite in
Brandon Marshall
. Cutler will have his choice of big downfield threats, be it Marshall or rookie
Alshon Jeffery
, and
Devin Hester
has drawn rave reviews for his work within the team's new concepts. Coach Lovie Smith hired one of Cutler's favorite former coaches, Jeremy Bates, as quarterbacks coach, and offensive coordinator Mike Tice has liberally assimilated thoughts from Bates and Cutler into his scheme. For the first time the Bears feel like Cutler's team.

Biggest regression:
The Bears' top four defensive players -- linebacker
Brian Urlacher
, defensive end
Julius Peppers
, linebacker
Lance Briggs
and cornerback
Charles Tillman
-- all got a year older without the team acquiring a potential heir at any of their positions. (Rookie defensive end
Shea McClellin
is projected to fill the Bears' spot opposite of Peppers.)

Detroit Lions: Insurance and a long-term plan at left tackle
In detail:
The Lions mostly stood pat this offseason, making it their top priority to keep together a nucleus that earned a playoff spot three years after the franchise bottomed out at 0-16. They accomplished that goal by reaching contract agreements with receiver
Calvin Johnson
and linebacker
Stephen Tulloch
while franchising defensive end
Cliff Avril
. Retaining young players with room for growth counts as an improvement, but most notably, the Lions hatched a legitimate plan for the end of left tackle
Jeff Backus
' career. First-round draft choice
Riley Reiff
could replace Backus this season if necessary but could also get a year to develop. Regardless, it's a rare luxury for a team to have a legitimate succession plan in place at left tackle.
Biggest regression:
It might not qualify as a step back, but the Lions didn't do much to improve a secondary that struggled for large portions of the 2011 season. Nickel back
Aaron Berry
will compete with free agent acquisition
Jacob Lacey
to start opposite
Chris Houston
, and the Lions appear set to give safety
Amari Spievey
one more chance to lock down a long-term job.

Green Bay Packers: Adding juice to their defensive front
In detail:
As we discussed in May
, the Packers devoted a large portion of their offseason to elevating the energy and competition along their defensive line. They hope to manage the playing time of nose tackle
B.J. Raji
more efficiently by calling on rookies
Jerel Worthy
and
Mike Daniels
, along with eventual contributions from
Anthony Hargrove
(eight-game suspension) and
Mike Neal
(four-game suspension). The Packers have also signed
Phillip Merling
, a former second-round draft pick of the
Miami Dolphins
, and veteran
Daniel Muir
.

Biggest regression:
The Packers had near-ideal insurance at quarterback when
Matt Flynn
was their backup quarterback. Presumptive replacement
Graham Harrell
has extensive experience in the Packers' system and has been widely praised by coaches this offseason, but no one has suggested he is the equivalent of Flynn just yet.

Minnesota Vikings: A better situation for a young quarterback
In detail:
Quarterback
Christian Ponder
will have a blue-chip left tackle in rookie
Matt Kalil
protecting his backside and two proven pass-catchers for mid-range passing in tight ends
Kyle Rudolph
and
John Carlson
. The Vikings have also added a receiver who can stretch the field in
Jerome Simpson
, who will be eligible to play in Week 4 after an NFL suspension, and might have unearthed a draft steal if Arkansas'
Greg Childs
is healthy. The offense is far from a finished product, but it is staffed much better at multiple positions than it was in 2011.
Biggest regression:
The Vikings appear to have cast aside
E.J. Henderson
, their middle linebacker for most of the past decade. For now, that means they are hoping to make fourth-year player
Jasper Brinkley
their new starter. Brinkley played decently when he started four games as a rookie in 2009, but he missed all of 2011 because of a hamstring injury and coaches are waiting for him to turn it loose this spring.