Chicago Bears:

Leslie Frazier
September, 11, 2013
Sep 11
12:55
PM ET
LAKE FOREST, Ill. --
Minnesota Vikings
coach Leslie Frazier admitted there's still not much to glean from studying tape of Chicago's offense during its Week 1 win over the
Cincinnati Bengals
, or the four games the Bears played in the preseason.
Frazier expects Chicago's offense to evolve as the season progresses.
"There's so much more, I'm sure, in Week 7 or 8 you'll glean from their offense than what they showed in the first ballgame," Frazier said. "So you get an idea of their personnel and a little bit of what they're thinking. But I don't know if you can hang your hat on everything you saw. I'm sure there are going to be some tweaks based on our defense versus Cincinnati's. So that preseason snapshot, along with that one game, I don't know if you can just say that's their offense."
It certainly doesn't appear to be. With first-year NFL head coach Marc Trestman at the controls, the Bears executed their new offense conservatively in the first half against the Bengals. Once Trestman gained confidence in the offensive line's ability to protect quarterback
Jay Cutler
, the coach opened up the offense in the second half, which allowed the Bears to put two touchdowns on the board.
Even Cutler admitted feeling trepidation about the offense going into last week's game because there were "a lot of question marks," with him even asking himself: "Are the plays going to work?" The scheme proved sufficiently effective against a strong Cincinnati defense, but the Bears haven't yet shown the full scope of the system.
The little that Frazier could glean from watching film of the Week 1 game was improved protection of Cutler.
"It seems like their offensive line is much improved. They played together very well," Frazier said. "Jay played with a lot of confidence in the pocket; nice throws, and they worked a lot from the pocket early in that ballgame. Probably the offensive line play is what stood out to me."
May, 15, 2013
May 15
2:13
PM ET
One of the persistent themes of
Tuesday's SportsNation chat
was a Chicago Sun-Times report suggesting that free-agent linebacker
Brian Urlacher
was leaning toward signing with the
Minnesota Vikings
.
My sense at the time: The Vikings are in no rush to sign Urlacher at this point in the offseason. (Coach Leslie Frazier indicated as much during
an interview Wednesday morning on NFL Network
.) Here are the relevant exchanges from our chat:
Håvard (Norway)

Urlacher
Hi. What do you think about the rumours of Urlacher leaning towards Minnesota? Do you believe he has enough left in the tank to be a good one-year solution for Minnesota? What is in your opinion the best alternative for middle linebacker? Thanks for a interesting and entertaining blog, also for us Scandinavians!!
Kevin Seifert (2:10 PM)
Hey, do I know you? Anyway, my take is there shouldn't be a rush for the Vikings to sign Urlacher. If they didn't do it right after the draft, the guess is they want to see how their young players and/or
Erin Henderson
look at the position before signing a veteran.
Tom (Brooklyn)
Does the more time that passes without Urlacher signing with anyone make it more likely that he retires? After what the Bears did in the draft, the doors seems closed on a return to Chicago.
Kevin Seifert (2:23 PM)
Seems to be the best scenario for him is a team, possibly the Vikings, to decide it doesn't like its current options and wants a veteran presence. That could happen over the summer or just before training camp.
Beau (London . . (CANADA!))
If the Vikings do bring in Urlacher, do you really see any downside? They don't have a solid Mike at the moment and if they want to transition someone into the spot (
Audie Cole
, Henderson or [Michael] Mauti) wouldn't that be the perfect player to ease them into it for the season after?
Kevin Seifert (2:31 PM)
What if they don't think Urlacher can play anymore? That would be a downside. The Bears were clearly ambivalent at best about the possibility.
Wednesday morning, Frazier said: "At this point we want to look at the guys on our roster, give them a chance to compete for the middle linebacker position then we'll see where it takes us."
That seems a perfectly logical approach, assuming Urlacher doesn't have a mystery suitor ready to snatch him up at any moment.
The Vikings plan to take a spring look at outside linebacker Erin Henderson in the middle. That is exactly what OTAs are for. If they like what they see from Henderson, they'll move forward with him in training camp. If not, chances are Urlacher will still be available late next month or even in July. As we've discussed, Urlacher's most likely landing spot (if any) is with a team that decides after OTAs that it doesn't like its internal options at his position.
August, 28, 2012
8/28/12
1:15
PM ET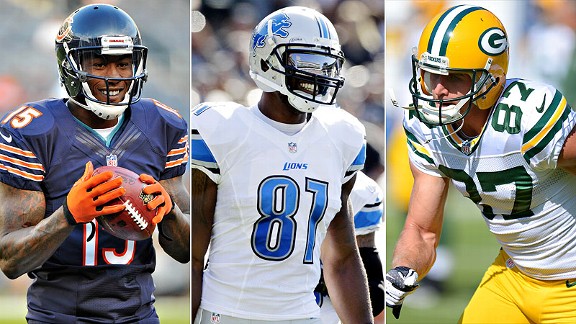 US PresswireBigger receivers like Chicago's Brandon Marshall, Detroit's Calvin Johnson and Green Bay's Jordy Nelson present unique challenges for the division's defensive backs.
You've already read half of this story. Surely you're aware of the increasing size disparity between NFL pass-catchers and cornerbacks. That train has left the station, and there's no going back.
So here's what I'm interested in: Assuming they don't plan to forfeit the season, how will NFC North cornerbacks and coaches deal with what looks like an increasingly one-sided matchup?
I spent part of
CampTour'12
asking cornerbacks, receivers and coaches a version of that question. After all, the
Chicago Bears
' acquisition of receiver
Brandon Marshall
means that each of our teams has at least one receiver taller than 6-foot-2 and one or more tight ends who stand at least 6-4. In total, the division boasts six "big" receivers and seven "big" tight ends based on those qualifications, as the first chart shows.
On the other hand, there are only three NFC North cornerbacks taller than 6-feet among the 12 expected to make up each team's primary rotation. (See second chart.) Cornerbacks don't always match up in single coverage against big receivers, and bigger safeties often take on tight ends. But at some point there is no choice. Eventually, NFC North teams will have a 5-foot-9 cornerback assigned to a 6-foot-4 receiver, a height differential of more than half a foot.
Most everyone engaged thoughtfully on the issue, and below I've categorized their thoughts in three ways. Let's take a closer look.
Muscle up or play off?
The game is football, of course, so the instinct of many cornerbacks is to get physical with big receivers -- especially at the line of scrimmage and even as the ball approaches. That approach is almost always a mistake, NFC North cornerbacks agreed.
"A guy that big, you don't want to be too aggressive with him,"
Green Bay Packers
cornerback
Tramon Williams
said. "You want to feel him, but you don't want him to feel you. As a big receiver, he wants you to be aggressive. That's his thing. He can push you off and do things like that. He can get separation and get you off your stride. So you don't want to be too aggressive with guys like that."
Instead, cornerbacks often are best served to "stalk" bigger receivers as they run downfield.
"They love for a little guy to get physical so they can body you," said
Detroit Lions
cornerback
Chris Houston
, who spends most practices matched up on 6-foot-5 receiver
Calvin Johnson
. "You've got to be smart, use your technique throughout the game. You can body them sometimes, but the majority of the time, they like for you to try to get in there. Their arms are much longer, so they can get you before you get them. You've got to be smart on your technique and stay disciplined."
The NFC North's shortest cornerback is
Antoine Winfield
of the
Minnesota Vikings
, whose reputation as a physical tackler overshadows the fact that he rarely tussles with receivers until after the ball arrives.
"I like to play off," Winfield said. "It's hard for me to be fighting with a guy who is 6-4, 6-5 at the line. He has the advantage. The first thing he is probably going to do is run at me, grab me, throw me to the side and take off."
Thinking back over his career during training camp, Marshall said "every guy plays a little differently." But Marshall could identify only one cornerback who deliberately got physical with him at the line of scrimmage: the
Denver Broncos
'
Champ Bailey
, who is just shy of 6-foot.
"A guy like that, he loves to go against big guys," Marshall said. "He trusts himself."
Everybody jump, jump
What Bailey and many other cornerbacks lack in height, however, they try to make up with timing and leaping ability. Bears coach Lovie Smith, in fact, said that vertical jumps are one of the most important attributes he seeks in defensive backs.
"Once the receiver gets off the ball," Smith said, "and he gets in position and the ball is thrown up in the air, just throwing it up high and it's a jump situation, that height and that vertical is going to come into play. And for us, most of our DBs have good verticals. They're 36-[inches] plus, 37-plus for a reason.
"If you have a good vertical, eventually if the ball is in the air, you can go out there and get it. I just don't think it's a gimmee just because you have a tall receiver and the cornerbacks are shorter. Most of the guys in the league are playing under six feet at the corner position and they're making a lot of big plays."
Indeed, the Bears employ two cornerbacks shorter than 5-10 --
Tim Jennings
and
D.J. Moore
-- among their top three. Jennings recorded a 37 1/2-inch vertical jump at his scouting combine, Moore hit 39 1/2.
Charles Tillman
, who at 6-1 1/8 is the second-tallest cornerback in the division, had a 40-inch vertical leap.
"You never concede a jump ball," said the Packers' Williams, whose vertical has been recorded at 41 inches. "I've always been confident in my jumping ability. Me, personally, I haven't had many jump balls caught on me."
Of course, big receivers watch film and usually know who the good jumpers are. Packers receiver
Jordy Nelson
said there are ways to maintain the height advantage against a cornerback who can jump.
"When we watch them, we see how they can play a deep ball," Nelson said. "If we know that so-and-so is out there, we know that you really have to attack the ball in the air. He is going to go up and get it. You've got to go compete for it. You can't let it come down and try to catch it over your shoulder. There's things like that that we watch."
In the absence of jumping ability, Vikings coach Leslie Frazier said, shorter cornerbacks must rely on extraordinary quickness and speed. The Vikings, for example, this year drafted the player who ran the fastest 40-yard dash at the 2012 scouting combine, Central Florida cornerback
Josh Robinson
(4.33 seconds). Robinson is 5-foot-9 1/2.
"What we try to find is a guy who is extremely quick," Frazier said. "Sometimes you can out-quick guys who are long striders, and they're usually better a little bit down the field. If you can offset some of that with the quickness and you are a gnat, just harassing them, that helps."
Scheme
Coaches can play an important role in equalizing the physical mismatch as well. Although it is bound to happen at some point, the least appealing way of defending a big receiver is putting him in a pure man-to-man matchup with a cornerback.
"There are things you can do where you don't get isolated in coverage," said Lions coach Jim Schwartz, whose top four cornerbacks are all shorter than 5-10. "You're playing man but you get a double team from somewhere, and so you're not playing the 'whole' man. You're not playing that whole 6-foot-3 receiver. You're only playing a portion of him. Those ways can be significant."
If you're not in position to double-team, the Bears' Smith said, zone concepts usually work better in physical mismatches. Players in man coverage usually turn their backs to chase the receiver they're assigned to, while players in zone are taught to keep receivers in front of them so they can watch the quarterback.
"It helps to play a little bit more zone," Smith said, "where you have your defensive backs with their eyes on the ball. When you're short and you're playing man-to-man and you have your back to the quarterback, there's a lot of things going against you in that situation."
So where does this leave us? When I spoke with Marshall about this topic, he smiled and said he didn't want to give up any secrets for exposing height mismatches. In truth, however, there aren't many.
Cornerbacks must play smart, both in technique and within the scheme. They need a physical attribute, especially jumping ability, that helps compensate for their height disadvantage. And they need to realize that, no matter what approach they take, NFC North teams are going to utilize their big receivers to complete plenty of passes. The defense that can best minimize the impact of those completions will put its team in position for the NFC North title.
December, 31, 2011
12/31/11
9:00
AM ET

When: Noon Sunday | TV: Fox | Radio: 780-AM WBBM & 105.9 FM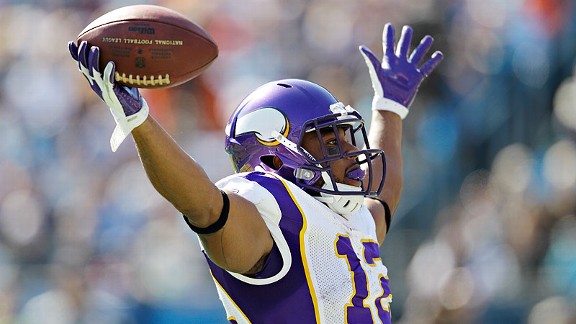 AP Photo/Chuck BurtonPercy Harvin is the first Vikings player to score on a run, reception and return multiple times in his career.

Coach: Lovie Smith | Record including playoffs: 73-59

Career head-to-head record (including playoffs) vs. Leslie Frazier: 2-0

Career record (including playoffs) vs. Vikings: 9-6

Last week: Lost to Packers 35-21

Key stat: In 10 drives against the Packers, quarterback Josh McCown led the team to two touchdowns, and two field goals. The team punted twice and had two drives ended with interceptions. By comparison, in the previous four games with Hanie, the Bears punted 29 times in 55 drives, scoring four TDs, and four field goals in addition to ending drives with nine INTs.


Offense rank: 20th (321.1 ypg) | Defense rank: 18th (353.7 ypg).


[+] Enlarge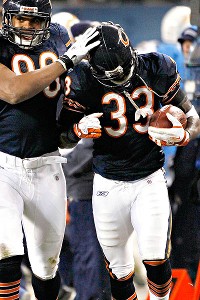 AP Photo/Charles Rex ArbogastCharles Tillman was rewarded for his consistent season with his first Pro Bowl berth.
Offensive leader: Quarterback Josh McCown made his first start since 2007 against the Packers and showed poise in leading the offense to its best production in terms of yards (441) of the season. McCown needs to show that the performance against Green Bay wasn't a fluke, because last year, this team was fooled by the play of Caleb Hanie in the NFC title game.


Defensive leader: Cornerback Charles Tillman was recently named to his first Pro Bowl, and is by far the most consistent player in Chicago's secondary, despite criticism about his age. More players in the Bears' secondary need to model their play after Tillman, who plays a physical brand of football replete with seemingly endless effort. Tillman ranks fourth in franchise history with 29 INTs.

Streaks
" A loss would give the Bears their first six-game losing streak since 1998. The Bears haven't lost their last six games in a row since 1989.

" The Bears are 6-1 this season when they gain 301 to 400 yards and 32-14 under those conditions since 2004.

" The Bears haven't won a game this season (0-2) in which they gained 401 yards or more.

" The Bears are 0-2 this season in domes after finishing last year 3-0 in indoor stadiums.


---

Coach: Leslie Frazier | Record: 6-15 | Last week: Defeated Redskins 33-26

Career head-to-head record vs. Smith: 0-2 | Career record vs. Bears: 0-2

Key stat: The Vikings have had three different players -- Adrian Peterson, Toby Gerhart and quarterback Joe Webb -- rush for more than 100 yards in a game this season, which is the first time that's happened since 2003 and the third time in franchise history.


Offense rank: 18th (331.6 ypg) | Defense rank: 25th (368.1 ypg)


[+] Enlarge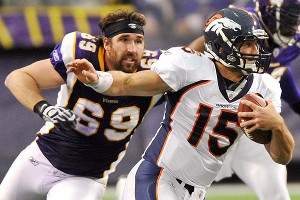 Tom Dahlin/Getty ImagesThe Vikings' Jared Allen has 18.5 sacks this season, tops in the NFL.
Offensive leader: Receiver Percy Harvin is just 16 yards away from setting a new career high in receiving yards for a season. Harvin leads the team with 852 yards receiving and is tied for eighth in the NFL in receptions (77). Harvin averages 9.1 yards per touch and is the first Vikings player to score on a run, reception and return multiple times in his career.


Defensive leader: Defensive end Jared Allen is second in Minnesota single-season history with 18.5 sacks, and has also forced four career safeties. Allen is also tied for first in the league with four fumble recoveries, and eight overall as a Minnesota Viking. From 2005-2011, Allen is tied for third with 26 forced fumbles.

Streaks
" Former Bears receiver Devin Aromashodu needs 42 yards receiving to surpass 2,000 yards receiving for his career.

" Allen needs 2.5 sacks to tie the franchise's all-time single season sack record of 21 set by Chris Doleman in 1989.

" Tight end Jim Kleinsasser is set to play in his 181st and final career game in the NFL.
January, 18, 2011
1/18/11
10:11
AM ET
By
ESPN.com news services
Mike Singletary told ESPN 1000 on Tuesday that he is joining the Minnesota Vikings staff, where he will be reunited with former Chicago Bears teammate Leslie Frazier.
Read the entire story.