Chicago Bears:

Marian Barber
February, 7, 2012
2/07/12
11:12
AM ET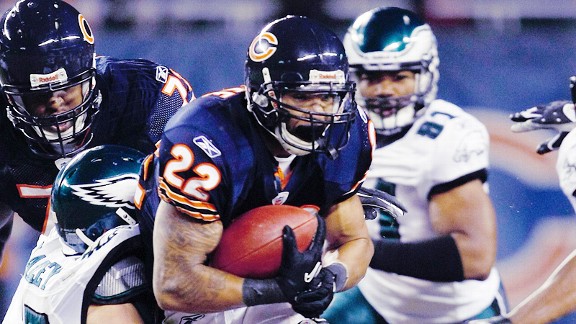 Scott Boehm/Getty ImagesOne thing is certain about Matt Forte -- he is in line for a big raise in 2012.
This is the second installment of a 10-part series that reviews every Bears position group on offense and defense, while also taking a quick look at potential free agent targets and the top prospects in the upcoming NFL draft.
Matt Forte
shook off disappointment in contract negotiations and trepidation about his long-term future with the franchise in 2011, and put together his first Pro Bowl campaign before a knee injury knocked him out of the last five games.
All throughout last season and thus far this offseason, contract negotiations between Forte -- a pending unrestricted free agent -- and the Bears dominated most discussions regarding the franchise. The question now is whether the sides can consummate a deal. New general manager Phil Emery declined to tip the club's hand in negotiations, which are expected to pick up in the coming days.
Team president Ted Phillips said there's no way the Bears let Forte hit the open market.
"We'd like to [work out a long-term contract with Forte]," Phillips said. "But as Phil [Emery] pointed out, we obviously will at least consider placing the franchise tag on him."
That's fine by Forte, as long as the team uses the tag to buy it more time to strike a long-term deal.
The team will have to designate Forte its franchise player -- or work out an extension with the running back -- between Feb. 20 and Mar. 5. If the Bears tag him, they have until July 16 to sign Forte to a new contract.
The running back hinted that "people probably wouldn't know where I was" if the sides don't reach a long-term agreement.
THE CURRENT ROSTER
•
Matt Forte:
Despite contentious negotiations with the team prior to the season opener, Forte decided to prove his worth on the field by out-producing players such as Minnesota's
Adrian Peterson
and Oakland's
Darren McFadden
-- both earning more than 10 times Forte's 2011 base salary -- in total yards from scrimmage (1,487) despite missing more than a month of action.
Forte finished the season ranked 10th in the NFL -- at all positions -- in total yards from scrimmage, and led the league in that statistical category prior to suffering a sprained knee on Dec. 4 against the
Kansas City Chiefs
.
Given the team's expected shift to more of a run-oriented offense, Forte's value remains high. Emery has already touched base with Forte's agent, Adisa Bakari, and it appears the team will finally make a legitimate effort at striking an agreement with the Pro Bowl running back.
[+] Enlarge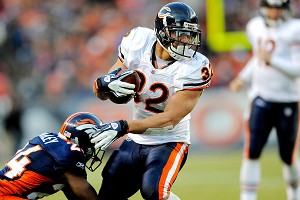 AP Photo/Jack DempseyKahlil Bell's play late in the season could allow the bears to cut Marion Barber loose.
•
Marion Barber:
Barber is set to receive a $100,000 workout bonus this offseason, and is scheduled to earn $1.9 million in base salary for the 2012 season. While Barber has proven to be a dependable backup/complement to Forte, his salary -- although not high -- might be too much because there appears to be a younger, less expensive, and potentially better option waiting in the wings in
Kahlil Bell
.
Bears coach Lovie Smith pointed out that Barber's injury history is cause for concern. Lingering calf issues led to Barber being inactive in five games.
•
Kahlil Bell:
If Bell didn't outright earn the No. 2 job behind Forte with his play down the stretch, he should at least receive a real opportunity to compete for the spot in training camp.
A restricted free agent, Bell likely will receive a low tender from the team, which might lead to Barber's departure, especially if the Bears also manage to sign Forte.
Bell averaged 4.3 yards per attempt in 2011 and produced his first 100-yard outing on Christmas at Green Bay. Interestingly, Bell blends some of the attributes of Forte (elusiveness) and Barber (power), which surely bodes well for his future with the Bears. Bell acknowledged that fumbles were somewhat of a problem during the season, but it's not a situation that can't be remedied.
•
Armando Allen:
Could wind up sticking as the No. 3 running back if he can contribute on special teams. He showed promise in the final two games of 2011, rushing 11 times for 40 yards on Christmas against the Packers.
Because of Allen's size -- 5 foot 10, 190 pounds -- he'll definitely need to use the offseason to add bulk and strength.
•
Tyler Clutts:
The Bears entered last offseason looking for a true fullback, and they uncovered a gem in Clutts, a punishing lead blocker who can also be a threat out of the backfield (eight catches for 48 yards in 2011).
The lone fullback on the roster, Clutts also contributed on special teams in 2011, making three stops on coverage teams. His role may grow in the new Tice-led offense.
•
Robert Hughes:
A Chicago native, Hughes spent time last season on the team's practice squad and might be a longshot to make the 2012 roster. A strong showing in the preseason finale of 2011 led to Hughes winding up on the practice squad.
Bears free agents:
Forte, Bell (restricted)
POTENTIAL FREE AGENT TARGETS
None
WHY THE BEARS MIGHT STAND PAT
Even if the Bears don't sign Forte to an extension, they'll still be on the hook for approximately $8 million with the franchise tag. Tack on Barber's $1.9 million base salary and a likely tender offer for Bell, and the Bears will have more than $10 million committed to salaries of running backs.
So if the Bears decide to keep Barber and Bell, don't expect them to make any moves in free agency at the position. The club may wind up cutting Barber loose and keeping Bell as the No. 2, while adding to the position with a late-round pick or undrafted free agent.
December, 11, 2011
12/11/11
9:32
PM ET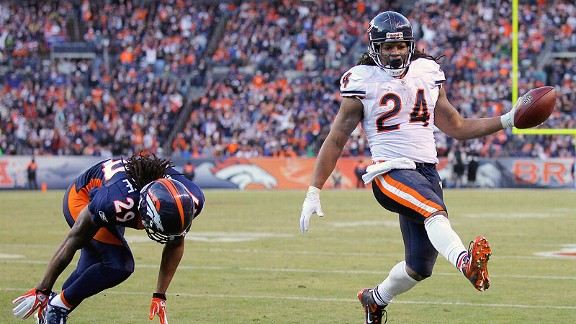 Doug Pensinger/Getty ImagesMarion Barber topped 100 yards and scored a TD, but his day ended with huge errors.
DENVER -- What seemed a promising performance Sunday became a catastrophe for
Chicago Bears
running back
Marion Barber
when the veteran committed two late errors that directly contributed to the 13-10 overtime loss to the
Denver Broncos
.
Even Broncos quarterback
Tim Tebow
said, "I might have thanked the Lord when [Barber]" made the first blunder that allowed the Broncos to tie the game at 10 in regulation.
Led by Tebow, the Broncos scored 10 unanswered in the last 2:08 to tie it with three seconds remaining in regulation, before winning on a 51-yard field goal by
Matt Prater
in overtime. Mistakes by Barber paved the way for both to transpire.
"We gave it away," said Bears return man
Devin Hester
. "We were up 10 points."
Barber made the first miscue just after the two-minute warning with his team leading 10-3 when he didn't stay inbounds to milk the clock, and he fumbled in overtime to set up Denver's game-winning drive.
"It's tough because you feel like you lost the game," said receiver
Roy Williams
, who bobbled a potential game-tying pass last week against Kansas City that was intercepted. "I had to go through that last week. In reality, you didn't lose the game. You could've been the hero. You could've won the game, yes. But you didn't lose the game. He played well, ran hard. He made one big mistake."
Taking a handoff from
Caleb Hanie
near the end of regulation, Barber ran around left end only to let Broncos linebacker
D.J. Williams
push him out of bounds, which stopped the clock after a 5-yard gain on second down.
The problem with that is the Broncos had already burned their final timeout with 5:30 left after a
Kahlil Bell
run up the middle. Had Barber remained inbounds, the Bears would have been able to run more time off the clock to preserve the victory in regulation.
"He obviously, probably shouldn't do that, and that kept us in it," Tebow said. "I mean, we probably would have had 10 seconds if he stayed inbounds, but, it was just special."
The Bears didn't share that sentiment, and coach Lovie Smith said that given the time left on the clock, Barber should have known what to do. After all, Barber is a seven-year veteran and had the opportunity to put the game away instead of opening the door for yet another Tebow comeback.
"We have to know the situation," Smith said. "In that situation we have to keep the ball in bounds. He'll tell you that."
Actually, Barber wasn't able to because he left the locker room immediately after the game, never making himself available for comment. A couple members of the team's public relations searched for Barber, who was never seen in the locker room by any of them.
Barber's fumble in overtime came five plays into the drive on third-and-7 from the Denver 38 and was the final blow in what should have gone down as a productive day for the veteran. Running with power and unusual shiftiness, Barber gained 108 yards on 27 attempts and scored the team's only touchdown.
Perhaps that's why teammates remained supportive of Barber despite the running back's mistakes potentially costing the team a berth in the postseason.
"Marion Barber is a heck of a football player. Marion Barber is gonna help us to get into the playoffs," linebacker
Lance Briggs
said. "Things happen, they happen to all of us. I'm proud of the guy. If he just keeps his head up, he's gonna help the Bears win."