Chicago Bears:

Mario Williams
March, 15, 2012
3/15/12
11:41
AM ET
By
ESPN.com news services
March, 13, 2012
3/13/12
10:58
PM ET
At this moment, the Bears' chances of landing premiere free agent Mario Williams remain a mystery.
Williams visited Buffalo on Tuesday, but he has yet to agree to a contract, which is certainly positive news for the rest of the teams trying to land the 27-year-old pass-rusher.
Remember, Williams is the top free agent left on the market. He could, in theory, take all the time he wants when it comes to deciding on a team. After all, it's not as if a team is going to threaten to pull an offer to gain leverage. Williams has all the leverage in this process, and if he wants to drag it out hear another sales pitch from a team like the Bears, it's a decision to other interested teams must honor and respect.
[+] Enlarge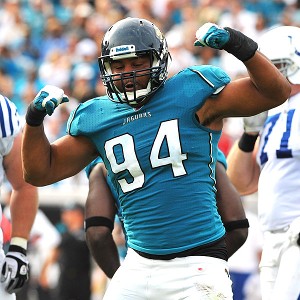 Al Messerschmidt/Getty ImagesJaguars observers will be quick to find that Jeremy Mincey is high on enthusiasm heading into camp.
The three players the Bears acquired on Tuesday (wide receiver Brandon Marshall, quarterback Jason Campbell, linebacker Blake Costanzo) ate up a chunk of the club's salary cap space. But if the organization were to get creative, it could conceivably still make a run at Williams -- although he might have to agree to sign for a tad less to play in Chicago.
In the event Williams goes in a different direction, the Bears have expressed interest in Jacksonville free agent defensive end Jeremy Mincey, who posted a career-best eight sacks last season. At 28-years-old, Mincey would be a younger option if the Bears wanted to part company with fellow free agent Israel Idonije,31, who made a base salary of $2.4 million in 2011.

Idonije, armed with agent Drew Rosenhaus, could be looking for a raise. Rosenhaus generally does quite well for his clients in free agency, and while no teams have yet been linked to Idonije, a market will no doubt emerge for the veteran defensive lineman at some point.
March, 12, 2012
3/12/12
4:50
PM ET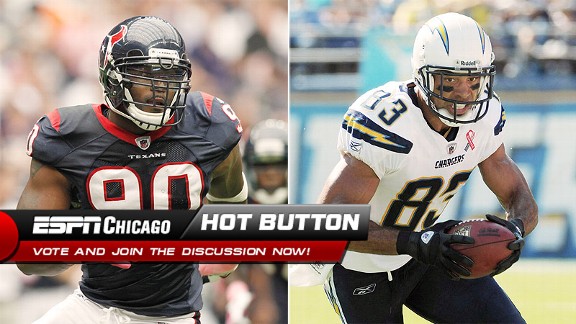 US Presswire
Should the Bears pursue a No. 1 receiver in free agency in Vincent Jackson or another dominant defensive end in Mario Williams when free agency opens Tuesday?
Vote in the Hot Button
.
March, 12, 2012
3/12/12
2:01
PM ET
The question has arisen in our SportsNation chats, in the mailbag, on Twitter and Facebook. And each time you've asked if the
Chicago Bears
would pursue free agent defensive end
Mario Williams
, my answer has been the same. It's hard to imagine the Bears committing to a sky-high priced defensive end when they already have defensive end
Julius Peppers
signed to a deal that calls for cap numbers increasing from $12.4 million this season to $19.7 million in 2015.
[+] Enlarge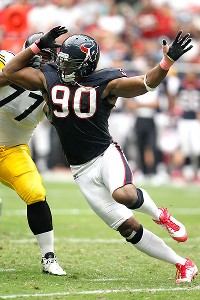 AP Photo/Tom DiPaceMario Williams could form a fearsome pass-rushing tandem with Julius Peppers, if the Bears were to land the free agent.
There's nothing wrong with having two elite defensive ends, even if they account for upwards of 30 percent of your total cap space, as a Peppers-Williams pairing might. But the Bears would appear to have too many other needs -- receiver tops among them -- to afford that luxury. But in this reasoned column,
Dan Pompei of the Chicago Tribune
considers the issue from another perspective.
Pompei: "It's true the Bears would have an inordinate investment in their defensive ends if they signed Williams. But collecting pass-rushers didn't hurt the Super Bowl champion Giants. The Lions have quite a group, too. As the subjects of the A&E series "Hoarders" might attest, you can't have too much of a good thing -- especially pass-rushers, and especially given the defensive and team philosophies the Bears subscribe to. A defensive end's value is much greater than that of a wide receiver to the Bears. It's true a great quarterback can make his receivers better. On the other side of the ball, it's the end who makes his teammates better. Many teams have won big without star receivers. Few have won without a pass rush that keeps quarterbacks up at night and down during games."
The Bears will have between $20 million and $25 million in cap space to work with, but I'm not ready to change my mind yet on how they should use it. I'm also not convinced that new general manager Phil Emery will be a front-line player on the free agent market.
But I reserve the right to change my mind, and as a result your thoughts are welcome in a very special offseason edition of Have at It. Let me know if you would be in favor of the Bears pursuing and signing Williams, even at the expense of other positions on their roster, and we'll circle back on the issue Tuesday morning while we're killing time and waiting for the 4 p.m. ET start of free agency. Have at It.
March, 12, 2012
3/12/12
8:58
AM ET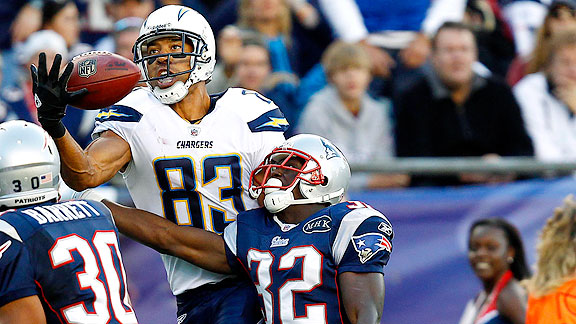 Mark L. Baer/US PresswireVincent Jackson is the big free agent prize among wide receivers. Will the Bears be big players?
Where they stand:
The
Chicago Bears
lead the NFC North in available cap room, sitting on approximately $30 million. But it's important to note that cap room shouldn't be viewed as a blank check; especially when considering the Bears would likely be looking to extend several of their core players with contracts ending in the next couple of years. While upgrades on offense seem most logical of potential Bears moves during free agency, given the need to surround quarterback
Jay Cutler
with more weapons, it's believed that coach Lovie Smith wants to revamp a defense led by four Pro Bowl players -- linebackers
Lance Briggs
and
Brian Urlacher
, cornerback
Charles Tillman
and defensive end
Julius Peppers
-- older than 30.
NEED-METER
[+] Enlarge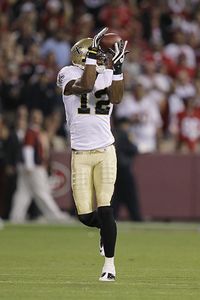 AP Photo/Marcio Jose SanchezMarques Colston is among the second tier of free agent receivers who could be options for the Bears.
Receiver:
10.
To be fair, the position didn't appear as much of an area of need when the team ripped off a 7-3 start. Obviously, Cutler played a significant role in that. Over the first 10 games, Chicago's receiving corps averaged 11 catches per outing. Once Cutler and running back
Matt Forte
suffered injuries that took them out of the lineup, the receivers' production dipped to eight catches per game.
A dominant slot receiver,
Earl Bennett
became the club's go-to option in the passing game with Cutler out of commission. Teams quickly recognized, and adjusted coverage accordingly, leading to Bennett catching one pass or fewer in five of his last six games. Johnny Knox's horrific back injury against the
Seattle Seahawks
further exposed this team's deficiencies at receiver.
So with a major need clearly defined at the position, the question now is how the team proceeds in free agency and the draft.
It's believed the Bears plan on making a run at San Diego receiver
Vincent Jackson
in free agency, and sources have confirmed as much. But if Jackson commands what several agents expect to be a salary in the $12 million-per-season range, it's unlikely new general manager Phil Emery would continue the team's pursuit, based on his stated preference of building through the draft, which signifies he's not a proponent of spending lavishly in free agency.
So surely the team has a few secondary and less-expensive options in mind, such as
New Orleans Saints
receivers
Marques Colston
and
Robert Meachem
, or
Reggie Wayne
and
Pierre Garcon
of the
Indianapolis Colts
. Given their youth and physical attributes, Meachem (just 11 dropped balls over four seasons) and Garcon would appear to be the best fits. Colston averaged just 3.2 yards after catch in 2011, according to Pro Football Focus. That doesn't necessarily jibe with the explosive passing game the Bears envision in 2012. Wayne, meanwhile, is coming off his first season since 2003 in which he didn't gain 1,000 yards receiving.
According to a source, just Wednesday, seven teams (the Bears weren't one of them) expressed interest in Meachem; a list sure to grow as free agency approaches.
March, 8, 2012
3/08/12
11:12
AM ET
»
AFC Free-Agency Primer
:
East
|
West
|
North
|
South
»
NFC
:
East
|
West
|
North
|
South
Free agency begins Tuesday at 4 p.m. ET
Chicago Bears

Key free agents:
Tight end
Kellen Davis
, running back
Matt Forte
(franchise), cornerback
Corey Graham
, quarterback
Caleb Hanie
, defensive end
Israel Idonije
, cornerback
Tim Jennings
, quarterback
Josh McCown
, safety
Brandon Meriweather
and receiver
Roy Williams
.
Where they stand:
The Bears will have the most salary-cap space among NFC North teams, upwards of $30 million, and have plenty of potential uses for it. Quarterback
Jay Cutler
needs more targets in the downfield passing game, whether it's at the receiver or tight end position. And new general manager Phil Emery must start restocking a defense led by four players more than 30 years old: Linebackers
Brian Urlacher
and
Lance Briggs
, defensive end
Julius Peppers
and cornerback
Charles Tillman
.
What to expect:
It's widely believed the Bears will be in the running for free-agent receiver
Vincent Jackson
. But Jackson's price tag could be steep and no one knows if Emery will prove to be a big spender. It seems likely he will re-sign Davis, and Emery should also save some of his cap space to extend Forte's contract. Secondary receiver targets could include
Marques Colston
. Bears fans are hoping the team will pursue defensive end
Mario Williams
, but it's hard to imagine the Bears budgeting for Williams two years after breaking their bank on Peppers.

Detroit Lions
Key free agents:
Defensive end
Cliff Avril
(franchise), left tackle
Jeff Backus
, safety
Chris Harris
, quarterback
Shaun Hill
, linebacker
DeAndre Levy
(restricted), running back
Maurice Morris
, running back
Kevin Smith
, quarterback
Drew Stanton
, linebacker
Stephen Tulloch
and cornerback
Eric Wright
.
Where they stand:
The Lions are tight against the salary cap after franchising Avril and aren't likely to be big spenders on the free-agent market. They could relieve the situation by reaching long-term agreements with Avril and/or receiver
Calvin Johnson
, who has a $22 million cap figure for 2012. Tulloch made a big impact last season after signing a one-year deal, but so far the Lions' attention has turned elsewhere.
What to expect:
The Lions' best-case scenario is to keep their 2011 core together without mortgaging their future relative to the salary cap. That would mean getting Tulloch re-signed to preserve the linebacker group they upgraded last season by signing him and veteran
Justin Durant
, moves that allowed Levy to play on the outside. Hill seems likely to re-sign as
Matthew Stafford
's backup, while Stanton might test the free-agent waters to see if he has a chance to do better than third on a team's depth chart.

Green Bay Packers
Key free agents:
Cornerback
Jarrett Bush
, quarterback
Matt Flynn
, running back
Ryan Grant
and center
Scott Wells
.
Where they stand:
The Packers took care of a big challenge by signing tight end
Jermichael Finley
to a two-year contract last month. They will let Flynn depart for a possible starting job elsewhere and it appears Grant will test the free-agent market. Discussions with Wells haven't led to an agreement, but the Packers often go to the final moments before reaching a deal. There are no obvious internal replacements for Wells, making his return a priority.
What to expect:
The Packers will have some flexibility with the salary cap, but general manager Ted Thompson's aversion to veteran free agency is well known. It's been three years since he signed a veteran unrestricted free agent in the offseason. The Packers have needs at defensive line, outside linebacker and possibly at center if Wells leaves. But let's put it this way: Thompson's strong preference is to find depth and future replacements in the draft, not on other teams' rosters.

Minnesota Vikings
Key free agents:
Safety
Husain Abdullah
, receiver
Devin Aromashodu
, receiver
Greg Camarillo
, defensive lineman
Fred Evans
, defensive lineman
Letroy Guion
, linebacker
E.J. Henderson
, linebacker
Erin Henderson
, safety
Tyrell Johnson
, quarterback
Sage Rosenfels
, cornerback
Benny Sapp
and tight end
Visanthe Shiancoe
.
Where they stand:
The Vikings seem poised for a major roster overhaul in their first offseason since Rick Spielman was promoted to general manager. Players like Shiancoe, E.J. Henderson, Camarillo and Johnson all seem poised to move on. There aren't many positions on the team that appear secure.
What to expect:
If the Vikings don't plan to draft USC left tackle Matt Kalil at No. 3 overall next month, the first clue will be if they pursue a free-agent left tackle. That seems unlikely. But they'll need to combine their draft with at least a few veteran free agents if they intend to compete for a playoff spot in 2012. Cornerback could be a point of focus, where
Brandon Carr
and
Cortland Finnegan
are among those available. Another could be receiver. The Vikings had major interest in Jackson two years ago.