Chicago Bears:

Marshall Meriweather response
October, 28, 2013
10/28/13
7:59
PM ET
CHICAGO --
Chicago Bears
wide receiver
Brandon Marshall
responded to
Washington Redskins
safety
Brandon Meriweather
referencing Marshall's past allegations of domestic abuse on Monday, telling ESPN 1000's "Waddle and Silvy Show" that he is praying for Meriweather and that the two are simply on "different pages" when it comes to player safety.
"I'm praying for that guy," Marshall said. "He actually reached out to me last week and I told him that I was more concerned about him and his health, because I think a few weeks before our game I saw him lying on the field just out cold. It was a scary situation. I never want to see him or any player lay out like that. As far as what he said today; you can only pray for someone with those feelings. So that's all I have to say about that."
[+] Enlarge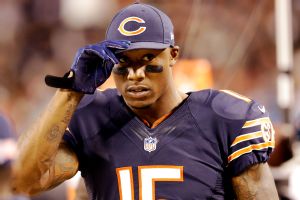 AP Photo/Nam Y. Huh"As far as what he said today; you can only pray for someone with those feelings," Brandon Marshall said. "So that's all I have to say about that."
Marshall publicly criticized Meriweather when the Bears played the Redskins on October 20 after the safety delivered a pair of illegal hits that eventually earned him a one-game suspension, going as far as to say the Washington defender, who has a history of being fined by the NFL for illegal contact, should be removed from the game entirely.
In response, Meriweather told reporters: "He feels like I need to be kicked out of the league, I feel like people who beat their girlfriends should be kicked out of the league, too."
Marshall revealed that he had a phone conversation with Meriweather just last week, but the two players failed to connect, even though they both played high school football in the Orlando, Fla., area around the same time.
"From my end, I think it was more about, 'Hey man ... life after football ... your safety ... other guy's safety ... that was kind of scary seeing you laid out against Green Bay ... I played in the same area you played in during high school in Orlando ... we always knew of each other," Marshall said. For him, it was more about the money, being suspended and missing a game. We were on two different pages.
"I'm just praying for that guy. I just want to see the health of the league get better and for guys to stay healthy. For guys like that, I'm just going to pray for them."
The Bears Pro Bowl wideout also reacted to Meriweather's declaration that he will begin to aim low when making a tackle which will likely result in the safety causing an opponent to tear an ACL or suffer another serious knee injury.
"I just feel bad for the guys remaining on their schedule," Marshall said. "It is tough (the rules) on defensive backs, especially, there are even some things that I don't understand. When it's a moving target it's tough to aim for the shoulder or the body, so it is tough, but you don't want to start seeing guys get hit in the knees. I don't know what to say about it. It's a tough situation. I don't want to go any further."
October, 28, 2013
10/28/13
2:20
PM ET
Considering
Brandon Marshall
is one of the NFL's elite receivers, his peripheral vision probably works better than most. So when Marshall ran out of the brisk cold air at the practice fields on his way to the doors leading into Halas Hall, surely he saw more than a dozen cameramen and reporters scrambling his direction.
Typically when Marshall wants to talk, he stops. Not this time. He knew what was about to be asked, and made the right decision in declining to address irrelevant commentary from a peer.
Not long before Chicago's practice came to a close on Monday,
Washington Redskins
safety
Brandon Meriweather
-- fresh off serving a one-game suspension for vicious hits, including two against the Bears on Oct. 20 -- fired off an attack on Marshall's personal life when asked to respond to comments made by the receiver in the aftermath of that game.
Marshall
Meriweather
"Guys like that, maybe he needs to get suspended or taken out of the game completely," Marshall said of Meriweather, after the safety smashed him in the end zone during Washington's 45-41 win against the Bears, which drew a 15-yard penalty and played a part in the suspension. Then, on Monday, Meriweather took the back-and-forth to another level.
"He feels like I need to be kicked out of the league. I feel like people who beat their girlfriends should be kicked out of the league, too," Meriweather said. "You tell me who you'd rather have? Someone who plays aggressive on the field or someone who beat up their girlfriend?"
In addition to taking aim at Marshall's personal life, Meriweather openly discussed ending careers to avoid discipline from the league for helmet-to-helmet hits, which have gotten him fined on multiple occasions.
"I guess I just got to take people's knees out," Meriweather said. "That's the only way. I would hate to end a guy's career over a rule, but I guess it's better other people than me getting suspended for longer. You just have to go low now, man. You've got to end people's careers. You got to tear people's ACLS and mess up people's knees. You can't hit them high anymore."
Obviously, Marshall's past is significant here. But in this situation, Meriweather shouldn't be attacking Marshall personally, because one thing (the illegal hits) has absolutely nothing to do with the other (the receiver's past).
Marshall has been arrested multiple times for alleged domestic violence, and I certainly don't condone a man putting his hands on a woman in that fashion. But in every instance, either no charges were filed, or they were subsequently dropped.
Back in 2012, a judge dismissed a civil suit filed by a former girlfriend accusing Marshall of abuse. Three years prior, a jury found Marshall not guilty of misdemeanor battery charges stemming from incidents involving that same woman.
On Monday, Marshall -- apparently informed of Meriweather's remarks -- posted on Twitter:
There is only one way to avoid criticism: do nothing, say nothing, and be nothing #MachineMarshall

— Machine Marshall (@BMarshall) October 28, 2013
But by saying nothing in response to someone openly discussing ending careers on one hand, while making personal attacks on the other, was the right thing to do. Besides, Marshall has more important things to worry about at this point like how to help the Bears find a way to beat the
Green Bay Packers
on Monday night without
Jay Cutler
under center.