Chicago Bears:

Matt Flynn
June, 20, 2012
6/20/12
11:45
AM ET
SportsCenter's divisional analysis moves to the NFC North on Tuesday night (ESPN2, 7 p.m. ET). We've already discussed our most versatile players as well as potential breakout players, so let's give our television pals a pre-show primer on the biggest improvement (and regression) each division team made this offseason:

Chicago Bears: Enhanced comfort zone for quarterback Jay Cutler
In detail:
The Bears fully committed to Cutler three years after acquiring him from the
Denver Broncos
. They finally gave him a full complement of promising receivers, most notably his all-time favorite in
Brandon Marshall
. Cutler will have his choice of big downfield threats, be it Marshall or rookie
Alshon Jeffery
, and
Devin Hester
has drawn rave reviews for his work within the team's new concepts. Coach Lovie Smith hired one of Cutler's favorite former coaches, Jeremy Bates, as quarterbacks coach, and offensive coordinator Mike Tice has liberally assimilated thoughts from Bates and Cutler into his scheme. For the first time the Bears feel like Cutler's team.

Biggest regression:
The Bears' top four defensive players -- linebacker
Brian Urlacher
, defensive end
Julius Peppers
, linebacker
Lance Briggs
and cornerback
Charles Tillman
-- all got a year older without the team acquiring a potential heir at any of their positions. (Rookie defensive end
Shea McClellin
is projected to fill the Bears' spot opposite of Peppers.)

Detroit Lions: Insurance and a long-term plan at left tackle
In detail:
The Lions mostly stood pat this offseason, making it their top priority to keep together a nucleus that earned a playoff spot three years after the franchise bottomed out at 0-16. They accomplished that goal by reaching contract agreements with receiver
Calvin Johnson
and linebacker
Stephen Tulloch
while franchising defensive end
Cliff Avril
. Retaining young players with room for growth counts as an improvement, but most notably, the Lions hatched a legitimate plan for the end of left tackle
Jeff Backus
' career. First-round draft choice
Riley Reiff
could replace Backus this season if necessary but could also get a year to develop. Regardless, it's a rare luxury for a team to have a legitimate succession plan in place at left tackle.
Biggest regression:
It might not qualify as a step back, but the Lions didn't do much to improve a secondary that struggled for large portions of the 2011 season. Nickel back
Aaron Berry
will compete with free agent acquisition
Jacob Lacey
to start opposite
Chris Houston
, and the Lions appear set to give safety
Amari Spievey
one more chance to lock down a long-term job.

Green Bay Packers: Adding juice to their defensive front
In detail:
As we discussed in May
, the Packers devoted a large portion of their offseason to elevating the energy and competition along their defensive line. They hope to manage the playing time of nose tackle
B.J. Raji
more efficiently by calling on rookies
Jerel Worthy
and
Mike Daniels
, along with eventual contributions from
Anthony Hargrove
(eight-game suspension) and
Mike Neal
(four-game suspension). The Packers have also signed
Phillip Merling
, a former second-round draft pick of the
Miami Dolphins
, and veteran
Daniel Muir
.

Biggest regression:
The Packers had near-ideal insurance at quarterback when
Matt Flynn
was their backup quarterback. Presumptive replacement
Graham Harrell
has extensive experience in the Packers' system and has been widely praised by coaches this offseason, but no one has suggested he is the equivalent of Flynn just yet.

Minnesota Vikings: A better situation for a young quarterback
In detail:
Quarterback
Christian Ponder
will have a blue-chip left tackle in rookie
Matt Kalil
protecting his backside and two proven pass-catchers for mid-range passing in tight ends
Kyle Rudolph
and
John Carlson
. The Vikings have also added a receiver who can stretch the field in
Jerome Simpson
, who will be eligible to play in Week 4 after an NFL suspension, and might have unearthed a draft steal if Arkansas'
Greg Childs
is healthy. The offense is far from a finished product, but it is staffed much better at multiple positions than it was in 2011.
Biggest regression:
The Vikings appear to have cast aside
E.J. Henderson
, their middle linebacker for most of the past decade. For now, that means they are hoping to make fourth-year player
Jasper Brinkley
their new starter. Brinkley played decently when he started four games as a rookie in 2009, but he missed all of 2011 because of a hamstring injury and coaches are waiting for him to turn it loose this spring.
April, 19, 2012
4/19/12
11:00
AM ET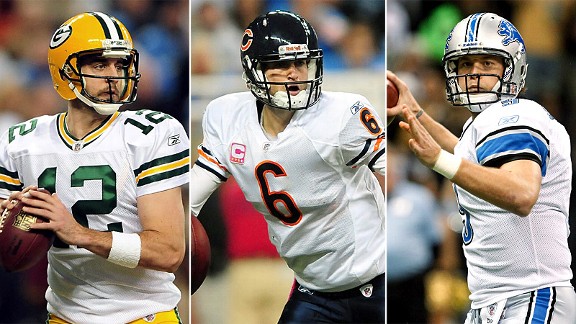 US PresswireThe NFC North is now ruled by quarterbacks Aaron Rodgers, Jay Cutler and Matthew Stafford.
Never has the NFC North's transition been more visible than on the final day of the 2011 regular season. On a snowy day at Lambeau Field, the
Green Bay Packers
and
Detroit Lions
combined for 103 passing attempts and 1,000 passing yards.
By the time the Packers
secured a 45-41 victory
, Lions quarterback
Matthew Stafford
had exceeded 5,000 yards passing for the season and Packers backup
Matt Flynn
had convinced the league he was a starting-caliber quarterback. Where once we could have expected the teams to grind out a classic Black and Blue game, they instead combined for a total of 37 carries. No running back made it to the modest total of 50 yards.
We've spent some time this offseason noting what we could politely call a tilt toward the passing game in both Detroit and Green Bay. We've discussed the
Chicago Bears'
seeming ambivalence
about signing tailback
Matt Forte
to a long-term extension, and we've pointed out the
Minnesota Vikings
'
uncertainty
as tailback
Adrian Peterson
rehabilitates his shredded knee.
If you looked at this division through a traditional lens, you could consider running back a significant draft need for at least half of the division, if not all of it. But the NFC North's frenzied quarterback acquisitions over the past few years have brought us to a precipice. Are we ready to jump off, once and for all, into the world of Air and Space? Or will our teams step away from that ledge and rebalance their personnel, if not their scheme, to double back on the running game?
As the NFL continues its push toward passing supremacy, it's hard to imagine any NFC North team making anything other than subtle changes. Why take the ball out of the hands
Aaron Rodgers
,
Jay Cutler
or Stafford? And why not give
Christian Ponder
every chance to take the next step in his development?
This offseason, we've heard the Vikings speak often about
seeking more playmakers for Ponder
. We've watched the Bears
sign
Michael Bush
as insurance against Forte's possible absence, but otherwise the Bears have worked to fortify their passing game with the acquisition of receiver
Brandon Marshall
and private meetings with many of the draft's top receivers, from
Michael Floyd
to
Stephen Hill
to
Alshon Jeffery
.
The Lions are the case study here, followed closely by the Packers. Injuries to
Jahvid Best
,
Mikel Leshoure
,
Kevin Smith
and the brain tumor of
Jerome Harrison
left them little choice but to rely on Stafford's arm last season. They finished 2011 with the second-fewest rushing attempts in the NFL, managed 71 rushing first downs (No. 29 in the league), according to ESPN Stats & Information.
Stafford told reporters this week that "everybody on our team would like to be a little more balanced than we were last year." It's reasonable to think they will be if Best and/or Leshoure are available full-time. But a serious commitment to improve would almost certainly require a draft investment. Best (concussion) has not been cleared for football work, Leshoure (Achilles) is coming back from a serious injury for a running back, and Smith has had difficulty staying healthy throughout his career.
How much do the Lions value that balance? We should find out over draft weekend. Again, most of us would look at their roster and toss question marks all over their backfield. But in 2012, how important is it to have an established and traditional No. 1 running back?
"We want to score as many points as we can," coach Jim Schwartz said at the NFL scouting combine. "Whether you do it running or passing, it doesn't matter. I think you want to try to get the ball in playmakers' hands."
In the end, the Lions might be best-served by pursuing a more modest goal: Being in position to capitalize against imbalanced defenses. Dictating a game on the ground might well be an NFC North artifact.
"If teams take the approach of playing the pass first," Schwartz said, "we should be in the position of having running backs who can make them pay for that."
Yes, there is a more than reasonable argument to be made that you don't need an elite running back when you have elite quarterbacks and receivers. A competent running back who doesn't miss the obvious yards might well suffice.
I don't know if the Lions, or the Packers for that matter, will invest a high draft pick in a running back. None of us do. But is it necessary? Probably not, at least not in our new Air and Space division. Soon we'll know how far off the cliff we've fallen.
March, 30, 2012
3/30/12
2:47
PM ET
»
AFC Assessments
:
East
|
West
|
North
|
South
»
NFC
:
East
|
West
|
North
|
South
Chicago Bears
Key additions:
Running back
Michael Bush
, linebacker/special teams
Blake Costanzo
, quarterback
Jason Campbell
, receiver
Brandon Marshall
(trade), receiver
Devin Thomas
, receiver/returner
Eric Weems
.
Key losses:
Running back
Marion Barber
(retired), cornerback
Zack Bowman
, cornerback
Corey Graham
.

Come on back:
Lost in the shuffle of the Marshall trade were the return of three free agents who should play key roles in 2012. Tight end
Kellen Davis
figures to get an expanded role in offensive coordinator Mike Tice's scheme, especially as a receiver. Cornerback
Tim Jennings
should retain his starting role opposite
Charles Tillman
, with
D.J. Moore
in the nickel. And safety
Craig Steltz
will provide reliable depth at safety and will be one of the Bears' special teams leaders after the departure of Graham and Bowman.
What's next:
There is no urgency yet, but the Bears will need to make peace with tailback
Matt Forte
at some point before the summer. Forte isn't happy that he's been made the Bears' franchise player and briefly lost his public composure when Bush signed a deal that guaranteed him about the same amount of money as the franchise tag will pay Forte. It's not a big deal if Forte skips the Bears' offseason program or even misses a few days of training camp, but the Bears will want to find a way to eliminate this issue by early August. Meanwhile, it wouldn't be surprising if the Bears address their offensive line during the draft.
Detroit Lions
Key additions:
Defensive end
Everette Brown
, cornerback
Jacob Lacey
.
Key losses:
Cornerback
Eric Wright
.

All in the family:
With the exception of Wright, the Lions were able to retain the core of their 10-6 team. Among those who re-signed: Tackle
Jeff Backus
, safety
Erik Coleman
, defensive end
Andre Fluellen
, quarterback
Shaun Hill
and linebacker
Stephen Tulloch
. And don't forget that receiver
Calvin Johnson
is locked up for perhaps the rest of his career. He signed a new eight-year contract worth $132 million.
What's next:
The Lions appear interested in adding competition at safety, having hosted free agent
O.J. Atogwe
earlier this month. Adding a safety remains a possibility, if not through free agency, then probably through the draft. And while Backus is re-signed for two years, it wouldn't be surprising if the Lions look for a long-term replacement in the draft.
Green Bay Packers
Key additions:
Defensive lineman
Daniel Muir
, center
Jeff Saturday
, defensive lineman
Anthony Hargrove
.
Key losses:
Quarterback
Matt Flynn
, center
Scott Wells
.

Shocker:
The Packers usually do whatever it takes to keep their own players and avoid having to search the free-agent market for other the castoffs of other teams. They started off that way by re-signing tight end
Jermichael Finley
to a two-year contract, but when they were unable to sign center Scott Wells, they quickly targeted veteran Jeff Saturday and made him their first starting-caliber free-agent signee in five years. General manager Ted Thompson also authorized the acquisition of Hargrove and the pursuit of
Dave Tollefson
.
What's next:
It's not out of the question that the Packers will add a veteran pass-rusher, whether at defensive end or linebacker. Then they'll get back into their comfort zone and start preparing for the draft, where it's reasonable to think they'll use at least one of their 12 picks on a center while also continuing to pursue pass-rushers.
Minnesota Vikings

Key additions:
Cornerback Zack Bowman, tight end
John Carlson
, running back Jerome Felton and offensive lineman
Geoff Schwartz
.
Key losses:
Nose tackle
Remi Ayodele
(release), guards
Anthony Herrera
(release) and
Steve Hutchinson
(release), tight end Jim Kleinsasser (retire), running back Jerome Felton.
Methodical methodology:
The Vikings made one big-money signing, bringing in Carlson as a new weapon for quarterback
Christian Ponder
, and otherwise have spent their offseason getting younger and signing complementary players. General manager Rick Spielman wants to end a cycle of seeking blue-chip players via free agency and instead count on the drafts for his difference-makers.
What's next:
One way or the other, the Vikings need to find a deep threat for Ponder. The draft would seem the most likely place for that will happen. They are also midway through a rebuild of the secondary that could use at least one more cornerback and perhaps two safeties.
March, 8, 2012
3/08/12
11:12
AM ET
»
AFC Free-Agency Primer
:
East
|
West
|
North
|
South
»
NFC
:
East
|
West
|
North
|
South
Free agency begins Tuesday at 4 p.m. ET
Chicago Bears

Key free agents:
Tight end
Kellen Davis
, running back
Matt Forte
(franchise), cornerback
Corey Graham
, quarterback
Caleb Hanie
, defensive end
Israel Idonije
, cornerback
Tim Jennings
, quarterback
Josh McCown
, safety
Brandon Meriweather
and receiver
Roy Williams
.
Where they stand:
The Bears will have the most salary-cap space among NFC North teams, upwards of $30 million, and have plenty of potential uses for it. Quarterback
Jay Cutler
needs more targets in the downfield passing game, whether it's at the receiver or tight end position. And new general manager Phil Emery must start restocking a defense led by four players more than 30 years old: Linebackers
Brian Urlacher
and
Lance Briggs
, defensive end
Julius Peppers
and cornerback
Charles Tillman
.
What to expect:
It's widely believed the Bears will be in the running for free-agent receiver
Vincent Jackson
. But Jackson's price tag could be steep and no one knows if Emery will prove to be a big spender. It seems likely he will re-sign Davis, and Emery should also save some of his cap space to extend Forte's contract. Secondary receiver targets could include
Marques Colston
. Bears fans are hoping the team will pursue defensive end
Mario Williams
, but it's hard to imagine the Bears budgeting for Williams two years after breaking their bank on Peppers.

Detroit Lions
Key free agents:
Defensive end
Cliff Avril
(franchise), left tackle
Jeff Backus
, safety
Chris Harris
, quarterback
Shaun Hill
, linebacker
DeAndre Levy
(restricted), running back
Maurice Morris
, running back
Kevin Smith
, quarterback
Drew Stanton
, linebacker
Stephen Tulloch
and cornerback
Eric Wright
.
Where they stand:
The Lions are tight against the salary cap after franchising Avril and aren't likely to be big spenders on the free-agent market. They could relieve the situation by reaching long-term agreements with Avril and/or receiver
Calvin Johnson
, who has a $22 million cap figure for 2012. Tulloch made a big impact last season after signing a one-year deal, but so far the Lions' attention has turned elsewhere.
What to expect:
The Lions' best-case scenario is to keep their 2011 core together without mortgaging their future relative to the salary cap. That would mean getting Tulloch re-signed to preserve the linebacker group they upgraded last season by signing him and veteran
Justin Durant
, moves that allowed Levy to play on the outside. Hill seems likely to re-sign as
Matthew Stafford
's backup, while Stanton might test the free-agent waters to see if he has a chance to do better than third on a team's depth chart.

Green Bay Packers
Key free agents:
Cornerback
Jarrett Bush
, quarterback
Matt Flynn
, running back
Ryan Grant
and center
Scott Wells
.
Where they stand:
The Packers took care of a big challenge by signing tight end
Jermichael Finley
to a two-year contract last month. They will let Flynn depart for a possible starting job elsewhere and it appears Grant will test the free-agent market. Discussions with Wells haven't led to an agreement, but the Packers often go to the final moments before reaching a deal. There are no obvious internal replacements for Wells, making his return a priority.
What to expect:
The Packers will have some flexibility with the salary cap, but general manager Ted Thompson's aversion to veteran free agency is well known. It's been three years since he signed a veteran unrestricted free agent in the offseason. The Packers have needs at defensive line, outside linebacker and possibly at center if Wells leaves. But let's put it this way: Thompson's strong preference is to find depth and future replacements in the draft, not on other teams' rosters.

Minnesota Vikings
Key free agents:
Safety
Husain Abdullah
, receiver
Devin Aromashodu
, receiver
Greg Camarillo
, defensive lineman
Fred Evans
, defensive lineman
Letroy Guion
, linebacker
E.J. Henderson
, linebacker
Erin Henderson
, safety
Tyrell Johnson
, quarterback
Sage Rosenfels
, cornerback
Benny Sapp
and tight end
Visanthe Shiancoe
.
Where they stand:
The Vikings seem poised for a major roster overhaul in their first offseason since Rick Spielman was promoted to general manager. Players like Shiancoe, E.J. Henderson, Camarillo and Johnson all seem poised to move on. There aren't many positions on the team that appear secure.
What to expect:
If the Vikings don't plan to draft USC left tackle Matt Kalil at No. 3 overall next month, the first clue will be if they pursue a free-agent left tackle. That seems unlikely. But they'll need to combine their draft with at least a few veteran free agents if they intend to compete for a playoff spot in 2012. Cornerback could be a point of focus, where
Brandon Carr
and
Cortland Finnegan
are among those available. Another could be receiver. The Vikings had major interest in Jackson two years ago.
February, 9, 2012
2/09/12
1:02
PM ET
The NFL's new collective bargaining agreement (CBA) has brought an issue we haven't faced in a number of years: Tight salary-cap situations.
After jumping considerably in the final few years of the old CBA, the league's cap limit isn't expected to rise much, if any, for the 2012 season. That means teams will have roughly $120 million to work with as they assemble the top 51 players on their training camp roster.
Based on the numbers I've been able to dig up, it appears that three of our four NFC North teams are going to be relatively tight against that number, especially considering they need to save room for signing a draft class. All teams must be in compliance when the new league year opens, and free agency begins, on March 13.
The following is how much each team currently has committed to its 2012 cap. Keep in mind that the numbers probably will change between now and March 13 as teams re-sign, re-negotiate and release players from their rosters.
A few thoughts:
We've already discussed the Lions' situation at some length. Simple math tells us they're going to have to adjust some current salaries just to get under $120 million, and the first candidate is receiver Calvin Johnson, who is projected to count about $22 million against the cap alone. As we've noted, four players -- Johnson, quarterback Matthew Stafford, defensive tackle Ndamukong Suh and defensive end Kyle Vanden Bosch -- account for nearly half of their total cap projection.
There are tricks available for teams like the Lions who want to keep or re-sign their players in a tight environment. They come with risks and the potential for future problems, but there is always a way to squeeze players into a given year's cap. The new CBA has a provision that allows teams to borrow against future caps, providing another option.
One positive bi-product of the Bears' decision to trade for quarterback Jay Cutler in 2009: It relieved them of the cap commitment associated with two first-round draft picks. That's one of the reasons new general manager Phil Emery has some $18 million to work with if he wants to sign veteran free agents and/or use his franchise tag on tailback Matt Forte.
The Packers have a number of veterans they want to re-sign, including tight end Jermichael Finley and center Scott Wells. With about $5 million in wiggle room, based on these numbers, they'll need to make some adjustments to fit both players in. As Tom Silverstein of the Milwaukee Journal Sentinel has already suggested, the Packers could carve out some space by either releasing receiver Donald Driver or renegotiating his contract. The same could happen for left tackle Chad Clifton.
Still, it should be clear why it seems unlikely that the Packers would place their franchise tag on quarterback Matt Flynn for the purposes of trading him after March 13. Doing so would require a $14 million cap commitment, require more cap maneuvering than would be comfortable and likely exposing either Finley or Wells to the free agent market.