Chicago Bears:

Michael Bennett
March, 11, 2014
Mar 11
4:52
PM ET
Houston
The
Chicago Bears
acquired versatility along the front four Tuesday when they agreed to terms with former
Oakland Raiders
defensive end
Lamarr Houston
on a
five-year deal worth $35 million
, according to ESPN NFL Insider Adam Schefter, which includes $15 million guaranteed, according to NFL sources.
Because of Houston's size (6-feet-3, 302 pounds), he can line up as an interior pass-rusher but his natural position is out on the edge at end where he should be stout against the run. Houston's talents would be a definite plus for a Bears' defense that allowed the most total yards in franchise history, in addition to surrendering 10 100-yard rushing performances, as well as a 211-yard outing by Minnesota's
Adrian Peterson
.
After failing to entice Seattle defensive end
Michael Bennett
with a strong offer on Monday, the Bears focused in on Houston, who is coming off a career-high six sacks in 2013, to go with 56 tackles and two forced fumbles. Houston won't necessarily wow observers with big sack numbers. He's produced seasons of 5, 1, 4 and 6 sacks over his first four seasons in the NFL, while also producing 41 quarterback hurries.
Still, Houston's lack of gaudy statistics mask the flexibility he gives the Bears not only schematically, but also in what the club does moving forward in free agency and the NFL draft.
If Chicago needs Houston to line up as a three-technique in a pressure package on third down, he's capable of doing that and being disruptive. On regular downs, Houston is capable of playing out on the end and snuffing out the run with consistency.
The question now is what the Houston signing means for the future of defensive end
Julius Peppers
. The club is trying to shop Peppers in a trade that won't ever materialize because of the fact he'll count $18.183 million against the cap in 2014. So eventually, the Bears will be forced to cut Peppers if they decide (which is likely what will happen) to move forward without him.
But as it stands now, Houston appears to be the only proven starter at defensive end if Peppers isn't around in 2014. Remember,
Corey Wootton
, who is normally the starter opposite Peppers is a free agent, who isn't expected to return next season.
Cutting Peppers with the post-June 1 designation would result in dead money of $4.183 million in 2014 and $4.183 million in 2015, but considering his cap figures over the next two years, the dead money still represents a respective savings of $14 million and $16.5 million over two years.
So if moving on without Peppers is truly the plan, the Bears still need to do more work along that front four. Remember, the Bears still haven't re-signed defensive tackle
Henry Melton
, and it's unknown whether they'll be able to because he's generating interest among multiple teams.
Bears general manager Phil Emery said that some of the defense's problems up front last season could be attributed to the club being one defensive lineman short due to injuries.
So while Houston represents a promising start to free agency for Chicago, there's still plenty left to do to fill in holes along that defensive front.
March, 10, 2014
Mar 10
10:27
PM ET
Disappointment over a potential deal that never materialized with
Seattle Seahawks
defensive end
Michael Bennett
on Monday didn't prevent the
Chicago Bears
from making a couple of cap-saving moves, in addition to shopping
Julius Peppers
around the league in advance of Tuesday's start to free agency.

The Bears whiffed -- but not for lack of trying hard -- on Plan A with Bennett, offering more money than the Seahawks, who eventually retained Bennett with somewhat of a hometown discount. But the Bears under the direction of general manager Phil Emery typically devise alternate strategies for adding the players they want in free agency. So while Plan B, C and the other options aren't fully known at this point, it's likely Chicago expects to make a flurry of moves in the first wave of free agency and be active all the way through the process.
That's why the team cut running back
Michael Bush
-- freeing up $1.85 million in cap space -- released tight end
Dante Rosario
, and put out calls around the league, according to ESPN NFL Insider Adam Schefter, for a potential trade for Peppers, which likely won't ever take place. With Peppers counting $18.183 million against Chicago's cap in 2014, no team wants to take in that salary via a trade. So when a team starts shopping a player, it often results in the club eventually cutting him.
Cutting Peppers with the post-June 1 designation would result in $4.183 million worth of dead money in 2014 and $4.183 million in 2015, but given his astronomical cap figures over the next two years, that would still represent respective savings of $14 million and $16.5 million.
But at this point cutting Peppers doesn't appear to be imminent.
What does seem to be on the way is the re-signing of middle linebacker
D.J. Williams
. The sides had been in discussion since last week, and negotiations were expected to continue through the weekend. As of Monday evening, the sides -- although still talking -- hadn't come to an agreement, according to a league source who expected a deal to take place late Monday night or early Tuesday.
Chicago also remains interested in re-signing other free agents such as cornerback
Charles Tillman
, defensive tackle
Henry Melton
and backup quarterback
Josh McCown
. Little information has emerged regarding Tillman's situation, although he's been linked to Tampa Bay because of his history with former Bears head coach Lovie Smith. The Bears have worked diligently to bring back Tillman, and it's likely the effort will continue as the cornerback's prospects with other teams could be limited by his age.
Melton, meanwhile, has generated interest from multiple teams, including the
Dallas Cowboys
, according to a league source, which would make sense given the defensive tackle's familiarity with defensive coordinator Rod Marinelli. That doesn't mean the Bears won't be able to re-sign Melton. After all, the Cowboys are tight against their cap, and it's unknown what kind of money another team might offer Melton, whose value could be diminished since he is coming off an ACL surgery.
As for McCown, as of right now, the Buccaneers appear to be the front-runner to land the quarterback, according to multiple sources, unless another one of the interested teams steps up with a more enticing offer, as the career backup may receive an opportunity to compete for a starting job. According to ESPNChicago's Jeff Dickerson, McCown's camp has been in contact with the Bucs, Bears,
New York Jets
and
Houston Texans
.
Dickerson also reported the Bears reached out to
Cincinnati Bengals
defensive end
Michael Johnson
on Saturday, ostensibly as a secondary option to Bennett, when the negotiation window for unrestricted free agents opened around the league. Although the sides engaged in preliminary talks, as of Monday evening it was believed the Bears weren't at the top of the list for Johnson, who is widely considered the best available defensive end remaining on the market.
The Bears are also targeting defensive end
Lamarr Houston
of the Raiders according to a report on the NFL Network.
It's unknown at this point where that leaves the Bears in terms of addressing needs along the defensive line, but several potential lower-priced options exist, and the salary demands could drop depending on how the first wave of free agency goes.
Safety is another area of need the Bears hope to address in free agency. The San Francisco Chronicle reported Chicago has expressed interest in San Francisco's
Donte Whitner
, who would give the Bears an intimidating presence on the back end. A source also confirmed the club's interest in
New York Giants
safety
Ryan Mundy
, who finds Chicago an intriguing opportunity because he'd receive a chance to compete for a starting job.
The Bears ended the day Monday with nearly $10.2 million in cap space, and it's worth noting the club spent $5.775 million during free agency for the 2013 season on three starters in
Jermon Bushrod
,
Matt Slauson
and
Martellus Bennett
.
So as the initial sting of losing out on Bennett wears off, Emery said back in January the Bears will still be plenty competitive in terms of putting together a solid team once free agency opens on Tuesday.
We all just have to wait and see.
March, 10, 2014
Mar 10
10:34
AM ET
Chicago Bears
tight end
Martellus Bennett
appeared on NFL Network on Monday with his brother
Michael Bennett
, a defensive end for the
Seattle Seahawks
and one of the most sought after commodities in free agency.
Michael Bennett
Martellus Bennett
Despite a hard sales pitch from Martellus Bennett, the elder sibling never gave a strong indication regarding his potential landing spot. The Bears are reportedly expected to sign Michael Bennett once free agency officially begins at 3 p.m. CT Tuesday, but a league source familiar with the negotiations said the defensive end hasn't yet made a decision. [
Update:
The Seahawks
signed Michael Bennett to a multiyear contract extension
Monday afternoon.]
"You've just got to stay tuned, man, like a suspenseful movie," Michael Bennett said. "I've got to leave it suspenseful right now."
That didn't stop Martellus Bennett, who turned 27 on Monday, from laying out a strong case for Michael to sign with the Bears. Martellus Bennett also recently tweeted a picture of a 12-year-old Michael Bennett wearing a Chicago Bulls jersey.
"The No. 1 thing is family. You're going to get paid wherever you get paid," Martellus Bennett said. "... So if the contract is not the number that you want, you've got to think about the market and off the field."
Martellus Bennett joked that the duo could do commercials and perhaps a reality show. Both are currently sporting unkempt beards.
"We could do Doublemint commercials. Look at Duck Dynasty. Talk about the black Duck Dynasty right now. Me and you bro," said Martellus Bennett, continuing the pitch to his elder sibling. "There's just a lot of opportunity. Chicago [has] the best fans, unique city, great opportunities business wise, which I know there are a lot of things you want to do off the field after football. And none of those things are tech or coffee. [In] Seattle, that's what they're offering you. So come on down to Chicago, man."
Michael Bennett admitted that his brother put together "a great argument" and made "some great points" but refused to give any indication as to where he would be signing Tuesday once the new league year begins.
Michael Bennett said he is fielding calls from several suitors.
"I've got to leave it suspenseful for the next couple of hours and go home and make the right decision. It's really hard though," he said. "So many things play a key into the decision of your future, where you're gonna play. But I love my brother. He's one of the best tight ends in the league. So it's gonna be hard."
Martellus Bennett obviously isn't making things any easier as he continued to pitch joining the Bears.
"The biggest thing right now is usually when you go from a team to another team, you might have a friend there. You may just be jumping into the water. But here, there's a bridge. Your brother is a bridge," Martellus Bennett said. "Chicago, they love the Bennetts, bro. So to have two Bennetts, well, it would be a third because of Earl. But the Bennett and Bennett, we might as well be tough, smart lawyers. We probably could do back insurance. You get in a car accident, come on down to Bennett and Bennett. Got in a wreck, need a check? Call Bennett and Bennett. We can do whatever we want to do."
Martellus Bennett also explained the picture he posted on Twitter featuring Michael Bennett on a phone wearing a Michael Jordan jersey.
"Somewhere down the timeline of Michael Bennett Jr. history, Chicago was on his mind. It's in you. It's not something new," Martellus Bennett told Michael. "It's something that's been there. It's been there for a long time from the Bulls jersey. You buy Jordans all the time. I'm just saying the Chicago Bulls jersey is cool. We could get you one with Bennett on the back, No. 23, 72, whatever you want to get. We can get it done."
March, 8, 2014
Mar 8
10:14
PM ET
CHICAGO --
Cincinnati Bengals
' free agent defensive end
Michael Johnson
is on the
Chicago Bears
' radar.
The Bears were one of the teams to inquire about Johnson on Saturday on the opening day of the NFL's legal tampering period leading up the official start of free agency on Tuesday at 3 p.m. CT, according to a source familiar with the situation.
ESPN.com's
Minnesota Vikings
NFL Nation beat reporter Ben Goessling had reported that seven teams had contacted Johnson's representatives by Saturday evening, including the division rival Vikings.
The 6-foot-7, 270-pound Johnson recorded only 3.5 sacks last season to go along with 56 tackles, one interception and two forced fumbles.
However, Johnson, 27, had a career-high 11.5 sacks in 2012.
In five years with the Bengals, Johnson has 26.5 sacks, three interceptions and three forced fumbles.
The Bears are in dire need of help at defensive end. Veteran
Julius Peppers
' future with the Bears is cloudy at best considering the eight-time Pro Bowl pass-rusher is scheduled to count $18,183,333 million against the club's 2014 salary cap.
Further complicating matters is that former first-round draft choice
Shea McClellin
is moving to linebacker next season, and
Corey Wootton
is set to become an unrestricted free agent. Wootton is currently recovering from offseason hip surgery and not expected to return until the summer.
The Chicago Tribune reported on Saturday the Bears are believed to have expressed interest in free agent defensive end
Michael Bennett
, whose brother Martellus is the team's starting tight end.
Addressing the defensive end position is clearly a priority for the Bears in the coming days.
February, 1, 2014
Feb 1
8:00
AM ET
On Super Bowl eve, here's another Twitter mailbag to whet your appetite for the big game.
Here, we'll get into perhaps one of this offseason's most pressing issues: Julius Peppers' contract:
January, 31, 2014
Jan 31
10:00
AM ET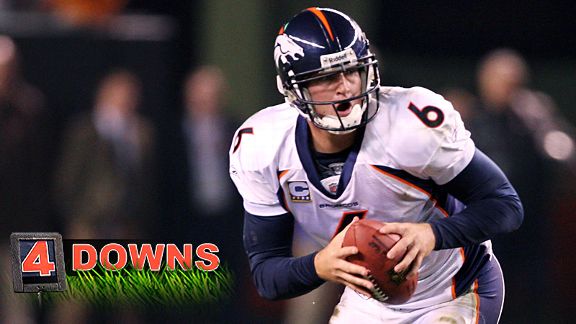 Matthew Emmons/USA TODAY SportsJay Cutler has one trip to the playoffs in five seasons with the Bears.
It wasn't exactly the Herschel Walker trade that created the
Dallas Cowboys
' dynasty, but the steep price the Bears paid for
Jay Cutler
set the Broncos up nicely. Five seasons later, who got the best of the deal?
Our panel weighs in on that and more:

Fact or Fiction: Five years later, the Broncos are the winner of the Jay Cutler trade.

Jeff Dickerson:
Fact. The Bears have been to the playoffs one time with Cutler in the past five seasons and gave up two first-round picks, a third-round choice (the Bears got Denver's fifth-round pick and selected former wide receiver
Johnny Knox
) and quarterback
Kyle Orton
to obtain him. In that same five-year span, the Broncos have gone to the playoffs three times (
Tim Tebow
has been to the postseason as many times as Cutler) and are poised to win their first Super Bowl championship since the late 1990s on Sunday. I won't even bore you with the details that Denver eventually parlayed some of those picks from the Bears into wide receivers
Demaryius Thomas
and
Eric Decker
. You know why? Because I don't need to. Success in the NFL is measured in playoff appearances and Super Bowl championships. Cutler supporters will view this as a shot at the quarterback. It's really not. I deal in reality. When a team surrenders two first-round draft picks, a third-rounder and its starting quarterback (Orton) to acquire a supposed franchise quarterback and then reaches the postseason just one time in the five years after the deal from a team that ends up reaching the playoffs three times and playing in a Super Bowl over the exact same time period, the winner is obvious: the second team. Spin it any way you want, the Broncos crushed the Bears on that trade five years ago.
Jon Greenberg:
Fiction. The Bears traded picks for a franchise quarterback, and that is what they have in Cutler. It hasn't been easy, but after a few stops and starts, it looks like Cutler is finally poised to live up to the expectations brought about with that trade. If he had been traded to a team with big receivers and an offensive-minded coaching staff, this wouldn't even be a question. It's a testament to the Broncos that they wisely used the picks to get Super Bowl contributors in
Robert Ayers
and (through trades) Thomas and Decker. When you trade a star to get draft picks, that's how it should work, a win-win for both sides. But the real key, of course, is
Peyton Manning
being available. Otherwise, this isn't even a debate.
---

Fact or Fiction: The Bears should pursue Martellus Bennett's brother Michael in free agency.
[+] Enlarge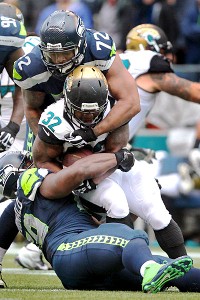 Tony Overman/The OlympianSeahawks defensive end Michael Bennett figures to get a big payday in free agency.
Jeff Dickerson:
Fact. It should be noted that with the record amount of underclassmen declaring for this year's draft, the Bears should be able to find young talent on the defensive line in May. But Bennett is playing the best of any Seahawks defensive lineman in the postseason, and should be a hot commodity in free agency. However, don't be surprised if Seattle makes a strong attempt to re-sign Bennett after it lucked out last offseason and signed him to a one-year deal after the veteran defender left the
Tampa Bay Buccaneers
. That being said, I assume the Bears will pursue Bennett and attempt to unite him with his brother in Chicago. But I have no idea if the Bears will be able to accomplish this until we see what kind of market there will be for Bennett when the new league year begins in March, or if Seattle tries to complete a deal with him before we reach that point of the NFL calendar.
Jon Greenberg:
Fact. But the problem is money. Can the Bears afford both Bennetts? Though Chicago will almost certainly have to reconfigure contracts to make more salary room, it's easy to believe that
Michael Bennett
will command more than the Bears can offer. And he just might want to stay in Seattle, which is in, you know, the Super Bowl. As Martellus told reporters this week in New York, his brother's best friend is going to be Benjamin Franklin, because he wants to get paid. Still, the Bears have to pursue him.
---

Fact or Fiction: The Bears should use all of their draft picks on defensive players.
Jeff Dickerson:
Fiction. It's never a smart idea to enter a draft fixated on a single player or side of the ball, except of course if a team holds a top-five pick in the first round. Fixing the defense is clearly the Bears' No. 1 priority in the offseason, but general manager Phil Emery should not hesitate to devote a mid-round or later-round selection to improving the offense, if that player is hands down the best available talent on the board at that stage of the draft, and the Bears believe he can help them in 2014. Don't forget, the Bears still need another tight end to complement Martellus Bennett, and they could also be in the market for a starting center if veteran
Roberto Garza
finds a better offer on the open market and departs via free agency. Wide receivers and young backup quarterbacks are always considered commodities in the NFL. Eventually, the Bears will need a young quarterback on the depth chart to replace
Josh McCown
, or even Cutler in the future.
Brandon Marshall
is in the final year of his contract, and while the Bears could re-sign him or turn to 2013 seventh-rounder
Marquess Wilson
in the immediate future at the position, if a dynamic pass-catcher is available in the later rounds, take him. Good organizations usually share a common theme: They are flexible on draft weekend. While the Bears are likely to use some of their early picks on defense, it's best to keep an open mind when the draft reaches its later stages.
Jon Greenberg:
Fiction. You can't solve an immediate problem like the Bears' defense with a bunch of rookies. The Bears should look to address depth on the defensive line (cheaper than a premier free agent) and add a young safety in the first two rounds, and after that it's all about best player available and creating depth across the team. A good general manager, and Emery is one, uses the draft to help balance salaries across every position. I could see the Bears drafting another young offensive lineman, a young tight end and, yes, maybe a quarterback. It's all about finding value. But to fix the defense, the Bears are going to have to sign free agents. So the draft is not a cure-all for their ailments.
---

Fact or Fiction: Marquess Wilson will emerge as the Bears' No. 3 receiver in 2014.
[+] Enlarge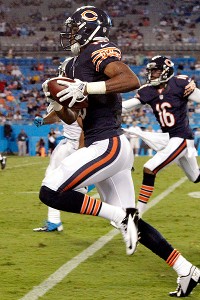 AP Photo/Bob LeveroneThe Bears like Marquess Wilson's potential, but can he take a big leap in his second season and become a No. 3 receiver?
Jeff Dickerson:
Fiction. This is a tough one. Wilson absolutely figures to have a larger role in the Bears' offense moving forward. But I hesitate to close the door on
Earl Bennett
after he had a relatively productive year in 2013 given his pecking order in the offense behind Marshall,
Alshon Jeffery
,
Matt Forte
and Martellus Bennett. Presently, Earl Bennett is scheduled to count $2.450 million against the salary cap in 2014 after he took a pay cut last season that reduced his cap number to $1.350 million. Maybe another salary reduction is in the cards for him. You have to figure it's a strong possibility. If he accepts and again tries to earn some of the lost money back via incentives, I believe Earl Bennett has a strong chance to keep his stranglehold on the No. 3 wideout spot. He is a proven player. Wilson is not. At least, not yet. But this one is subject to change, because the Bears do think Wilson can develop into a serious playmaker in the coming years. If that in fact does occur, it could put Earl Bennett's roster spot in jeopardy at his current salary structure.
Jon Greenberg:
Fiction. The Bears would be wise to rework Earl Bennett's deal and keep him around another year. Last season, they restructured the deal to save cap money, and I assume that would happen again to keep him on the roster making more than $2 million. I don't know enough about Wilson to hand him the third receiver spot a month after the season ended, and I doubt the Bears do, either. Maybe they'll see something in OTAs that will convince them he's ready to step up into a prime-time role. But the Bears should want to keep Earl around for another season, at least, as the offense continues to improve.
February, 4, 2013
2/04/13
4:19
PM ET
ESPNChicago examines potential unrestricted free agents at positions of need for the Bears.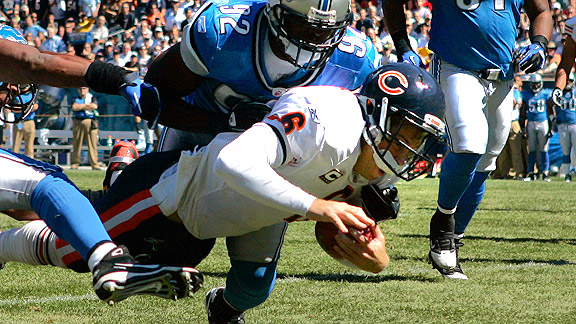 Jerry Lai/US PresswireCliff Avril had 9.5 sacks last season for the Lions.
Bears free agency previews: G | WR | TE | QB | LB | OT »
A team can never have too many pass rushers.
Veteran defensive end
Julius Peppers
remains the crown jewel of the
Chicago Bears
' edge rushers, even though he recently turned 33 years old and carries a $16.383 million cap number in 2013. It would be difficult to convince even the most casual observer that the Bears would better off without Peppers next year, despite the amount of money he ties up from a salary cap standpoint. Peppers is still effective and his team-high 11.5 sacks prove that.
With that in mind, the question now becomes whether the Bears need to prioritize finding another complement to Peppers, or if that player is already on the roster.
[+] Enlarge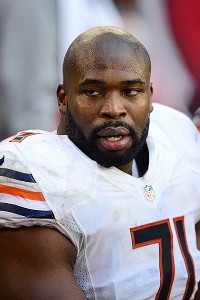 Mark J. Rebilas/USA TODAY SportsWill Israel Idonije be back for a 10th season with the Bears?
The Bears have a decision to make regarding
Israel Idonije
, who is an unrestricted free agent again this offseason after signing a one-year, $2.5 million deal last March. Entering his 10th NFL season, Idonije had 7.5 sacks in 2012, the second-highest total of his career, even though he bounced inside to defensive tackle in the nickel package as the season wore on.
Idonije, 32, also brings a certain amount of intangibles to the table that should not be overlooked. A former finalist for the Walter Payton Man of the Year Award, he's spent nearly his entire professional career in Chicago, a community he has served well off the field through the various efforts of his successful charitable foundation. As is the case in most negotiations, it could come down to money. If Idonije fields longer and more lucrative offers in free agency, then perhaps he leaves. But if the Bears can somehow find a way to lock him up to a contract similar to the one he agreed to last offseason, it makes sense for the Bears to seriously consider bringing him back for at least one more season, especially when you consider how few impact veteran pass rushers are expected to be available in free agency.
Regardless of what happens with Idonije, fourth-year defensive end
Corey Wootton
is coming off a breakout season and should be in a position to challenge for a full-time starting job, depending on what the club does in free agency. As we
noted last month
, Wootton (7.0 sacks) earned a significant raise for next year based on his play and the defense's overall performance.