Chicago Bears:

Mike McCarthy
March, 25, 2014
Mar 25
6:20
PM ET
Don't put a label on new
Green Bay Packers
defensive end
Julius Peppers
.
In fact, he probably shouldn't even be called a defensive end.
The way Packers coach Mike McCarthy
explained it to reporters on Tuesday
at the NFL annual meetings in Orlando, Fla., the newest addition to the Packers' defense will play a hybrid position -- a combination of an outside linebacker and defensive lineman the Packers will call an "elephant."
[+] Enlarge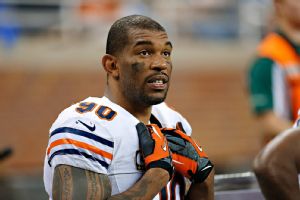 AP Photo/Paul SancyaThe Packers plan to use Julius Peppers in a variety of ways along their defensive front.
It's a spot that McCarthy first revealed
during an interview at the NFL scouting combine
last month that was in his plans, well before he knew he would have Peppers on his roster.
In preparing for that role, Peppers will spend most of his individual practice time and meeting sessions with the linebackers, who were merged into one group under assistant head coach Winston Moss and position assistant Scott McCurley following the resignation of outside linebackers coach Kevin Greene shortly after last season ended. It also means Peppers will not work directly under defensive line coach Mike Trgovac, who was Peppers' defensive line coach and defensive coordinator with the
Carolina Panthers
from 2002-08.
"Elephant is a term used for a multiple-position player along the defensive front," McCarthy told reporters at the league meetings. "Julius will be part of that group.
"The specifics I'd rather get into once the players find out, once we go through it with the players, but that's the big-picture outlook for the way we'll use Julius defensively."
In his only public comments since he signed with the Packers, Peppers, who was released this month by the
Chicago Bears
, told the Packers' web site he expected his role to be "something different" than it was during his stint with the Bears.
This would qualify as such.
Even before the Packers signed Peppers to a three-year, $26 million contract on March 15, they had planned to use the elephant position for
Mike Neal
and
Nick Perry
. In some defenses, the elephant position is used to describe an end who lines up between the offensive tackle and the tight end (in what is called the 7 technique) but based on McCarthy's comments on Tuesday, it appears he has multiple positions in mind for his elephants.
Perry, a former first-round draft pick, was a defensive end in college but switched to outside linebacker with only moderate success the past two years. Neal played his first three NFL seasons at defensive end before he switched to outside linebacker last season.
The trio of Neal, Peppers and Perry could be interchangeable this season.
"It's not only your position, your alignment, it's your assignment," McCarthy said. "So he has more to offer in his opinion, and I agree with him, from an assignment standpoint. So where he aligns, competing against Julius, he's lined up on both sides at defensive end. He has been an inside rusher, so those experiences he already has and will continue to do so."
The addition of Peppers and the redefinition of some positions could make coordinator Dom Capers' defense look a lot less like the traditional 3-4 he has run throughout his 28-year NFL coaching career. But McCarthy said Capers' defense has evolved into a two-linemen look more than ever to combat the spread offenses used so prolifically around the league.
"How much 3-4 defense do we play?" McCarthy said. "We've been averaging 24-25 percent over the past five years. So we're playing so much sub."
When the Packers do use their base defense, McCarthy confirmed that recently re-signed lineman
B.J. Raji
will return to his old position, nose tackle. Raji played more at defensive end the past three seasons, when his productivity waned. McCarthy said the plan for Raji will be to "cut him loose."
November, 1, 2013
11/01/13
12:00
PM ET
On the day former
Chicago Bears
coach Lovie Smith got the job, he said that one of his priorities was to beat the
Green Bay Packers
.
First-year Bears coach Marc Trestman made no such promises about this rivalry, but it goes without saying that he's eager to end Chicago's six-game losing streak to the Packers.
The last time Chicago beat Green Bay was on Sept. 27, 2010, on "Monday Night Football." The teams meet again in prime time Monday night at Lambeau Field.
ESPN.com's Packers reporter Rob Demovsky and Bears reporter Michael C. Wright break down the matchup.
Rob Demovsky:
We all know how much Smith wanted to beat the Packers. He stated as much the day he got the head coaching job. What has Trestman's approach to this rivalry been like?
Wright
: Rob, my man, you know that rivalries have to cut both ways in terms of wins and losses for it to be truly considered a rivalry. Counting the postseason, the Bears have lost six in a row and nine of the last 11. So, if anything, this is more Green Bay dominance than a rivalry. But the interesting thing about Trestman is he's a guy who likes to compartmentalize everything. He looks at today rather than the past or the future. So while it sounds cliché, Trestman is looking at the Packers as just another opponent on the schedule. That's just the way Trestman likes to operate, and I think for him it sort of makes things easier.
I keep looking at Green Bay's sack numbers, and I'm a little surprised the club is still in the top 10 in sacks with
Clay Matthews
out the last three games and other key members of the defense missing time. What is Dom Capers doing over there schematically to keep up the production?
Demovsky:
I figured when Matthews broke his thumb, Capers would have to blitz like crazy. Now, he's picked his spots, but he hasn't gone blitz-happy like I thought he might. However, he has been sending different pass-rushers to keep offenses off guard. One game, against the
Baltimore Ravens
, linebacker
A.J. Hawk
came a bunch and sacked
Joe Flacco
three times. Also, they've finally found a defensive lineman with some rush ability in second-year pro
Mike Daniels
. Three of his team-leading four sacks have come in the past two games.
As long as we're on the topic of quarterbacks, in 2011, backup
Josh McCown
played a halfway decent game against the Packers on Christmas at Lambeau Field, but he threw a couple of interceptions. What do you expect from him this time around as he starts in place of the injured
Jay Cutler
?
[+] Enlarge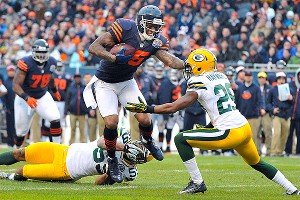 Rob Grabowski/USA TODAY SportsThe Packers have limited Brandon Marshall to 8 catches for 80 yards in their past two meetings.
Wright
: Believe it or not, I expect little to no drop-off from McCown in this game. The biggest difference between now and then is that in 2011, McCown joined the team in November, fresh from a stint as a high school football coach in North Carolina, and four weeks later became the starter. So he basically came in cold and still played relatively well. This time around, McCown has become immersed in the offense from the ground level, when Trestman first came on board, and even had some input as the team constructed the scheme. In fact, during the offseason, McCown was holding film sessions with all the club's new additions to teach everyone the new offense. So he's got complete mastery of the offense just like Cutler, which is why McCown came in against the Redskins and the offense didn't miss a beat. Obviously, McCown doesn't possess Cutler's arm strength. But he'll make up for that deficiency with anticipation. I'm quite sure the Bears won't scale down the offense to accommodate McCown at all, because they don't need to. So I expect McCown to play well. I'm just not sure Chicago's offense can keep up with Green Bay's in what I expect to be a high-scoring game.
Speaking of high scoring, the Packers put up 44 points on the
Minnesota Vikings
. How is Green Bay handling the preparation process for the Bears?
Demovsky
: Well, they certainly don't have as much time as the Bears do, considering the Bears are coming off their bye week. But the Packers have gotten themselves into a rhythm. They've won four in a row after their 1-2 start and look like a different team than they did the first three weeks of the season. Mike McCarthy probably doesn't get enough credit nationally, but show me another coach who has stared injuries in the face and hasn't blinked. What other team could lose playmakers like
Randall Cobb
,
James Jones
,
Jermichael Finley
and Matthews and still keep winning? That's a testament to the program he has established here. You can argue with some of his in-game coaching decisions, but you can do that with every coach. What you can't question, though, is the team's preparation.
The Bears, obviously, have had their share of injuries, too, losing Cutler and linebacker
Lance Briggs
. What's a bigger loss -- Cutler to the offense or Briggs to the defense?
Wright
: Well, Cutler's replacement is a veteran in McCown who has plenty of experience and a ton of weapons surrounding him on offense, while rookie
Khaseem Greene
will likely fill in for Briggs on a bad defense that will also feature rookie
Jon Bostic
in the middle. From my vantage point, losing Briggs is much more significant. The Bears have already proved to be horrible against the run (ranked 25th), and that issue certainly won't improve with two rookies at linebacker and a defensive line decimated by injury. It's also worth noting that Briggs made all the defensive calls and served as somewhat of a coach on the field for Bostic. Given that Green Bay seems to be running the ball so well, the current situation with Chicago's front seven could be devastating.
Now that the Packers are running the ball so well, how has that changed the way the offense is called? It seems Green Bay runs well regardless of which running back they line up in the backfield.
Demovsky
: It's remarkable -- and even a bit stunning -- to see
Aaron Rodgers
check out of a pass play and in to a run play at the line of scrimmage. That kind of thing hasn't happened around here in a long, long time -- probably not since
Ahman Green
was piling up 1,000-yard seasons nearly a decade ago. Teams no longer can sit back in a Cover-2 look and dare the Packers to run. Because guess what? The Packers can finally do it. It also has given the receivers more one-on-one opportunities, so it's helped the passing game, too. Right now, this offense almost looks unstoppable.
If the Packers keep playing like this, they might be tough to catch in the NFC North. What are the Bears' prospects for staying in the NFC North race until Cutler and Briggs return?
Wright:
To me, this game is the measuring stick for making that determination. But I'm not really confident about Chicago's chances, and that has more to do with the team's struggling defense than Cutler's absence. There have been conflicting statements made about Cutler's recovery time frame. Some teammates think he'll be ready to return by the time the Bears face Detroit on Nov. 4, while Trestman said the plan is to stick to the minimum four-week time frame prescribed by the doctors. Either way, if the Bears lose to the Lions you can kiss their prospects for the playoffs goodbye. The Bears might be able to afford a loss to the Packers because they'll face them again on Dec. 29. But a sweep by the Lions kills Chicago's chances to me because just from what we've seen so far, it appears one of the wild cards will come out of the NFC North with the other coming from the NFC West. Obviously it's too early to predict that, but that's the way things seem to be shaking out.
Without two of his top receivers and tight end Finley, Rogers still hit 83 percent of his passes against the Vikings. Is that success a product of the system, a bad Minnesota defense, or is Rodgers just that good at this point?
Demovsky
: The more I see other quarterbacks play, the more I'm convinced it's Rodgers. For example, seldom-used receiver
Jarrett Boykin
makes his first NFL start two weeks ago against the
Cleveland Browns
, and he ends up with eight catches for 103 yards and a touchdown. How many catches do you think he would have had if he were playing for the Browns that day? Their quarterback,
Brandon Weeden
, completed only 17-of-42 passes. That's not to minimize what Boykin did or what players like
Jordy Nelson
do week in and week out, but Rodgers is special, and special players elevate the play of those around them. Look at what
Greg Jennings
has done since he left for the Vikings. Now tell me the quarterback doesn't make the receiver, not vice versa.
Speaking of receivers, other than
Anquan Boldin
, who lit up the Packers in the opener at San Francisco, they've done a solid job shutting down other team's No. 1 receivers -- most recently Jennings and Cincinnati's
A.J. Green
. How do you think the Bears will try to get
Brandon Marshall
involved against what has been a pretty good Packers secondary?
Wright
: This question brings me back to the 2012 massacre at Lambeau Field on Sept. 13. The Packers bracketed Marshall with two-man coverage, and the Bears struggled tremendously. Shoot, cornerback
Tramon Williams
caught as many of Cutler's passes as Marshall, who finished the game with two grabs for 24 yards. Obviously, this offensive coaching staff is a lot different than last year's group. So the Bears will go into this game with a lot more answers for that coverage. I definitely see McCown leaning on Marshall and trying to get him involved as early as possible, but the only way he'll be able to do that is for the Bears to establish the rushing attack with
Matt Forte
so the quarterback can operate off play action. When the Bears go to Marshall early, expect to see a lot of short passes that will enable the receiver to gain some yardage after the catch.
Over the years, Green Bay has been pretty successful at limiting the impact of return man
Devin Hester
. So I was a little shocked to see the Packers give up a kickoff return for a touchdown to
Cordarrelle Patterson
. As you probably know, Hester is coming off a pretty strong return game against the Redskins. Do you think the Packers fix the problems they encountered last week, and minimize Hester's impact?
Demovsky
: Part of the Packers' problem on special teams has been that all the injuries have created a trickle-down effect. Here's what I mean: On the kickoff coverage until they gave up the 109-yard return to Patterson, they lined up six rookies, two of whom weren't even on the opening day roster. The Packers always have feared Hester, as they should, and in various games in recent years have shown they'd almost rather kick the ball out of bounds than give him any return opportunities. He's one of those special players who make rivalry games so entertaining.
December, 12, 2012
12/12/12
9:00
AM ET
Green Bay Packers
offensive lineman
T.J. Lang
(ankle) was healthy enough to be in uniform for last Sunday night's game against the
Detroit Lions
. That progress has led to reasonable speculation that he will be ready to play this Sunday against the
Chicago Bears
.
The question is what position Lang will play. Coach Mike McCarthy left open the possibility for leaving rookie
Don Barclay
at right tackle, allowing Lang to return to his natural left guard spot. Barclay might be a less polished pass protector than Lang, but there is no denying his role in a recent upswing in the Packers' running game.
John McTigue of ESPN's Stats & Information supplied the two charts in this post. As you can see, the Packers rushed more frequently and with much better success to the right side of their formation against the Lions and
Minnesota Vikings
than they did in their previous 11 games before. (Barclay replaced an injured Lang in the second quarter of the Week 13 game against the Vikings.)
Judging offensive line play is difficult from the outside, but the Packers' public satisfaction with Barclay's performance seems to jibe with the numbers. Whatever combination they have stumbled on during this period has worked.
It's worth noting that the Bears' defense has allowed at least 100 team rushing yards in each of their past seven games. Their opponents' average of 141 rushing yards per game ranks the Bears No. 28 in run defense over that stretch. Prior to Week 8, they had limited opponents to an average of 71 rushing yards per game.
November, 23, 2012
11/23/12
2:46
PM ET
»
NFC Final Word
:
East
|
West
|
North
|
South
»
AFC
:
East
|
West
|
North
|
South
Five nuggets of knowledge about Week 12:
November woes:
The
Green Bay Packers
have won four consecutive road games against the
New York Giants
, their opponent in Sunday's prime-time game. And are the Packers getting the Giants at a good time? Recent history is inexplicable but clear. The Giants are a bad November team, and this year quarterback
Eli Manning
has slumped badly as well. Under coach Tom Coughlin, the Giants are 13-21 in November and 67-37 in all other months. The Giants have lost their past five games in November, including two this season. Manning, meanwhile, hasn't thrown a touchdown pass since the fourth quarter of Week 7, a span of 99 passes. Since Week 8, Manning has completed only 54.5 percent of his total throws and has a Total Quarterback Rating (QBR) of 27.1, ranking him No. 29 of 33 qualifiers during that span.
Run opportunities:
The Packers achieved rare equality in their run-pass ratio last week against the
Detroit Lions
, running on 28 plays and passing on 31. Coach Mike McCarthy lamented a relative lack of production from starter
James Starks
, who rushed for 74 yards on 25 carries, and it appears Starks and
Alex Green
will rotate more frequently Sunday night. The Packers should have some opportunities against a Giants defense that has allowed at least 150 rushing yards in consecutive home games for the first time since 2006. The
Pittsburgh Steelers
rushed for 158 yards against them two weeks ago, and 99 of those yards came after contact, an indication of the state of the Giants' tackling.
[+] Enlarge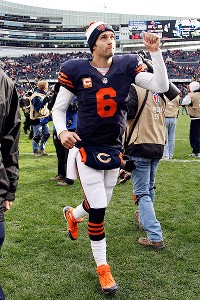 AP Photo/Nam Y. HuhThe Bears will be counting on QB Jay Cutler to make an impact in their upcoming games against Minnesota.
Big meeting:
Few thought when the season began that the Week 12 meeting between the
Chicago Bears
and
Minnesota Vikings
would be so crucial to the NFC North race. Only one game separates the Bears (7-3) and Vikings (6-4), and they're set to play twice in the next three weeks. The Vikings have lost 10 of their past 11 games in Chicago, and the only game they've won in that span required a 224-yard effort from tailback
Adrian Peterson
and a 54-yard game-winning field goal from
Ryan Longwell
. The Bears are coming off a short week after an embarrassing road loss, but they appear likely to get back the services of quarterback
Jay Cutler
, who has won 12 of his past 13 games that he has finished.
Of ESPN's 14 NFL experts
, all but one picked the Bears to win this game.
Tracking Allen:
Vikings defensive end
Jared Allen
had at least one sack in six consecutive games but has now gone two games without one. But the last time Allen saw the Bears, he lit up left tackle
J'Marcus Webb
for 3.5 sacks in the 2011 season finale.
Webb is one of three offensive linemen who kept his job after backup quarterback
Jason Campbell
was sacked six times by the
San Francisco 49ers
on Monday night, but offensive coordinator Mike Tice has pledged constant chip help for Webb this weekend. The Bears will try to contain the rest of the Vikings' defense with a new right tackle (
Jonathan Scott
) and left guard (
Chris Spencer
).
Peterson power:
The Bears' defense has proved vulnerable recently to what has been the decided strength of Peterson all season. Specifically, they have given up at least 80 yards on runs between the tackles in each of their past five games. Peterson, of course, has been gashing teams almost exclusively between the tackles since returning from knee surgery. This season, 174 of his carries, 922 of his yards, six of his touchdowns and 11 of his 20-plus yard runs have come on runs that began between the tackles. There is every reason to believe the Vikings will attack that area early and often, and then probably follow up with a heavy dose of their play-action game.
September, 28, 2012
9/28/12
9:30
PM ET
September, 14, 2012
9/14/12
1:00
PM ET
After the Green Bay Packers' 23-10 win over the Chicago Bears, here are three issues that merit further examination:
ESPN.com

The Packers' first touchdown came on a fake field goal that got lost in the postgame shuffle Thursday night, at least on this blog. So let's first note how gutsy the call was considering it came on fourth-and-26 from the Bears' 27-yard line. The play essentially had to score to work; the Bears would have taken over if reserve tight end Tom Crabtree had been stopped outside of the 1-yard line. "That's like the call of the year," cornerback Tramon Williams said. "Fourth-and-26? You would never think anyone would go for that. You've got Tom Crabtree and you give the ball to him to get 26 yards? You never think that would happen again." Coach Mike McCarthy said the Packers have been waiting "two or three years" for the Bears to give them an alignment that would make the play work. To me, the first key was that Bears cornerback Charles Tillman -- aligned over Crabtree on the left side of the Packers' formation -- chased place-kicker Mason Crosby away from the play for several steps. That gave Crabtree some separation to catch holder Tim Masthay's pitch and get a head of steam.

There are many ways to determine the motivation for a fake field goal. Did the Bears simply provide a once-in-a-lifetime look the Packers knew they could capitalize on? Was McCarthy pulling out all the proverbial stops to avoid going 0-2? Or was it, at least in part, an acknowledgment that the Packers' offense left them needing to find alternative ways to score touchdowns? I think an argument could be made for the latter motivation. We noted last week the sharp decrease in the Packers' explosiveness and wondered what adjustment they would make. We got at least a one-game answer Thursday night: With Greg Jennings (groin) sidelined and the Bears aligned to take away the deep pass, the Packers powered down and emphasized their running game along with their short(er) passing game. They ran 25 running plays, nearly tripling their Week 1 attempts, and were rewarded when tailback Cedric Benson (81 yards on 20 carries) got warmed up and began churning up yardage. The longest pass quarterback Aaron Rodgers completed was a 26-yard touchdown to receiver Donald Driver, and their longest play overall was Randall Cobb's 28-yard run off a pitch play. Overall, the Packers averaged 4.9 yards on 66 plays, holding the ball for 32 minutes, 11 seconds. It was a very Black and Blue approach in what we once thought was the Air and Space division.

As we discussed Thursday afternoon, the Packers weren't dumb enough to take up quarterback Jay Cutler on his offer to press receivers Brandon Marshall and Alshon Jeffery. Instead, they played man-to-man coverage with Williams, Sam Shields, Charles Woodson and rookie Casey Hayward with two safeties -- Morgan Burnett and another rookie, Jerron McMillian -- stationed deep. Williams turned in an awesome performance on Marshall, and afterwards reiterated his approach to playing big receivers. "With a guy that size," Williams said, "you can't be too physical on him. That's what he wants. He'll beat you most of the time. I didn't give him that."
And here is one issue I still don't get:
Did the Packers settle their defensive rotation Thursday night or add a level of intrigue? Shields (60 snaps, according to Pro Football Focus) and Hayward (24) appeared to leapfrog Jarrett Bush on the cornerback depth chart. And McMillian (44 snaps) has jumped ahead of M.D. Jennings at safety. On the other hand, the Packers rotated veteran linebacker Erik Walden (36 snaps) with rookie Nick Perry (20), and Walden's active (half sack, two quarterback hits) probably played a role in Clay Matthews' 3.5-sack outburst. Rookie Dezman Moses also got 19 snaps. My guess is the Packers would like to establish some consistency at defensive back but could use their linebackers more to match with specific aspects of opponents. In all, it should be noted that the Packers got substantive contributions from five defensive rookies Thursday night: Perry (three hurries, via PFF), Hayward, McMillian, Moses (two hurries) and defensive lineman Jerel Worthy (sack, two quarterback hits). "We've got a good group of young talent," Matthews said.
September, 11, 2012
9/11/12
5:19
PM ET
Checking out the Tuesday-Thursday practice report with kickoff at Lambeau Field now about 48 hours away:
Chicago Bears:
Cornerback
Charles Tillman
(shin) and linebacker
Brian Urlacher
(knee) did not practice. Coach Lovie Smith said that Urlacher will start Thursday night. It appears that Tillman has a decent chance of playing as well. Tight end
Kyle Adams
(shoulder) was a limited participant in practice.
Green Bay Packers:
Receiver
Greg Jennings
(groin) sat out practice and it's not clear if he'll be ready to play with the short turnaround. It sounds as if coach Mike McCarthy
needs to see him practice
in some way Wednesday before making a determination about his availability. "We're dealing with the groin," McCarthy told reporters. "How he responds to it will be an endurance issue." Running back
James Starks
(toe) and linebacker
Terrell Manning
(concussion) also sat out practice. Cornerback
Davon House
(shoulder) continues to practice with limited participation.
January, 28, 2012
1/28/12
4:12
PM ET
In retrospect, the
Chicago Bears
' 25-day search for a general manager played out exactly as they said it would. Team president Ted Phillips made clear he wasn't looking to turn the organization upside down after firing Jerry Angelo on Jan. 3. No,
as we discussed at the time
, the Bears wanted someone who could bring a better hit rate as a talent evaluator.
Kansas City Chiefs
executive Phil Emery emerged as a favorite early in the process because of his unique qualifications under those criteria, and for that reason it was far from surprising to hear
that the Bears hired him Saturday
.

Emery spent seven years as a Bears scout from 1998-2004, making him relatively familiar with the inner workings of Halas Hall and unlikely to pursue a massive overhaul. He was part of a Bears scouting department that drafted eight future Pro Bowlers, from receiver
Marty Booker
to linebackers
Brian Urlacher
and
Lance Briggs
to safety
Mike Brown
and cornerback
Charles Tillman
. Later, he drafted receiver
Roddy White
and quarterback
Matt Ryan
, among others, as the
Atlanta Falcons
' director of college scouting.
Emery surely will bring his own tone and vision to the Bears' front office. But initially, at least, he'll do so by assimilating the existing infrastructure and minimizing the side effects of transition.
The Bears have missed the playoffs in four of the five seasons since their appearance in Super Bowl XLI. But whether you agree or not, Phillips said he thinks the team has suffered from inconsistent talent evaluation rather than larger-scale issues. So in essence, he has swapped one longtime scout-turned-general manager for another in hopes of getting better results.
Phillips said Jan. 3 that the Bears needed to close the "talent gap" that exists between the Bears and their two most competitive NFC North rivals, the
Green Bay Packers
and
Detroit Lions
. In many ways, the decision to bring back Emery reflects the Packers' hiring of general manager Ted Thompson in 2005.
Thompson spent eight years with the Packers in various personnel roles between 1992 and '99 before returning as general manager in 2005. Emery brings a similar reputation as a blue-collar scout and workaholic who figures to spend a good portion of his years on the road personally scouting college players.
Thompson, of course, had the authority to remake the Packers franchise as he saw fit. Much of the front office remained intact, but he fired coach Mike Sherman after one season and hired Mike McCarthy in 2006. The Packers won Super Bowl XLV with a 53-man roster that included 49 players acquired after Thompson's arrival.
That's a tough ideal for Emery and the Bears to pursue, but I wouldn't be surprised if it comes up at some point during Monday's news conference to introduce him formally. The Bears wanted a low-key leader who would focus on talent evaluation and, like Thompson, stay below the radar. By all accounts, Emery fits that bill.
November, 4, 2011
11/04/11
12:30
PM ET
»
NFC Final Word
:
East
|
West
|
North
|
South
»
AFC
:
East
|
West
|
North
|
South
Five nuggets of knowledge on Week 9, which includes byes for the Detroit Lions and Minnesota Vikings:
History and matchups:
For weeks, national discussion has centered on whether the
San Diego Chargers
might serve up the
Green Bay Packers
' first loss of the season. Analysis of the matchup suggests otherwise,
as we discussed Thursday
. So does history. The Packers have never lost in San Diego, crafting a 5-0 record since the series began in 1970. Coach Mike McCarthy, meanwhile, has never lost to an AFC West team in five games. Those facts hardly make this game a lock, but they tell us that historically and recently, it's not been a shock for the Packers to play well in unfamiliar environments or against rarely faced teams. The Packers are hoping to become the third Super Bowl champion to open the following season 8-0. Three of the Chargers' four victories have come against the Vikings (2-6),
Miami Dolphins
(0-7) and
Denver Broncos
(2-5).
[+] Enlarge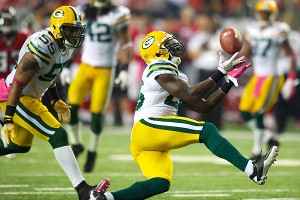 Dale Zanine/US PresswireSan Diego's Philip Rivers, who has thrown 11 interceptions, needs to be careful against the Green Bay defense, which has picked off 13 passes.
Pass defense:
Chargers quarterback
Philip Rivers
is averaging 297 yards passing per game, but he's also thrown an NFL-high 11 interceptions in seven games. That performance would seem to fit into the wheelhouse of the Packers' defense, which is giving up the second-highest average of passing yards per game (289) but is one off the league high with 13 interceptions. The Packers have intercepted at least two passes in each of their past five games, the most efficient run in the NFL over the past 10 years. Rivers likes to let it fly, but this season at least, he's not getting away with it. Nine of his 11 interceptions have come against an opponent's nickel or dime defense, which the Packers play about 75 percent of the time.
Stopping the run:
There has been
plenty of discussion
about the
Chicago Bears
' matchup against
Philadelphia Eagles
quarterback
Michael Vick
, who is 0-4 against the Bears in his career. But you wonder if Eagles running back
LeSean McCoy
isn't the Bears' biggest obstacle to victory. McCoy leads the NFL with an average of 107.7 yards per game and has scored at least one touchdown in each Eagles game this season. The Eagles crushed the
Dallas Cowboys
' otherwise stingy run defense for 239 yards last week and are the NFL's best running team through eight weeks. The Bears have had trouble stopping the run this season; opponents are averaging 5.2 yards per carry against them, the second-highest total in the league.
Road woes:
The Bears' two games this season at the home fields of opponents have been disasters. The
New Orleans Saints
ran them out of the Superdome in Week 2, and the Bears self-destructed in a Week 5 loss to the Detroit Lions. Lincoln Financial Field isn't likely to be as loud as the Superdome or Ford Field, where the Bears committed nine false start penalties, but it can still treat opponents rudely. The top candidate to be affected? Let's go with left tackle
J'Marcus Webb
, who ranks fourth in the NFL with eight penalties this season. He's been called five times for a false start, twice for holding and once for illegal formation.
Hester factor:
The Bears'
Devin Hester
has an NFL-record 16 kickoff/punt returns for touchdowns in his career. Five have come in seven career Monday night games, most recently last December at the Vikings. We're not saying anything here. We're just saying.
January, 17, 2011
1/17/11
12:24
PM ET
LAKE FOREST, Ill. -- If you think Lovie Smith feels bad for the Mike McCarthy, think again.
"A lot of has been said about the amount of injuries they [Green Bay] have had," Smith said. "All teams have injuries."
Except maybe the Bears.
With only
Hunter Hillenmeyer
and
Harvey Unga
lost for the year, Smith's string of good luck on the injury front is uncanny. Every Bears player on the active roster was able to practice the Friday before playing Seattle in the NFC divisional round of the playoffs, and only one somewhat significant injury --
Chris Harris
' hip pointer -- occurred in the win over the Seahawks. Harris, however, is expected to play Sunday vs. Green Bay at Soldier Field in the NFC championship game.
On the other hand, McCarthy and the Packers have placed 15 players on injured reserve, including
Jermichael Finley
,
Ryan Grant
,
Mark Tauscher
,
Nick Barnett
and
Morgan Burnett
.
"Their core, [Clay] Matthews is there, you have a guy like
Aaron Rodgers
, and of course you add a player like
James Starks
running the ball, they've had a pretty good nucleus to be able to play," Smith said. "I saw them being one of the teams at the end you would have to deal with."