March, 25, 2014
3/25/14
6:20
PM ET
Don't put a label on new
Green Bay Packers
defensive end
Julius Peppers
.
In fact, he probably shouldn't even be called a defensive end.
The way Packers coach Mike McCarthy
explained it to reporters on Tuesday
at the NFL annual meetings in Orlando, Fla., the newest addition to the Packers' defense will play a hybrid position -- a combination of an outside linebacker and defensive lineman the Packers will call an "elephant."
[+] Enlarge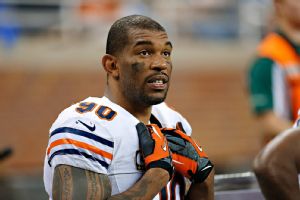 AP Photo/Paul SancyaThe Packers plan to use Julius Peppers in a variety of ways along their defensive front.
It's a spot that McCarthy first revealed
during an interview at the NFL scouting combine
last month that was in his plans, well before he knew he would have Peppers on his roster.
In preparing for that role, Peppers will spend most of his individual practice time and meeting sessions with the linebackers, who were merged into one group under assistant head coach Winston Moss and position assistant Scott McCurley following the resignation of outside linebackers coach Kevin Greene shortly after last season ended. It also means Peppers will not work directly under defensive line coach Mike Trgovac, who was Peppers' defensive line coach and defensive coordinator with the
Carolina Panthers
from 2002-08.
"Elephant is a term used for a multiple-position player along the defensive front," McCarthy told reporters at the league meetings. "Julius will be part of that group.
"The specifics I'd rather get into once the players find out, once we go through it with the players, but that's the big-picture outlook for the way we'll use Julius defensively."
In his only public comments since he signed with the Packers, Peppers, who was released this month by the
Chicago Bears
, told the Packers' web site he expected his role to be "something different" than it was during his stint with the Bears.
This would qualify as such.
Even before the Packers signed Peppers to a three-year, $26 million contract on March 15, they had planned to use the elephant position for
Mike Neal
and
Nick Perry
. In some defenses, the elephant position is used to describe an end who lines up between the offensive tackle and the tight end (in what is called the 7 technique) but based on McCarthy's comments on Tuesday, it appears he has multiple positions in mind for his elephants.
Perry, a former first-round draft pick, was a defensive end in college but switched to outside linebacker with only moderate success the past two years. Neal played his first three NFL seasons at defensive end before he switched to outside linebacker last season.
The trio of Neal, Peppers and Perry could be interchangeable this season.
"It's not only your position, your alignment, it's your assignment," McCarthy said. "So he has more to offer in his opinion, and I agree with him, from an assignment standpoint. So where he aligns, competing against Julius, he's lined up on both sides at defensive end. He has been an inside rusher, so those experiences he already has and will continue to do so."
The addition of Peppers and the redefinition of some positions could make coordinator Dom Capers' defense look a lot less like the traditional 3-4 he has run throughout his 28-year NFL coaching career. But McCarthy said Capers' defense has evolved into a two-linemen look more than ever to combat the spread offenses used so prolifically around the league.
"How much 3-4 defense do we play?" McCarthy said. "We've been averaging 24-25 percent over the past five years. So we're playing so much sub."
When the Packers do use their base defense, McCarthy confirmed that recently re-signed lineman
B.J. Raji
will return to his old position, nose tackle. Raji played more at defensive end the past three seasons, when his productivity waned. McCarthy said the plan for Raji will be to "cut him loose."
June, 20, 2012
6/20/12
11:45
AM ET
SportsCenter's divisional analysis moves to the NFC North on Tuesday night (ESPN2, 7 p.m. ET). We've already discussed our most versatile players as well as potential breakout players, so let's give our television pals a pre-show primer on the biggest improvement (and regression) each division team made this offseason:

Chicago Bears: Enhanced comfort zone for quarterback Jay Cutler
In detail:
The Bears fully committed to Cutler three years after acquiring him from the
Denver Broncos
. They finally gave him a full complement of promising receivers, most notably his all-time favorite in
Brandon Marshall
. Cutler will have his choice of big downfield threats, be it Marshall or rookie
Alshon Jeffery
, and
Devin Hester
has drawn rave reviews for his work within the team's new concepts. Coach Lovie Smith hired one of Cutler's favorite former coaches, Jeremy Bates, as quarterbacks coach, and offensive coordinator Mike Tice has liberally assimilated thoughts from Bates and Cutler into his scheme. For the first time the Bears feel like Cutler's team.

Biggest regression:
The Bears' top four defensive players -- linebacker
Brian Urlacher
, defensive end
Julius Peppers
, linebacker
Lance Briggs
and cornerback
Charles Tillman
-- all got a year older without the team acquiring a potential heir at any of their positions. (Rookie defensive end
Shea McClellin
is projected to fill the Bears' spot opposite of Peppers.)

Detroit Lions: Insurance and a long-term plan at left tackle
In detail:
The Lions mostly stood pat this offseason, making it their top priority to keep together a nucleus that earned a playoff spot three years after the franchise bottomed out at 0-16. They accomplished that goal by reaching contract agreements with receiver
Calvin Johnson
and linebacker
Stephen Tulloch
while franchising defensive end
Cliff Avril
. Retaining young players with room for growth counts as an improvement, but most notably, the Lions hatched a legitimate plan for the end of left tackle
Jeff Backus
' career. First-round draft choice
Riley Reiff
could replace Backus this season if necessary but could also get a year to develop. Regardless, it's a rare luxury for a team to have a legitimate succession plan in place at left tackle.
Biggest regression:
It might not qualify as a step back, but the Lions didn't do much to improve a secondary that struggled for large portions of the 2011 season. Nickel back
Aaron Berry
will compete with free agent acquisition
Jacob Lacey
to start opposite
Chris Houston
, and the Lions appear set to give safety
Amari Spievey
one more chance to lock down a long-term job.

Green Bay Packers: Adding juice to their defensive front
In detail:
As we discussed in May
, the Packers devoted a large portion of their offseason to elevating the energy and competition along their defensive line. They hope to manage the playing time of nose tackle
B.J. Raji
more efficiently by calling on rookies
Jerel Worthy
and
Mike Daniels
, along with eventual contributions from
Anthony Hargrove
(eight-game suspension) and
Mike Neal
(four-game suspension). The Packers have also signed
Phillip Merling
, a former second-round draft pick of the
Miami Dolphins
, and veteran
Daniel Muir
.

Biggest regression:
The Packers had near-ideal insurance at quarterback when
Matt Flynn
was their backup quarterback. Presumptive replacement
Graham Harrell
has extensive experience in the Packers' system and has been widely praised by coaches this offseason, but no one has suggested he is the equivalent of Flynn just yet.

Minnesota Vikings: A better situation for a young quarterback
In detail:
Quarterback
Christian Ponder
will have a blue-chip left tackle in rookie
Matt Kalil
protecting his backside and two proven pass-catchers for mid-range passing in tight ends
Kyle Rudolph
and
John Carlson
. The Vikings have also added a receiver who can stretch the field in
Jerome Simpson
, who will be eligible to play in Week 4 after an NFL suspension, and might have unearthed a draft steal if Arkansas'
Greg Childs
is healthy. The offense is far from a finished product, but it is staffed much better at multiple positions than it was in 2011.
Biggest regression:
The Vikings appear to have cast aside
E.J. Henderson
, their middle linebacker for most of the past decade. For now, that means they are hoping to make fourth-year player
Jasper Brinkley
their new starter. Brinkley played decently when he started four games as a rookie in 2009, but he missed all of 2011 because of a hamstring injury and coaches are waiting for him to turn it loose this spring.
July, 7, 2010
7/07/10
8:25
AM ET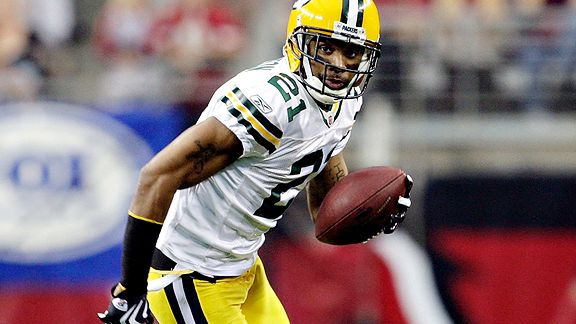 Jamie Squire/Getty ImagesA new offseason workout plan should make reigning defensive player of the year Charles Woodson even more dangerous.
Thanks for stopping in to check out Day 2 of our series on the NFC North, in which we tap the brains of beat reporters around the division to get the skinny on their teams.
We took a
look at the Vikings
on Tuesday with Minneapolis Star-Tribune reporter Judd Zulgad.
We move onto Green Bay today with
Milwaukee Journal-Sentinel Packers reporter Greg Bedard
.
Five things the Packers need to worry about
1. Special teams:
The Packers claim they will improve on special teams this season, and that should happen almost by default. But will this group improve simply through better coaching (with the same staff)? The unit needs to cut down on penalties. The Packers continue to go the cheap route at punter, and neither option has kicked in so much as an exhibition game. Indications are that
Mason Crosby
is still suffering a confidence problem.
2. Depth at outside linebacker:
The Packers should be fine with
Brad Jones
at left outside linebacker, although he needs to show enough to keep double teams off
Clay Matthews
. The real worry is behind them. If Jones or Matthews is injured, the Packers have zero depth. That's not a good thing at a crucial position in the 3-4.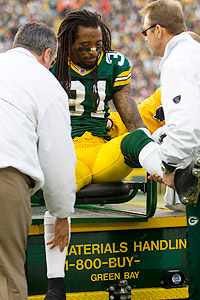 Jeff Hanisch/US PresswireHow cornerback Al Harris recovers from an injured knee will be crucial for the Packers.
3. Al Harris' health:
The Packers put a lot of money into cornerback with Harris,
Charles Woodson
and
Tramon Williams
. The group -- if intact -- should be one of the league's best. But if Harris isn't the same player after knee surgery,
Pat Lee
or
Brandon Underwood
will need to be better.
4. Offensive line slow out of the gates:
The Packers are notorious for getting off to slow and sloppy starts on the offensive line under coach
James Campen
. That can't happen anymore. If it does, it could torpedo the season, like it nearly did last season.
5. Overall team mindset:
For whatever reason, the 2009 Packers got full of themselves, and their performances suffered. Just ask Woodson about the mindset going into the Cardinals playoff game. This team plays better with an edge and its backs against the wall. The Packers have to find a way to handle all the Super Bowl hype better. On the flip side, the Packers, starting with general manager Ted Thompson, look like they're getting a bit tight [due to the Super Bowl hype]. That stance has a tendency to filter down to the players, and negatively affect the on-field product. The Packers need to find a way to strike the right balance.
Five things not to worry about
1. Donald Driver's age:
Driver's play tailed off toward the end of last season, but offseason scopes on his knees should help immensely. The Packers are a better offense with Driver, 35, in the mix. Nobody else can do the dirty work he does.
2. Left guard:
Incumbent
Daryn Colledge
is a lot better than Packers fans (and some of the coaches) want to give him credit for. Does he need to be more consistent? Yes. But he might be the best left guard in the division.
Jason Spitz
should be ready to compete for the job as well.
3. Whether Bryan Bulaga plays:
The Packers drafted Bulaga in the first round with a year down the road in mind. He's not ready to unseat
Chad Clifton
, and Bulaga has never played guard before. Bulaga needs to just concentrate on learning left tackle because at some point Clifton won't be able to answer the bell.
4. Defensive line depth:
Whether the troubled
Johnny Jolly
is on the Packers' roster at the start of training camp, the club still has more than enough depth between
Ryan Pickett
,
B.J. Raji
,
Cullen Jenkins
,
Mike Neal
,
C.J. Wilson
, and, perhaps,
Justin Harrell
.
5. Charles Woodson slowing down:
The reigning NFL defensive player of the year, Woodson looks like he's ready for a repeat after taking part in an offseason routine for the first time that used boxing. The leader of the Packers' defense, Woodson should make even more plays this season with a healthy supporting cast around him.